Crypto Analyst Explains How This Ethereum-Based DeFi Token Could 100X
Last week, crypto analyst/influencer Ben Armstrong talked about an exciting decentralized finance (DeFi) project, the governance token of which he calls "the next altcoin gem."
The project in question is yield farming robo-advisor APY.Finance, which can connect with all the leading DeFi protocols (such as Uniswap, SushiSwap, Aave, Compound, Yearn.Finance, Synthetix, and dYdX).
The team behind this project say that APY.Finance offers the following important features:
next-generation yield farming (the platform "gives users a single place to deposit their liquidity" and "handles all the heavy lifting of yield farming by pooling user liquidity and distributing the gas cost")
risk management (after "every strategy is assigned a risk score", APY "distributes user liquidity across its portfolio of yield farming strategies, optimizing for risk-adjusted yields")
decentralized and fully community-owned ("users are incentivized with the APY governance token to keep strategy models up-to-date with the latest DeFi developments")
In a video released last Thursday (February 11) on his YouTube channel, "BitBoy Crypto" ("@Bitboy_Crypto" on Twitter) reviewed APY.Finance and broke down "its path to 500x."
This is how Armstrong introduced APY.Finance (APY):
"DeFi has been killing it in the past 12 months. New groundbreaking protocols were built in the bear market and exploded even before the market sentiment turned bullish. The most outstanding ones, of course, are Ave and Synthetix. Aave made an insane 260X and Synthetix an astronomical 407X in less than a year. This is DeFi, ladies and gentlemen, and this is only the pre-game party…
"A few days ago, we came across a project which turned out to be the missing puzzle piece to the Yearn and Aave DeFi kingdom… It opens up the doors to yield farming for average investors and whales in just a few clicks, promising to make DeFi easy. It's called APY Finance — the ticker [is] APY — a plug-in play solution for investors, which routes funds to the best yield farming strategies. One won't have to search for options themselves and worry about changing yield…
"It's all automated, and is essentially an aggregator of DeFi… You deposit DAI, USDC, or tether stable coins, and it finds the best risk reward yield farming strategy options for you. APY even spreads out the risk by routing your funds to multiple farms. This way, smart contract risk is way lower and the yield higher and more sustainable."
It is important to point however that at the time that Armstrong made his video, APY, the governance token of APY.Finance, was trading at $0.90, which means that Armstrong believes that the APY price could reach as high as $450. Currently (as of 21:20 UTC on February 16), APY is trading at $4.77, down 12.80% in the past 24-hour period.
Featured Image by "elifxlite" via Pixabay.com
The views and opinions expressed by the author are for informational purposes only and do not constitute financial, investment, or other advice.
Ethereum Price Analysis: ETH tests $3,150 resistance, a breakout to follow?
Ethereum price analysis is bullish today.
ETH/USD continued to move higher overnight.
ETH is likely to pause before breaking higher.
Ethereum price analysis is bullish today as bulls pushed the market price to the $3,150 resistance after a strong rally yesterday. Therefore, we expect ETH/USD to break higher later today and finally set a new higher high.
The overall market traded with a bullish momentum over the last 24 hours. Bitcoin is up by 1.6 percent, while Ethereum has gained 4.47 percent. Meanwhile, Solana (SOL) is the best performer today, with a gain of 10 percent.
Ethereum price movement in the last 24 hours: Ethereum tests $3,150 previous high
ETH/USD traded in a range of $2,976.34 – $3,163.67, indicating a substantial amount of volatility over the last 24 hours. Trading volume has declined by 13.33 percent and totals $18.85 billion, while the total market cap trades around $365.4 billion, resulting in the market dominance of 18.75 percent.
ETH/USD 4-hour chart: ETH ready to set higher high?
On the 4-hour chart, Ethereum price action can be seen to look for a breakout above the previous high of $3,150 as bulls have regained control.
The overall market continued to trade in a bearish momentum last week. After a new lower high was set around $3,650, ETH/USD dropped more than 25 percent until support was found around $2,750.
What followed was a reaction higher, with the previous major support of $3,150 retested as resistance. What followed was another spike lower on Friday, with a slightly higher low set this time.
Yesterday, the $2,750 support was tested for the third time, with a subsequent rally to $3,150 resistance over the last 24 hours. Overall, we can expect exhaustion for bearish momentum, likely leading the Ethereum price higher over the next 24 hours.
Ethereum Price Analysis: Conclusion
Ethereum price analysis is bullish for today as bulls pushed higher overnight, and the $3,150 resistance currently gets tested. Therefore, ETH/USD should see further upside above the $3,150 resistance later today.
While waiting for Ethereum to move further, read our guides on NFT Games, CoinJar, as well as Bitcoin Memes.
1/3 of Ethereum Supply Has Been Moved Out of Exchanges in Span of One Year
Ethereum is being moved away from centralized exchanges, and DeFi might be one of the reasons
According to data presented by Santiment, 1/3 of the circulating Ethereum supply has been moved from exchanges to personal wallets. From Sept. 26, 2020, to this day, the circulating supply has been reduced from 24% to 16%, totaling an 8% loss in a year. The main reason for such a trend is the update of the coin's network and a rapid price increase.
Ethereum price increase
Accumulation periods usually accelerate after the price of an asset has rapidly increased, which makes investors move funds away from the exchange since they are not willing to sell them. Traders usually hold money on exchanges whenever they are willing to sell their assets.
Since Sept. 2020, when exchange supplies have started to decrease, the Ethereum price has risen by almost 1,000%, with the average entry being $1,800-$2,000 on the network. The majority of Ethereum holders are currently holding their coins with a 69% profit.
The period of accumulation is considered over after on-chain data started reflecting a rapid exchange inflow increase. Usually, after the accumulation period is replaced by spending cycles, the price of underlying assets drops significantly.
Alternative investment options presented
Compared to the previous 2017 bullrun, Ethereum has stepped further in development with the announcement of various alternative investment options like liquidity provision and lending. That is why, in some cases, investors choose to reinvest their coins rather than keeping them on exchanges or selling them.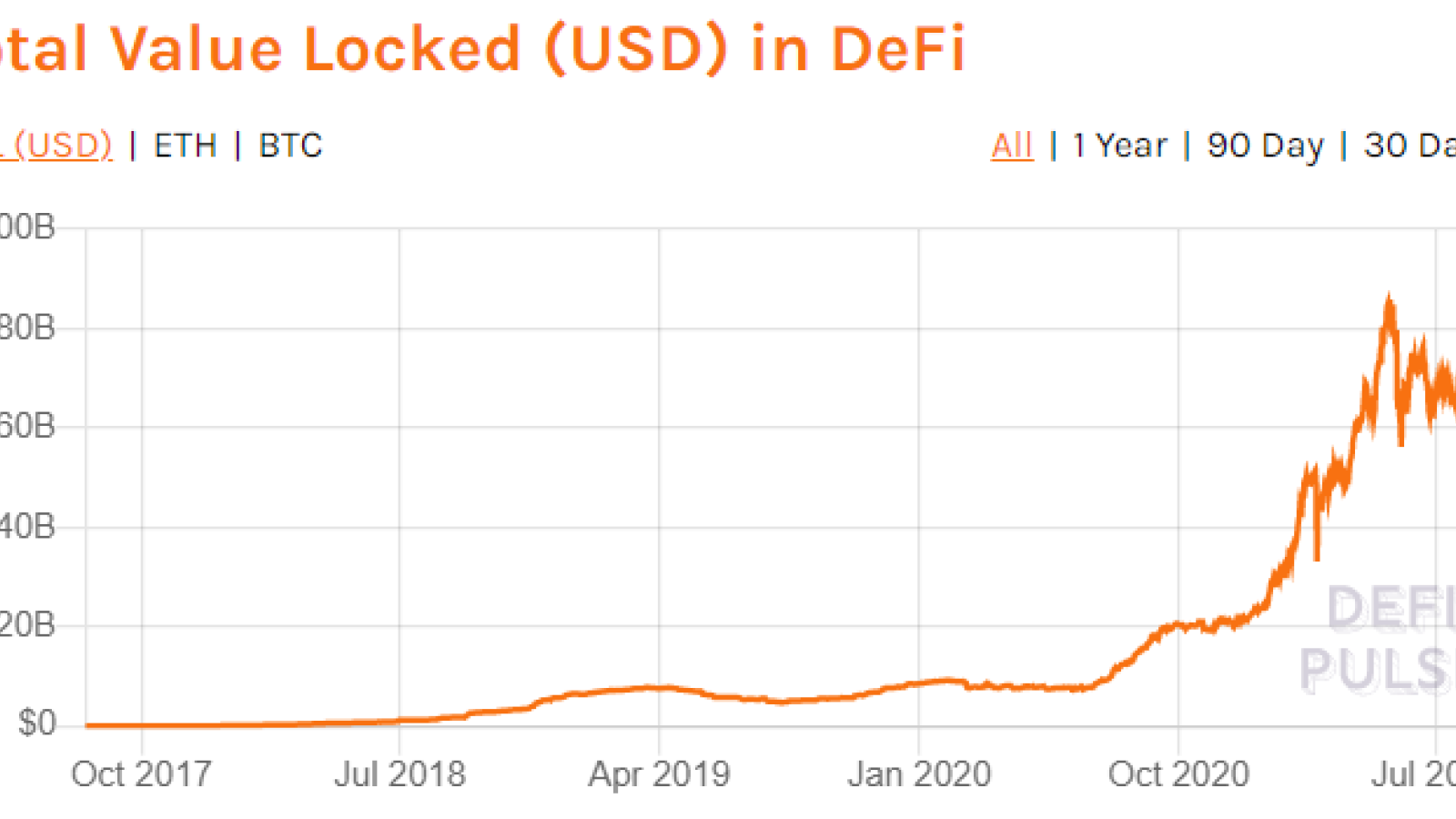 The total value locked in the DeFi industry is currently staying at $85 billion, with a $95 billion TVL ATH reached on Sept. 6. The current trend indicates that Ethereum holders prefer holding their assets in either personal wallets or DeFi smart contracts, rather than exchanges.
ETH Price Analysis: A Slowing Mid-Term Bearish Trend Hints Bullish Comeback for Ethereum
The ETHUSDT price finally slumps by roughly 21% after trading within an expanding channel formed by a bearish and bullish divergence setup on 03 Sep '21 16:00 and 05 Sep '21 04:00.
This price move was eventually felt on the Daily time frame ending the mid-term uptrend trend bias, and a transition into a downtrend. A first attempt by the bulls gave in to another 25% sell off that started on 17 September '21 20:00.
ETHUSDT 4 Hr Chart
Bullish and Bearish Scenario
The recent bullish divergence on 21 Sep '21 20:00 led to a slowing of the earlier price drop and a possible hike in the ETH price may just be around the corner. Negative statements towards cryptocurrency transactions by China's Central Bank (PBOC ) appears to be losing steam and traders may start scaling up a buy position after an advance above the $3174.50 resistance.
On the other hand, a breach of the $2,652.00 support may hint continuation of the down trend.
ETH Intraday Levels
Spot rate: $2916.71
Trend: Bearish bias
Volatility: Low
Support: $2652 and $2733
Resistance: $3676.28 and $3174.50