Dash Investment Foundation Considers Buying Tesla and Coinbase IPO Shares
The Dash Investment Foundation, an entity controlled by the Dash decentralized network, considers buying shares in Tesla and Coinbase's IPO. In a time when companies are rushing to own cryptocurrencies, the decentralized cryptocurrency Dash can own companies.
World's richest man and Tesla CEO Elon Musk made waves recently by announcing his company's purchase of $1.5 billion worth of Bitcoin, an announcement that generated renewed interest in cryptocurrency and sent the market price higher. This also led to speculation as to which major company would make a significant cryptocurrency investment next.
Dash, however, has the option of not only being owned by companies but of owning companies as well. The Dash Investment Foundation (DIF) is a first-of-its-kind entity fully controlled by the Dash decentralized autonomous organization (DAO) which allows the network itself to legally own property, including equity in companies. In this way, the Dash network itself could own shares in Tesla and other companies.
According to a recent poll by Dash Communications Manager Mark Mason surveying the Dash community on which investments they would like to see next from the DIF, the top choice was shares in the Coinbase company from their upcoming IPO at 32.1%, with the acquisition of Tesla shares coming in at 25.1%. Additionally, 28.2% believed that the DIF should invest in both. The DIF's present portfolio includes equity in trading platform Quadency, gaming platform Ready Raider, retail and payments apps CrayPay, is currently in the process of accepting shares from Dash Retail, and has soon-to-be-announced financial services platforms.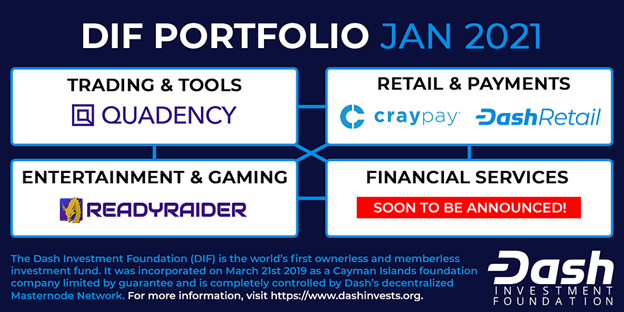 Ryan Taylor, CEO of Dash Core Group and DIF Supervisor recently commented on a live AMA that: "What the charter of the Dash Investment Foundation says is that it will invest for the benefit of the network. Now that does technically allow the DIF to invest in stocks, bonds, or whatever it wants. I think the real secret sauce where it really shines is in bringing partners to the table."
The DIF is the world's first ownerless and memberless investment fund. It was incorporated on March 21st, 2019 as a Cayman Islands foundation company limited by guarantee and is completely controlled by Dash's decentralized Masternode Network. Dash Investment Foundation is tasked with strengthening the Dash network through investment operations. By this, the foundation creates a bridge between the network protocol and the legacy financial and legal systems. This opens new possibilities for entrepreneurs and the Dash network to partner and mutually benefit from the funding available through the Dash network via Dash Investment Foundation.
Communication Manager for Dash, Mark Mason stated that:
"The cryptospace hasn't realized just yet how revolutionary the DIF is. It's one of blockchain's best kept secrets. While the media is currently fixated on tech companies buying Bitcoin. The Dash network is investing and taking equity in blockchain start-ups and tech companies. The DIF portfolio is growing fast, partner interest is strong, the DIF is reviewing many company pitch-decks for investment and we have new DIF investments in the pipeline that we're very excited to announce to the network. It's a very exciting time for Dash!"
When asked to explain how the DIF was able to get the funding from the network to invest in tech companies and how Dash is different from Bitcoin, Mason said that while Bitcoin had the first-mover advantage as being the first Proof of Work cryptocurrency, Dash had the first-mover advantage of being the first Proof of Service cryptocurrency with a decentralized autonomous organization, that is self-funding and self-governing at the protocol layer. He added:
Grayscale's Top Executive Joins Robinhood as New Chief Compliance Officer
Robinhood hires a new CCO, the chief compliance officer of Grayscale
Robinhood brokerage app has welcomed Benjamin Melnicki as a new Chief Compliance Officer, who is also the holder of the same position at Grayscale Investments. He joined Grayscale in early January this year.
At the moment, Robinhood's cryptocurrency arm is facing scrutiny from financial regulators. Last year, Robinhood was a target of an investigation connected to anti money laundering and certain cybersecurity problems experiences by its crypto division.
*Robinhood's Crypto Unit Hires New Chief Compliance Officer From Grayscale

*Benjamin Melnicki's Appointment Follows Scott Hershorin's Departure in June

*Appointment Comes as Robinhood's Crypto Unit Faces Regulatory Scrutiny$HOOD— *Walter Bloomberg (@DeItaone) September 24, 2021
As reported by U.Today previously, later this year, the brokerage firm plans to roll out cryptocurrency wallets for its users. The trials of wallets will kick off in October and will allow customers to deposit and withdraw cryptocurrencies to addresses beyond Robinhood seamlessly.
Average Aussie crypto portfolio grew 258% in FY 20-21, survey reveals
The average portfolio size on Australian cryptocurrency exchange BTC Markets has grown from $577.65 (795.5 Australian dollars) to $2,069.16 (2849.5 AUD) in the financial year 2021, signaling a 258.2% increase in portfolio holdings, according to exchange data compiled by Statista on a recent BTC Markets survey.
Data on the survey shows that the average portfolio size of female and male investors in fiscal 20-21 on BTC Markets was $1,924.30 (2,650 AUD) and $2,214.03 (3,049 AUD), respectively. However, in 2020, the average portfolio size of female Aussie investors exceeded male investors slightly. 
Transaction data on the exchange also showed a pattern of growing investment demand with aging. Considering the data provided by BTC Market on Australia's average initial investment, investors above 65 years old have invested roughly $3,158.03, the highest ofall demographics.
Following an incremental reduction across the various age groups, the youngest cryptocurrency traders, ranging from 18 to 24 years, tend to make comparatively small investments, standing at $792.96 on average. While older Australian crypto investors outweigh the new generation in initial investment, the younger crowd shows comparatively more activity in terms of daily trades.
Resonating the findings above, a September report from financial comparison website Finder shows that one in six Australians own cryptocurrencies, amounting to $8 billion in total investment. The report suggests that, like many other users in advanced industrialized countries, Australians were increasingly viewing cryptocurrencies as a new asset class. 
According to Cointelegraph's report on the matter, Bitcoin (BTC) is the most popular cryptocurrency for the Australian crypto market held by 9% of investors. Other popular investments include Ether (ETH), Dogecoin (DOGE) and Bitcoin Cash (BCH). The report showed that, despite the growth in crypto investments, a significant barrier to entry for Australians is the difficulty in understanding crypto and the risks related to volatility.
Switzerland to Impose Anti-Money Laundering Rules on Crypto Providers: Report
FINMA requires all cryptocurrency providers to step up their game and monitor whether criminals use digital assets in illicit transactions.
The Swiss Financial Market Supervisory Authority – FINMA – would reportedly require local digital asset providers to take additional steps in preventing criminals from employing cryptocurrencies. The watchdog would also turn its sight towards bitcoin ATMs as it believes that drug dealers often use these machines.
FINMA Targets Criminals Operating with Crypto
According to a Finews report, Switzerland's financial regulator – the Swiss Financial Market Supervisory Authority or simply FINMA – would closely supervise local crypto providers as an attempt to clamp down on money-laundering transactions.
Swiss platforms and brokers dealing with digital assets would have to enhance their monitoring efforts and observe if bad actors employ cryptocurrencies. The Bern-based watchdog believes the initiative is "urgently necessary," stressing that criminals use the asset class even to fund terrorism acts.
FINMA also turned its attention towards bitcoin automated teller machines. According to the regulator, drug dealers frequently use such ATMs as payment systems. It is worth noting that Switzerland is a relatively small nation, but its 130 Bitcoin automated teller machines place it in the sixth position among the countries with the most stations.
FINMA also passed an anti-money laundering provision according to which it lowered the threshold for unidentified crypto purchases from 5,000 Swiss Francs (CHF) to 1,000 CHF (around $1,080). Or, in other words, all financial providers dealing with digital assets have to collect data on anyone initiating transactions that exceed this amount.
UBS: Crypto Regulations Could Spell Trouble
One of the leading banks in Switzerland – UBS – recently shared its views on the hot topic of digital asset regulations as it indicated that implementing certain rules might negatively impact the market.
Furthermore, the bank warned its customers that regulatory crackdowns can pop the "bubble-like" crypto markets. The Swiss bank also labeled the asset class as "speculative" alerting that it could be dangerous for professional investors:
"While we can't rule out future price gains in cryptos, we see this as a speculative market that poses significant risks to professional investors."
On another note, though, when the cryptocurrency market was booming at the beginning of May, UBS demonstrated a different attitude. Back then, it intended to enable its wealthy customers to receive digital asset exposure later in 2021 through third-party vehicles.