Massive Whale Transactions Sent Three Altcoins Into a Spiral, According to Crypto Analytics Firm Santiment
Crypto analytics firm Santiment says whales are having a significant impact on the performance of three altcoins.
In a new report, Santiment observes that massive amounts of Aave, Kyber Network (KNC) and 0x Protocol (ZRX) were sent to exchanges this week, likely triggering high volatility and large selloffs.
When a crypto whale sends their altcoin troves to an exchange, traders often take notice and worry that the individual may be preparing to sell their holdings on the exchange.
This Wednesday, one Aave holder sent 828,600 tokens worth $305 million to an exchange and although the movement has not yet instigated a large drop in price, Santiment suspects that the transfer could cause Aave to dip further.
Santiment reports that a significant quantity of KNC tokens were moved between exchange addresses this Monday including 13 million KNC tokens worth approximately $26 million.
According to the analytics firm, KNC saw a rise in exchange inflows and an overall increase in on-chain volume, which "predictably" preceded a steep fall in the asset's price.
Whales are disrupting 0x's upward climb as well, says Santiment. The firm reports that in the largest USD transaction the asset has witnessed in its 3.5 years on the market, 28 million ZRX worth $44 million were sent to an exchange address.
Santiment highlights that the asset's price action has been relatively volatile since that transfer took place.
Earlier this week, Santiment published a study in which the firm tracked the price movements of 1,000 assets with at least a $1 million market cap to discover whether or not a spike in exchange inflows for a particular asset is a reliable bearish indicator.
The study found that crypto assets drop an average of 5% following a large uptick in exchange inflows for that cryptocurrency or token.
Whale Grabs 74.9 Million SHIB On the Dip After It Dropped $600 Million of Its Market Cap
According to an article by FXstreet, a large crypto investor has purchased a massive amount of Shiba Inu meme cryptocurrency—74.9 million SHIB tokens—after the price of the asset plummeted on Oct. 14 and SHIB declined from 14th place to 21st place on CoinMarketCap.
Since Oct. 11, Shiba Inu has lost around two billion dollars of its market capitalization, dropping from $12 billion to $10 billion.
Whale buys over $1.9 million of SHIB
Recently, the meme-coin inspired by the Shiba Inu dog breed and proudly called a "Dogecoin killer" by its growing community has become a crypto trend and demonstrated a rally of more than 300% in one week.
On Oct. 7, it reached a high of $0.00003314. However, it was still almost 30% below its all-time high of $0.00004999 achieved on May 10.
By now, SHIB has declined by 31.95%, trading at 0.00002404 on Binance.
Meanwhile, as the coin plunged, a cryptocurrency whale invested almost $2 million, buying Shiba Inu. As reported by U.Today earlier, this is not the first whale to purchase eye-popping amounts of SHIB recently.
Before the aforementioned rally started, another anonymous whale purchased the first six trillion SHIB in a single transaction, and two days later bought three lumps that totaled 276 billion coins. Experts believe that these purchases were among the reasons for SHIB's 300% rally.
Shiba Inu listed in India, Turkey, Austria
As reported by U.Today earlier, Shiba Inu has recently been listed on the oldest crypto exchange in India—ZebPay—which serves over four million customers on a regular basis.
Last week, support for SHIB was also added by Austria-based fintech company Bitpanda, which was funded by billionaire Peter Thiel's venture investment firm. Recently, the news has spread that the largest crypto exchange in Turkey, BtcTurk, also plans on listing this Dogecoin rival soon.
As a reminder, earlier this year, two major crypto exchanges also began trading SHIB—Coinbase (in September) and the Binance crypto giant (in May, when the coin reached its all-time high).
According to recent data published on Twitter, SHIB has been getting more mentions than Bitcoin, Ethereum, DOGE, ADA and other top 10 altcoins. Besides, a lot of investors in meme-coins prefer Shiba Inu to FLOKI.
Whales Suddenly Move Over $2,200,000,000 in Ethereum As Miners Amass the Second-Largest Crypto Asset
Whales are suddenly moving more than $2.2 billion in Ethereum (ETH) this week across 11 separate transactions, according to the crypto tracker Whale Alert.
The moves come as ETH's price surges and Ethereum miner balances continue to skyrocket, blockchain analytics firm Santiment reports.
"#Ethereum is up to $3,480, the coin's highest price in 16 days. Notably, miner balances have continued to skyrocket.
532.75k $ETH is the largest balance held by miners since July 13, 2016. The value of these coins is $1.85B, easily an #AllTimeHigh."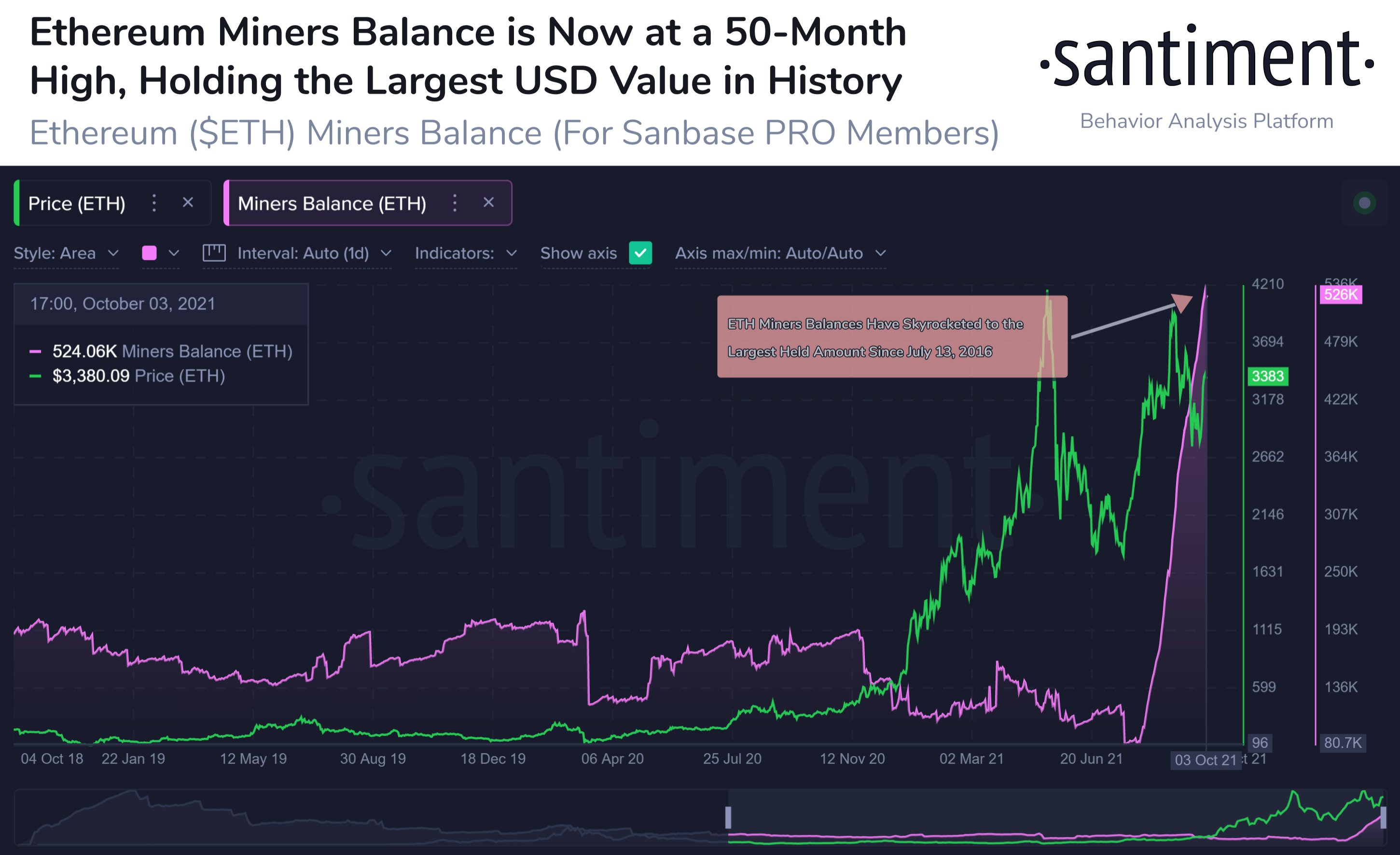 ETH is trading $3,588.59 at time of writing and is up more than 28% in the past week, according to CoinGecko.
Whale Alert notes that in the largest of the tracked transactions, an unknown wallet transferred a whopping 227,371 ETH worth more than $784 million to another unknown wallet on Tuesday.
Also on Tuesday, a third unknown wallet sent 50,983 ETH worth more than $180 million to a fourth unknown wallet.
On Monday, an unknown wallet transferred 105,100 ETH worth more than $353 million to Binance.
Here are some of the other notable ETH whale transactions from the past few days, including several significant transfers to and from crypto exchanges:
Multiple Crypto Whales Grab Over $46 Million of SHIB Recently: SHIB Community
SHIB community states that multiple crypto whales have been purchasing large amounts of Shiba Inu in the past 14 days
PAC Protocol CEO David Gokhshtein has taken to Twitter to announce the news reported by U.Today over the weekend: a crypto whale has been grabbing trillions of SHIB since Thursday.
Multiple whales are buying up SHIB
In the comment thread, one SHIB activist tweeted that multiple whales have been buying Shiba Inu over the past two weeks. The largest purchase so far has been worth $46 million—approximately six trillion SHIB.
There's been multiple whales over the last 2 weeks. Highest was $46 million I believe.

You all that are sleeping on SHIB are highly misinformed. Regrets pic.twitter.com/vhsiivYpGj— $Sh!b Na$ti (🏅-G3n3r4l) (@NastyShib) October 3, 2021
This jaw-dropping amount of SHIB was purchased on Thursday, according to Twitter profile @WhaleStats.
Later on, on Saturday, the same whale acquired 276 billion SHIB in three massive lumps: 116 billion, 159 billion and an extra billion SHIB. The transactions were made within just a few hours of each other.
Earlier this year, whales made substantial purchases of Shiba Inu several times as well: in the summer, when SHIB was added by the eToro platform, listed by WeBull and Coinbase Pro, and in September, when Coinbase launched SHIB trading.
Now, the community is hoping that the Robinhood app will also choose to add the SHIB meme currency soon. One of the reasons for that is the platform's announcement to start testing cryptocurrency wallets in October. Besides, the petition on Change.org that asks for SHIB to be listed by the app team has already collected almost 200,000 signatures.
Canine coins stop responding to Elon Musk's tweets
Earlier today, the richest person in the world, Elon Musk, head of Tesla and SpaceX and co-founder of PayPal, tweeted a picture of his Shiba Inu puppy named Floki.
He had announced the posting of his dog's picture in advance. Still, the canine coins—Dogecoin, Shiba Inu and Floki Inu—have hardly risen on that tweet. This may be a sign of Elon Musk's fading impact on the prices of these meme cryptocurrencies.
The same occurred in 2021 when Musk tweeted memes about DOGE; the coin's price hardly reacted to that. In previous years, Musk's tweets have been the main catalysts for Dogecoin's growth