Robinhood Expects To Pay $26.6 Million FINRA Fine
Robinhood is dealing with multiple regulatory probes and expecting to pay a financial regulator a minimum of $26.6 million in a potential settlement.
It's not all gloom and doom for the company, which is preparing to go public—Robinhood is valued at $20 billion, and added 6 million crypto users already in 2021.
Robinhood, the popular stock trading app, announced on Friday that US regulators were preparing to probe its trading restrictions on shares of GameStop (GME) and others.
The company said in a filing with the US Securities and Exchange Commission that it is cooperating right now with investigations by a number of regulatory bodies, including the SEC, the Financial Industry Regulatory Authority (FINRA), and the New York Attorney General's Office.
Decrypt has reached out to Robinhood for further comment.
Settlement underway
In the SEC filing, Robinhood also said it is preparing to pay at least a $26.6 million potential settlement with FINRA—not over the GameStop restrictions, but over trading outages in March 2020 and its options trading policies around approval and display.
Robinhood, in its filing, said it is "engaged in discussions with FINRA staff regarding a possible negotiated resolution of certain FINRA matters, including the March 2020 Outages and options trading," and that it expects that "any resolution, if reached, would involve charges of violations of FINRA rules, a fine, customer restitution, a censure, and a compliance consultant. We have accrued in our statement of financial condition for the year ended December 31, 2020 of $26.6 million representing the bottom of the range of our probable losses. We cannot predict, however, whether these discussions will result in a resolution of these matters."
From trading frenzy to regulatory frenzy
Robinhood's options trading policies became particularly contentious when Alex Kearns, a 20-year old trader, committed suicide last year after wrongly believing that he had lost nearly $750,000 in an options bet made on Robinhood. In reality, he had a balance of $16,000, but that was allegedly miscommunicated.
The app in January came under scrutiny once again when it halted buying of GameStop shares amid the trading frenzy pushed by short-squeeze investors on social media. Grassroots investors had coordinated on Reddit to buy GameStop shares to push up prices, forcing hedge funds to buy up even more.
As the frenzy unfolded, Robinhood put a swift stop to trading on GME and other shares subject to similarly unusual demand, including Nokia (NOKIA) and AMC Entertainment Holdings (AMC). Separately, it also restricted instant deposit buys for cryptocurrencies.
The company defended the trading restriction—the extraordinary demand spiked up its bills to clearing house companies, forcing them to take this decision, it said in an effort to justify the controversial move. "It was not because we wanted to stop people from buying these stocks," the company said.
But none of these public statements did do much to calm the angry traders who questioned the app's claim to "democratize trading," since the move was seen to be in the interest of Wall Street.
The SEC vowed to protect the traders, and it's now been joined by others in the regulatory efforts to scrutinize Robinhood.
Meanwhile…
The regulatory headache comes at a particularly inopportune time for the company as it prepares to go public later this year, boasting a reported valuation of about $20 billion.
The SEC FINRA and many other regulators waiting for payments from Robinhood as unfortunately that is all that happens in the securities industry when you blow up trading and lie/cheat your customers.

— Ross Gerber (@GerberKawasaki) February 27, 2021
Legendary Trader Peter Brandt Challenges Binance with Four Questions about 88% BTC Crash
Here's what is unclear for Mr. Brandt about mysterious Bitcoin (BTC) flash-crash of Oct. 21, 2021
Prominent trader and analyst Peter Brandt has taken to Twitter to ask his four questions in the context of the flagship crypto's 88% dropdown.
What do Binance and Binance.US have in common?
First of all, Mr. Brandt challenged the character of corporate relationships between Binance and Binance.US, its unit focused on American markets.
Questions remain:
1. What is exact corp. relationship @binance w/ @BinanceUS
2. Will firm release T&S with all trades/volume/price?
3. Did firm take opposite side of client fills
4. Will firm change low to reflect actual fills
cc: @GaryGensler @CFTC @SECGov @cz_binance @IBKR pic.twitter.com/huqzZbSGIt— Peter Brandt (@PeterLBrandt) October 24, 2021
Also, Mr. Brandt asks whether Binance is planning to release detailed documents to specify statistics for trades, their volume and prices during the flash-crash.
Then, the trading legend asked about the role of the platform in taking the opposite side of a client fills.
Besides the Binance CEO and co-founder Changpeng "CZ" Zhao, Mr. Brandt mentioned the Interactive Brokers platform, U.S. watchdogs CFTC and SEC and Gary Gensler, the SEC chairman.
Most expensive "trading algorithm bug" ever?
Also, Mr. Brandt attached a screenshot of a tweet by CZ when Binance's boss warned his audience about expected volatility spikes across cryptocurrency markets.
Finally, Mr. Brandt added that he never used Binance for trading.
As covered by U.Today previously, on Oct. 21, 2021, amidst a spending rally, the Bitcoin (BTC) price briefly tanked to the $8,000 level, losing more than 88% in no time.
A similar flash-crash was registered on 26 other low-liquidity exchanges. A Binance.US representative attributed this dramatic plunge to a critical bug in third-party mechanisms by one of the platform's sophisticated institutional clients.
Crypto investments a financial backup for Facebook whistleblower
Frances Haugen, a former Facebook employee turned whistleblower, revealed that her refuge in Puerto Rico is currently being supported by an auspiciously timed cryptocurrency investment.
Haugen worked as a Facebook product manager before accusing the company of spreading controversial and insensitive misinformation. She allegedly possesses numerous confidential research documents, which, according to her, shows that "Facebook prioritizes profit over the well-being of children and all users." Previously, Facebook has been accused of influencing the 2016 United States presidential election with the help of Russian agencies.
In a follow-up interview with The New York Times, Haugen was asked about her financial situation:
"For the foreseeable future, I'm fine, because I did buy crypto at the right time."
The whistleblower also received financial help from nonprofit organizations (NPO) backed by Pierre Omidyar, a co-founder of eBay. However, Haugen clarified that Omidyar's NPO fundings were only used to finance travel and related expenses.
According to Haugen, shifting to Puerto Rico helped her join her "crypto friends" who enjoy capital tax exemptions on Bitcoin (BTC) and cryptocurrency assets.
Iconic whistleblower and former U.S. Central Intelligence Agency agent Edward Snowden also continues to show support for the Bitcoin economy amid regulatory pressures from governments across the world.
On Oct. 4, Snowden tweeted about Bitcoin's tenfold growth despite China's blanket ban on crypto mining and trading.
Sometimes I think back to this and wonder how many people bought #Bitcoin then.

It's up ~10x since, despite a coordinated global campaign by governments to undermine public understanding of—and support for—cryptocurrency.

China even banned it, but it just made Bitcoin stronger. https://t.co/pbnOFGfaVf— Edward Snowden (@Snowden) October 3, 2021
Binance Bitcoin Balances Are Draining: 40,000 BTC Moved Away from Biggest Crypto Exchange
According to CryptoQuant data, Binance cryptocurrency exchange once again faced a massive fund outflow totaling 38,246 BTC. After a significant drop in the Bitcoin balance, the total balance on the sheets is close to 500,000.
In-house redistribution of funds
Previously, Binance.US faced a major bug that led to so-called "slippage"—the difference between the expected price of a trade and the actual execution of an order.
Whenever the order book on the market is too thin and an exchange cannot provide enough liquidity, volatility on the asset tends to rise exponentially, which leads to a massive drop in value.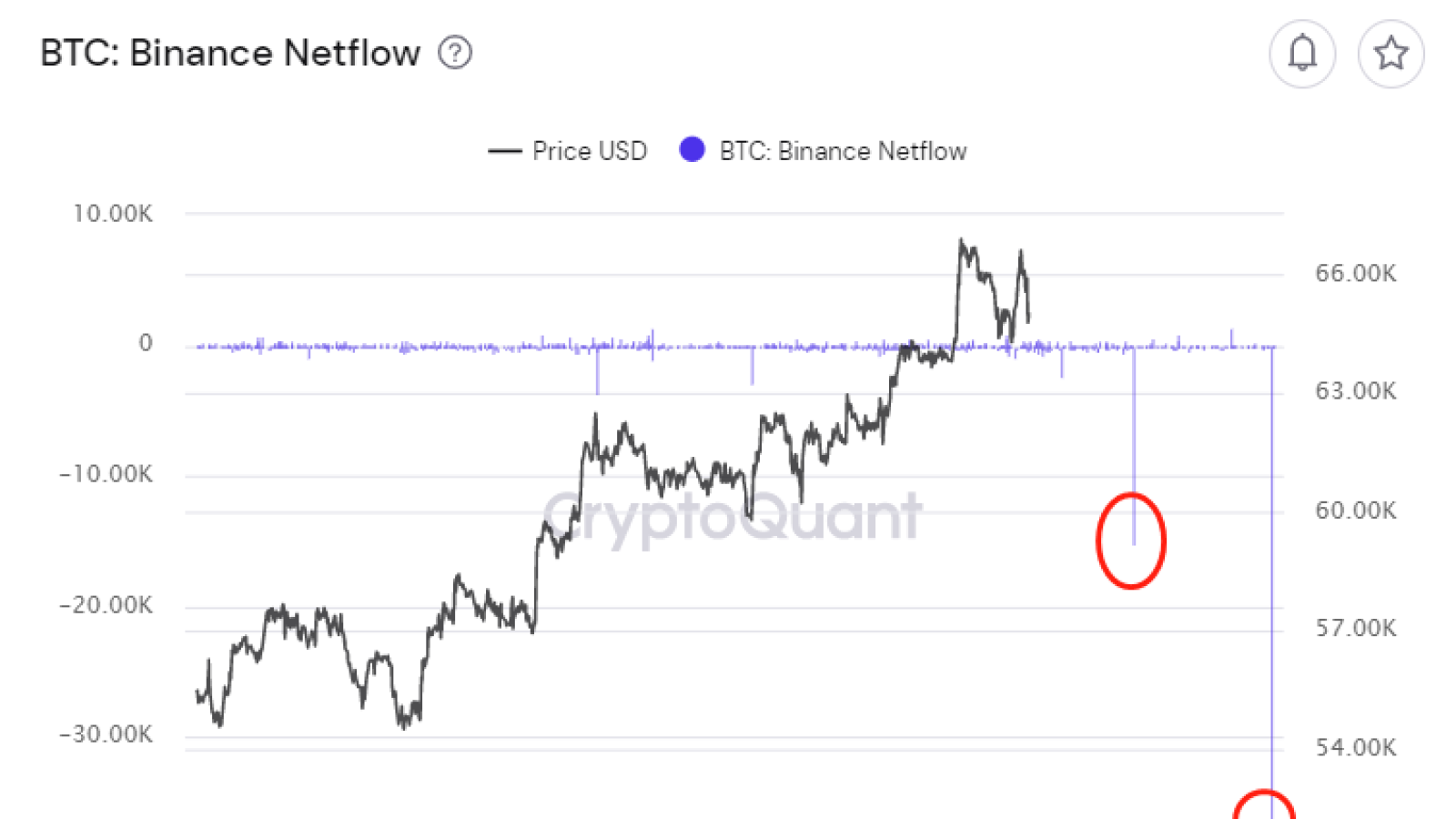 Due to the bug that appeared, the price of Bitcoin on Binance.US has dropped to $8,000, with numerous buy orders being executed on the way down. In order to provide more liquidity to the market on Binance.US, the main platform could have moved some of its funds to the U.S.-targeted platform, which is being counted by on-chain metrics as "outflows."
Natural outflows
With Bitcoin moving past the previous ATH and trading volumes remaining stable, some traders and investors are choosing to move their funds away from exchanges and keep them in their wallets.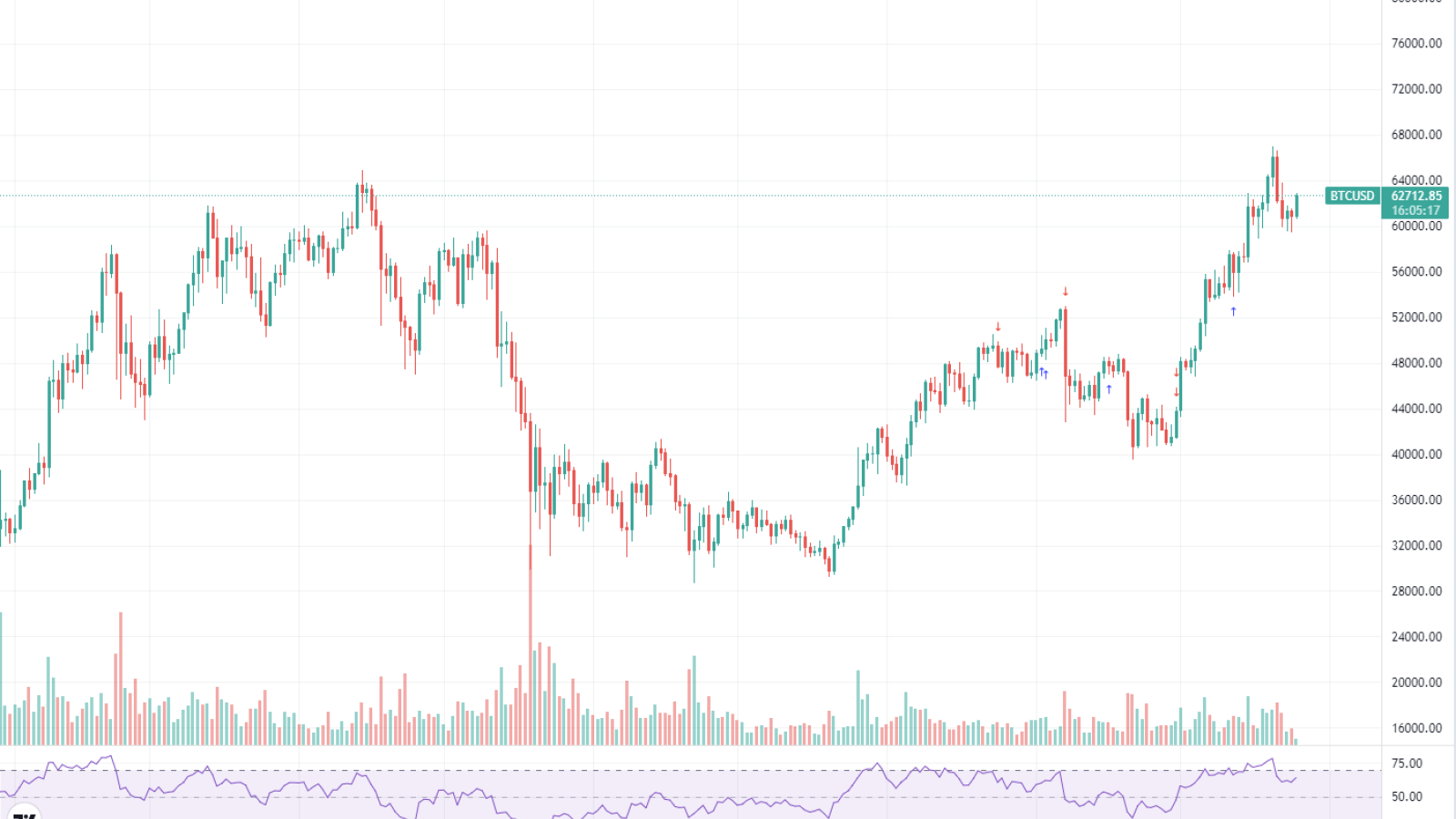 According to volume metrics, no significant selling pressure has been present on centralized exchanges, along with no abnormal trading activities.
Previously, notable exchange inflows appeared back in May, when Bitcoin's price retraced from the previous ATH to $29,000. Most retail investors have moved funds from their wallets to the exchanges to take profit.