Cardano [ADA] Has Both Bulls And Bears In Its Market; Will The Altcoin Hit $2 Or Slump Below $1?
The crypto market was witnessing a massive setback. Cardano [ADA] managed to escape from the previous ones but was seen stuck with the bears, this time. The altcoin overhauled several coins like XRP, Litecoin [LTC] as well as Binance coin [BNB] and took over as the fourth-largest cryptocurrency. ADA had even surpassed the largest stablecoin, Tether [USDT], in terms of market cap. Though this didn't last for too long, ADA's market cap was noted at $34.71 billion.
The price of ADA soared to record a new all-time high amidst the bear market. After recording an all-time high of $1.48 on 27 February 2021, the altcoin began experiencing major retracements. This further instigated a series of speculations regarding the asset hitting $2 very soon. At the time of writing, ADA was trading for $1.13 with a 5.98% drop in the last 24-hours. Nevertheless, ADA incurred gains of over 3.44% in the last seven days.
Cardano [ADA] One-Hour Price Chart
The short-term price chart of ADA was seen bringing back hope. The altcoin was prepping for a change in trend, affirmed the bulls. The Parabolic SAR indicator after laying out a long string of dotted lines over the candlesticks was finally seen flipping this earthward. With just one dot below the candlesticks, the indicator revealed the presence of bulls. The Chaikin Money Flow indicator was seen heading above zero or the bullish realm.
The Relative Strength Index indicator was seen exactly at 50 median which further pointed out a neutral sentiment in the Cardano market.
Cardano [ADA] One-Day Price Chart
Unlike its short-term price chart, ADA on its one-day chart was seen harboring the bears. The MACD indicator was noted in a bearish crossover which was formed recently. The Awesome Oscillator indicator had formed red closing bars further insinuating a bearish sentiment. The Money Flow Index indicator was seen delivering a buyers' notion in the ADA market as the marker was noted at 70 median.
Ravendex, A Cardano-Based Project, Releases its DEX Demo, to start with Tokens Sales soon
Ravendex, a new Cardano project has made a demo version of its first decentralized exchange, having features like Swap Pools, Light & Dark Mode.
While the company continues to make rapid progress after the private token sale started, which has 100 million $RAVE tokens available for the investors, while 82 million $RAVE tokens are already said to be sold out.
Ravendex team is committed to launching a working DEX on the cardano ecosystem before the year ends.
The project will be launched and maintained using funds raised from the sale of $Rave tokens to early investors.
Features Of Ravendex
Ravendex will also have A Staking Platform and also a decentralized lending and borrowing platform, which sets it apart from other Cardano network projects as they are one of the very few projects on the third generation blockchain with the idea conception.
Investors & Liquidity providers can give liquidity to tokens and in return, they will make profit from transaction fees. Alternatively, users can stake their assets on the staking platform and earn a commission and percentage from borrowers' fees.
According to the Ravendex team, their decentralized exchange will include wallet connect features, Asset Price display and transaction list features.
They will also keep their payment fees low and secure. As a matter of fact, Ravendex aspires to be the Cardano network's primary financial hub.
RAVE TOKEN
Ravendex reveals that the total number of $RAVE coins will be limited to one billion.
Investors will be able to stake, provide liquidity, or vote with their tokens on the Cardano network.
The Private Sale Phase is almost filled as the company has already reached 82 percent of its goal of selling 100 million tokens by the end of its first private sale and the pricing places it at 0.00225 ADA per $RAVE token.
The Cardano-based project, on the other hand, intends to hold a total of five sales which can be seen in the sale stages page.
Ravendex, like many other cryptocurrency projects, plans to open its sale to the general public later this year.
200,000,000 $RAVE tokens will be available in the pre-sale phase at a price a little more expensive than the private sale at 0.0027 ADA per coin.
Those who missed out on the first public sale will have another opportunity to purchase $RAVE tokens for 0.0032 ADA each. A total of 100 million tokens will be sold during this stage.
This Medium link provides more information about the Ravendex
About Ravendex
Ravendex is a Cardano-based crypto project that aims to create a decentralized exchange.
Its purpose is to provide a platform that has incredibly minimal fees and allows for quick cross-border transactions.
More importantly, it aspires to include features that will be useful to Cardano supporters. Also, we also look forward to creating a community of active investors who may vote on issues. They can also lend coins or provide liquidity to create a fully functional decentralized exchange.
Cardano Price Prediction: ADA ready to explode to $4
Cardano price returns to bullish conditions, denying further sell-side control
An imminent breakout towards new all-time highs is likely.
Little resistance ahead, but bulls should remain wary.
Cardano price has failed to capitalize on the movement generated by its closest peers, Bitcoin and Ethereum. As a result, very tight and challenging trading ranges have been the norm for Cardano, but that may change here soon.
Cardano price targets a breakout above $2.45
Cardano price has a very bullish set up on its $0.05/3-box reversal Point and Figure chart. If a new column of Xs forms and hits the $2.45 entry, three things happen simultaneously. First, a double-top is broken, confirming an entry signal. Second, the entry confirms a complete Bear Trap Point and Figure pattern. Finally, the entry at $2.45 is a breakout above the dominant bear market angle.
The breakout could be the very beginning of a new bullish expansion phase for Cardano price. The initial target on the breakout is based on the horizontal profit target method in Point and Figure analysis. $4.05 is the initial range and would be a new all-time high.
However, the current trading conditions still have a significant bearish weight. Therefore, Cardano price must remain above the $2.05 value area. If it fails to hold $2.05 as support, a return to the $1.80 trading range is likely.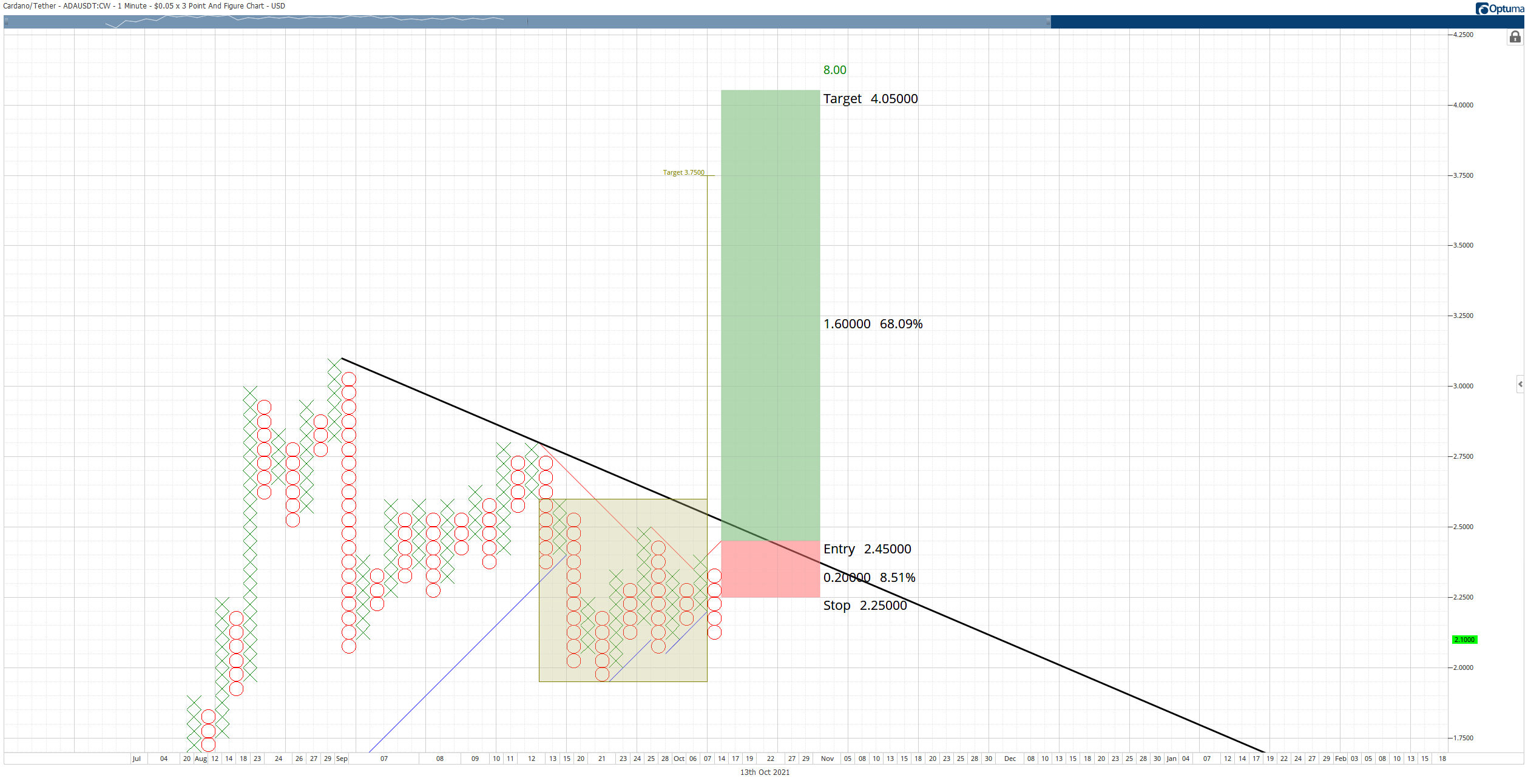 ADA/USD $0.05/3-box Point and Figure Chart
Bulls should also be aware of some resistance on any breakout near the prior swing high and high volume node at $2.80. While the momentum of the breakout may make any near-term resistance moot, $2.80 has been a consistent source of trouble for Cardano, and it would certainly be odd for it not to provide some resistance in the future.
Cardano Price Analysis: ADA/USD set to surpass the intraday highs of $2.3
Cardano price analysis is bullish today.
The ADA/USD pair formed a lower low yesterday.
Today we expect to see Cardano's value rebound somewhat.
Today's Cardano price analysis is bullish, as a new lower low was formed following a substantial decline over the previous 24 hours. As a result, ADA/USD should recover some of its losses later today as bears run out of steam, according to our predictions.
Cardano price movement in the last 24 hours: Cardano faces stiff resistance at $2.2
Over the last 24 hours, ADA has traded in a range of $2.178-$2.198, with considerable swings from one day to the next. The volume is up by 27.43 percent and stands at $2.78 billion. In comparison, the overall market cap is valued at about $70 billion, placing Cardano in third place among all cryptocurrencies by market cap.
ADA/USD 4-hour chart: ADA set to reverse today?
On the hourly chart, after a significant drop, bears are weary, with Cardano's price starting to reverse. The RSI is climbing, implying that the price will continue to rise. The current resistance level for Cardano is $2.2, which was established by a lower high.
The RSI is climbing, and the price should follow suit as no technical factors suggest otherwise. ADA/USD will rise if bulls break through the $2.22 resistance level.
ADA/USD 4-hour chart. Source: TradingView
On the 4-hour chart, we can see that after a substantial fall, bears are weary, with Cardano's price starting to reverse. RSI is moving up, suggesting that the price will continue to rise. The coin's current resistance level is at $2.2, formed by a lower high.
The RSI is moving up, and the price should continue to follow, as no technical factors suggest otherwise. If bulls manage to break through the resistance level of $2.22, then ADA/USD will rally towards its next resistance level at $2.4 – $2.45 – $2.5.
After establishing two lower highs above $2 in early October, Cardano hit a new downside high of $2.30 in mid-October, followed by the current range of $2.178-$2.198. Here we're likely to see a decisive break – either down or up – and we might anticipate temporary bearish momentum, as seen on the 4-hour chart, before ADA/USD recovers and starts gaining ground again.
Over the next 24 hours, the Cardano price is expected to recover some of its losses. We might anticipate bearish momentum to continue throughout this week if a lower high is hit.
Cardano Price Analysis: Conclusion
From a long-term perspective, this still looks like an excellent time to invest in Cardano.
Looking at the 4-hour chart, we can conclude that ADA is following an overall bullish trend. However, with RSI moving up and establishing a higher low at $2.178, this might be the beginning of a more extensive recovery.