Crypto Market: Advocate, Don't Manipulate
If there is one thing all crypto lovers and haters can agree on, it is that there is a lot of activity lately. Especially from Q4 2020 onwards when Bitcoin started to scratch its hoofs, slaying every $1,000 mark in its path with an ease not seen before. Last couple of weeks BTC reached a new all time high of over $58,000. Most people tend to focus on the price of BTC, but it is also worth considering the market cap: BTC crossed the 1 trillion dollar mark. That is a 1 with 12 a whopping zeros, giving it the #6 position of market caps of companies. Impressive, especially so for an anonymously created technology that never raised funds, didn't go public, or is owned by anyone.
But, the track record of BTC isn't my topic here, the crypto market and the almost constantly chiming in from celebrities, influencers, wannabees and sometimes even right-out idiots is. That I find unwelcome, and see as noise, distraction and sometimes even as possible manipulation. Be it deliberate or unknowingly, that manipulation needs to stop.
To make sure you understand what I mean, I am not complaining about people listing their favorite project, discussing developments, analyzing trends, have an opinion about price, or share their excitement or disappointment. That is in my view all part of the crypto twitter ecosystem. I like and sometimes hate the CT, but am also part of it. What I really do not like is that someone more or less blatantly and/or unfounded makes claims or statements.
Recently Elon Musk, Snoop Dogg and Gene Simmons have tweeted about cryptocurrency. Let me give an example. On February 4 Elon Musk tweeted "Doge" with a picture of a rocket flying towards the moon. With 46 million followers, not to mention a crypto twitter community desperately looking to more or less anyone for direction, an impactful statement. Especially so knowing he has a certain flamboyant streak, is a billionaire and — here comes my gripe — uses a visual of a rocket hurling toward the moon. Using that symbolism is literally seen by the crypto community as an endorsement from Elon to buy Doge. And guess what? We, the crypto community at large, did precisely that. Was DOGE hovering at 87 'sats' on February 3, it peaked at 199 on February 7th. Needless to say I cannot prove that to be causal (meaning because of Elon the price of $DOGE went up) but I dare to say the tweet and the price
As some of you know I am also the Chairman of the DigiByte Foundation. Now I can hear you think, what if Elon had said DigiByte instead of Doge, would I have written this article too? The political correct answer would be 'yes, of course'. That said, I would have enjoyed the publicity and possible price effect of $DGB like most of us in the community would have. Who can resist "validation" by a celebrity? But, within the DigiByte community we would never make bold claims regarding price. Actually as a DigiByte community we live and act under the premise "underpromise, but overdeliver". As DigiByte Foundation we also steer clear from price. Tempting as it is sometimes, we simply do not comment on price or price developments. So yes, I would have voiced my concern, and invited Elon to learn (even) more about DigiByte. That offer is of course always available Elon: I can easily connect you with some really smart people.
Just to make sure, I am not Elon-bashing; am merely using his tweet as an example. As a matter of fact when Elon Musk was trying to scale up Tesla, he realized that the battery was his proverbial Achilles heel. Charging the battery takes a while, and the radius a car could drive was limited. Those are two critical success factors for (mass) adaptation of electric vehicles. Rather than restricting access to R&D, he released Tesla's research, and invited everyone to help solve the "battery problem". Till today I find that an amazing and unprecedented step, and a step that not only shows confidence, but also an acknowledgement of 2.0 market dynamics. Not fearing competition, or desperately trying to protect a position, but inviting and seeking help, more or less anywhere anyhow. By doing so you were an advocate for change, innovation and entrepreneurism. That was and is an amazing example of leadership Elon, a step I applaud, commend you for, and elevated you to an entrepreneur extraordinaire.
That maturity Elon (and everyone else this applies to), that wisdom that confidence is something I would love to see applied to the crypto market too. Can we see that from here on out? We are not only hoping for that, we are expecting that.
Entire Crypto Market Cap Surges to $2.5T as 10K BTC Were Sold on OKEx
The world's crypto market capitalization is currently up by $2.5 trillion.
Over 10,000 BTC were sold on OKEx amid the crypto market cap surge.
The digital finance world is experiencing a mix of reactions these days. However, it is worth mentioning that as of today, the global crypto market cap index has seen an upward surge of $2.5 trillion. Since the start of this year, the crypto market has risen by 233%.
In fact, this monumental increase in the crypto market cap value is quite a welcoming gesture that every crypto advocate hopes to see. Adding more to this, the trading volume of BTC/USDT pairs has also increased drastically to over 10,000 BTC sold today on the OKEx exchange.
To note, one of the on-chain analytics firm's Wu Blockchain gave the BTC/USDT announcement today. Specifically, Wu Blockchain cited the BTC/USDT trading volume statista directly from Trading View. 
Also, it mentioned that they seem to be sensing another pending 14,000 BTC sell order still on the OKEx exchange. A few minutes after disclosing this, the latter then said the pending order got away by the buy order that was also in BTC/USDT.
In the same breath, Bitcoin Magazine has also tweeted that the $38 billion Grayscale Bitcoin trust will soon be converted into ETF. This milestone would be achieved as the proposals filed to approve Bitcoin's Future Exchange-traded Fund (ETF) is yet to be accepted.
OFFICIAL: $38 billion Grayscale #Bitcoin trust will file to be converted into an ETF.— Bitcoin Magazine (@BitcoinMagazine) October 18, 2021
Surprisingly, due to how Bitcoin is dominating today's crypto news footage, this confirms the crypto community's suggestions on how vital BTC is in the crypto market.
Surprisingly, due to how Bitcoin is dominating today's crypto news footage, this confirms the crypto community's suggestions on how vital BTC is in the crypto market.
Here's why the market might be overestimating the impact that new futures-based ETFs will bring to the market
While the cryptocurrency industry waits for the drop of the first Bitcoin exchange-traded fund to be delivered shortly, Bloomberg has released an article in which the agency covers how and why traders might miss even greater rewards while trying to catch big gains from a "new" product.
The primary basis of such a statement is the Bitcoin futures curve. Futures contracts with long expiration dates usually trade at a premium to the price of the underlying asset. The main reason for that is that most traders believe, due to its nature, cryptocurrency will rise in the future.
But the main problem with current ETF products is the underlying asset. While the fund may be called "Bitcoin ETF," it's not actually tied to Bitcoin. The underlying asset here is Bitcoin futures contracts that become a reason for funds to lose some of their profits since they have to pay fees to enter a new contract. Since longer futures contracts trade at the premium, it is more convenient to enter short-term futures contracts and pay the fee.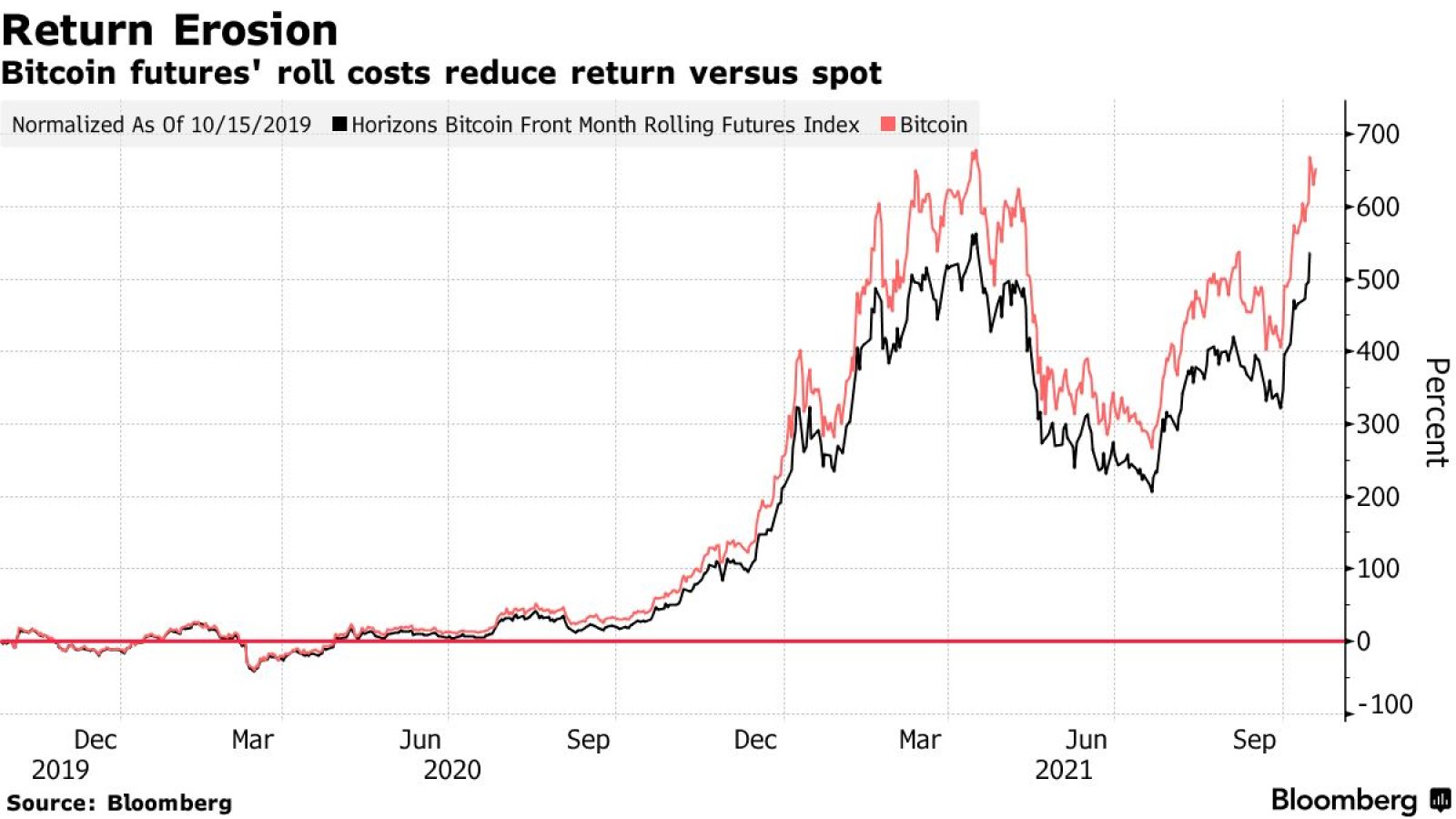 For the mentioned reason, Genesis Trading's Noelle Acheson said that Bitcoin traders are overestimating the potential upcoming demand for derivatives-based ETFs since, as was mentioned, they have more underlying management costs. As an example, the BITO fund currently carries an expense ratio of 0.95%, while the average equity-based ETF will function at around 0.7%.
With the number of underlying expenses behind futures-based Bitcoin ETFs, traders and investors might not choose the mentioned funds for long-term crypto market exposure. Instead, it is more reliable to simply buy the asset itself rather than invest in the ETF, especially for retail traders.
Crypto Markets Presenting Historic Opportunity As Bitcoin Thrusts Upward, According to Closely Followed Trader Pentoshi
Widely followed crypto market analyst Pentoshi thinks that Bitcoin's run-up is giving traders a prime opportunity.
The trader tells his 309,300 Twitter followers that Bitcoin (BTC) moving higher before dragging the crypto market up creates an opportunity to compound Bitcoin profits with altcoins.
"​​If $Btc up + alts down it's truly a great opportunity historically because you get to ride Btc to new ath's [all-time highs] then compound alts to ath's
Why better opportunity to achieve your goals than that for those who get it
When you've experienced multiple cycles you know. Take what we get"
At the time of writing, Bitcoin is trading at $56,856, according to CoinGecko. Pentoshi thinks that all-time highs are almost certain for BTC. But traders could still expect to see a dip below $55,000.
He's looking at $73,200 and $85,000 as the next levels for Bitcoin to hit in Q4.
"58k hit, so far so good
So what next?
I think best case scenario for dip hunters now is 53-55k for a [higher low]
Def feels like a lot of people are offside since much lower, and Bitcoin is in a new trend
ATH's seem almost certain for Q4"
He reminds traders that while Bitcoin moves in a strong uptrend, dips become shallow with fewer to take advantage of.
$BTC trending

Dips are shallow. a lot of people waiting for that retest but never get it

Obviously 2 important areas ahead before potential ath's https://t.co/tSULnCRsjO— Pentoshi Won't Dm You. hates Dm's. DM's are scams (@Pentosh1) October 11, 2021