Venezuelans Can Now Buy Crypto With State Stimulus Checks
Venezuela's largest bank has teamed up with crypto financial services startup Glufco.
The partnership enables the purchase of dollar-pegged stablecoins through the state's biometric payment system, Biopago.
It could prove to be a useful onramp for other crypto purchases.
In Venezuela, citizens will soon be able to buy cryptocurrency directly from state welfare accounts.
Thanks to a collaboration between the nation's largest, state-owned bank and financial services startup Glufco, Venezuelans can now purchase Glufco's dollar-pegged stablecoin through the same infrastructure that powers the country's biometric payment system, Biopago, using funds distributed by the state.
The Biopago platform plays a vital role in Venezuela's financial landscape. The Venezuelan government uses it as a bridge between the Bank of Venezuela and the country's Patria system, which it uses to distribute bonds, manage remittances (including those made with cryptocurrency), and dole out state relief funds (similar to stimulus checks).
Now, Venezuelans can take those state relief checks and immediately exchange the funds for Glufco tokens, which are pegged to the US dollar. What it means is two-fold: first, it provides Venezuelans with yet another way to access dollars and protect themselves against the hyperinflation that the national currency, the bolivar, continues to suffer. And second, it gives residents of Venezuela a new on-ramp to crypto.
Citizens who make use of the Glufco integration can now acquire those dollar-pegged stablecoins quickly and easily, and then "subsequently trade them on another exchange for other cryptos," such as Bitcoin, Litecoin, Dogecoin and Tether (USDT), Glufco COO Antonio Di Caprio told Decrypt.
But why would they?
Venezuela: financial crisis and Bitcoin adoption
It's no secret that Venezuela's financial situation is a mess. A mix of internal corruption and international sanctions have led the country to reach extreme levels of inflation, currency devaluation, and economic recession. One way citizens have sought to escape this is by ditching bolivars and buying up dollars, which up until very recently was technically illegal and purposely very difficult.
Another way has been through cryptocurrency, such as Bitcoin. According to a report from blockchain analytics firm Chainalysis last year, Venezuela ranks third among all countries in terms of crypto adoption. And it's peer-to-peer Bitcoin trading scene is one of the most active in the world.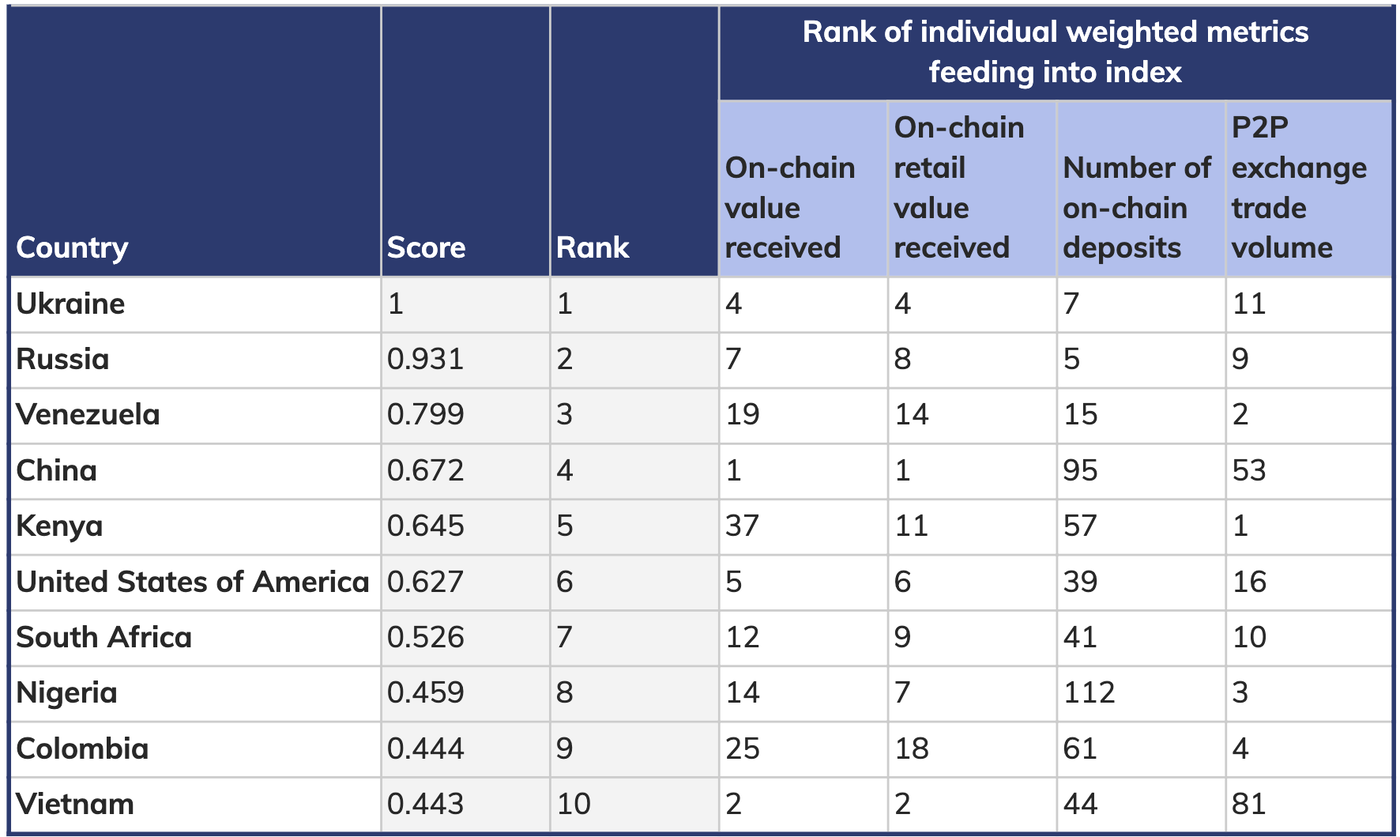 The government of Nicolas Maduro, however, appears to have recently (and finally) accepted the fact that currency controls have only worsened the crisis and have decided to open up the country to some level of dollarization—that is, allowing for the US dollar to be used as the de facto currency of the nation.
Aside from lifting currency controls, Maduro's government has also allowed for the opening of Venezuelan bank accounts with dollars. Given these recent policy changes, Venezuela's central bank now teaming up with a crypto firm to make it easier for citizens to access dollar-pegged stablecoins appears to make sense.
The idea, it seems, is to allow them to protect themselves from both currency inflation and, potentially, Bitcoin volatility. After all, in a country where the minimum wage is less than $10, even the smallest fluctuation can have a dire impact on the most vulnerable population. Dollars (physical or digital) may offer the stability that many within the country seek.
Glufco growing
Glufco's stablecoin can currently be traded on small international exchanges, such as Waves, Graviex, and Vindax. There is also an OTC desk on the state-registered Criptolago exchange, where the stablecoin can be swapped for Bitcoin or bolivars.
Di Caprio also explained that Glufco's OTC platform will also accept bolivars, Chilean pesos, Peruvian soles, and US dollars. It also supports payments using Zelle—a very popular platform within Venezuela—and a variety of stablecoins.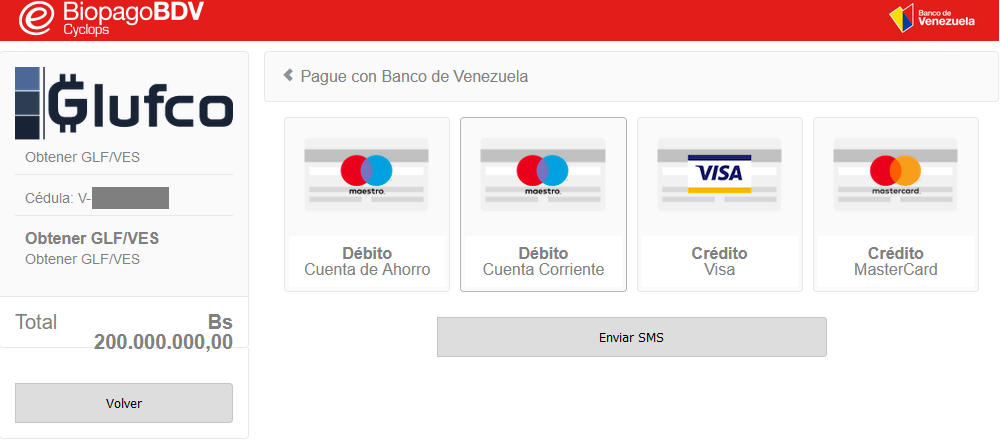 The Glufco COO also noted that the Bank of Venezuela played a vital role in the development of this latest platform. The Bank did not respond to Decrypt's request for comment.
Since first launching it's "all-in-one" crypto platform (which included a digital wallet, payment gateway, and crypto exchange), Glufco has since rolled out crypto payments via SMS text message and payroll capabilities. It plans to release its point-of-sale terminals for in-person crypto purchases within the next two weeks.
Binance's Trading Volume Hits $100 Billion in Just One Day
Binance continues to see unprecedent trading activity while attempting to sail through regulatory hurdles
Binance's daily volume hit an eye-popping $100 billion on Oct. 20, according to a tweet by CEO Changpeng Zhao.
100 billion traded yesterday on #binance pic.twitter.com/SelYpou3mL— CZ 🔶 Binance (@cz_binance) October 21, 2021
The leading crypto exchange recorded this crucial milestone on the day Bitcoin, the largest cryptocurrency, reached a new all-time high of $67,276.

Despite introducing stricter measures for users due to severe regulatory scrutiny, Binance enjoys a comfortable lead over other crypto exchanges in both spot and derivatives trading, according to data provided by CoinMarketCap.
Eerier this month, the trading platform also announced a $1 billion ecosystem fund.         
Meanwhile, the decentralized finance sector is catching up with centralized behemoths. The total value locked in DeFi protocols has hit $100 billion for the first time.
Binance Smart Chain DeFi protocol PancakeHunny suffers flash loan attack
As the users argue "what's better," Ethereum or Binance Smart Chain, the latter saw another decentralized protocol being exploited. PancakeHunny on BSC was attacked by a flashloan and no, this wasn't a first for the protocol.
Blockchain security and data analytics company Peckshield Inc. announced the attack on Twitter.
#FlashLoanAlert https://t.co/up2o7NQLtS— PeckShield Inc. (@peckshield) October 20, 2021
The last time that this protocol was exploited, was in June, wherein the team had noted the creation of a smart contract to exploit the Hunny Minter Smart Contract. The contract was subsequently executed 91 times, as per the team.
The team took a long time to respond to the hack this time but assured the users that their funds were safe. The team added in a preliminary report,
"On 20 October 2021, at 0920 UTC. A smart contract was created to exploit the Hunny TUSD vault. The Contract was subsequently executed 26 times."
PeckShield provided some details about the same noting,
According to the agency, this hack was possible due to a profit inflation bug, which converts the relatively small amount of harvested ALPACA, to a large amount of TUSD for staking. PeckShield added,
"These converted TUSDs are then counted as profit, now inflated to mint large amount of $HUNNY!"
Source: Twitter
Actions taken by the team
The PancakeHunny team has stopped the minting process for the TUSD vault while assuring that funds in Hives were all SAFE. The exploit did not affect other Hives and Vaults but the price of HUNNY.
They added that the issue has been identified and the team will change its rooting to higher liquidity pools to prevent the aftereffects of price manipulation of LP pools.
NBA Makes Coinbase Its Exclusive Crypto Partner
Coinbase has joined FTX in scoring major partnerships in the sports industry
The National Basketball Association has announced a multi-year deal with Coinbase, America's biggest crypto trading platform in an Oct. 19 press release.   
Coinbase will act as the exclusive partner of the NBA, NBA G League, Women's National Basketball Association (WNBA), and other leagues.
As part of the deal, the exchange will have a brand presence during televised games as well as unique content and activations that are meant to boost crypto awareness.  
Kate Rouch, Coinbase's chief marketing officer, says that the company is proud of joining forces with the NBA:
The freedom to participate and benefit from the things you believe in is at the heart of Coinbase's mission. Nobody believes this more than NBA and WNBA fans. We're proud to become the Leagues' official cryptocurrency partner.
The shares of Coinbase are up roughly 3% at press time.