Bitcoin Bearish Correction Pauses: Focus Remains on Dollar and Yields
Bitcoin prices extended losses on Friday as the US dollar gained alongside the long-term Treasury yields.
Downside pressure on cryptocurrency remains amid expectations of modest job growth in the US.
The technical support offered by the 20-period moving average on the four-hour chart maintains Bitcoin's medium-term bullish outlook.
Bitcoin dropped Friday, suggesting that the benchmark cryptocurrency may decline further into the week, followed by an equally depressive weekend session in the wake of the rising US dollar and a recent spike in the US Treasury yields.
Bitcoin Short-Term Targets
The spot BTC/USD exchange rate plunged 2.43 percent into the daily session. On the other hand, the pair was trading in a positive area on a week-to-date basis, up more than 4.5 percent ahead of the weekend session. The price action was choppy nonetheless, giving no clues about its direction in the coming sessions ahead.
Technically, Bitcoin appeared trapped inside a range defined by two of its crucial moving averages. In doing so, the cryptocurrency tested the 50-period moving average as resistance and the 200-period moving average as support.
A bounce from the 200-MA on Friday pushed BTC/USD towards 50-MA for a bullish breakout attempt. Nevertheless, higher selling pressure near the latter wave kept prices from flourishing upward. That showed traders' resilience, which may have to do with unfavorable macroeconomic climate.
Jobs Data, Bond Yields, US Dollar
Traders limited their bids near the local BTC/USD tops as Bitcoin formed a positive correction with the US stock market against the prospect of rising US Treasury yields. Both the markets tumbled last week as a bond market sell-off raised questions about whether low-interest rates, which propelled both Bitcoin and US equities last year, can continue for any longer.
Yields, which rise as bond fall, have rallied as a response to expectations of faster US economic growth, led by a speedier vaccination program and inflation expectations.
The yield on the US 10-year Treasury was flat on Friday but surged in the previous session to 1.547 percent.
That marked the highest close for the benchmark borrowing cost since February last year. Its climb on Thursday came as Federal Reserve Jerome Powell provided no signs that the central bank would intervene to limit the ongoing sell-off in the US government debt market.
The US dollar benefited from the global market uncertainty, with its value against a basket of foreign currencies—known as the US dollar index—rising by 0.75 percent on Thursday. The index surged 0.31 percent on Friday.
More tailwinds for the US dollar growth came from early estimations that the US labor market would log recovery in February.
"As we reopen the economy, inch-by-inch, that will unleash consumer spending and drive job growth, especially industries that have been most severely affected by the pandemic," said Nela Richardson, a Ph.D. economist at human-resources software firm Automatic Data Processing Inc.
News Source
Second US Bitcoin Futures ETF Was Just Launched
As you probably know by now, the launch of a BTC ETF was the main trigger of Bitcoin's price according to some analysts.
It's been also revealed that there's a new BTC ETF that tolled out the other day.
Valkyrie Investments, which is an alternative asset management firm, launched the country's second Bitcoin futures ETF, according to CEO Leah Wald.
Valkyrie Bitcoin Strategy ETF
It's been revealed by the official notes that the new product is called the Valkyrie Bitcoin Strategy ETF and it will trade on the Nasdaq under the ticker symbol BTF.
This important launch comes following ProShares' Bitcoin futures exchange-traded fund – this one exploded onto the market on Tuesday with the second-biggest ETF launch of all time.
The online publication the Daily Hodl notes that like ProShares' Bitcoin Strategy ETF (BITO), the Valkyrie ETF does not invest directly in BTC but it provides price exposure to Bitcoin futures contracts.
ETF's prospectus notes the following:
"Under normal circumstances, the fund will seek to purchase a number of Bitcoin futures contracts so that the total notional value… of the Bitcoin underlying the futures contracts held by the fund is as close to 100% of the net assets of the fund as possible."
Regarding Bitcoin's price, at the moment of writing this article, BTC is trading in the red and the king coin is priced at $60,971.93.
While some investors freaked out due to this correction in price, others are saying that this is just another opportunity for accumulation.
JPMorgan addressed the price of Bitcoin
JPMorgan also addressed the moves in the price of Bitcoin the other day.
While most enthusiasts on crypto Twitter said that the new BTC ETF has been fueling this rise in price, JPMorgan believes something else.
The banking giant said that the new Bitcoin Futures ETF is not the reason behind BTC's surge to a new ATH.
Company strategists told Bloomberg that concerns over inflation are driving up the top crypto's price. They believe that this is not about the launch of the first-ever BTC Futures ETF.
Bitcoin Dipped to $60K Losing $7K Since Tuesday's ATH (Market Watch)
Bitcoin lost more than $7,000 in a few days and dipped below $60,000. Ethereum also went down hard after failing to chart a new ATH.
Following the past several days of surging higher and higher, BTC corrected hard in the past 24 hours and even dipped below $60,000 briefly. Most altcoins followed suit, and the entire market cap lost more than $150 billion since its peak earlier this week.
Bitcoin Lost $7K in Days
The main focus in the cryptocurrency space in the past week or so was on the first-ever Bitcoin Futures ETF going live in the United States on Tuesday. The euphoria for such a long-anticipated product propelled a massive price surge for the digital asset, which broke above its April ATH and charted a new one a day later at $67,000.
However, it failed to remain there, and the bears started to push it south gradually. As reported yesterday, BTC dropped to $63,000, but the correction was far from over.
In the past 24 hours, the cryptocurrency kept losing value. This time, it fell to just under $60,000. As such, it meant that BTC had declined by more than $7,000 in a matter of days.
As of now, it has bounced off and recovered some ground. Nevertheless, it's still 4% down on the day, and its market capitalization is below $1.150 trillion.
Alts Also See Red
The alternative coins have followed their leader south. Ethereum was close to breaking its own ATH at nearly $4,400 a few days back but failed and dropped to $3,900 yesterday. As of now, ETH stands at just over $4,000, but it's still 3% down in a day.
Solana was also inches away from painting a fresh all-time high. Now, though, SOL trades at $200. Binance Coin, Cardano, Ripple, Polkadot, and Terra are also in the red.
Minor gains are evident from Dogecoin, Avalanche, and Chainlink. More increases come from Huobi Token (11%), Fantom (11%), Curve DAO Token (10%), Harmony (9%), and OKB (7.5%).
In contrast, OMG Network, Flow, The Graph, SushiSwap, Stacks, and ICON have lost the most in a day.
The cryptocurrency market cap is down to $2.530 trillion, meaning it has shed off $150 billion since the peak two days ago.
This crypto soars higher than Bitcoin and Ethereum
The price of bitcoin is now approaching its all-time high on April 14, when this crypto was valued at $ 64,800, and shows no signs of slowing down. Meanwhile, all kinds of other digital assets, from Ethereum to Dogecoin, are reaching impressive heights as well.
Behind the scenes, however, one coin is stealthily gaining traction and outperforming the big names in the cryptosphere. RBIS, the native token of the ArbiSmart platform, has quietly continued its ascent, maintaining a steady increasing trajectory, since its launch in 2019. It has already risen by 662% and analysts are forecasting an increase of up to 40 times the current price of 'by 2023.
A lucrative and low-risk strategy
The ArbiSmart platform performs automated cryptocurrency arbitrage. This means that it takes advantage of temporary price disparities, which are brief moments when a digital asset is available at different prices on multiple exchanges, at the same time.
ArbiSmart, connected to 35 exchanges, searches for disparities on hundreds of crypto-assets, simultaneously. When it finds a price difference, the algorithm generates a profit by buying the asset on the lower priced exchange, then instantly selling it on the higher priced one, before that the gap has not had time to close.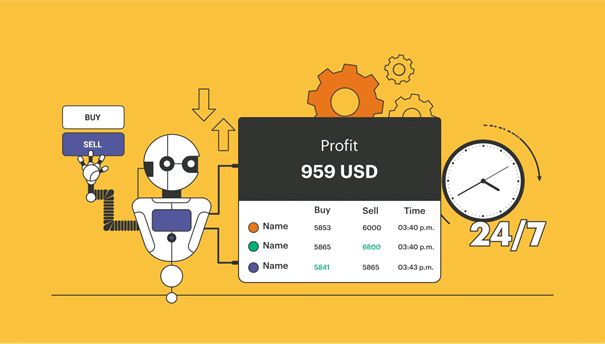 Because price disparities occur as well in a rising or falling market, ArbiSmart provides valuable hedge against a crash. If the market suddenly plunges and the recovery ends abruptly, your crypto will not lose its value, but instead will continue to generate a steady and reliable profit.
From the user's point of view, nothing could be simpler. Just register, make a deposit and that's it. Once you've deposited fiat or crypto, the algorithm does everything else. Your capital is automatically converted into RBIS and put to work, 24/7, to trade crypto-arbitrage. Profits start at 10.8% per year (0.9% per month) and reach up to 45% per year (3.75% per month) depending on the size of the investment.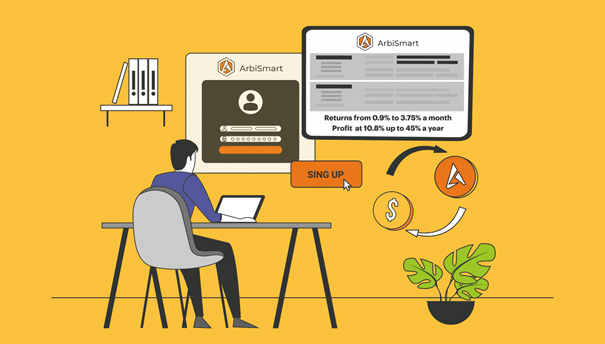 A considerable and stable profit
Since price differences between exchanges occur consistently in both a bull market and a bear market, you can anticipate your annual rate of return against crypto arbitrage with a high level of accuracy. Using ArbiSmart's yield calculator, you can see exactly how much you will earn over a given period, starting from a given deposit amount, taking into account compound interest and the changing value of the RBIS token.
In addition to profits of up to 45% per year through cryptocurrency arbitrage and compound interest, passive income can also be collected for the provision of liquidity. By locking your capital in a closed savings account for a predetermined period, you can earn up to 1% per day, just for having stored your funds on the platform.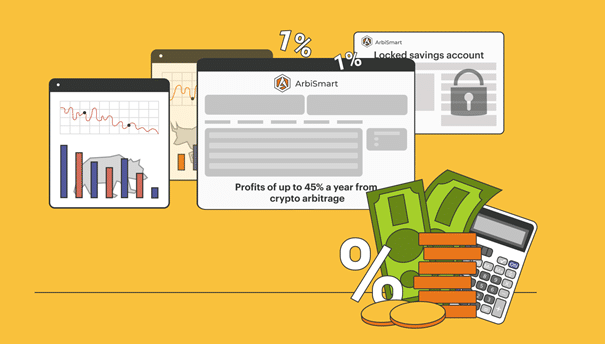 ArbiSmart also offers huge capital gains. The RBIS token has already reached more than 6 times its starting price and its value is expected to soar in the coming months.
Growing demand globally
In 2020 ArbiSmart's annual growth was 150% and so far 2021 has seen growth of 550%. During this time, the development team has not been idle. Major infrastructure upgrades have been implemented, and from Q4 2021 to Q1 2022, a series of new RBIS utilities are launched, including an interest-earning crypto and fiat currency wallet, yield farming as well as a crypto credit card.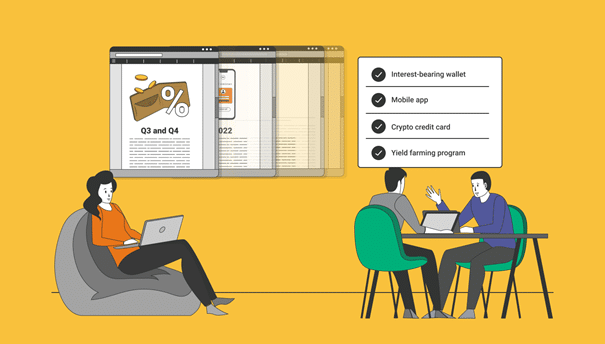 The fourth quarter of 2021 will also be marked by another event likely to increase the demand for tokens: the listing of the RBIS. Once globally tradable, RBIS will become accessible to people for whom this token was inaccessible due to ArbiSmart's European license. These include people whose account registration has been refused because regulatory requirements have not been met, residents of countries where ArbiSmart cannot accept customers, and people who wish to remain anonymous and do not not provide KYC (Know Your Customer) documents.
As demand for the token climbs this quarter, with the introduction of new RBIS utilities and listing on global cryptocurrency exchanges, the limited supply of tokens, the total of which is permanently capped at 450M, will decrease.
Whether in a bullish or bearish market, RBIS has proven to be a solid and lucrative investment opportunity, and in the coming weeks, the value of the token is likely to jump significantly. So it seems like now is the best time to buy, before the price of RBIS goes up further. Buy RBIS today.