Polkadot falls 99% in one minute at Binance and settles R $ 102 million
After a lightning dip in Polkadot (DOT) futures contracts on Friday (5), Binance promised to review its market controls.
The contract price went from R $ 187 to R $ 1.42, a drop of more than 99%. Soon after, the DOT reestablished itself and maintained its quotation at around US $ 33.
However, the damage had already been done. About R $ 102 million in contracts were settled on the exchange in just one minute.
At the time of writing, DOT is priced at almost U $$ 34, approximately R $ 192.
In a statement sent to CoinDesk, a representative from Binance stated that the fall was due to a major withdrawal:
"A user placed a single stop market order (term used for' order types ') on the market, which triggered this needle."
New measures
According to the exchange, the user who made this move occupied a high position that exceeded the total number of orders available.
In response to the situation, the company said it would add new limit controls to orders.
Despite the noise in the market, Binance ensured that the move did not reach other investors.
"This did not affect the position of any other user, as we are using the market price for settlements."
Rising Token
Since when it appeared, Polkadot has always been in the field of vision of investors and traders. That's because its creator is none other than Gavin Wood, co-founder of the Ethereum system and one of the members of the Sharding scalability solution.
Polkadot's proposed network is to provide faster transactions than other blockchains in the same segment, such as Ethereum, making their rates more attractive.
Whether due to the system's attractions or not, DOT has conquered space in the market. DOT has become the fourth hottest cryptocurrency in terms of market value.
Aware of its growth and popularity, Wall Street firms Goldman Sachs, JPMorgan and UBS are already investing in the cryptocurrency.
Read also: IOTA may increase 15% with DeFi integration in the protocol
Read also: Chainlink users can make money from standing cryptocurrencies
Also read: Brazilian Fintech allocates 15% of cash in Bitcoin and Ethereum
Legendary Trader Peter Brandt Challenges Binance with Four Questions about 88% BTC Crash
Here's what is unclear for Mr. Brandt about mysterious Bitcoin (BTC) flash-crash of Oct. 21, 2021
Prominent trader and analyst Peter Brandt has taken to Twitter to ask his four questions in the context of the flagship crypto's 88% dropdown.
What do Binance and Binance.US have in common?
First of all, Mr. Brandt challenged the character of corporate relationships between Binance and Binance.US, its unit focused on American markets.
Questions remain:
1. What is exact corp. relationship @binance w/ @BinanceUS
2. Will firm release T&S with all trades/volume/price?
3. Did firm take opposite side of client fills
4. Will firm change low to reflect actual fills
cc: @GaryGensler @CFTC @SECGov @cz_binance @IBKR pic.twitter.com/huqzZbSGIt— Peter Brandt (@PeterLBrandt) October 24, 2021
Also, Mr. Brandt asks whether Binance is planning to release detailed documents to specify statistics for trades, their volume and prices during the flash-crash.
Then, the trading legend asked about the role of the platform in taking the opposite side of a client fills.
Besides the Binance CEO and co-founder Changpeng "CZ" Zhao, Mr. Brandt mentioned the Interactive Brokers platform, U.S. watchdogs CFTC and SEC and Gary Gensler, the SEC chairman.
Most expensive "trading algorithm bug" ever?
Also, Mr. Brandt attached a screenshot of a tweet by CZ when Binance's boss warned his audience about expected volatility spikes across cryptocurrency markets.
Finally, Mr. Brandt added that he never used Binance for trading.
As covered by U.Today previously, on Oct. 21, 2021, amidst a spending rally, the Bitcoin (BTC) price briefly tanked to the $8,000 level, losing more than 88% in no time.
A similar flash-crash was registered on 26 other low-liquidity exchanges. A Binance.US representative attributed this dramatic plunge to a critical bug in third-party mechanisms by one of the platform's sophisticated institutional clients.
Binance Bitcoin Balances Are Draining: 40,000 BTC Moved Away from Biggest Crypto Exchange
According to CryptoQuant data, Binance cryptocurrency exchange once again faced a massive fund outflow totaling 38,246 BTC. After a significant drop in the Bitcoin balance, the total balance on the sheets is close to 500,000.
In-house redistribution of funds
Previously, Binance.US faced a major bug that led to so-called "slippage"—the difference between the expected price of a trade and the actual execution of an order.
Whenever the order book on the market is too thin and an exchange cannot provide enough liquidity, volatility on the asset tends to rise exponentially, which leads to a massive drop in value.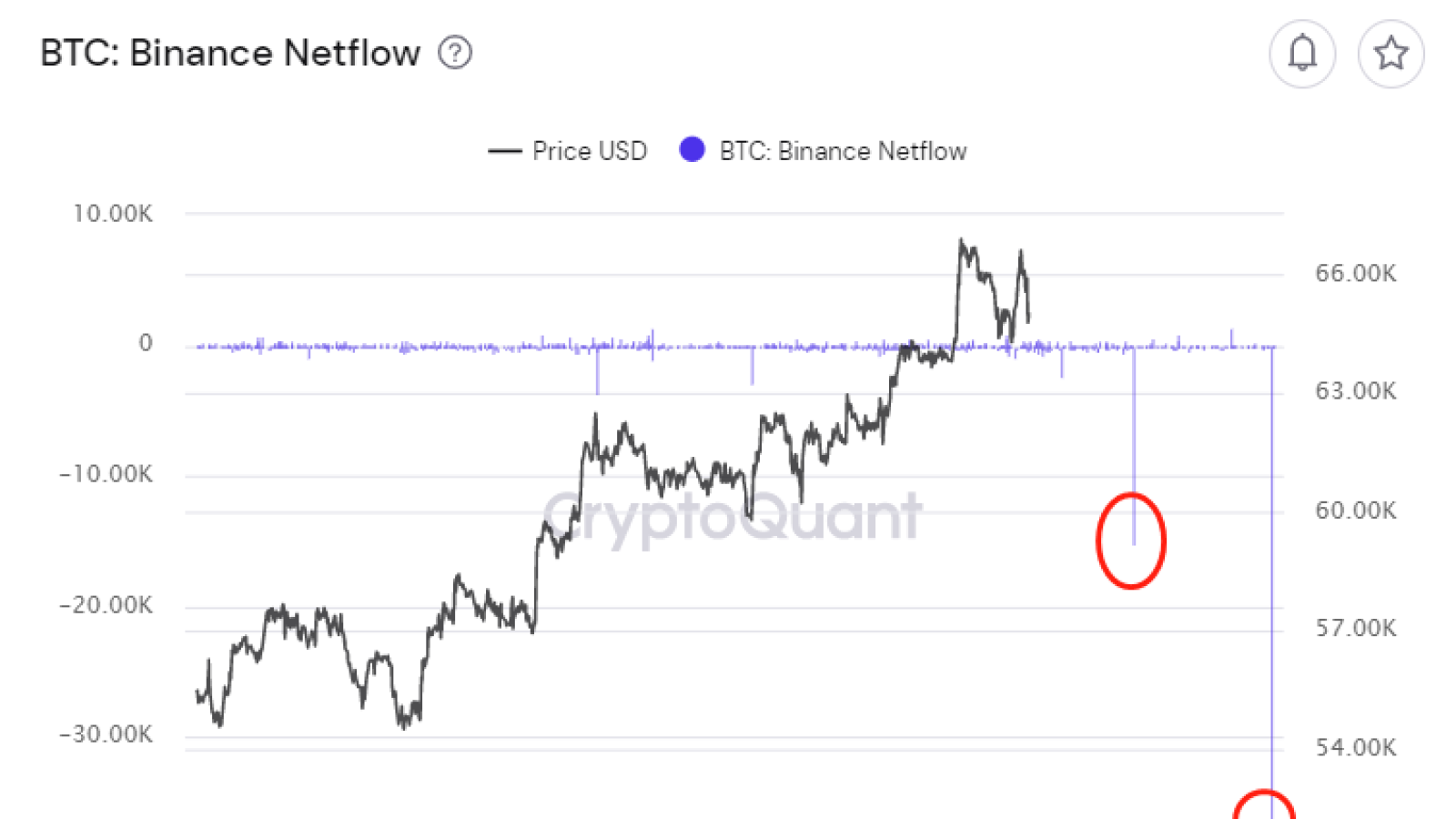 Due to the bug that appeared, the price of Bitcoin on Binance.US has dropped to $8,000, with numerous buy orders being executed on the way down. In order to provide more liquidity to the market on Binance.US, the main platform could have moved some of its funds to the U.S.-targeted platform, which is being counted by on-chain metrics as "outflows."
Natural outflows
With Bitcoin moving past the previous ATH and trading volumes remaining stable, some traders and investors are choosing to move their funds away from exchanges and keep them in their wallets.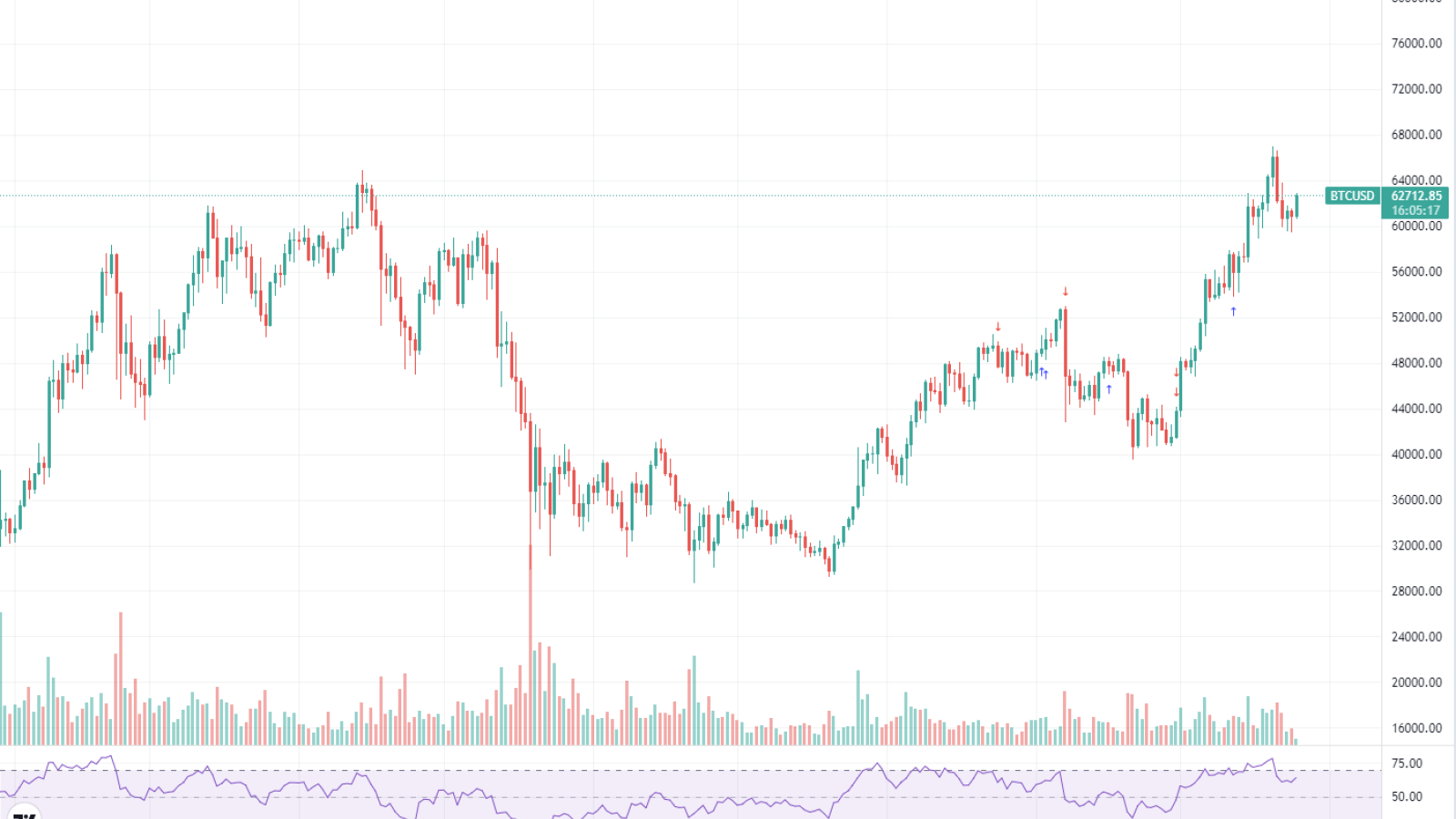 According to volume metrics, no significant selling pressure has been present on centralized exchanges, along with no abnormal trading activities.
Previously, notable exchange inflows appeared back in May, when Bitcoin's price retraced from the previous ATH to $29,000. Most retail investors have moved funds from their wallets to the exchanges to take profit.
Binance Coin Price Analysis: BNB continues to hold above $470, more upside to slowly follow?
Binance Coin price analysis is bullish today.
BNB/USD slowly moved higher overnight.
Closest resistance at $510.
Binance Coin price analysis is bullish today as the $470 support still holds, likely leading to a reversal back to the upside later today. Therefore, we expect BNB/USD to move towards the $510 and end the several-day retracement.
The overall market traded with a slight bullish momentum over the last 24 hours, with Bitcoin gaining 1.3 percent. Meanwhile, Ethereum has gained 3.67 percent, while Shiba Inu (SHIB) is the top performer, with a gain of 40 percent.
Binance Coin price movement in the last 24 hours: Binance Coin holds support above $470
BNB/USD traded in a range of $473.11 – $486.80, indicating low volatility over the last 24 hours. Trading volume has declined by 25.12 percent and totals $1.159 billion, while the total market cap trades around $79.9 billion, ranking the coin in 3rd place overall.
BNB/USD 4-hour chart: BNB ready to move higher?
On the 4-hour chart, we can see Binance Coin Price action consolidating as bulls likely prepare for another push higher.
Binance Coin price action has seen a strong performance so far in October. After setting a new major swing low at $320, a sharp push higher followed on the 1st of October.
BNB/USD eventually peaked at $450, with the following retracement setting a higher low at $395. From there, the market continued higher on the 12th of October, moving to $480 this time.
After another brief retracement, the further upside was seen earlier this week, with a brief move above the $500 mark seen on Wednesday. Since then, Binance Coin price action has retraced to $470 and formed a consolidation as bulls prepare for the next push higher.
Binance Coin Price Analysis: Conclusion
Binance Coin price analysis is bullish today as a new higher high has been established above $470. Therefore, once the current consolidation ends, we expect BNB/USD to push above the $500 again.
While waiting for Binance Coin to move further, read our guides on LTC wallets, Gero wallets, and  DeFi wallets.