Dallas Mavericks boss Mark Cuban says Dogecoin will 'definitely' reach $1
The billionaire has taken a liking to cryptocurrencies and the DeFi space in recent times, and Dogecoin is now getting his attention.
Dogecoin's big potential
Mark Cuban, the billionaire investor and owner of basketball team Dallas Mavericks, says Dogecoin has the potential to reach over $1 if it were to be used more widely in the Maverick's ecosystem.
The @dallasmavs have done more than 20,000 #Dogecoin in transactions, making us the LARGEST #DOGECOIN MERCHANT IN THE WORLD ! We thank all of you and can only say that if we sell another 6,556,000,000 #DOGECOIN worth of Mavs merch, #dogecoin will DEFINITELY HIT $1 !!!🚀🚀🚀

— Mark Cuban (@mcuban) March 6, 2021
The comment came days after the Mavericks started accepting Dogecoin as a means of payment for tickets, season passes, and official merchandise. And although this service was started only last week, Cuban claimed that over 20,000 DOGE transactions were already done.
"The Dallasmavs have done more than 20,000 #Dogecoin in transactions, making us the largest Dogecoin merchant in the world," he said, adding:
"We thank all of you and can only say that if we sell another 6,556,000,000 DOGE worth of Mavs merch,  dogecoin will DEFINITELY HIT $1."
The shill of DOGE
Dogecoin began as a "joke" cryptocurrency in 2013 by co-creator Jackson Palmer as a competitor to Bitcoin that could reach a broader demographic. Its 1-minute block intervals made it much faster than other blockchains at the time, while the use of a Shiba Inu dog as a mascot made it much more accessible and unintimidating to new users.
But the coin has ended up seeing unprecedented success in the past few years. It's valued at over $6 billion at press time and has caught the attention of mainstream news outlets and billionaires like Cuban and Tesla CEO Elon Musk.
Musk seems to have taken a liking to it in particular. He said earlier this year that DOGE could reach "to the moon" and tweeted out several memes that used Dogecoin's logo. The Tesla CEO's focus ended up attracting attention from celebrities and social media stars, and even saw a "TikTok challenge" emerge (this was before Musk's tweets, however).
Cuban, on the other hand, has not done any of that but has indulged in the decentralized finance (DeFi) sector. He does, however, see the meme currency going to $1, a figure that would value Dogecoin at over $128 billion.
In Argentina, several businesses accept payments in BTC, DOGE, other cryptos
Imagine going on vacation and being able to pay both your Uber driver and Airbnb host with crypto. This sounds like a fantasy for many but is reportedly now a reality for users in Argentina.
Regional news publications announced that the crypto company Bitrefill was offering 138 prepaid cards in order to pay to different businesses. Some taking part in the initiative include Frávega, Lacoste, Dexter, Isadora, Cheeky, Airbnb, Uber, Movistar, Claro, and Personal.
Users can pay in six different cryptocurrencies, which are Bitcoin [BTC], Ether [ETH], Dogecoin [DOGE], Litecoin [LTC], Tether [USDT], and Dash [DASH]. However, in order to use the card, assets are first converted to dollars or euros, and then converted again to Argentine Pesos [ARS] to complete the transaction.
Analyzing Argentina
What does Bitrefill's initiative reveal about the state of crypto adoption in Argentina? Data may hold the answer. The Blockchain LatAm Report 2021 by Sherlock Communications stated,
"…66% of respondents were most concerned with protecting their savings. This reflects recent inflation rates in the country: 36.1% in 2020 and 53.8% in 2019, the highest in 28 years."
Furthermore, as people in Argentina are legally restricted from buying more than a small and taxable amount of U.S. dollars every month, the attraction of crypto is easy to understand. Adding to this, there are around 20 legal crypto exchanges in the country, and one of them – Ripio – hit a million users in 2020.
However, it's worth noting that there is a tax of 15% on income gained from selling digital currencies. At the last count, there were 12 Bitcoin ATMs/tellers in Argentina. Out of these, 11 were located in Buenos Aires.
Not just a shopping spree…
Apart from crypto adoption, companies are also eyeing the country as a destination for Bitcoin mining. One major reason for this is the cheap cost of electricity in Argentina, with subsidies for the same.
In October, the Canada-based Bitfarms announced that it was constructing a 210 megawatt BTC mining farm in Argentina. More than 55,000 new mining rigs are expected to be on-site. According to the Cambridge Bitcoin Electricity Consumption Index, Argentina's share of the average monthly hashrate in August 2021 was 0.05%.
Dogecoin Price Prediction: DOGE poised for 64% breakout if this key level breaks
Dogecoin price looks ready for a 64% climb as it moves higher toward the upper boundary of the symmetrical triangle pattern.
A break above $0.269 could put the bullish target of $0.435 on the radar.
DOGE may discover a strong foothold at $0.242 if selling pressure spikes.
Dogecoin price is preparing for a 64% rally, but the dog-themed token has one last hurdle to overcome before the bullish target is in the offing. DOGE must climb above the descending resistance trend line that has acted as a headwind for the token since June 3.
Dogecoin price to clear one last barrier
Dogecoin price has formed a symmetrical triangle pattern on the daily chart as the bulls catch their breath. While DOGE consolidates, the token is supported by a few significant technical indicators, suggesting that the token is poised to aim higher.
The prevailing chart pattern suggests a 64% climb for Dogecoin price if the token manages to slice above the upper boundary of the technical pattern at $0.269. Before the bulls can anticipate a bull run toward the optimistic target, DOGE would also need to conquer the nearest resistance at 50% Fibonacci retracement level at $0.255.
If a spike in buying pressure occurs, and Dogecoin breaks above $0.27, DOGE would be met with another obstacle at the 61.8% Fibonacci retracement level, coinciding with the 200-day Simple Moving Average (SMA) at $0.277.
Additional hurdles may emerge at the 78.6% Fibonacci retracement level at $0.310, then at the August 16 high at $0.351 before eventually reaching the aforementioned bullish target at $0.435.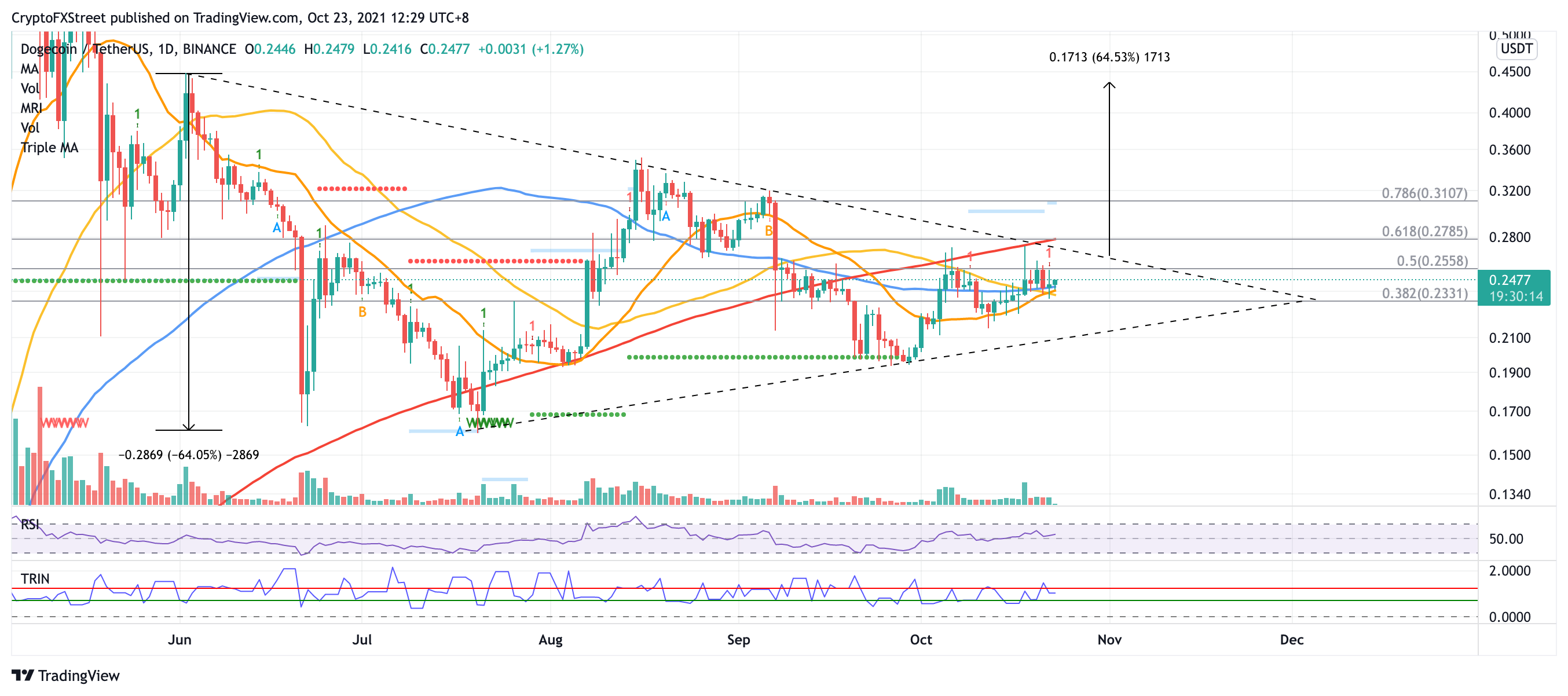 DOGE/USDT daily chart
Given that Dogecoin price is still trapped in a consolidation pattern, DOGE could still oscillate within the governing technical pattern until a decisive move toward the upside, accompanied by a surge in buy orders. Until then, the dog-themed token may be exposed to minor sell-offs, in which case the nearest foothold at the 100-day SMA at $0.242 will act as substantial support. 
Adding credence to the strength of this support level is IntotheBlock's In/Out of Money Around Price (IOMAP), indicating that 80,240 addresses purchased 14.73 billion DOGE at an average price of $0.242.

DOGE IOMAP
Additional lines of defense will appear at the 20-day and 50-day SMAs, which sit at $0.238 before dropping lower toward the 38.2% Fibonacci retracement level at $0.233. Only a rise in selling pressure would see Dogecoin price tag the lower boundary of the triangle at $0.213. 
Elon Musk Denies That His Associate Is Affiliated with Dogecoin Foundation
Elon Musk associate Jared Birchall wasn't involved in the restoration of the Dogecoin foundation, according to the centibillionaire
Tesla CEO Elon Musk has denied that Jared Birchall, the head of his family office, is on the advisory board of the re-established Dogecoin foundation.
In a recent tweet, the centibillionaire writes that neither he, nor Birchall, nor any of his associates are involved.
Neither Jared, nor me, nor anyone I know has anything to do with this foundation— Elon Musk (@elonmusk) October 24, 2021
The clarification caused a lot of confusion within the Dogecoin community since it implies that the foundation lied about being affiliated with Musk's team.      
Hello Elon! We are confused!— Mishaboar (@mishaboar) October 24, 2021
As reported by U.Today, the renewed Dogecoin Foundation announced that it had relaunched, with Birchall, Ethereum co-founder Vitalik Buterin and Dogecoin co-founder Billy Markus joining its board of advisors. The addition of Musk's right-hand man to the board initially didn't raise any suspicion and was celebrated within the community. Musk is known as one of the most vocal supporters of the meme coin, recently predicting that he would become the first Dogecoin trillionaire.     
 
The composition of the board remains the same, according to the official website of the organization.

Last month, the foundation showed its teeth, threatening copycat Dogecoin 2.0 (DOGE2) with legal action in order to protect the cryptocurrency's brand.
Musk bemoans crypto scams
In a separate tweet, Musk complained about the proliferation of cryptocurrency scams on Twitter.
Plus crypto scams haha— Elon Musk (@elonmusk) October 24, 2021
The centibillionaire, whose net worth recently surpassed the GDP of Portugal, has been speaking out against crypto fraudsters who impersonate famous people since 2018.
Last July, Musk's Twitter account was hacked in order to promote a Bitcoin giveaway scam.