Uniswap (UNI) Enters Top-Ten Crypto List After V3 Upgrade Announcement, Next Target $50
The decentralized finance (DeFi) market continues to roar ahead and so does Uniswap (UNI). The world's largest DeFi cryptocurrency by market has surged another 10% today to make its way to the list of world's top-ten global cryptocurrencies by market cap.
At press time, Uniswap (UNI) is trading 14.15% up at a price of $34,62 and a market cap of $17.85 billion, as per data on Messari. This makes UNI the eighth-largest cryptocurrency by market cap.
The Ethereum-based decentralized exchange (DEX) protocol Uniswap has been extremely popular in the DeFi space for facilitating automated trading of the DeFi tokens. So far in 2021, UNI's price has surged over 600% as of now.
Uniswap Version 3 Launch Scheduled Ahead This Year
Last Saturday, March 6, the decentralized exchange (DEX) Uniswap announced that it plans to launch its version 3 later this year. On the existing version 2, the leading DEX holds a total locked value (TVL) of $3.5 billion.
However, the network has off-lately suffered from higher fees and slippage numbers. Uniswap CEO Hayden Adams hinted that they would release the V3 protocol in 2021 while working on the capital efficiency and slippage issues. In a tweet last month, Adams wrote:
"2019: Uniswap V1 proved AMMs can compete with traditional exchanges; 2020: Uniswap V2 will prove AMMs can do things traditional exchanges cannot; 2021: Uniswap V3 will face slippage and capital efficiency head on to prove AMMs can outcompete traditional exchanges on all fronts".
Reportedly, Uniswap is likely to solve the slippages issue by integrating Layer 2 scaling solutions. Also, the industry enthusiasts are eagerly waiting for the announcement of Uniswap's full-upgrade plan.
On the other hand, the Etheruem network congestion and rising gas fee forced the Uniswap users to move to other DEX protocols like the Binance-based Sushiswap platform.
But the latest announcement of EIP-1559 implementation is positive news for Uniswap as it will give ease of the gas fee worries by standardizing the fee structure. analysts have already started predicting the UNI price target of $50 by this year. 
Affected by the V3 version and unlocking new tokens, the market value of UNI rose to eighth. Analysts state that UNI will reach $50 in a short period and hit the top five this year. In addition, Ethereum's EIP-1559 upgrade will also bring more benefits to UNISWAP. pic.twitter.com/iZz5kjS3fd

— Wu Blockchain (@WuBlockchain) March 8, 2021
Uniswap price analysis: Price regressed to $26.3 level as a result of a bearish win
The price has decreased up to $26.29.
Uniswap price analysis predicts a bearish trend.
Cryptocurrency is supported at $23.671.
The price has been traveling low for the past few days as the bears have been struggling to remain at the lead. A downtrend has been observed today as well, as the price has been lowered to the $26.3 level as the bears have regained their strength. This has proved to be quite detrimental for the overall coin value, as chances of recovery have been postponed. It is expected that further decline will follow in the upcoming hours as well.
UNI/USD 1-day price chart: Recent setback turns price down to $26.3 mark
The one-day Uniswap price analysis is confirming a downward price movement for today, as the price has declined up to $26.3. The price has been experiencing a fall since the past few days with bullish interruptions as well. The bears have been able to bring the price down to $26..291 in the last 24 hours after gaining the advantage of the situation. The price has gone below the moving average (MA) value as well which is at $26.302.
The volatility has increased during the day which is yet another bearish sign. As a result, the upper Bollinger band value has now moved up to $27.51 whereas the lower Bollinger band value moved down to $23.671. The Relative Strength Index (RSI) score has undergone reduction to a certain degree as well as it is now at 54.
Uniswap price analysis: Cryptocurrency faces repulsion above $26 as bears steer safe
The four hours Uniswap price analysis is declaring the bearish lead as the price has been consistently declining. A downward trend has been observed since the past few hours as the price has moved down to the $26.28 level. The price has dropped significantly as the bearish momentum has been intensifying since the last four hours. The moving average, in the four hours price chart, is standing at the $26.31 level.
A crossover between SMA 50 and SMA 20 took place earlier, which is expected to occur once again. The decrease in volatility has changed the upper Bollinger band value to $27.284 and the lower Bollinger band value to $25.4. The RSI score has decreased to 50.14 because of the drastic drop in UNI/USD value.
The technical indicators chart for UNI/USD is going in the bullish direction today because of the increase in price that was recorded over the period of past few weeks. There are 14 indicators present on the buying position, 10 indicators are on the neutral position while only two indicators are on the selling position.
The moving averages indicator is also dictating a strong rise in price by a bullish signal. There are 13 indicators currently settled on the buying mark, while both of the selling and neutral marks are holding one indicator each. The Oscillators are giving out a neutral indication for the day as there are nine oscillators at a neutral level, one oscillator at selling, and one oscillator at buying levels.
Uniswap price analysis conclusion
The price experienced a drop today as it has been confirmed from the one-day and four hours Uniswap price analysis. Although the price went higher earlier, the bears are now back on track as they have been able to bring the price down to $26.29 in the last 24 hours. The cryptocurrency is to face more loss in the future as the hourly prediction has been on the unfavorable side as well.
Uniswap Price Analysis: UNI consolidates above $25, slowly prepares to push higher?
Uniswap price analysis is bullish today.
UNI/USD continued to consolidate above $25.
Closest resistance at $27.
Uniswap price analysis is bullish today as a higher low has been established above $27 after a several-day consolidation. Therefore, we expect UNI/USD to move higher over the next 24 hours and likely test the $27 mark.
The overall market traded mostly with bullish momentum over the last 24 hours. The market leader, Bitcoin, gained 2.91 percent, while Ethereum gained 2.05 percent. Meanwhile, Terra (LUNA) is among the top performers, with a gain of 7.5 percent.
Uniswap price movement in the last 24 hours: Uniswap continues to consolidate above $25
UNI/USD traded in a range of $25.31 – $26.22, indicating mild volatility over the last 24 hours. Trading volume totals $236 million, while the total market cap trades around $15.8 billion, ranking the coin in 11th place overall.
UNI/USD 4-hour chart: Ready to test $27 next?
On the 4-hour chart, we can see bullish momentum slowly forming as Uniswap price targets the $27 mark next.
Uniswap price has struggled to reach further upside after a very strong advance at the end of September. During the first days of October, UNI/USD set another higher high at $27 after breaking the previous high at $26.
What followed was a several-day consolidation around the $25 mark. On the 11th of October, Uniswap finally broke lower, moving to the $22.5 mark. From there, a reversal was seen, pushing UNI/USD towards a new higher high at $28.
However, since then, a consolidation above $25 after a brief retracement has been seen. Overall, unless the Uniswap price action breaks below the $25 support, we expect further upside later this week.
Uniswap Price Analysis: Conclusion
Uniswap price analysis is bullish today as a higher low has been established around $25 after consolidation over the last 24 hours. Therefore, we expect UNI/USD to continue higher later today and test the $27 mark next.
While waiting for Fantom to move further, read our guides on LTC wallets, Gero wallets, and  DeFi wallets.
Uniswap Price Prediction: UNI bulls eye 40% upswing
Uniswap price broke out of a descending parallel channel on October 1 but lacks momentum.
A decisive close above $25.24 could signal the start of an uptrend.
UNI will face $29.43 before hitting the $33.34 resistance barrier.
Uniswap price broke out of its consolidation phase on October 1 but showed no signs of moving. A bounce that pushes it past the immediate resistance level could trigger the start of an uptrend.
Uniswap price prepares for volatile move
Uniswap price set up three lower lows and lower highs since August 18. Connecting these swing points using trend lines results in the formation of a descending parallel channel. While a move above the channel's upper barrier usually indicates a breakout and catalyzes a run-up, UNI seems to be facing a problem.
Since its breakout, Uniswap price has dropped 7%, slicing through the $25.24 support floor. Therefore, UNI needs to gather steam and produce a decisive close above this resistance level to signal the start of an uptrend.
Doing so will allow Uniswap price to embark on a 40% climb to $33.34. However, UNI will face stiff resistance around $29.43, which must be cleared for the bulls to reach their destination.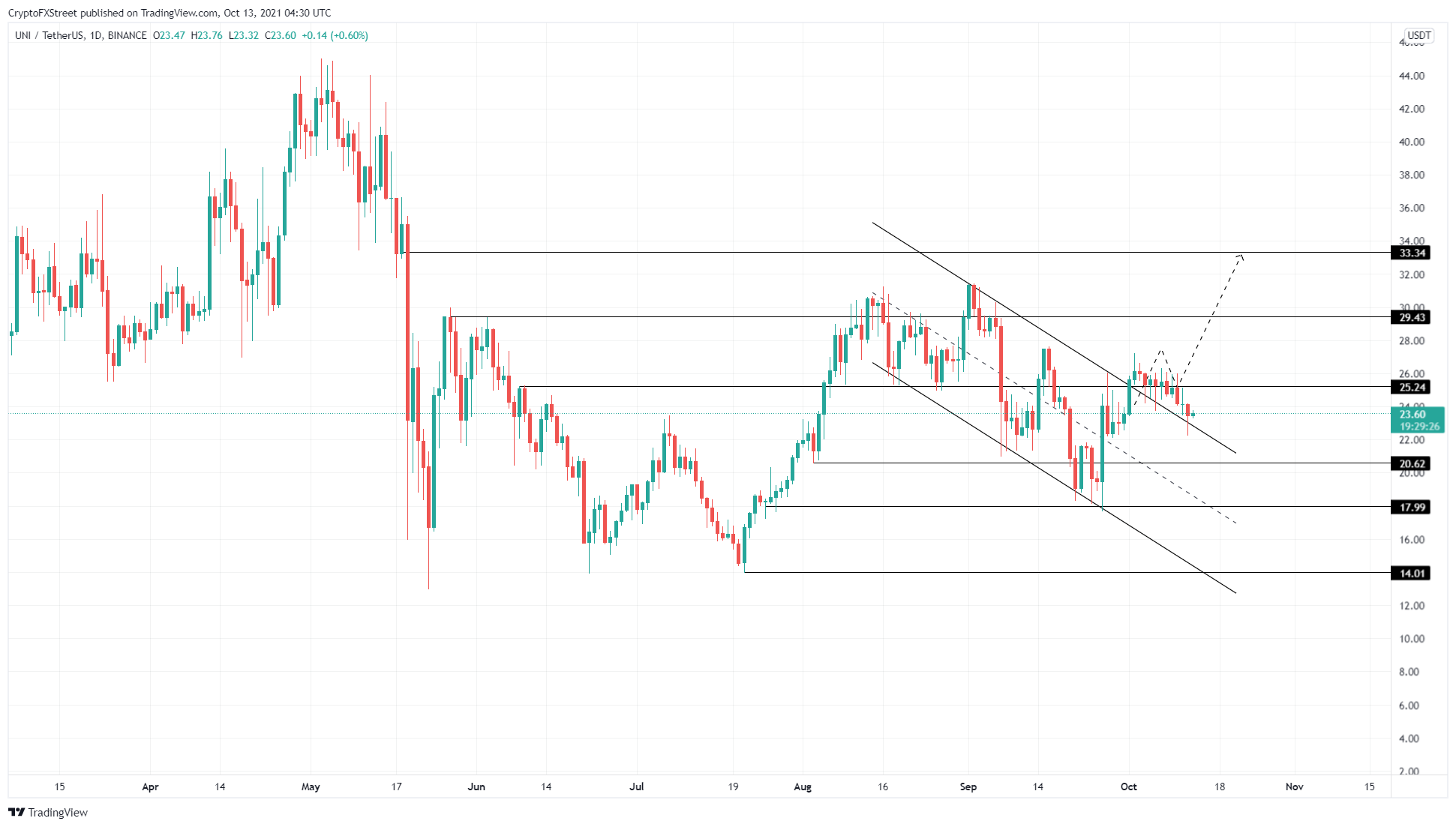 UNI/USDT 1-day chart
Firmly supporting the potential bullish outlook is Santiment's Market Value to Realized Value (MVRV) model. This on-chain metric is used to determine the average profit/loss of investors that purchased UNI over the past year.
Currently, the 365-day MVRV is hovering at -1.21%, suggesting that short-term investors have already sold their holdings and that a sell-off at this stage is unlikely. Moreover, the negative territory is where long-term holders accumulate. Therefore, a potential surge in buying pressure could kick-start a new uptrend.

UNI 365-day MVRV chart
IntoTheBlock's Global In/Out of the Money (GIOM) model supports the cautiously optimistic scenario. This model shows that roughly 31,700 addresses that previously purchased 244.64 million UNI at an average price of $27.29 are "Out of the Money" and are likely to sell if Uniswap price ever rises to this level.
Therefore, the buyers need to overcome this resistance level to have any chances of an upswing.

UNI GIOM chart
While things are not looking so good for Uniswap price, continuing this downswing could lead to a retest of the $20.62 support floor. A breakdown of this barrier will reveal a weakness among the buyers and knock UNI down to $18.
If the bulls fail to defend this level, it will invalidate the bullish thesis and likely knock UNI down to $14.01.