XRP Jumps as Ripple's Partnership With MoneyGram Ends (For Now)
XRP moved higher after US-based blockchain company Ripple announced that its partnership with the American money transfer firm MoneyGram has ended for now.
At the time of writing (05:24 UTC), XRP, ranked 7th by market capitalization, trades at USD 0.483 and is up by almost 4% in a day and 8% in a week.
XRP price chart in the past 24 hours: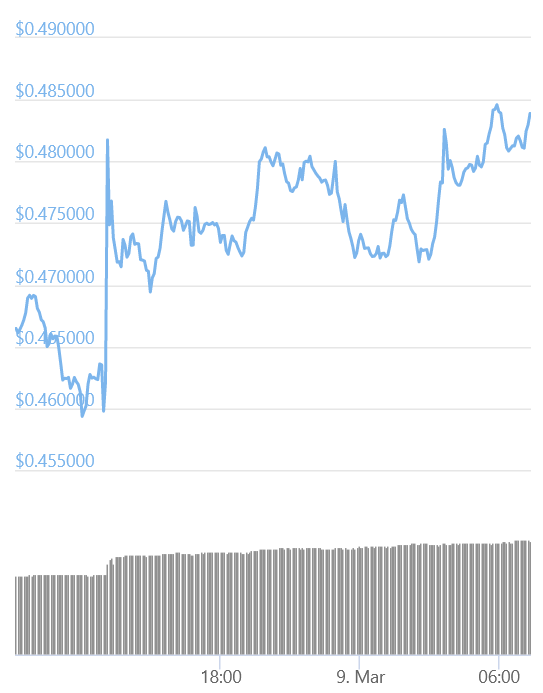 "Together, Ripple and MoneyGram have made the decision to end our current partnership agreement," the blockchain company said, without elaborating on the reasons behind this decision and without mentioning its stake in MoneyGram. However, per the announcement, both companies are "committed to revisiting our relationship in the future."
In February, MoneyGram said its support for Ripple is still in place, despite an announcement that it will suspend the receipt of "market development fees."
"While the lack of a crypto [regulation] framework has needlessly muddied the waters for US businesses & consumers, there's no denying what Ripple and [MoneyGram] have achieved together. Billions of dollars have been sent and settled across borders through ODL [On Demand Liquidity] [with] XRP," Brad Garlinghouse, CEO of Ripple, said.
Ripple began paying MoneyGram the fees as part of an agreement to use Ripple's under-fire XRP token in international settlement deals.
As reported, MoneyGram is facing a class-action lawsuit claiming that the company made false and/or misleading statements about its partnership with Ripple and the legal status of the XRP token.
Judge Grants SEC's Request To Extend Discovery Phase of Lawsuit With Ripple by Two Months
A federal judge has granted the U.S. Securities and Exchange Commission's (SEC) request to extend the discovery phase of its lawsuit against Ripple by an additional two months, according to new case documents.
Judge Sarah Netburn says in a new order that the additional time requested by the SEC will not impact "the schedule to resolve the case."
"Rather, the additional time sought by the SEC will allow both sides to complete the outstanding fact discovery and properly prepare for expert depositions."
The discovery phase is a pre-trial stage of a lawsuit where both parties present relevant information and evidence.
The SEC asked to extend the deadline for expert discovery from November 12th to January 14th, citing the need for "sufficient time to prepare rebuttal reports and depose a minimum of 14 expert witnesses." The regulator argued such an extension wouldn't extend the case's timeline.
Ripple opposed the January 14th extension, arguing that expert discovery should only be extended to December 10th, saying the two-month extension "would needlessly prolong discovery."
Attorney and crypto legal expert Jeremy Hogan, who is a Ripple supporter, disagrees with Judge Netburn about the extension's impact on the lawsuit's timeline.
Says Hogan on Twitter,
"Well, that is 'no bueno.'
Judge argues that the additional time will not affect the schedule to resolve the case, but I don't see how that is possible; it HAS to affect the schedule for briefing summary judgment.
Case summary judgment resolution now not until March-May 2022."
XRP Lawsuit: Ripple appeals the Court to Disclose SEC's in-camera review documents
The latest update in the XRP lawsuit saw Ripple respond to SEC's letter with the explanation for its privilege assertions along with a redacted version of the three additional documents requested by the defendants for in-camera review. Ripple has requested the court to disclose these documents to the defense and has further continued to argue against the plaintiff's repetitive "privileged" stance.
Ripple objects to SEC's entitlement to keeping secrets under DPP
Ripple has contended SEC's "pre-decisional" or "deliberative" argument for the three additional documents, noting that the commission has failed yet again to identify any specific policy process related to these or other documents, as it is required to when seeking protection under DPP. Ripple argued that the SEC claims against disclosure of discussions are weak and do not stand any legal relevance.
SEC asserts that "how to structure a forum the SEC intends to use to communicate with industry participants" is deliberative or would reveal its "mode of formulating or exercising policy-implicating judgment,". However, the defense objects to the plaintiff's assertions' insufficiency to invoke DPP and states that if this argument is considered valid in the court, then that would extend the invalid privilege to virtually every document or communication in a federal agency.
"The fundamental problem with the SEC's approach is that the agency apparently believes that it is entitled to operate in secret, and to withhold from actual litigants, whose reputations and livelihoods are at stake due to its own affirmative litigation choices (as opposed to the general public pursuant to FOIA), any internal documents that relate to its mission, broadly defined. This approach finds no basis in law because it turns on its head Congress' lawfully enacted presumption of openness in government documents, subject to circumscribed, narrow exceptions."
While the Court granted Ripple's September 24 appeal, seeking the addition of three documents by the SEC for in-camera review, it still has not permitted disclosure of mentioned data to the defendants. These documents include the two documents related to the SEC's meetings with law firms, along the email trail concerning discussions with a third party who received guidance from the SEC to analyze its digital asset under the framework set forth in Hinman's June 14, 2018, speech.
Ripple (XRP) Committed to the Crypto Climate Accord (CCA) To Provide for Sustainability
With cryptocurrency becoming mainstream, to provide for a long-term future together sustainability practices are very important. Major Fintech companies like PayPal, Visa, Tesla, and several others leverage this technology. This in turn has led to increased energy consumption to already unsustainable levels. To break even, the industry has a choice to make. Either continue down the unsustainable path to be doomed or work together and reduce the collective environmental impact.
Decarbonizing public blockchains is about bringing down the carbon footprint. In2020, Ripple partnered with Energy Web (EW) and the Rocky Mountain Institute (RMI) in their efforts to decarbonize public blockchains beginning with the XRP ledger. Further, Ripple has pledged to achieve carbon net-zero by 2030 or sooner.
Ripple is committed to the Crypto Climate Accord (CCA), which is a new initiative organized by EW, RMI, and the Alliance for Innovation Regulation (AIR) to ensure that the cryptocurrency industry is 100% renewable.
Ripple will also be joining more than 20 supporters from different industries and blockchains, which consists of the United Nations, CoinShares, Compass Mining, the XRP Ledger Foundation, and ConsenSys to provide for sustainability and scalability, thus creating value for all.
The cryptocurrency market cap is at $2 trillion, which is twice the previous all-time high that was reached about three months ago, thus underscoring how quickly this industry is growing.
The growth of the cryptocurrency industry comes at a cost. The damages caused by climate change cover for nearly 3% of GDP by 2060. The challenge to sustain global financial prosperity without compromising on the environment is a thing to be considered.
Emissions reduction and renewable energy use are steps to ensure progress in the right direction.
The Paris Climate Accord, fintech, and crypto industry leaders have partnered to set the objectives to ensure sustainability.
Key objectives include: "Enable all of the world's blockchains to be powered by 100% renewables by the 2025 UNFCCC COP Conference; Develop an open-source accounting standard for measuring emissions from the cryptocurrency industry; Achieve net-zero emissions for the entire crypto industry, including all business operations beyond blockchain and retroactive emissions by 2040."
Ripple's journey in ensuring sustainability consists of recognition of financial technologies like blockchain and cryptocurrency to position financial empowerment without compromising on the sustainable future. Thus, providing for the critical years of commitment in the process of cryptocurrency adoption. Reverse engineering the characteristic of the technology after progress has been achieved can be tricking and sustainability will, in turn, have to wait longer. Therefore, Ripple is leading the effort and they feel it is time to solve the problem now.
Ripple is committed to progressing this effort by a strategic partnership with organizations like Rocky Mountain Institute, Energy Web, and AIR, eventually contributing to policy ideas and financing for innovations to help achieve the long-term objectives of Accord.
The attempt is expected to save the global economy an estimated $26 trillion by 2030, contributing to a robust and sustainable global financial system leading to a sustainable world.