Ethereum vs. Bitcoin: Did ETH/BTC just bottom as Ether eyes $2K?
Bitcoin's (BTC) price has been broken past a major resistance level of $52,000 in the past few days and is approaching the all-time high region.
However, other cryptocurrencies are rallying heavily as well. In the recent months, the market has seen massive surges for Cardano's Ada, Polkadot's DOT and Cosmos' Atom.
These altcoins have been seeing impressive gains as Ether (ETH) faces scalability issues and high network fees. This is resulting in negative sentiment on social media, where some investors and traders are doubting whether a bullish breakout will happen for Ether price.
But this might be exactly the period to become interested in the second-biggest cryptocurrency, especially with major upgrades expected for Ethereum in the summer.
Ether holds a critical level for continuation
The U.S. dollar chart for Ether shows a major pullback in February and March, with ETH price dropping from $2,000 to $1,300. This was a 35% correction and was pretty healthy for the bull market before it can resume.
The bull cycle is intact as long as it doesn't lose the critical levels, namely the $1,300 region, which was confirmed during this latest pullback. Luckily for the bulls, Ether's price didn't drop below this level, as the chart above shows.
However, what comes next is debatable. There's a clear resistance zone between $1,800 and $1,900, while support levels are shown by the green boxes. The primary box is found between $1,475 and $1,550.
There are several important things to point out here. First of all, the momentum and sentiment were comparable to a funeral once Ether's price hit the $1,300 level. Usually, such rock-bottom market sentiment is a big indicator to start looking for entry positions.
Now, ETH sentiment has flipped, as the public typically becomes bullish at resistance. Therefore, the most likely case here would be range-bound action for the coming weeks before a new impulse wave can start. Such an impulse move could trigger continuation toward $2,500 or higher.
Watch the ETH/BTC pair
The dollar value of altcoins can paint an inaccurate picture of a cryptocurrency's strength.  The dollar value of a certain altcoin could be above the previous all-time highs, but the altcoin's value in BTC terms may still be far away from its peak (e.g., Ada).
Such an observation means that Bitcoin is showing strength, while the altcoin may actually be losing value against BTC.
Ether is no exception and isn't showing much momentum yet, still hovering around the 0.03 sats level. For instance, the all-time high for ETH/BTC was 0.112 sats in 2017.
The chart shows a clear rejection at the 0.035 sats level, which means further consolidation is likely before a potential shift in momentum. If the 0.03 sats area holds, additional compression and sideways action should start, which may then kick off a new impulse wave.
Currently, Ether is making another higher low in the BTC pair, which may add further strength toward a new higher high. This can then open the path toward 0.06 or 0.08 sats.
Bullish news can also boost the value of ETH in the short to medium term. Specifically, the major upgrade dubbed "London," expected in July, should alleviate the high network fees and also add deflationary pressure on the ETH token.
Bitcoin dominance nears critical level
The Bitcoin dominance chart is great for gauging the strength of altcoins. In this case, BTC dominance topped out in December 2020, which was followed by a massive "alt season."
But now, the Bitcoin dominance chart shows a potential bottoming construction at a key support level. In other words, after such a big multimonth rally in altcoins, a correction wouldn't be a surprise alongside rising BTC dominance.
This could mean that Bitcoin will rally in dollar terms. Or if BTC corrects against the dollar, altcoins will likely see an even bigger pullback than BTC.
In any case, if history repeats, the dominance will crawl up, alongside Ether testing the 0.03 sats area. After that, the summer may be a very bullish period for altcoins.
The views and opinions expressed here are solely those of the author and do not necessarily reflect the views of Cointelegraph. Every investment and trading move involves risk. You should conduct your own research when making a decision.
Bitcoin extends correction as Ethereum sees 'picture perfect' rejection at all-time highs
Bitcoin (BTC) stayed closer to $60,000 on Oct. 22 after the largest altcoin Ether (ETH) failed to cement new all-time highs.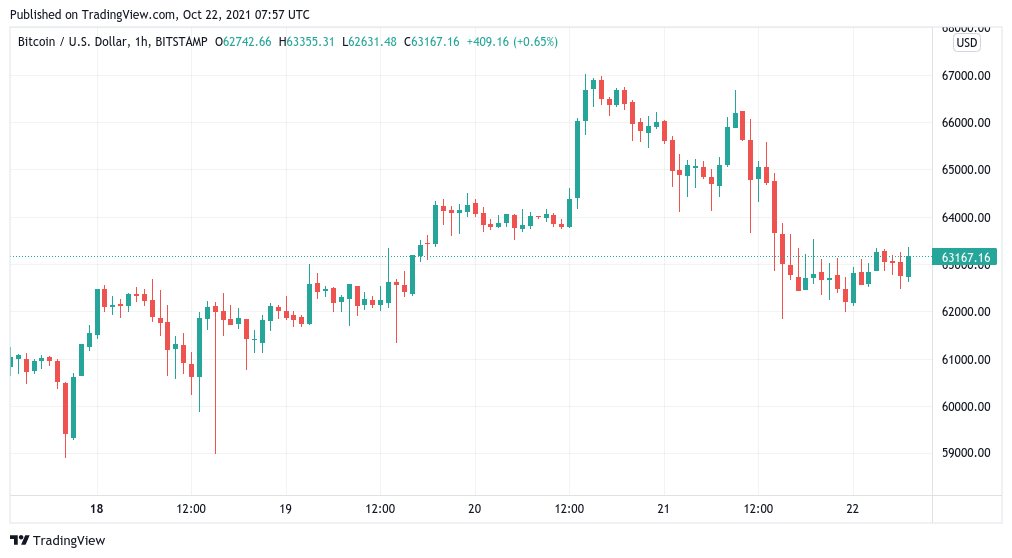 BTC/USD 1-hour candle chart (Bitstamp). Source: TradingView
ETH all-time high? Blink and you'll miss it
Data from Cointelegraph Markets Pro and TradingView ETH/USD just match its record $4,380 on Bitstamp before seeing a harsh rejection.
Traders watched in anticipation as Ethereum appeared to follow Bitcoin to historic new levels, only to face immediate resistance and fall sharply back into a lower range.
Trader and analyst Rekt Capital called the event a "picture perfect rejection."
At the time of writing, ETH/USD circled $4,150, preserving $4,000 as support with the exception of a flash dip which immediately followed the all-time high rematch.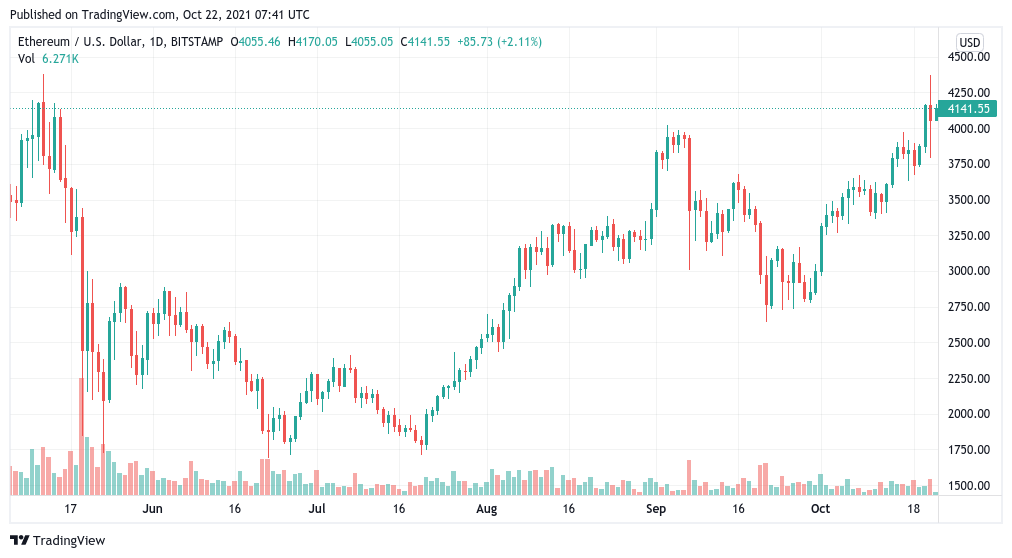 ETH/USD 1-day candle chart (Bitstamp). Source: TradingView
Against Bitcoin, Ethereum fared better, with the ETH/BTC pair having bounced near lows last seen in late July. 
Bitcoin could see "additional topside euphoria"
Having similarly failed to hold significantly higher levels, Bitcoin itself took an extended break as overheated markets cooled their excitement.
Funding rates were returning to normal on Friday, having reached a state reminiscient of the blow-off top from April.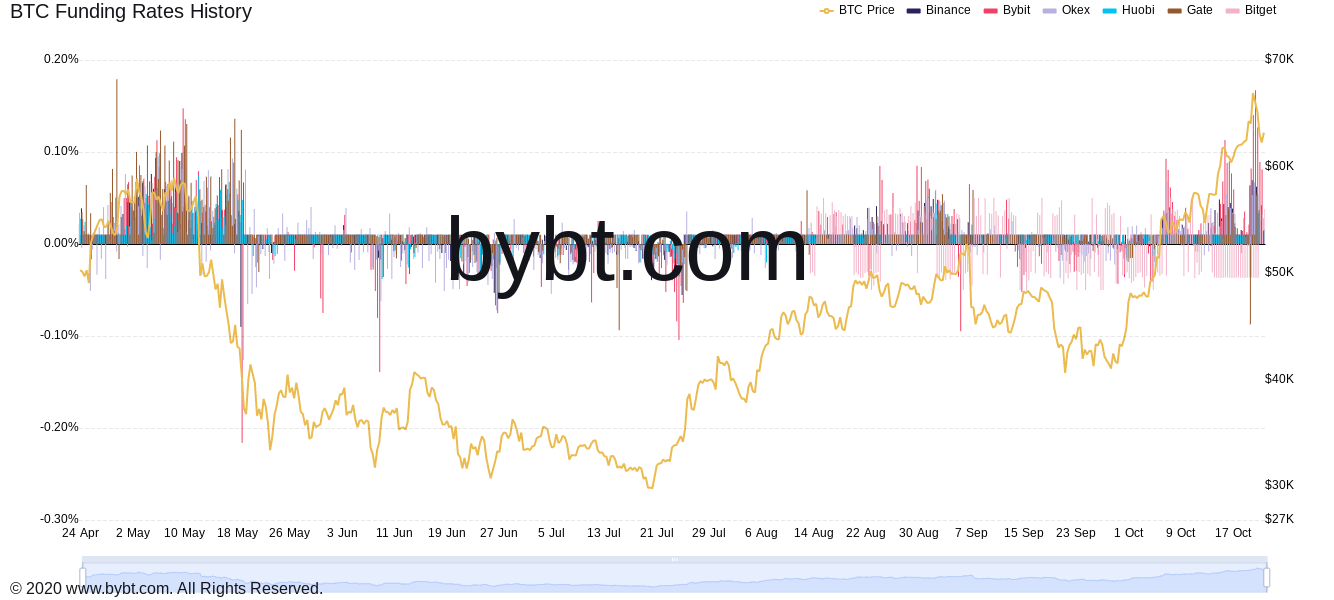 Bitcoin funding rates chart. Source: Bybt
As with open interest, however, these were not as frenzied as the Q2 rush, which produced the $64,900 all-time high in place until this week.
"This means there is possibly still room for additional topside euphoria but we are at levels that are starting to stretch the market," crypto trading firm QCP Capital commented in its latest market update.
Bitcoin Forecast and Analysis BTC/USD October 22, 2021
BTC/USD are trading at 64619 and continue to move as part of the correction and the bullish channel. Bitcoin cryptocurrency capitalization at the time of the publication of the forecast is $1,194,342,792,891. Moving averages indicate a short-term bullish trend for Bitcoin. Prices went up from the area between the signal lines up, which indicates pressure from buyers of "Digital Gold" and a potential continuation of the rise in the value of the asset already from the current levels. As part of the cryptocurrency rate forecast for tomorrow, October 22, 2021, we should expect an attempt to develop a decrease in the value of a digital asset and a test of the support level near the 57505 area. Where again should we expect a rebound and an attempt to raise the Bitcoin rate with a target above the 74055 area.
Bitcoin Forecast and Analysis BTC/USD October 22, 2021
An additional signal in favor of the growth of BTC/USD quotes will be a test of the rising trend line on the relative strength index (RSI). The second signal in favor of this option will be a rebound from the lower border of the bullish channel. Cancellation of the growth rate and value of Bitcoin will be a fall in the value of the asset and a breakdown of the area of ​​52205. This will indicate a breakdown of the support area and a continuation of the fall in the Bitcoin rate with a potential target at 42055. Confirmation of the rise in the price of the asset will be a breakdown of the resistance area with the price fixing above the level of 69205.
Bitcoin Forecast and Analysis BTC/USD October 22, 2021 suggests an attempt to test the support level near the 57505 area. And further, the cryptocurrency will continue to grow with a potential target at 74055. An additional signal in favor of the Bitcoin rate rise will be a test of the support line on the relative strength index (RSI). Cancellation of the cryptocurrency growth option will be a fall and a breakdown of the 52205 area. This will indicate a continued fall with a potential target below the 42055 area.
Bitcoin Price Flash Crashes for Second Time in a Month in the US
The price of bitcoin (BTC) on Binance.US, the US-based exchange affiliated with Binance, briefly crashed to as low as USD 8,200 today – a drop of 87% – before recovering again. The crash marks the second time in a month when bitcoin prices in the US have briefly disconnected from the rest of the world. 
Today's flash crash, which was one of the most significant on a major exchange in bitcoin's history, all happened within less than 1 minute, the BTC/USD price chart from Binance.US showed.
Although the flash crash was all over within a minute, the trading volume showed that a significant number of coins did change hands during the crash, indicating that some traders may have been able to fill orders for bitcoin at extremely low prices.
Flash crashes can happen when large market sell orders are sent to exchanges without sufficient liquidity on its order books, for instance, because a large trader accidentally placed the order as a market order instead of a limit order.
Today's flash crash on Binance's US exchange is the second such incident in a month in the US. On September 20, a data feed for crypto prices called Pyth that is used by some of the largest financial institutions on Wall Street showed a 90% crash in the price of bitcoin.
The feed briefly showed bitcoin at a price of USD 5,402. However, a similar price crash was nowhere else to be seen. Two days later, in a report about the incident, Pyth concluded that the abnormally low price was indeed a technical glitch, "caused by the combination of (1) two different Pyth publishers publishing a near-zero price for BTC/USD and (2) the aggregation logic overweighting these publishers' contributions."
Discussing today's incident on Twitter, many traders complained about being forced by US regulations to use exchanges such as Binance.US, which has thin order books and low liquidity compared to the international version of the exchange.
No statement has yet been made from Binance or Binance US regarding today's flash crash.

At 16:11 UTC, BTC trades at USD 63,180 and is down by almost 6% in a day, trimming its weekly gains to 10%.