Bitcoin price sheds 5% after Oracle keeps quiet on $4B BTC allocation rumors
Bitcoin (BTC) fell $2,000 overnight on March 11 after United States-based multinational Oracle dispelled rumors that it had bought 72,000 BTC.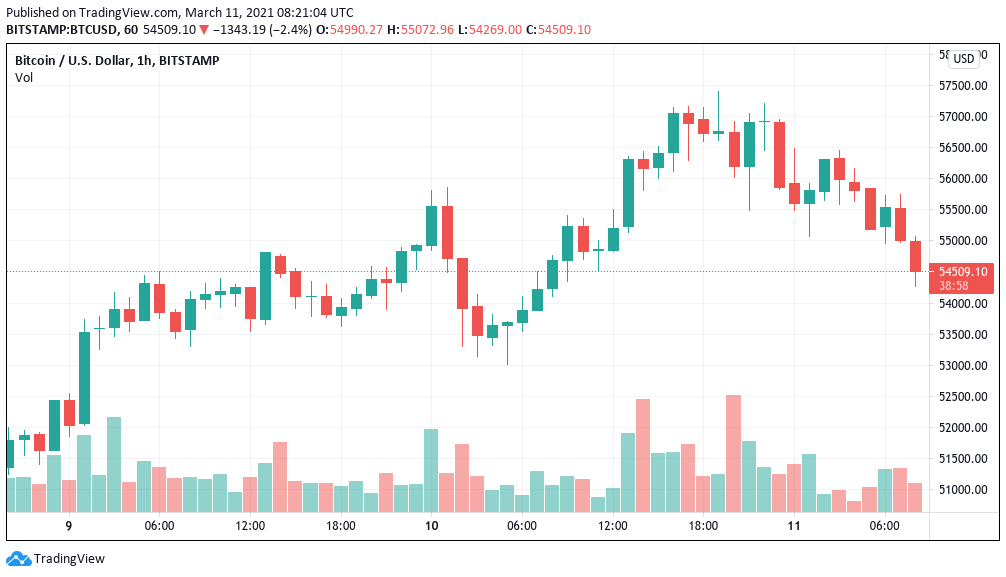 BTC/USD 1-hour candle chart (Bitstamp). Source: Tradingview
Data from Cointelegraph Markets and TradingView showed BTC/USD returning to $55,000 on Thursday after hitting local highs of around $57,00.
The previous day had delivered strong performance across cryptocurrency, with bulls eagerly awaiting a retest of Bitcoin's all-time highs at $58,300.
While the momentum did much to overcome a final band of resistance in place just below that level, it did not last, as an alleged adoption announcement from Oracle failed to materialize.
Starting in February, claims began to surface that the firm planned to buy a huge amount of Bitcoin in a move that would rival top institutional investors Grayscale and MicroStrategy. Confirmation should have come on Wednesday, social media users added, but an earnings call failed to confirm their suspicions.
In the event, co-founder Larry Ellison did not disclose any Bitcoin-related activity, while signalling that he was bullish on the trading environment for the coming year.
"I'm not really ready to disclose our plans as to why I think it's going to suddenly spike but we expect very, very rapid database growth next year," he said, quoted by CNBC.
At the time of writing, BTC/USD was continuing to retrace, losing around 2% in an hour and heading towards $54,000.
Reacting, commentators remained unfazed by the anticlimax.
"For those caught in the day to day pricing of Bitcoin, it is a long journey," entrepreneur Jeff Booth responded:
"The fact that Oracle hasn't bought 'yet' is very bullish and signalling how early it still is."
Analyst: Amazon market cap could be next for Bitcoin
Taking a longer-term view, one analyst this week described the slowdown in Bitcoin's bull run at around a $1 trillion market cap as a "back-and-fill process."
In a tweet, Mike McGlone, senior commodity strategist at Bloomberg Intelligence, argued that once consolidation is over, Bitcoin would rise again — and its next target would be Amazon's market cap.
"Tesla in Rear View, About $80,000 Bitcoin Eyes Amazon Market Cap — Once Bitcoin's back-and-fill process around the $1 trillion market cap is complete, we see internet pioneer Amazon.com as a potential next threshold…," he wrote on Tuesday.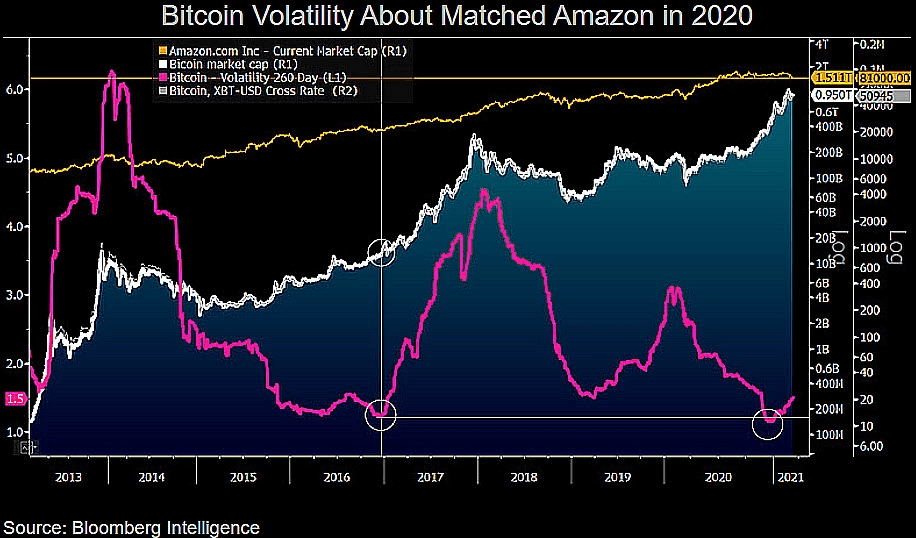 Bitcoin volatility vs. Amazon market cap vs. BTC/USD chart. Source: Mike McGlone/ Twitter
McGlone uploaded a comparative chart highlighting Bitcoin's low volatility poised to repeat performance from 2017, the year in which BTC/USD grew from $1,000 to just under $20,000.
PayPal co-founder suggests he's underinvested in Bitcoin while it records new ATH
Bitcoin [BTC] did it once again. The asset broke its own record and caught the attention of the entire globe. Amidst this, PayPal's co-founder, Peter Thiel expressed his angst over being "underinvested" in the world's largest cryptocurrency.
The crypto industry as a whole garnered immense popularity over the last couple of years. From being closely regarded as an instrument that carries out illicit activities, to being adopted by governments across the globe, Bitcoin has certainly come a long way. Now, with a market cap of $1.2 trillion, Bitcoin stands as one of the most prominent currencies in the world.
Earlier today, BTC pushed past its previous all-time high of $64,899 and managed to hit a new high of $66,930.39. While BTC HODLers rejoiced this surge, an array of people were rather disappointed that they hadn't poured in their money into the king coin. One of them was PayPal's co-founder Peter Thiel.
PayPal's co-founder talks crypto
During a recent interview, PayPal's Thiel revealed why he felt underinvested in the asset. He added,
"You're supposed to just buy Bitcoin. I feel like I've been underinvested in it."
The latest move of Bitcoin was lauded by the entire market. Speaking about the effects of BTC's ongoing rally, the PayPal co-founder suggested that "we are at a complete bankruptcy moment for the central banks."
An array of people took to Twitter and made their own predictions about Bitcoin. While some suggested that BTC was slated to endure a major fall, a few others noted that the coin could be aiming for $70K. Tesla's Elon Musk had a rather bizarre prediction for the coin.
The Tesla CEO's latest tweet read,
pic.twitter.com/pCO0wNNZtz— Elon Musk (@elonmusk) October 21, 2021
Bitcoin's rally certainly paved the way for several altcoins hitting new highs. Ethereum PETH], the second-largest cryptocurrency followed the footsteps of BTC and managed to hit an all-time high of $4,366.
PayPal has played a major role in the crypto-verse in the last year. From opening doors to crypto and constantly remaining bullish about it, has pushed several assets to a new level.
This Catalyst Could Trigger Long-Term Bitcoin Rally
Bitcoin is surrounded by all kinds of optimistic predictions these days especially since the king coin managed to smash through all-time highs the other day.
At the moment of writing this article, BTC is trading in the green, and the king coin is priced at $65,933.90.
This trigger could boost Bitcoin
Popular analyst Benjamin Cowen just said that one overlooked catalyst could ignite a big long-term rally for Bitcoin (BTC).
During a new strategy session, the analyst analyzes the dollar index (DXY), which compares the US dollar against a basket of other major fiat currencies.
As the online publication the Daily Hodl highlighted, a weaker dollar can often imply higher prices in many assets.
He also said that one thing that could put extra bullish energy behind Bitcoin is the DXY beginning a macro trend downward.
Cowen explained that the DXY is potentially on the edge of a bearish trend as it gets rejected from its 100-week simple moving average (SMA).
"Ideally speaking, in order to really be the best conditions for Bitcoin, we'd like to see this keep coming on down. This would be the best condition for Bitcoin and here's the crazy thing when you talk about the US dollar currency index… Look at the actual macro range."
He said that despite a rising DXY during the majority of Bitcoin's lifetime, the king has still managed to maintain a long-term bullish structure.
The analyst is also analyzing what could happen if the DXY eventually entered a more considerable downtrend.
"The dollar has more or less moved up during that time. It's moved up, but there were a couple of key times when the dollar was moving down and that corresponded to Bitcoin bull markets."
He continued and said the following:
"Imagine what Bitcoin could do if the dollar ended up coming back down… I think that would be incredibly bullish for Bitcoin."
Bitcoin sheds 6% in battle for all-time high support amid falling funding rates
Bitcoin (BTC) briefly dipped below $63,000 later on Oct. 21 as a standard correction cooled the market.
Bitcoin battles for new support at old peak
Data from Cointelegraph Markets Pro and TradingView followed BTC/USD as it came off all-time highs above $67,000 to hit lows of $62,860 on Bitstamp.
The roughly 6% drop from its peak came as little surprise to seasoned traders, despite Bitcoin so far failing to create solid support at the site of its previous all-time high of $64,900.
"Bitcoin is still undergoing this retest attempt," popular trader Rekt Capital wrote in his latest update, suggesting that the old high could still flip to support.
Others took the chance to poke fun at the jittery mood on social media, where various users were getting cold feet observing the retracement.
It's just a joke.

Most of you will get liquidated on a 5% drop anyway so it won't matter what happens after that.— NebraskanGooner📈📈 (@nebraskangooner) October 21, 2021
The return to near $60,000, now the top of a large buy wall, meanwhile served to flush out excessive optimism on derivatives markets.
As Cointelegraph reported, funding rates had skyrocketed overnight, but were slowly returning to more sustainable levels at the time of writing.
Sentiment showed prevailing "extreme greed" among market participants, with the Crypto Fear & Greed Index at 84/100. Historical top scenarios have involved 95/100 or higher.
Altcoins stabilize with Ethereum, Solana leading
Altcoins presented a mixed but altogether more positive picture on the day.
After losing out broadly against BTC, major altcoins were spared a comedown of their own, with Ether (ETH) still above $4,000. Solana (SOL) gained over 25% in the past two days.
Only Binance Coin (BNB) saw any noticeable downwards movement, trading 4% lower over the past 24 hours.
"Total altcoin market cap close to taking out its September high (and ATH). Did not do that in 2017 until mid-Nov," renowned analyst TechDev noted about the altcoin situation on Wednesday.
"Could signal some serious alt runs sooner than expected. Will keep close eye. Ethereum ain't playin around this cycle."