ETC Group CEO: There Is Increasing Demand For An Ethereum ETP
ETC Group launched an Ethereum ETP this week, and the CEO says demand for Ethereum is growing.
The Ethereum ETP follows ETC Group's launch of Bitcoin ETP last year.
Earlier this week, financial services company ETC Group launched anEthereum exchange-traded product (ETP). ETC Group CEO Bradley Duke told Decrypt he believes the demand for Ethereum is growing, and his goal is to provide investors with options to enter the Ethereum market.
"There's increasing demand for Ethereum, and I have faith in the team behind Ethereum," Duke said, adding that the smart contract platform represents a "whole, programmable banking system and allows for all sorts of innovation."
An ETP allows investors to gain exposure to a tradable security without having to buy it directly. The company already has a Bitcoin ETP, which launched in June 2020 and has already generated $1 billion in assets under management. But now, ETC Group is pivoting its attention to Ethereum.
Beyond Bitcoin
ETC, unsurprisingly, has high hopes for its new Ethereum product; the company's Bitcoin ETP was the most traded product out of the exchange-traded notes listed on Xetra during the second half of 2020. Its Ethereum ETP launched on Deutsche Borse's Xetra—a trading venue based in Frankfurt, Germany—under the ticker ZETH.
As impressed as Duke is with the Ethereum network, he said what matters more than his own view is the fact ETC Group is providing investors a route into a major cryptocurrency, one that is often touted as Bitcoin's main rival. "More important than my opinion, what we're doing is providing the picks and shovels—it's up to the investor to decide," he said.
And while both ETPs offer competing cryptocurrencies, their structures are mostly the same. "The ETH product is pretty much structurally identical to the BTC product," Duke said, emphasizing that investor security is built into the product itself. In other words, the security is 100% backed by the underlying asset, something that's true of both ETC's ETP products.
The company's ETPs might be based out of Germany, but Duke also had some choice words for the UK's financial services regulator, the Financial Conduct Authority.
Crypto regulation in the UK
Duke said the FCA's decision to ban crypto derivatives for retail investors implies the UK is not open for business.
"I think that's great news for the rest of Europe, and it's not great news for the UK," he said, adding that London's place as "the hub of the crypto industry in Europe" is likely to diminish over time.
What's more, while Duke believes that the FCA's ban sprang from the best of intentions, he suggested that its policy will have the opposite effect to what it intended. "What they've done is they've forced retail investors to invest in unregulated markets," he said.
The loss of the UK retail investor is "unfortunate," according to Duke, but despite that, the ETC Group's products are passported all across Europe. Coupled with the fact that institutional money is pouring into crypto—and of course, that retail investors across the EU can access the company's products—the loss of the UK retail investor is not that painful.
Ethereum 2.0 Next Steps to Mainnet Shared by Ethereum Foundation
Ethereum (ETH) developers have entered final phase of testing before hotly anticipated ETH1-ETH2 transition
Tim Beiko, Ethereum 2.0 researcher and coordinator at Ethereum Foundation, published a recap of Amphora devnet launch. Why is this milestone special for progress to Ethereum 2.0?
Amphora workshop has been completed successfully
Mr. Beiko has taken to Twitter to share his blog post about the Amphora workshop that launched the interoperable devnet of Ethereum 2.0 Merge.
Fresh off the press: here's a recap of the #amphora interop event 🏺 highlighting the next steps to The Merge, with links to devnets and an A+ infographic by @trent_vanepps. Enjoy 😁! https://t.co/L66OymXFmA— Tim Beiko | timbeiko.eth (@TimBeiko) October 15, 2021
As such, Ethereum's (ETH) core developer community entered the last phase of its incentivized testing, i.e., "devnets." Ethereum 2.0 devnets should be considered "public networks with hardened specs for community to test."
Amphora meetup was joined by a number of teams behind ETH2 client implementations: Besu, Erigon, EthereumJS, Geth, Nethermind, Nimbus, Lighthouse, Lodestar, Quilt, Prysm and Teku.
Amphora's agenda included five milestones (M1-M5); all of them were accomplished successfully.
10,000 validators, 100 nodes: Welcome to Pithos
To achieve an M5 milestone, a network of 10,000 validators across 100 nodes launched on the top of proof-of-work (PoW) consensus, successfully transitioned to proof-of-stake (PoS) and finalized the chain.
On Oct. 14, 2021, the more stable version of Amphora testnet, Pithos, launched to facilitate upcoming experiments.
As covered by U.Today previously, Ethereum 2.0 Merge was successully activated in an interoperable multi-client testnet in a secret location on Oct. 8, 2021.
Ethereum Looks Set To Explode As 400,000 ETH Exits Coinbase
On-chain data shows crypto exchange Coinbase saw a withdrawal of 400k Ethereum yesterday. This could be a sign of activity from institutional investors, and could prove to be bullish for the coin.
Coinbase Observes Outflow Of 400,000 ETH
As pointed out by a CryptoQuant post, about 400k ETH (1.5 billion at the current exchange rate) was withdrawn yesterday from the crypto exchange Coinbase.
The indicator used here is the Ethereum outflow, which shows the total number of coins exiting wallets of the exchange.
When the metric shows a big spike, it means a lot of ETH was withdrawn from the exchange. Investors usually take out a lot of coins to either hodl them or to sell them through OTC deals.
So, constant outflows can mean that there is a buying pressure in the market and investors feel bullish on Ethereum.
Now, here is how the chart for the indicator looks like for the crypto exchange Coinbase:
ETH's outflow showed a large spike yesterday | Source: CryptoQaunt
As the above graph shows, the crypto exchange Coinbase saw a spike of a massive 400k Ethereum in outflows yesterday.
Outflows this big can be a sign of activity from institutional investors as certainly normal holders won't have these many coins to move around.
Institutional investors being bullish on ETH can mean huge things for the crypto. If ETH has to move to the next leg up, it will need a lot of money pumped into it, and this usually means whales like institutional investors need to get involved.
As these outflows already signal that institutional investors are taking their coins out of exchanges to perhaps hodl them, ETH's outlook looks bullish.
Ethereum Price
At the time of writing, ETH's price floats around $59.9k, up 9% in the last seven days. Over the last thirty days, the crypto has amassed 25% in gains.
The below chart shows the trend in the price of the coin over the last five days:
ETH's price makes a push up and approaches the $4k mark | Source: ETHUSD on TradingView
ETH has made a big push in the last few days as the coin now approaches a test of the $4k mark. It's unclear at the moment if ETH can keep this momentum going and reach a new all time high (ATH) soon, or if it will falter once again.
f the outflows are anything to go by, the general sentiment seems to be bullish and institutional investors getting involved can help with the big price pushes the crypto needs to break important resistance lines.
Ethereum's Move Past $3,800 Put 95% of Holders in Profit, Leaving Minor Selling Pressure Ahead
Ethereum's move past $3,800 is followed by strong buying power from bulls, according to market data
Ethereum's run to $3,800 did not remain unnoticed on the market and in the on-chain data. Numerous indicators show that, at this point, the majority of entries in Ethereum remains in profit. With 95% of coins purchased cheaper than the current price, ETH bulls currently control the market with strong dominance.
Data provided by IntoTheBlock suggests that only 4.6% of Ethereum holders are "out of the money," which means that they have bought ETH for a higher price than it is now. Those entries were most likely present during the previous run to $4,400, when the cryptocurrency market as a whole went through a euphoria phase.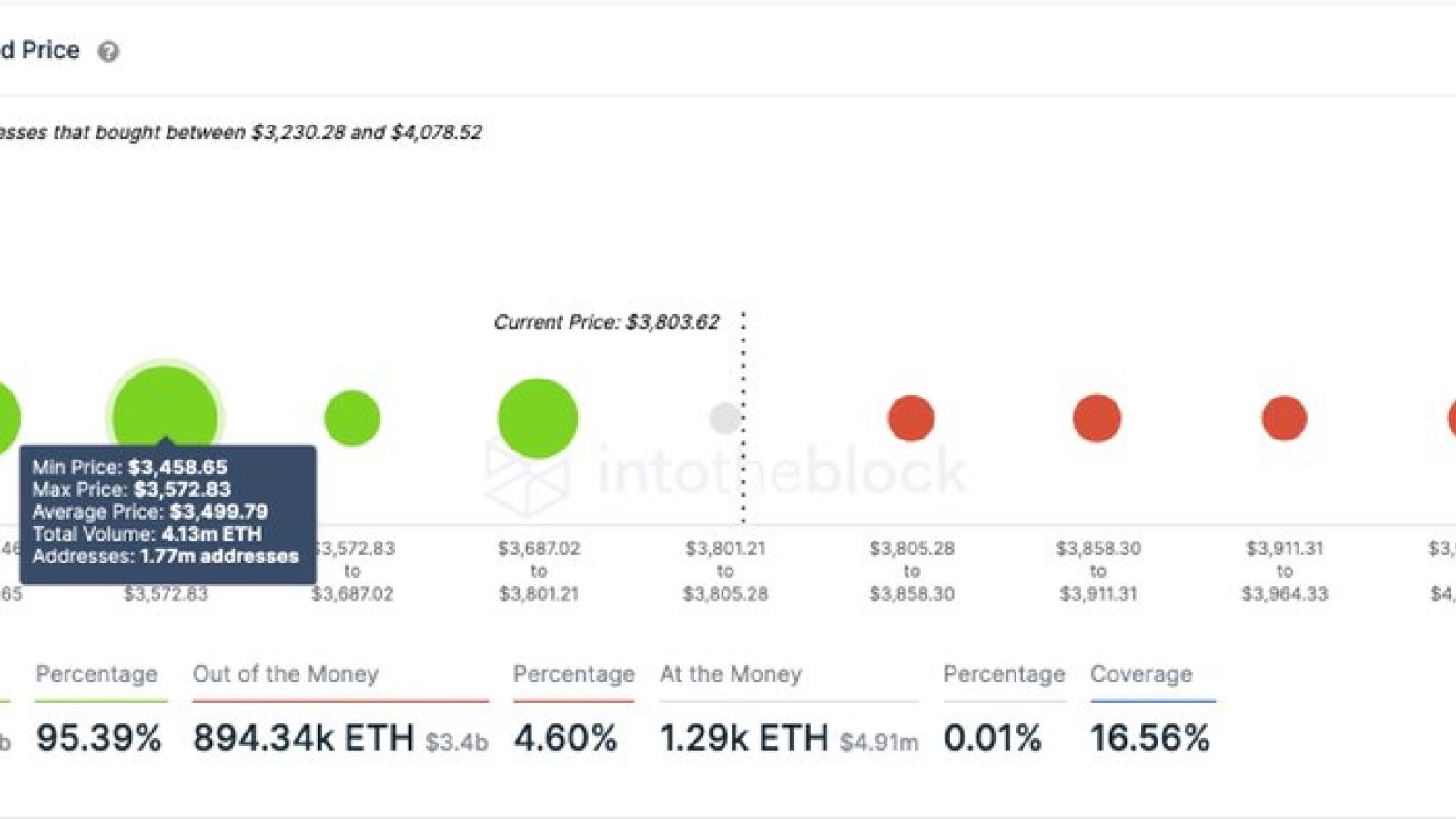 While the previous growth phase was mostly fueled by speculative interest, this time, Ethereum has become more popular among institutional investors that could see a change in the asset's nature. Due to the implementation of the fee-burning mechanism in the EIP-1559 update, in periods of high network load, there are more Ethereum being burned than distributed.
The In/Out of Money indicator
A metric developed by IntoTheBlock shows the number and average price of coins held by various addresses. By reflecting the average entry on the market, traders and investors are able to track the potential support and resistance zone that could appear once volatility on the position increases.
At press time, the largest entry zone by volume (number of addresses) is $3,300, with the total volume of 10.2 million Ethereum purchased close to that price range.
The indicator's logic is based on the fact that traders tend to sell their funds for their entry price if the retrace on the assets appears and tend to hold and stack up against their position after the asset's price has increased.