Ripple Presses on Despite Losing MoneyGram Partnership, Will XRP React?
Ripple CEO Brad Garlinghouse said the firm is to wind down its partnership with MoneyGram. But they remain committed to eliminating payment friction inherent in global financial systems. Ripple re-tweeted details of their most recent significant partnership with bKash and Mobile Money as a response.
#RippleNet is partnering with Mobile Money and @bKash_ltd to power seamless e-payment solutions between Malaysia & Bangladesh. Learn more. https://t.co/ocj8NnkgSi

— Ripple (@Ripple) March 8, 2021
Ripple and MoneyGram Split Ways For Now
Garlinghose announced that Ripple and MoneyGram have decided to go their separate ways. The news comes following the regulatory fallout of the SEC lawsuit against Ripple.
A brief statement detailed the success they achieved together, namely the billions transacted through RippleNet and On-Demand Liquidity. Team Ripple signed off by saying both firms are open to revisiting the partnership in the future.
"We are proud of the work we were able to accomplish in a short amount of time, as well as the impact we were able to achieve in bringing this first-of-its-kind product to market. Together, we processed billions of dollars through RippleNet and On-Demand Liquidity (ODL)."

Garlinghouse mentioned that "the lack of a crypto reg framework has needlessly muddied the waters for U.S. businesses & consumers." Implying that on-going regulatory action is the reason for the dissolution of the partnership.

Earlier this month, a class-action lawsuit was filed against MoneyGram connected with the ongoing SEC case against Ripple. The plaintiffs make several allegations, but their primary concern relates to false/misleading statements about the use of XRP.
"According to the lawsuit, defendants throughout the Class Period made false and/or misleading statements and/or failed to disclose that: (1) XRP, the cryptocurrency that MoneyGram was utilizing as part of its Ripple partnership, was viewed as an unregistered and therefore unlawful security by the SEC."
MoneyGram's stock price fell as low as $5.69 in closed market trading after the announcement was made.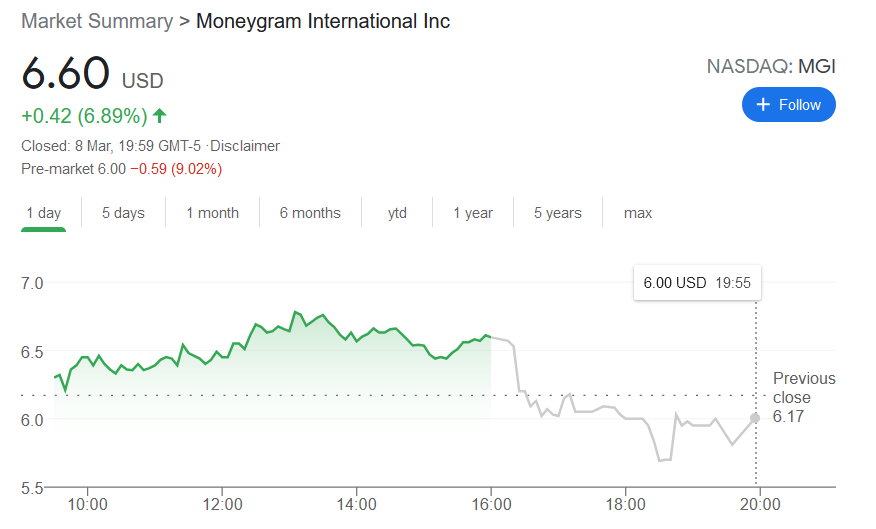 Source: google.com
Writ of Mandamus
The Founder of Crypto Law, John Deaton, spoke recently about the petition for writ of mandamus he filed at the U.S. District Court in Rhode Island on behalf of XRP holders.
A writ of mandamus is a court order issued by a judge at a petitioner's request compelling any government, corporation, or public authority to execute a duty they are legally obligated to action.
"A writ of mandamus is deemed necessary when the actions (or inaction) of government bodies or corporate officials are so inappropriate or egregious that immediate, emergency action needs to be taken by the legal system."
Deaton's main argument stems from the fact that the SEC's action against Ripple has harmed XRP investors and Ripple partners to the tune of billions of dollars. This, Deaton says, is a violation of the SEC's mission, which is to protect investors and promote fairness.
Ripple's split with MoneyGram has not negatively impacted the price of XRP. It remains in an ascending channel that formed at the start of this month. Currently, the price of XRP is $0.48, up 1% on the day.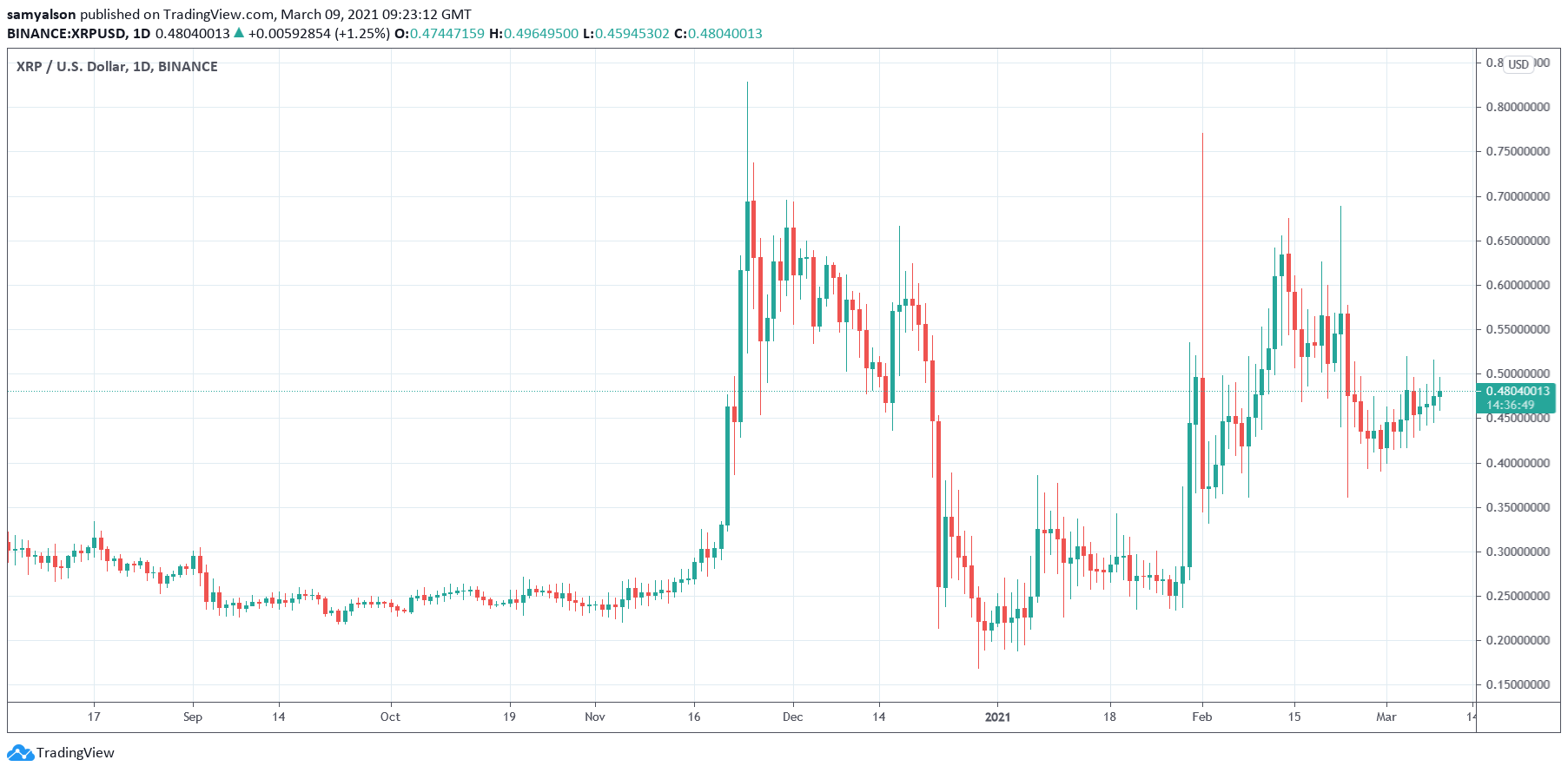 Source: XRPUSD on TradingView.com
News Source
Elon Musk warns of 'strong inflationary pressure' as Tesla mulls Bitcoin payments
The world faces "strong inflationary pressure" in the short term, and it may persist, warns the world's richest man.
In a debate about inflation, some of the best-known names in Bitcoin (BTC) voiced unanimous doubts about the state of global monetary policy.
Future of inflation great unknown, says Musk
As even the United States Federal Reserve admits that inflation may be here to stay, the topic has become especially pertinent for Bitcoiners, given the cryptocurrency's intrinsically deflationary characteristics.
For Elon Musk, who remains cool when it comes to Bitcoin as a "magic pill" for fiat currency's ills, inflation is no less of an issue. With over $250 billion in net assets as of this week, potential exposure to devaluating currencies is more of a potential problem than ever.
"I don't know about long-term, but short-term we are seeing strong inflationary pressure," he said in a Twitter debate with Ark Invest CEO Cathie Wood and MicroStrategy CEO Michael Saylor.
All were commenting on a previous tweet from Twitter CEO Jack Dorsey, who described inflation as "happening" and apt to "change everything."
Wood, also a firm BTC supporter, noted that monetary velocity, on the contrary, had been slowing since the 2008 global financial crisis, disguising some of the devaluation impact.
Regardless, when all types of products are taken into account, the true cost of dollar printing far outstrips government claims about how inconsequential inflation really is.
"Inflation is a vector, and it is clearly evident in an array of products, services, & assets not currently measured by CPI or PCE," Saylor wrote.
"Bitcoin is the most practical solution for a consumer, investor, or corporation seeking inflation protection over the long term."
Bitcoin may yet return to Tesla
Musk's Tesla passed $1,000 per share for the first time this week, helping spur a dramatic increase in his net worth.
Related: Tesla hints it may soon resume support for crypto payments
In a filing with the U.S. Securities and Exchange Commission, meanwhile, the company left the door open to accepting Bitcoin for its products in the future.
"During the nine months ended September 30, 2021, we purchased an aggregate of $1.50 billion in bitcoin. In addition, during the three months ended March 31, 2021, we accepted bitcoin as a payment for sales of certain of our products in specified regions, subject to applicable laws, and suspended this practice in May 2021," the 10-Q document reads.
"We may in the future restart the practice of transacting in cryptocurrencies ('digital assets') for our products and services."
Bitcoin bull market '2nd leg has started,' says BTC price model creator
Bitcoin (BTC) marking a new high of $67,000 last week has opened the possibility of hitting $100,000 by the end of this year.
PlanB, creator of the popular Bitcoin Stock-to-Flow (S2F) model, called Bitcoin's price retracement from the $60,000-level the "2nd leg" of what appeared like a long-term bull market.
#bitcoin bull market, 2nd leg has started pic.twitter.com/N9H2QF7SDe— PlanB (@100trillionUSD) October 26, 2021
In doing so, the pseudonymous analyst cited S2F, which anticipates Bitcoin to continue its leg higher and reach $100,000 to $135,000 by the end of the year.
The price projection model insists that Bitcoin's value will keep on growing until at least $288,000 per token due to the "halving," an event that takes place every four years and reduces BTC's issuance rate by half against its 21 million supply cap. 
Notably, Bitcoin has undergone three halvings so far: in 2012, 2016 and 2020.
Each event decreased the cryptocurrency's new supply rate by 50%, which was followed by notable increases in BTC price. For instance, the first two halvings prompted BTC price to rise by over 10,000% and 2,960%, respectively.
The third halving caused the price to jump from $8,787 to as high as $66,999, a 667.50% increase. So far, S2F has been largely accurate in predicting Bitcoin's price trajectory, as shown in the chart below, leaving bulls with higher hopes that Bitcoin's post-halving rally will have its price cross the $100,000 mark.
PlanB noted earlier this year that Bitcoin will reach $98,000 by November and $135,000 by December, adding that the only thing that would stop the cryptocurrency from hitting a six-digit value is "a black swan event" that the market has not seen in the last decade.
An 80% crash later
Despite the high price projections, Bitcoin can still see big corrections in the future. PlanB thinks the next crash could wipe at least 80% off Bitcoin's market capitalization, based on the same S2F model.
Related: COVID-19 vaccine will spark Bitcoin 'crash' — Rich Dad Poor Dad author
"Everybody hopes for the supercycle or the 'hyperbitcoinization' to start right now and that we do not have a big crash after next all-time highs," the analyst told the Unchained podcast, adding.
"As much as I would hope that were true, that we don't see that crash anymore, I think we will. […] I think we'll be managed by greed right now and fear later on and see another minus 80% after we top out at a couple hundred thousand dollars."
But not everyone thinks the next correction will be as dramatic as the previous ones. Dan Morehead, CEO of Pantera Capital, said in mid-October that the next Bitcoin price drop will be less than 80%, citing a consistent drop in selling sentiment after each halving cycle.
Last week, Bitcoin established a new record high at around $67,000 following a 53% rally in October so far. But the new highs prompted profit-taking among traders, resulting in retests of the $60,000 support level.
BTC price dips below $62K on VanEck Bitcoin ETF launch day
Bitcoin (BTC) fell below $62,000 on Oct. 26 as the launch of the third United States regulated exchange-traded fund (ETF) failed to budge the sideways price action.
$61,600 support target for BTC
Data from Cointelegraph Markets Pro and TradingView showed BTC/USD hitting daily lows as U.S. markets opened on Oct. 26.
The latest ETF, the VanEck Bitcoin Strategy ETF (XBTF), was met with a decidedly different mood on the day as Bitcoin seemed unmoved by the prospect of fresh institutional involvement.
Last week's ProShares Bitcoin Strategy ETF saw a surge, which ended in new all-time highs for BTC/USD, these still unmatched as a correction challenged $60,000 support.
At the time of writing, $62,000 formed a shaky focus, which is still in line with the latest price forecasts from popular analysts.
"It would be natural price progression for BTC to dip into ~$61600 (orange level)," Rekt Capital commented alongside a fresh price chart.
"Holding there would be a sign of strength on the side of buyers."
Expectations have remained high for all-time highs to see a retest on the back of recent movements, while research has argued that a dip as low as $50,000 would still preserve the overall bullish trajectory.
As Cointelegraph reported, even the October close is predicted to be around $63,000, giving Bitcoin room to track sideways longer before pressure increases.
PlanB, the analyst who called $63,000 the "worst-case scenario" for the monthly close, proclaimed the second leg of the 2021 bull officially in progress this week.
Altcoins due a "copy paste" of earlier bull run
Major altcoins were similarly tentative in their behavior on the day, with Ether (ETH) unmoved at $4,150.
The top ten cryptocurrencies by market cap were likewise flat over the past 24 hours — a rare episode of communal calm for an asset group that has been characterized by volatility this month.
"We know this structure from earlier on in which we've also had retests happening before we've started to continue moving," Cointelegraph contributor Michaël van de Poppe said in his latest YouTube update.
He predicted a "copy paste" scenario of the gains from the start of 2021 at a later date, with the timeframe for this nonetheless unpredictable.
"Upside is generally higher than what you expect to be happening," he added.