VeChain Price Forecast: VET's bullish consolidation suggests completion of a 75% bull rally
VeChain price is on track to hit its 75% target at $0.083.
Supporting this upswing is the bull flag pattern formed on the 4-hour chart.
A decisive close above $0.064 will trigger a 45% upswing.
VeChain price hints at a continuation of its uptrend as it consolidates in a bullish pattern on a 4-hour chart.
VeChain price vies new all-time highs
Vechain price has been forming a series of higher highs and higher lows since December 26, 2020. By drawing trendlines along these pivot points, an ascending parallel channel seems to evolve.
On February 28, VET formed a bottom as it tapped the channel's lower trendline at $0.036. Since then, VET has seen a considerable surge in bullish momentum that has catapulted it by 87% to a new all-time high at $0.068.
Therefore, this technical formation suggests that VeChain price could ascend 75% towards the upper trendline around $0.083.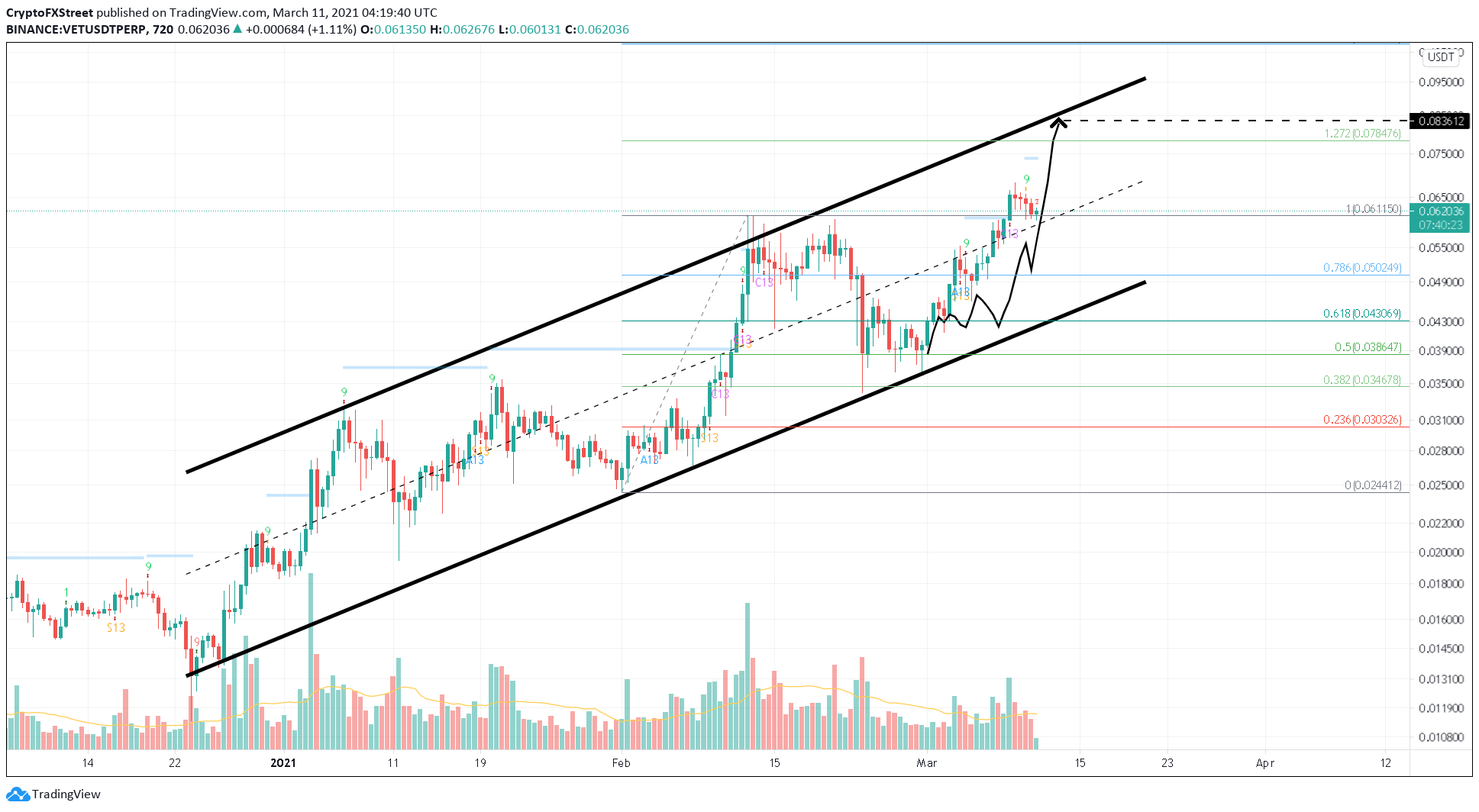 VET/USDT 12-hour chart
Adding credence to the bullish outlook is VET's bullish pattern on the 4-hour chart. VeChain price has been forming lower highs and lower lows after a 45% upswing to a new all-time high. VET seems to be in a "bull flag" formation, especially if the initial spike in price is considered as a "flag pole" and the consolidation that followed it as a "flag."
This setup projects a 45% upswing, which is the flag pole's length added to the breakout point at $0.064. The target puts VET price at $0.092. A decisive 4-four candlestick close above the flag will confirm VeChain's bullish breakout and suggest the start of a bull rally.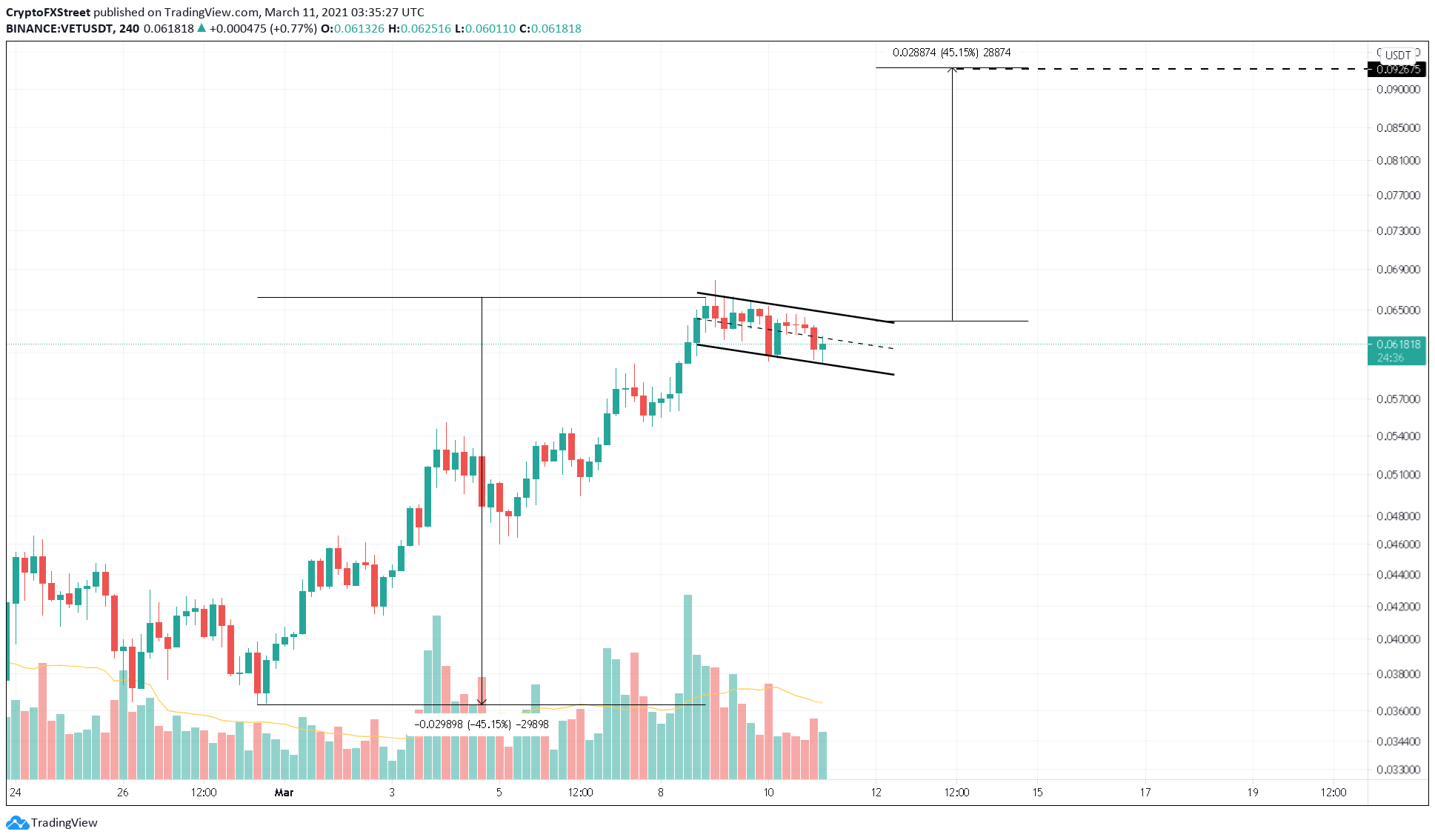 VET/USDT 4-hour chart
Regardless of the bullish outlook, the Tom DeMark (TD) Sequential indicator has flashed a sell sign in the form of a green nin candlestick on the 12-hour chart. Hence, a continuation of selling pressure here could lead to a downward breakout of the flag, which would invalidate the bullish outlook. In such a situation, VeChain price could be expected to drop 8% to $0.054.
VeChain Price Analysis: VET slowly trades higher, targets $0.143 next resistance?
VeChain price analysis is bullish today.
VET/USD set another local higher high yesterday.
Closest resistance at $0.143.
VeChain price analysis is bullish today as further higher highs have been set over the last 24 hours after the $0.128 mark prevented further downside on Friday. Therefore, we expect VET/USD to continue higher and test the $0.143 mark next.
The cryptocurrency market traded mostly with bullish momentum over the last 24 hours. The market leaders, Bitcoin and Ethereum, are up by 0.90 and 3.03 percent, respectively. Meanwhile, Shiba Inu (SHIB) is the top performer, with around 40 percent gain.
VeChain price movement in the last 24 hours: VeChain moves above the previous high after retesting $0.128 as support
VET/USD traded in a range of $0.1317 – $0.1394, indicating a moderate amount of volatility over the last 24 hours. Trading volume has increased by 0.53 percent and totals $553.7 million, while the total market cap trades around $8.77 billion, ranking the coin in 23rd place overall.
VET/USD 4-hour chart: VET targets $0.143 next?
On the 4-hour chart, we can see the Vechain price action slowly moving higher, likely leading to a move to $0.143 next resistance later today.
After a strong start of October, the VeChain price did see a slowdown during the middle of October as only slightly higher highs could be set. After peaking at $0.128 on Monday, VET/USD saw a clear higher low set at $0.115 on Tuesday.
From the 0.115 mark, a strong rally was seen over the following days until the $0.135 next resistance was reached on Friday. Yesterday, VET/USD retraced to retest the previous swing high resistance as support at $0.128, leading to a reversal to the upside.
Late yesterday, VeChain price action saw bullish momentum return, leading back towards the previous high. Eventually, VET/USD made a slightly higher high at $0.138, indicating we could see further upside today to the $0.143 next resistance.
VeChain Price Analysis: Conclusion
VeChain price analysis is bullish today as further upside was seen yesterday after a retest of $0.128 previous resistance as support. Therefore, we expect the bullish momentum for VET/USD to continue, leading to the $0.143 mark next.
While waiting for VeChain to move further, read our guides on LTC wallets, Gero wallets, and  DeFi wallets.
VeChain (VET) is Valid in China 0.15 is an Easy Target Triple Digit Soon
VeChain (VET) Expressed: Vechain received a certificate from the China Association for Standardization, a body under the State Council, for our major contributions to the T/CAS 493-2021 Standard for household electrical equipment. Our blockchain tech is becoming the industry standard.
Community Response: VET is valid even in China. 0.15 is an easy target. A target that is nearly 50% below this year's high? However, the winging is because many bought at the top. Whilst for most they are over 3000% up and 0.15c will only add to their % target.
When China banned crypto they still weren't banning blockchain and in order to use VeChains blockchain it requires the holding of VET to generate VTHO in order to burn VTHO.
Isn't the bigger news here that VeChain participated in the development of the standard?
The fact they are consulted by government associated bodies as the technological standard bearers for blockchain is unbelievably bullish.
They're becoming recognised as legitimate. It's great news. One day Vechain will be worth triple digits.
As an investor it is our job to research. They already went through the start-up phase and are now a solidified company. The days of full out explanations and projections are gone.
VET in bull mode I am the buyer. Vechain publishes a tweet and the VET market collapses by 5% BTC still leads the market. VET season will come. Just need to be patient, this is big news.
"Our blockchain tech is becoming the industry standard." The announcement to the world: a standard was born aka a crypto blockchain star was born. VET is the brightest star.
With the number of businesses in China and the goods produced there, the capabilities of VeChain could cover a major amount of that market. VeChain to the moon.
I have always liked this project but I don't understand why doesn't it get any mainstream attention.
Understanding VeChain's 2 token mechanism i.e. Vet and VTHOR is the key to really understanding the asset you. So in short if holding Vet on a short term play will not get your desired result. Hodl and reap the rewards long term. This is crazy huge news. You guys are on your road to being legitimised.
What does this mean to individual investors? Please give investors more information. It seems like awesome news but without knowing further details you won't attract new investors.
Please list on Coinbase. It takes some let know for VeChain. It is extremely undervalued.
Here's What's Next for Chainlink, Curve, Skale, The Graph, THORchain and VeChain, According to Analyst Michaël van de Poppe
Crypto strategist and trader Michaël van de Poppe has high hopes for a handful of altcoins amid Bitcoin's (BTC) recent rally to new all-time highs.
In a new strategy session, the prominent trader begins by outlining his latest analysis on the native asset of the decentralized price feed service Chainlink (LINK).
"At this stage I think that Chainlink is still in the area of interest if you want to get a position on this one. I think that's completely fine, it's just ready for a breakout."
At time of writing, LINK is valued at $28.79, up 5% on the day but flat over the past week, according to CoinGecko.
Next on the trader's list is Curve DAO Token (CRV), the asset powering the automated market maker protocol of the same name.
He expects the coin to move sideways in the short-term before a fresh breakout begins.
"Curve has been seeing this beautiful retest here, a beautiful structure in which we are most likely going to see continuation towards resistance here, before we have some slight consolidative periods towards the area here and then we are going to break out at some stage later."
CRV is priced at $2.90 at time of writing, down slightly from its weekly high of $3.05.
Next, van de Poppe looks at the decentralized application (DApp) protocol Skale (SKL), which is designed to help developers bypass congestion on the Ethereum network.
He thinks SKL will begin to rise next month.
"We are most likely in November going to have this breakout towards… 1400 sats before we are going to have the new impulse, new probably final impulse wave, on Skale."
Right now SKL is going for $0.34, up 11% from its 7-day low but down 25% from the high of $0.42, according to CoinGecko.
Van de Poppe next analyzes the chart for decentralized blockchain indexer The Graph.
"This one is also on the list. [It] has been underperforming in the past months, and actually in 2021 has seen [only] one impulse wave. But if support sustains here… if it continues to make higher lows, then there is a most likely breakout going to take place."
Currently GRT is valued at $0.88, down 5% from its weekly high but up over 30% from its low of $0.70.
The crypto analyst says he's looking for the decentralized cross-chain liquidity protocol THORchain (RUNE) to post a higher low, which would suggest another move to the upside is in order.
"When I see this big bounce back up I'm assuming that we're going to grant ourselves some slight consolidation, grant ourselves a higher low, and then we start continuing."
RUNE is going for $8.71 at time of writing according to CoinGecko, which is just shy of its weekly high after a low of $7.25.
As for the supply chain platform VeChain (VET), van de Poppe says he's sticking to his prediction at the beginning of October and looking for the coin to fall to at least 0.00000149 BTC [0.094] before a sustainable uptrend can begin.
"Still waiting on VeChain (VET) to hit those levels."