Cardano (ADA) Charles Hoskinson on His Bad Experiences for being Good from Low IQ Terrorism
Charles Hoskinson talks about the Sacrifices for being authentic and about the constant bullying, attacks, and Death Threats that he faces again, again and again.
Charles does not want users to miss out the concept of decentralization. He says no one is in charge and no one is ever going to be in charge and therefore that we have to grow up.
Users who love him tried to convince him stating, death threats?! People are vicious man. We love you. Cardano is amazing and will be 500 fortune company. Don't listen to the negatives. I am sorry Charles. Many people love you.
Users encouraged him to stay true stating, authenticity is a higher echelon aim that all should strive for in their words and actions. Loved you standing to the bullies trying to coerce you to conform to their views.
Sensible users pointed to how people generally don't get the sacrifices involved in changing the world.
Trying to understand what is happening, another user stated, on the other side, you gave a lot of people hope and gave us something that we are able to connect with in so many level. But maybe the Cardano community does not show it enough. Majority criticize, because they are unable be as involved as you are.
Pointing to his personable approach one of the users stated:  I'm so grateful that as the figurehead and brain of ADA, you let your participants know our progress as a community and your goals for the future. This personable approach is unheard of. Please keep sharing your personality.
For clarity and for those who are new to ADA, Charles has done a lot to bring in lot of trust and respect to the brand.
Someone said:  It's not easy to stand up for what you believe and what you are- Charles belongs to a different time like 2221 year but we still love him.
In the end someone tried to state, Charles – as such, you have to accept and cope with this kind of "low-IQ terrorism". And you know that. Every genius in history had to.
It is time that people learn to be humane:  No one should be bullied professionally or personally or threatened in any kind of way it's WRONG and unacceptable in today's society. To shake it off every morning is great but at some point it won't be able to be shaken off, we all have a limit.
It is important to allow innovators to keep going and expressing their beliefs and experiences because that's what makes things human.
Cardano-based DEX RavenDex Unveils Frontend Demo Version
RavenDex demonstrates UX/UI of its trading service ahead of RAVE seed tokensale
Cryptocurrency enthusiasts and traders can experiment with the UI of a pioneering decentralized exchange that leverages the largest proof-of-stake (PoS) blockchain, Cardano (ADA).
RavenDex releases front-end demo
According to the official announcement shared by the RavenDex team, the demo version of its frontend (UX/UI) is released for experimentation.
$Rave Token Seed-Sale Is Live! + How To Participatehttps://t.co/3TyIrQ0Dd1#ravendex #cardano #bitcoin #altcoins— Ravendex (@Ravendexlabs) October 20, 2021
This is the first technical progress announcement after the completion of the oversubscribed private tokensale of its core native asset, RAVE.
Therefore, this is the working demonstration of RavenDex operations and the utility of its RAVE token for early adopters who participated in a private tokensale.
RavenDex Labs team is behind the development and promotion of the platform. The team is focused on advancing trading instruments in Cardano's nascent decentralized applications ecosystem.
RAVE seed tokensale is in the cards
Also, the team shared the details of the next phase of its funding, i.e., the "seed" public tokensale of RAVE token. Currently, purchasing RAVE tokens is the only option for those interested in joining the RavenDex platform.
RavenDex private tokensale kicks off on Oct. 20, 2021. All ethusiasts of Cardano's solutions are welcomed as early contributors of RAVE.
The RavenDex team is going to collaborate with the alumni of Plutus Pioneer, a Cardano-focused developer incubation program. The next release will bring RavenDex closer to the mainnet launch.
As covered by U.Today previously, Cardano's developers, Input Output HK, completed a Project Catalyst Fund6 voting round.
A total of 711 projects applied for funding and consulting support in the sixth iteration of Project Catalyst.
Here's how Cardano [ADA] plans to offer NFT creators an eco-friendly solution
Ever since the debate of energy consumption sparked this year, Cardano [ADA] has been at the forefront of exploring eco-friendly solutions for the industry. In line with this, IOG, which happens to be the technical team behind Cardano, has announced the joint creation of an official cross-chain 'bridge' with the NFT platform, Bondly.
The bridge in question will connect the Cardano and Ethereum networks and enable non-fungible token [NFT] creators to opt for an eco-friendly alternative for their NFTs. According to Bondly, the project will be four million times more energy-efficient than Bitcoin [BTC]. The NFT creators will be able to easily move their NFTs from the "energy-intensive Ethereum" to Cardano. Bondly also revealed that the latter "will only ever use the energy equivalent of a family home."
Meanwhile, Ethereum has been known to use the power equivalent to the nation of Qatar. Bitcoin, on the other hand, has been at the centre of this debate for a long time. The increasing concern about potential environmental impact has always followed the rise of the prices of these cryptocurrencies. And the 2021 bull run was no different. As a matter of fact, the partnership comes at the backdrop of a major NFT explosion that has witnessed several well-known faces hopping on the bandwagon.
NFT bridge between Ethereum and Cardano
With the new bridge, the NFT creators will be able to mint or transfer non-fungible tokens without the risks associated with lost transactions or sudden high costs since Cardano provides price predictability as well as stability for transaction costs.
As part of the joint project that is slated to release in early 2022, Bondly is tasked with the development of a special series of eco-friendly NFTs celebrating the launch of smart contracts on Cardano.
According to Harry Liu, CEO, Bondly, the latest project of a cross-chain NFT bridge between Ethereum and Cardano marks a "pivotal moment" in the transformation from traditional blockchain technology to highly-anticipated 'third generation' networks.
Following the development, Charles Hoskinson, Founder of Cardano and CEO of IO Global, stated,
"We built Cardano with energy efficiency in mind, which is why this partnership with Bondly is so crucial, as it will allow NFT creators access to a leading solution for token creation which doesn't compromise on environmental credentials."
Bullish for Cardano?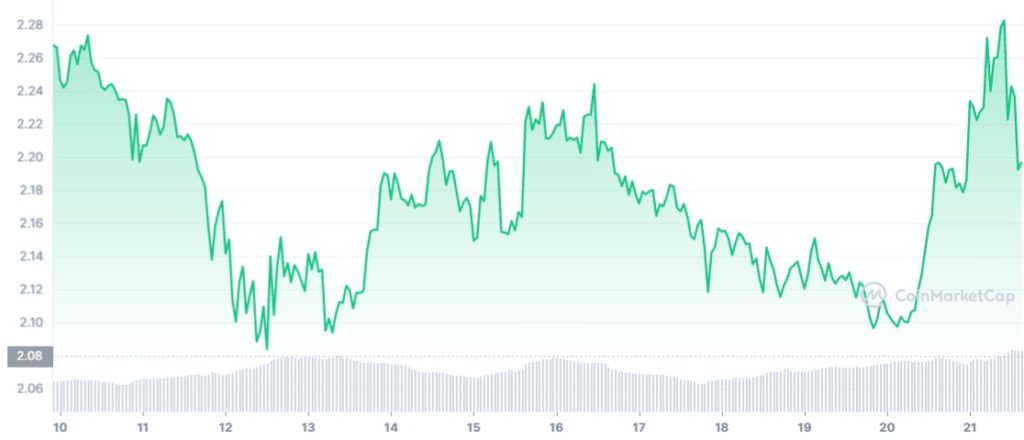 Cardano [ADA] might have lost the third spot to Binance Coin [BNB], but the slew of developments taking place in its ecosystem could help boost its price movement. The much-awaited summit last month saw some of the most crucial partnerships.
Crypto Economy had earlier reported its partnership with Oasis Pro Market, which happens to be the first-ever United States regulated multi-asset Alternative Trading System [ATS], to bridge the traditional finance sector and decentralized finance [DeFi]. During the same event, Hoskinson had revealed another major partnership with the American Fortune 250 company, the Dish Network.
Cardano, Polkadot and Four Additional Altcoins Are Set To Explode in 2022, According to Crypto Trader Austin Arnold
Crypto trader and Altcoin Daily host Austin Arnold thinks six major altcoins are gearing up for massive rallies in the next year.
In a recent crypto update, the YouTube star tells his 1,040,000 subscribers that Ethereum layer-2 (L2) scaling solution Polygon (MATIC) is gaining momentum after landing a partnership with the $20 billion gambling company DraftKings.a
Arnold shares a statement from DraftKings' president of global product and technology, Paul Liberman, explaining how the company is positioning itself to grow alongside Polygon.
"Although DraftKings marketplace is still in its nascency, we are bullish on the possibilities that blockchain, NFTs, cryptocurrency and more will present as we prepare for Web 3.0 alongside Polygon and the new innovations ahead for digital collectibles."
Next, Arnold looks at the decentralized interoperability platform Polkadot (DOT). He points to a recent tweet from Polkadot founder Gavin Wood explaining that there are currently just under 19 million DOT tokens stored in the DOT treasury to fund community projects.
If any DOT goes unused, it gets burned. Currently, the Polkadot treasury is burning 239,988 tokens every month, according to Gavin Wood.
"Either burned or used, the DOT token is only getting more scarce. We have seen a rally in the DOT price recently. This could be linked to some exciting developments ahead, such as the upcoming parachain launch and slot auctions – these parachain auctions will take DOT off the market as well.
And with the first 11 parachain auctions coming to Polkadot next month, along with the 100 or so available slots to be filled, this could boost Polkadot's presence in the crypto sector, and could cement the multichain system's rising status."
The third coin Arnold looks at is the supply chain management protocol VeChain (VET). The trader highlights that VeChain recently landed a partnership with major logistics company DHL for enterprise NFT (non-fungible token) issuance.
"This collaboration with DHL China, one of the first things it will allow customers to experiment with is customize the DHL mascot and then mint it as NFTs on the VeChainThor blockchain solution."
Next up is the smart contract platform Cardano (ADA). Arnold notes that Cardano appears to be gaining more traction after landing partnerships with television satellite provider DISH and announcing that the network has received $100 million for investment in Cardano-focused projects in Africa.
"Simply put, there are so many people in more developing areas of the world that don't have financial stability, and that can be changed with Cardano with blockchain."
Another coin on Arnold's list is the decentralized oracle network Chainlink (LINK). He notes that despite the token's lackluster performance over the last few months, he believes there is still massive upside for LINK to realize in the market as partnerships continue to rise month-over-month, with 84 integrations made just in September.
"I get it, but in my opinion, Chainlink still has a lot of room to grow. Think about this: Chainlink already has a ton of exclusive, big partnerships with big companies – Google and Oracle to name two – over 75 different blockchains already use Chainlink technology, as well as being used by many data feeds, including USD [US dollar] currency pairs. That's a strong foundation.
My speculation is this: over these next few years, as DApp [decentralized application] platforms like Ethereum [ETH], Cardano, Solana [SOL], Polkadot, Elrond [EGLD], etc. continue to fight for market share… Chainlink is integrating with all of them… Something to think about."
Finally, the crypto trader thinks that the leading smart contract platform Ethereum is gearing up for a huge 2022. He notes that Ethereum developers announced that ETH is planning to make the transition into Ethereum 2.0 in May-June of 2022, which will convert the blockchain to a proof-of-stake protocol.
"The code should be ready around February 2022. The merge to mainnet, to ETH 2.0, in June of 2022 at the earliest. Next year will be known as the year of ETH. That's where DeFi [decentralized finance] is, that's where NFTs are."