Chainlink's Market Cap Could Hit $1T in 10 Years – Crypto Analyst
Timothy Peterson has forecasted that Chainlink could reach a $1 Trillion market cap in 10 years
He compares Chainlink to Facebook that achieved a similar feat in the stated time period
A $1 Trillion market cap translates to a $3k value of LINK
Chainlink's scalability solution of Off-Chain Reporting could boost the value of LINK further
Chainlink is currently battling to maintain the $28.50 support zone as Stimulus Checks are about to be disbursed
Bitcoin and crypto analyst, Timothy Peterson, of Cane Island Alternative Advisors has explored one scenario where Chainlink hits a $1 Trillion market cap in 10 years. According to Mr. Peterson, Facebook accomplished a similar feat and Chainlink replicating it was 'doable' and not a joke. Mr. Peterson shared his forecast of Chainlink on Twitter via the following statement.
https://twitter.com/nsquaredcrypto/status/1369280550893203
$FB market cap took 10 years ~1 trillion#Chainlink MC $1 trillion in 10 years = $3,000 per LINK. 10,000% return, or 58% per year. Doable. No joke.

— Timothy Peterson (@nsquaredcrypto) March 9, 2021
Chainlink's Scalability Upgrade of Off-Chain Reporting Could Further Boost the Value of LINK
Back in late February, the team at Chainlink announced the integration of the latest Scalability Upgrade of Off-Chain Reporting (OCR).
According to the official announcement, OCR will improve the efficiency of how data is computed across Chainlink's oracles. It will also reduce operating costs by up to 90% thus accelerating the 'development of universally connected smart contracts both in DeFi markets and across various other industries'.
The OCR upgrade will increase the amount of real-world data available on smart contracts by a factor of 10. This translates to an increment in the usage of the LINK token as the smart contract ecosystem expands on Chainlink. Increased usage means increased demand for LINK and ultimately an increase in its value in the crypto markets.
Chainlink's $28.50 Support Holds as 'Stimmy Checks' Beckon
At the time of writing, Chainlink is trading at $29 after defending the crucial $28.50 support zone earlier today. This support zone is also close to the 50-day moving average (white) as seen in the screenshot below.
To note is that President Biden signed into law the $1.9 Trillion stimulus bill yesterday, March 11th. This means that the $1,400 stimulus checks will start being disbursed soon. Just like with the first stimulus check last March, part or all of the amount will likely purchase digital assets such as LINK.
Therefore, Chainlink could be gearing up to rise further as each eligible American start receiving their $1,400 checks around the same time that most have filed their tax returns. Chainlink's bullish fate also depends on LINK breaking and holding the $32 price area as support.
Associated Press Will Utilize Chainlink To Record Real-World Data on Various Blockchains
The Associated Press (AP) is tapping decentralized oracle network Chainlink (LINK) to make its data accessible on leading blockchains.
Chainlink serves as a bridge that can bring off-chain information to blockchains and smart contracts.
The news agency says it's launching a Chainlink node that will enable it to supply and directly sell datasets on US political elections, economic data, sports results, and business financials that can be used by applications running on blockchains.
The AP's announcement comes amid the increasing popularity of smart contracts, which are designed to be tamperproof programs that automatically execute outcomes when certain conditions are met.
According to the AP, Chainlink can play a role in automating blockchain processes such as alerting markets about calls on political races, initiating on-chain trades when companies release their financial records, and updating the appearance of non-fungible tokens (NFT) based on real-world events.
In 2020, the AP also teamed up with decentralized knowledge platform Everipedia to publish US election calls on the Ethereum blockchain.
AP's director of blockchain and data licensing Dwayne Desaulniers says,
"Chainlink technology is the ideal way to provide smart contract developers anywhere in the world with direct, on-demand access to AP's trusted economic, sports, and race call data.
Working with Chainlink allows this information to be compatible with any blockchain. The open-source software is reliable, secure, and widely used across leading blockchain networks."
Chainlink's native token is currently the 16th largest crypto asset by market cap. At time of writing, LINK is trading at $29.28, according to CoinGecko.
Chainlink Whales Now Hold Almost 25% of Supply: Here's Why It Might Be Concerning
The number of Chainlink whales is on the rise in accordance with the price
Chainlink's 14% run on the market did not end with price action only. Following the price increase, the number of whale-tier wallets also increased and reached a four-year high, according to Santiment. While the supply is tied more to whale-tier addresses, in the correction period, retail traders and investors may face significant losses due to increased potential selling pressure.
Unpleasant correlation
According to the chart provided, we can clearly see a negative correlation between the increasing number of whales and the negative price action that took place from May to July and September.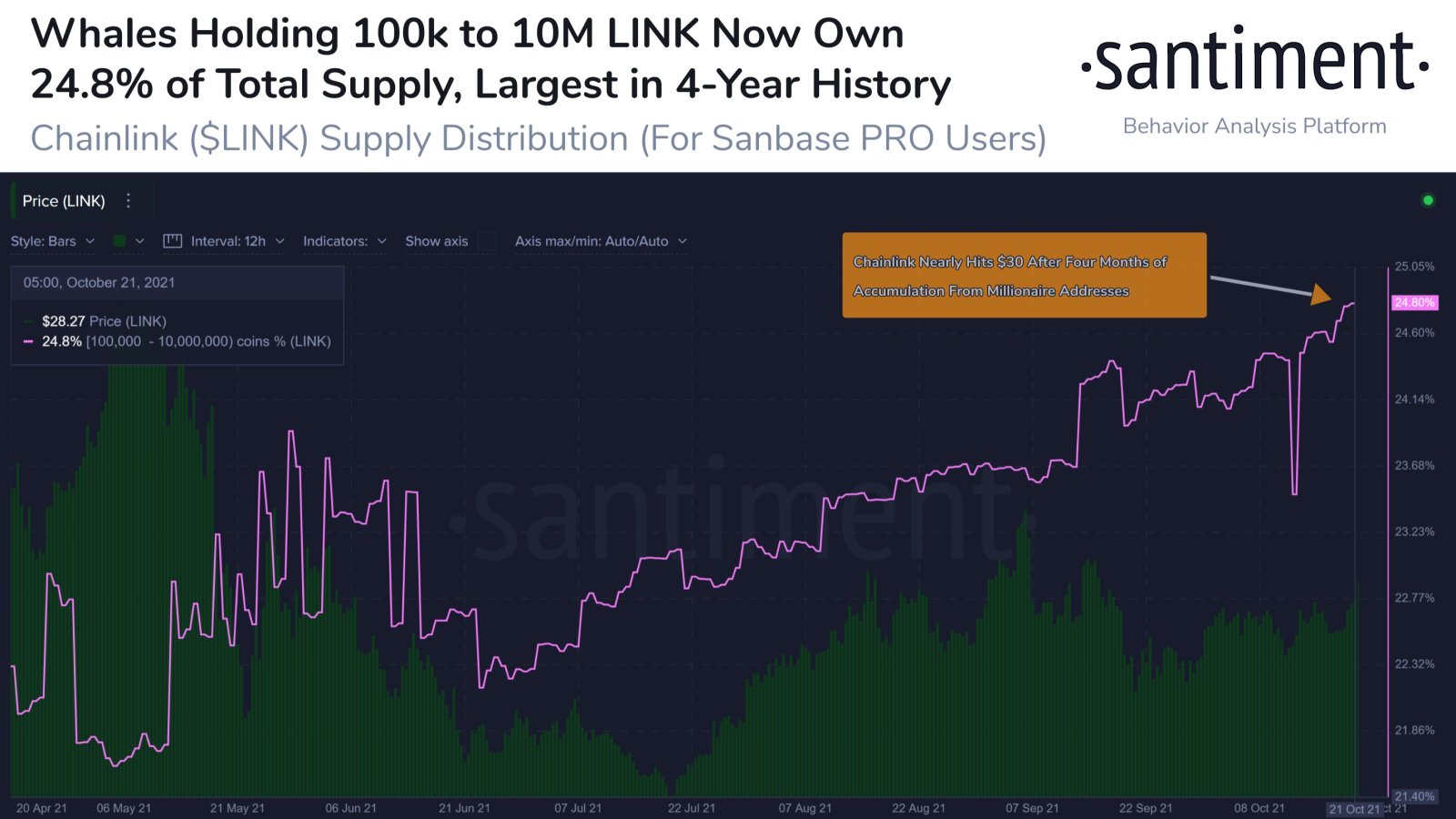 Previously, Chainlink's prices stayed at the $52 peak with whale-tier addresses staying at 23.9%. After the sell-off on the cryptocurrency market, LINK lost close to 70% of its value with whale-tier addresses dropping 8% of their total holdings.
Concerning history
With the progressive increase in the number of whales on the market, in periods of correction, the market faces increased selling pressure incoming from the aforementioned wallets. The same might be present on the market whenever a more significant correction hits the market.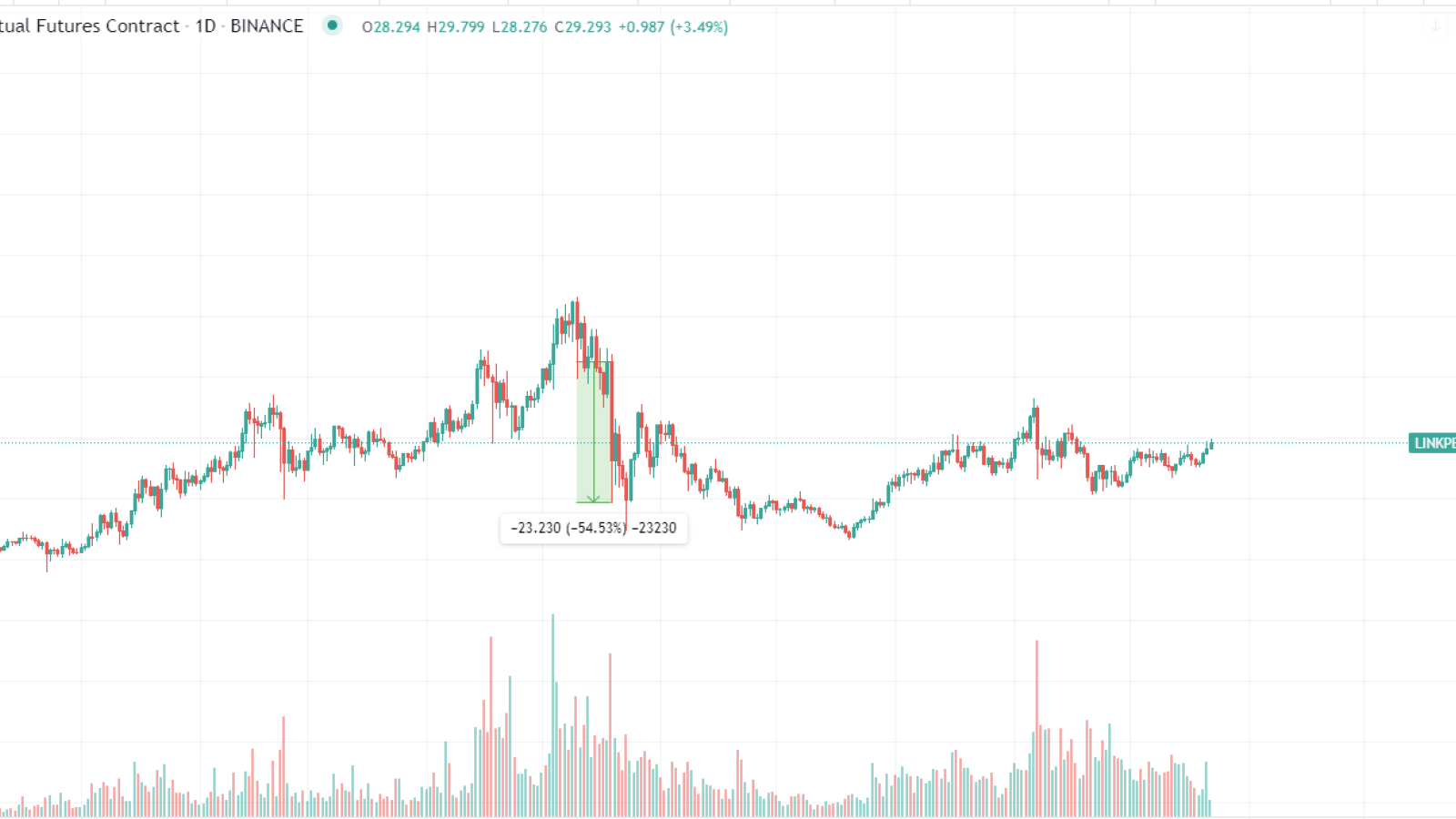 According to data from various exchanges, Chainlink is becoming a "victim" of large-volume sell-offs, which lead to a 50% correction inside of one daily candle. Such a trend in the number of whale-tier addresses may raise concerns among investors.
Associated Press (AP) Will Run a Chainlink Node To Guarantee The Reliabitliy Of Its Data
The Associated Press (AP) is running a Chainlink node, providing smart contract developers with on demand verifiable data from a reputable source.
The challenge of getting a reliable source of data has been a perennial problem in the journalism business. Ever since the first information broadcast media was born, the world has had to rely on the integrity of those who provide the data. But that could change now that Chainlink is harnessing the power of decentralization, and the Associated Press (AP), one of the world's largest news agencies, is beginning to move in that direction.
AP is running a Chainlink node and will begin uploading a significant set of data, leveraging Chainlink's technology to guarantee the reliability of its information.
Chainlink and AP News: A Partnership That Makes Sense
According to information shared by AP in a press release, the agency will share data related to U.S. race calls, economic facts, sports game outcomes, and business financials. The data will be cryptographically signed to verify its authenticity.
This is not the first time AP has used blockchain technology to ensure the integrity of its data with the world. Already last year, AP collaborated with Everipedia to upload the U.S. presidential election results on Ethereum's blockchain.
Also, AP issued an NFT in early 2021 and is doing multiple experiments on the application of decentralized technologies in the art scene.
Dwayne Desaulniers, AP director of blockchain and data licensing, said in the Press Release that the technology developed by Chainlink was ideal for AP's vision of broadcasting reliable data across the world.
"Chainlink technology is the ideal way to provide smart contract developers anywhere in the world with direct, on-demand access to AP's trusted economic, sports, and race call data. Working with Chainlink allows this information to be compatible with any blockchain. The open-source software is reliable, secure, and widely used across leading blockchain networks."
William Herkelrath, managing director at Chainlink Labs, also applauded the decision, saying it made sense for AP to launch a Chainlink oracle node, considering its level of influence and the amount of information it provides to the world constantly.
Why Does It Matter?
AP is a news agency that has been in continuous operation since 1846. It is a reliable source of information worldwide with prestige and reach comparable to other agencies of the likes of Reuters, BBC, or EFE.
Chainlink is a global provider of decentralized oracles. Chainlink's vision is to ensure that information circulating outside the blockchain can be transmitted on-chain via smart contracts, rewarding the veracity of the nodes and sources similar to how the Bitcoin network rewards good miners. Any information can circulate via Chainlink, from price feeds to the results of a soccer game.
My god how the years fly by, from 28 ecosystem participants to now over 870+ integrations (31x growth) with over 90% oracle market share 32 months later

The price of $LINK was $0.44, some perceptive is always good, much more room for growth from here https://t.co/kkGtadGbJ8

— ChainLinkGod.eth 2.0 (@ChainLinkGod) October 20, 2021
With AP running a Chainlink node, the information it uploads and digitally signs is verifiable by any other participant in the network and can be used to make decisions almost instantly. For example, a betting website could use AP data to guarantee the results of games on which its customers bet, or a political analyst could change election strategies depending on the results of a particular poll.