Old School Bitcoin Whales Are Moving: This Week a Single Entity Transferred 10,000 BTC Acquired in 2013
While bitcoin's price has neared the all-time price highs captured in February, old coins that have sat idle for many years have started to wake up from slumber. On March 4, at block height 673,162, a block reward worth 50 bitcoin from 2010 was transferred for the first time in over a decade. Also, a whale from 2013 has emerged from slumber as well, after 10,000 bitcoin that sat idle for over seven years was transferred on March 11.
2010 Block Reward Worth $2.8M Spent Last Week
One thing is for sure, a great number of crypto proponents have always been fascinated by early adopters, old-school miners, and large bitcoin whales. In the crypto space, it's not uncommon for an owner to hold coins for over five years, to even ten years without spending any amount of funds.
In 2020 and into 2021, Bitcoin.com's newsdesk with the help of Btcparser.com has been following an old-school mining whale who has transferred 9,000 bitcoins from 2010 block rewards since March 11, 2020. Bitcoin.com has also been tracking a great number of 2011 block reward spends that have been caught by blockchain parsers.
Following the report on the whale who has spent 9,000 BTC, on March 4, 2021, a single block reward from 2010 (50 BTC) was spent after over a decade of sitting idle. The block explorer Blockchair's privacy-o-meter shows that the spender leveraged a bit of discrepancy when spending these coins worth over $2.8 million using today's BTC exchange rates.
However, this old-school miner doesn't seem to be associated with the mega-whale from 2010 Bitcoin.com has been tracking since mid-March 2021. Out of the 50 BTC, 37.99981154 BTC still sits in an address unspent to this day. Meanwhile, 12 BTC from the old 2010 block reward's outputs was shuffled up into a number of fractions.
A 2013 Bitcoin Whale Flexes 10,000 Bitcoin That Sat Idle for 7 Years, Coins Remain Unspent
On March 11, 2021, another interesting thing happened as a BTC whale from seven years and seven months ago, started consolidating massive amounts of BTC. With help from Btcparser.com, it was revealed that 10,000 BTC ($570M) from 2013 was consolidated by a whale into two separate addresses.
Interestingly, both of the two massive moves of 5,000 BTC each stemmed from a collection of coins gathered on August 11, 2013. This means the 5,000 BTC spent at block height 674,085 and the 5,000 BTC transferred at block height 674,159 stemmed from the same owner. The consolidation of 2013 BTC from August, currently sits idle in two specific addresses holding 5,000 BTC each.
There's also another transaction stemming from 2013 that has similar spending heuristics. One can most definitely assume that the 10,000 BTC move yesterday was in fact the same owner, and it's obvious because the coins are consolidated into two addresses stemming from August 11, 2013.
The older transaction in particular, which consists of spending 2,189 BTC on February 24, 2021, indicates it shares a very similar pattern to the 10,000 bitcoin behemoth that spent coins from seven years ago yesterday. Interestingly, the coins stem from a whale that appeared in 2013 but only a number of days earlier. The 2,189 BTC worth $123 million using today's BTC exchange rates also still sits idle since the day it was moved last month.
If the 2013 whale is the same entity that's approximately 12,189 BTC patiently waiting to move again. If not, then it is two separate and very large whales; one with 10,000 coins and the other holding a nice sum of 2,189 BTC.
What is certain is that the high prices bitcoin (BTC) has obtained in recent weeks has spurred old school holders to wake their sleeping coins by either consolidating them or spending them on an exchange. The entity holding the 10,000 BTC stash, already had the coins consolidated back in August 2013 when a single bitcoin (BTC) was exchanging hands for just a touch over $100 per bitcoin.
Ethereum Outperforms Bitcoin, Why ETH Could Rally To New ATH
Ethereum started a fresh increase above $4,175 against the US Dollar. ETH could gain pace if there is a clear break above $4,300 in the near term.
Ethereum was able to climb above the $4,175 and $4,200 resistance levels.
The price is now trading above $4,200 and the 100 hourly simple moving average.
There is a major rising channel forming with support near $4,175 on the hourly chart of ETH/USD (data feed via Kraken).
The pair could extend its increase if it clears the $4,300 and $4,320 resistance levels.
Ethereum Price Could Rise Further
Ethereum started a fresh increase after it settled above the $4,050 level. ETH was able to clear the $4,750 resistance zone and the 100 hourly simple moving average.
Ether price even traded above the $4,250 resistance zone. A high was formed near $4,313 and the price is now consolidating gains. It traded below the $4,300 level. An immediate support is near the $4,260 level. The stated level is near the 23.6% Fib retracement level of the upward wave from the $4,091 swing low to $4,313 high.
There is also a major rising channel forming with support near $4,175 on the hourly chart of ETH/USD. An immediate resistance on the upside is near the $4,300 level.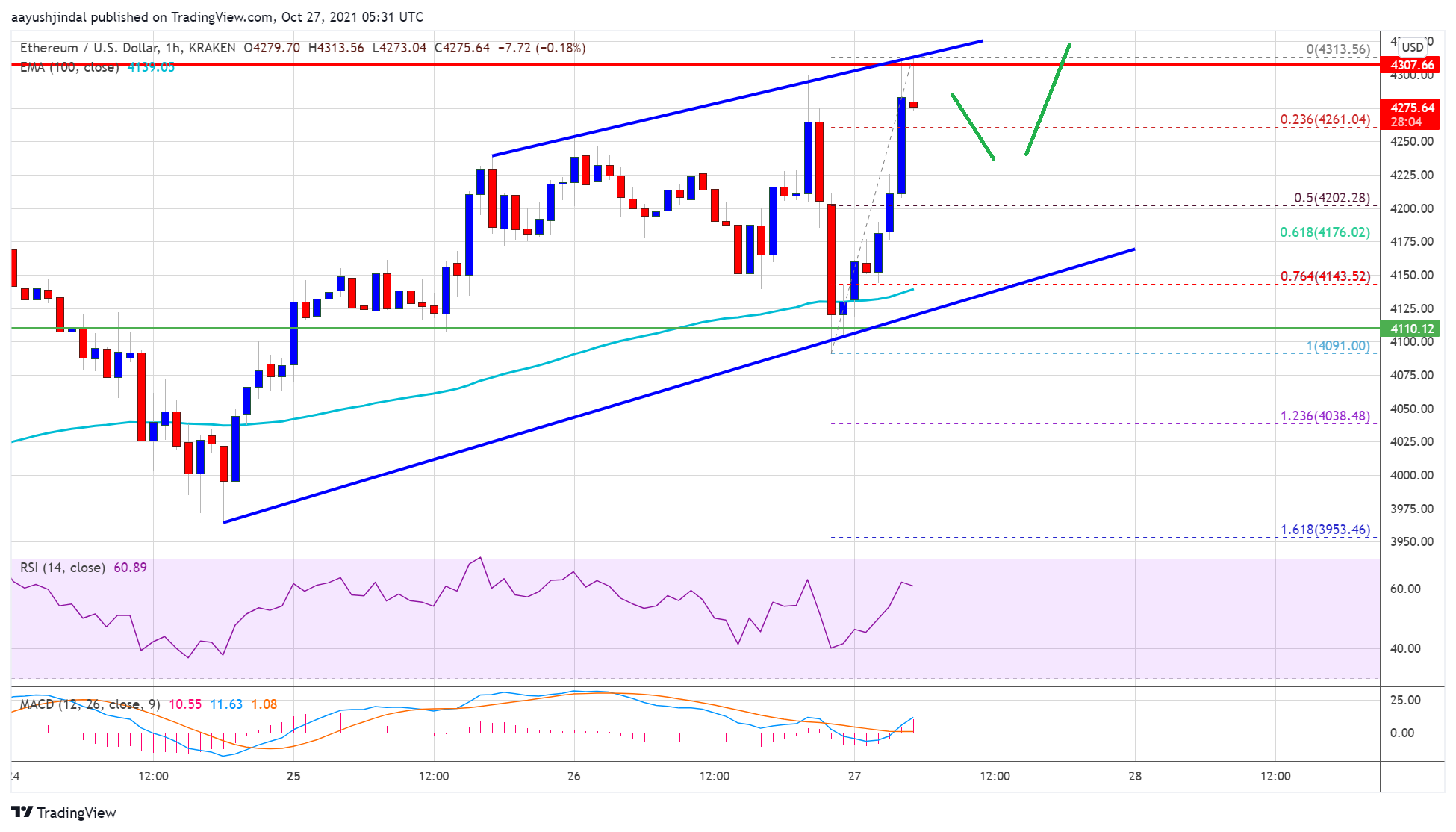 Source: ETHUSD on TradingView.com
The next major resistance is near the $4,320 level, above which the price might start a fresh rally. In the stated case, the price might rise towards the $4,400 level. Any more gains could lead the price towards the $4,550 level.
Dips Supported in ETH?
If ethereum fails to continue higher above the $4,300 and $4,320 resistance levels, it could start a fresh downside correction. An initial support on the downside is near the $4,260 level.
The first major support is near the $4,200 level. It is close to the 50% Fib retracement level of the upward wave from the $4,091 swing low to $4,313 high. The main support is near $4,175 and the channel trend line. Any more downsides could lead the price towards the $4,050 support. The next major support for the bulls is near the $4,000 level.
Technical Indicators
Hourly MACD – The MACD for ETH/USD is gaining pace in the bullish zone.
Hourly RSI – The RSI for ETH/USD is now well above the 50 level.
Major Support Level – $4,175
Major Resistance Level – $4,320
Terra prepares to burn more than 9% of LUNA's total supply
Burning nearly 90 million LUNA tokens into the community pool can put an upward pressure on the native token's price.
Do Kwon, co-founder and CEO of Terraform Labs, the South Korean company behind the blockchain project Terra (LUNA), recently announced on Twitter that on-chain voting for project 44's proposal will begin on Wednesday. ).
The proposal to start burning 88,675,000 LUNA from the community pool to mint 3 – 4 billion UST will reduce the total supply of native token by more than 9%.
TVL on Earth reached ATH
After the integration of the IBC protocol last week and the launch of Wormhole V2 support for Terra, the total blocked value (TVL) in protocols on the network has reached a new high.
Last week, TVL on Earth reached $10.22 billion, with the Anchor, Lido, Mirror and Terraswap protocols accounting for more than 90% of the amount, according to data from DeFi Llama.
Currently, at US$9.97 billion, Terra is ranked as the fourth blockchain with the largest TVL, following Ethereum, Binance Smart Chain and Solana.
New Bitcoin ETF Offers Shorting Bitcoin Futures, Creators Warn of Multiple Risks
Direxion has filed for a Bitcoin ETF that allows traders to short BTC futures contracts
According to an article by Bloomberg, a new Bitcoin ETF, if approved, will enable traders to short Bitcoin futures. The filing was submitted on Tuesday, Oct. 26.
A new ETF seeks to bet against Bitcoin futures contracts—and says its investors should be willing to lose everything https://t.co/vZNjSYftPd— Bloomberg Crypto (@crypto) October 27, 2021
Direxion wants to launch Bitcoin futures ETF for short-sellers
Bloomberg has written that, on Oct. 26, Direxion submitted documentation to launch the Direxion Bitcoin Strategy Bear ETF. Last week, two ETFs that track the performance of Bitcoin futures were launched by ProShares and Valkyrie.
Now, the BTC futures ETF industry in the U.S. may reach a new milestone—if the launch of the ETF for bears is approved by the U.S. Securities and Exchange Commission.
The debut of Bitcoin futures products last week prompted Bitcoin growth to almost $67,000 and a new all-time high.
However, today, the flagship cryptocurrency retreated below the $60,000 level as a mind-blowing half-a-million worth of liquidations were conducted across major exchanges: Binance, Bitfinex, OKEx, Huobi and so on.
Slightly over $500 million worth of those crypto liquidations were long positions.
BITO ETF gains $1 billion in just two days
ProShares Bitcoin ETF last week became the second-most-traded asset on the NYSE on its first day of trading. Buy orders to the tune of 10,100 were placed on BITO (the ticker the ETF goes by), and seven times more orders were placed to sell it.
After trading for two days, BITO reached $1 billion in net asset value. That is the equivalent of the net asset value of several Canadian Bitcoin ETFs that have been trading for a while already.
Direxion fund bears lots of risks
The new Bitcoin ETF filed for by Direxion bears numerous financial risks for short-sellers, the company warns. Trading this ETF may lead to shorters getting wiped out, Bloomberg writes, and Bitcoin's massive price swings would be a problem here, too.
The SEC filing states that if you are not prepared to lose all your funds by investing in this ETF, you should not bet on it.
This week, some in the crypto community also expect another Bitcoin futures ETF to kick off—the one filed for by the VanEck asset manager.