Ethereum Creator Vitalik Buterin Says 100X Boost in ETH Transaction Throughput Imminent
Ethereum co-founder Vitalik Buterin reveals that his team may be only weeks away from mitigating the smart contract's scaling issues.
In an episode of the Tim Ferriss Show, Buterin explains that rollups could improve ETH's scalability ahead of the much-anticipated ETH 2.0 launch.
According to Buterin, the temporary fix to Ethereum's network congestion issues could be ready within weeks and will improve the smart contract platform's transaction throughput by 100x.
hile the team eventually plans to utilize sharding, the process of splitting the Ethereum infrastructure to spread the network's load and increase scalability, Buterin
says
 they are currently more focused on finding a way to utilize and merge rollups more fully with its proof-of-stake system.
"…Basically, the proof-of-stake thing exists, has been stable, running ever since the launch and at some point fairly soon, we are going to actually go and merge all of the proof-of-work activity onto it.
So sharding is also going to happen… I will admit that we were actually prioritizing the merge even more than sharding recently. The reason why for this actually has to do with the other thing, which is rollups, right? The thing to remember is that if you have rollups, but you do not have sharding, you still have 100X factor scaling, right?
You still have the ability for the blockchain to go up to somewhere between 1,000 and 4,000 transactions a second, depending on how complex these transactions are. And so with rollups, as I mentioned, the optimism, fully EVM capable rollup is likely to launch, an initial being that release in around a month or so."
News that an Ethereum scaling solution may be around the corner could help the smart contract platform maintain its edge over other blockchains networks such as Binance Smart Chain (BSC).
In a video last month, crypto analyst Lark Davis noted that Ethereum was "becoming a chain reserved for rich investors" amid sky-high gas fees, urging Buterin to get Ethereum 2.0 ready for launch.
Upon news of Buterin's Ethereum update, Davis said in a new video this week that if the ETH blockchain will in fact shortly scale, it could send "a big ultimatum to all the so-called Ethereum killers that Ethereum is about to come back with a vengeance in terms of scalability."
Reason Behind Ethereum (ETH) Price Surge to $12,000
Justin Bennett looks at a situation in which the price of ETH could hit $12,000.
Ethereum always follows the BTC price.
Bennett explained that a $200,000 price surge in BTC will put ETH at $12,000.
With Ethereum (ETH) breaking the $4,000 price this week, analyst Justin Bennett looks at a situation in which the price of ETH could hit $12,000. More so, the crypto has limited two-and-a-half months to travel this year. This indicates ETH has only limited time to reach the optimistic price targets.
According to CoinMarketCap, the ETH price is trading at $4,010.56 with a 24-hour trading volume of $18,093,022,938, at the time of writing.
Ethereum always follows the BTC price, however, analysts have not seen a deviation from this trend. Also, with the current market conditions, the analyst explained in his newsletter which indicators reveal that the price of the pioneer crypto will reach as high as $200K before the present cycle ends.
In case, ETH hits this price target, then ETH will surely rally over 300% in response to this. Aside from all this, Bennett explained that a $200,000 price surge in BTC will put ETH at $12,000 with the present ETHBTC levels. Added to this, the analyst views that the price of ETHBTC will surge before the end of the bull market.
According to Bennett, the price of ETHUSDT could be between $15,000 and $20,000. If the price of bitcoin breaks above $200,000 before the cycle ends, then the price of ETHUSDT will also rise.
Recent trends indicate that Ethereum may hit a new all-time high before the weekend closes, despite significant resistance toward breaking the previous all-time high. If that happens, then we will just have to wait and see what happens.
One Ethereum Competitor Is Showing Strength As Bitcoin Loses Ground, According to Crypto Trader Benjamin Cowen
Crypto analyst Benjamin Cowen says an Ethereum rival is showing strength as Bitcoin pulls back from its all-time high.
Cowen tells his 576,000 YouTube subscribers that AVAX, the native token for the smart contract platform Avalanche, is "weathering the storm relatively well."ADVERTISEMENT
The 12th-ranked asset by market cap is trading at $68.28 at time of writing, up over 5% in the past 24 hours and more than 20% in the past week, according to CoinGecko.
Cowen notes that AVAX is trading well above both its 20-week simple moving average (SMA) and 21-week exponential moving average (EMA). Taken together, the two metrics are what Cowen refers to as the "bull market support band."
"We also have some wiggle room in the sense that we are above the bull market support band of the AVAX/USD valuation. The 20-week SMA is at $35.85 and the 21-week EMA is at $43.47. What that tells you is that Avalanche has been performing pretty well for the last several weeks.
A lot of coins are right above their bull market support band, and they haven't been performing as well recently. A lot of these things can have some type of seasonality as the money ball just jumps around from project to project, and right now, clearly, AVAX is showing a decent amount of strength."
Cowen doesn't predict that AVAX will have a strong move against Bitcoin "in the next month or so," but he does say that Avalanche can increase in value in terms of its relationship to the US dollar in the short term.
Ethereum Price Forecast: ETH bulls set sights on new record high targeting $6,000
Ethereum price is gearing up for a new all-time high as two significant bullish chart patterns have transpired.
The governing technical patterns present optimistic targets at $6,015 and $6,365.
A daily close above $3,960 would add credence to the bulls' aspirations toward $6,000.
Ethereum price is hovering around a key support level which has previously acted as resistance for ETH, as the bulls catch their breath before the token resumes its rally. As long as the second-largest cryptocurrency by market capitalization holds above $3,960, a 60% surge is still on the radar.
Ethereum price eyes 60% ascent
Ethereum price has printed two major bullish technical patterns on the daily chart, an ascending parallel channel and a cup-and-handle pattern. The former chart pattern indicates that ETH has been consistently reaching higher highs and higher lows since mid-June, presenting an optimistic outlook for the token.
Based on the first prevailing chart pattern, ETH is likely to tag the upper boundary of the channel at $6,015, coinciding with the 161.8% Fibonacci extension level, representing a 48% climb.
The cup-and-handle chart pattern suggests that the projected target for Ethereum price is at $6,365, forecasting a 60% rally. While the two governing technical patterns establish an optimistic outlook for ETH, the token may be confronted by a headwind at its all-time high at $4,369, corresponding to the middle boundary of the parallel channel.
Additional hurdles may emerge at the 127.2% Fibonacci extension level at $5,092, then at the 161.8% Fibonacci extension level at $6,015.
Given the reinforcement of the two optimistic chart patterns presented on the ETH daily chart, retracements for Ethereum price may not be significant even if selling pressure arises.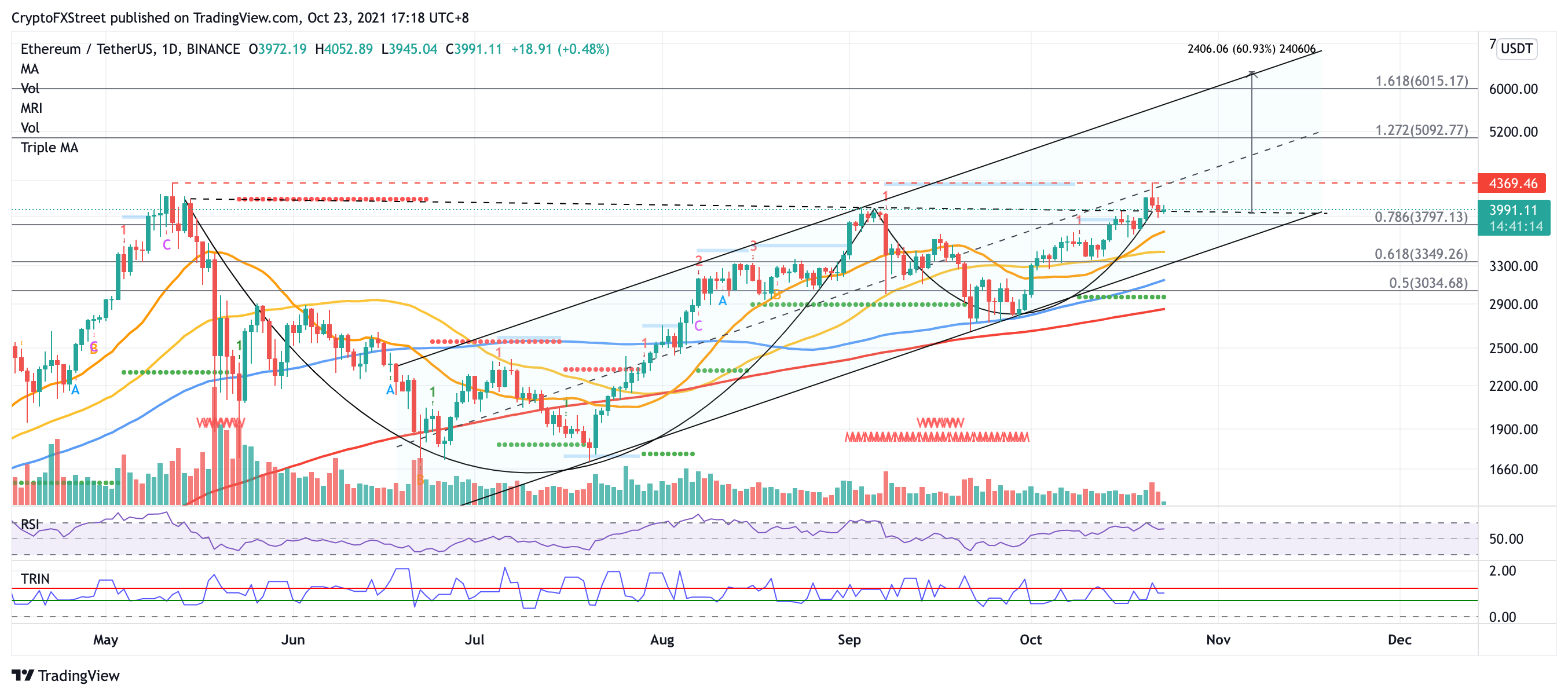 ETH/USDT daily chart
Ethereum price will discover immediate support at the support trend line at $3,960, then at the 78.6% Fibonacci retracement level at $3,797. The following line of defense will emerge at the 21-day Simple Moving Average (SMA) at $3,710, then at the 50-day SMA at $3,453 before eventually dropping toward the lower boundary of the ascending parallel channel at $3,349, which meets the 61.8% Fibonacci retracement level.
If Ethereum price fails to hold above the aforementioned levels of support, the bullish outlook may be voided, prompting ETH to plunge lower toward the 100-day SMA at $3,137.
ETH bulls should aim for a daily close above $3,960 to reinforce commitment for the bullish target to be on the horizon.