Data Shows $1,000,000,000 Bitcoin Movement Triggered Crypto Sell-Off, Says On-Chain Analyst Willy Woo
On-chain data expert Willy Woo says that the recent market correction in Bitcoin was caused by what he sees as misleading data regarding the movement of  $1.1 billion worth of BTC on crypto exchange Gemini.
In a new tweet, Woo cites Glassnode's clarification that the transactions involving billions of dollars worth of BTC were internal, saying the funds were already in the Gemini's wallets.
"Markets selling off due to bogus data saying $1 billion of BTC flowing into Gemini. It's the 2nd time it's happened in the last 30 days. Chart: leverage positions getting liquidated as traders sell off. Red dots showing the timing of the fake inflows. (28,000 and 18,000 BTC respectively)"
The data in question came from Bitcoin exchange flows tracker Crypto Quant, who alerted their followers that 19,108 BTC worth $1.1 billion had flowed into Gemini.
Woo points to a number of reasons why Crypto Quant's alert may have been erroneous.
"The [Crypto Quant] data error debate.
Did a whale send in 18,000 of BTC into Gemini to dump the markets? Or was it a data error?
This alert was sent out to 28,300 traders warning of whale dumping. Speculators sold off minutes later."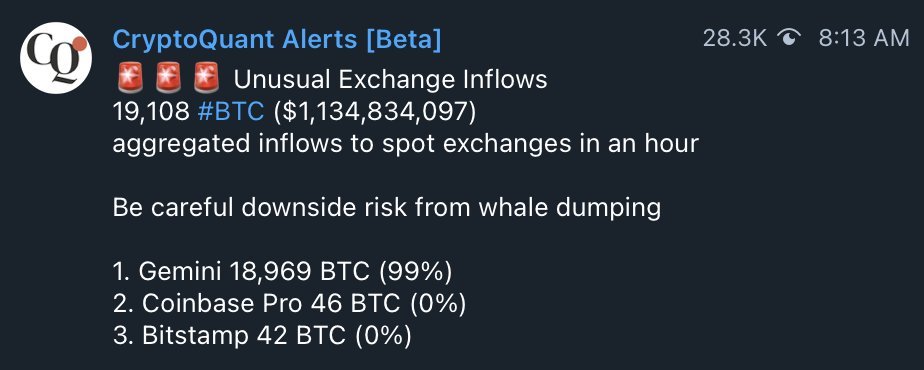 The analyst highlights that Gemini isn't big enough to handle orders of $1 billion worth of Bitcoin, noting that the exchange usually only does about $100 million to $200 million in trading volume per day. Woo also says that BTC's performance in Gemini after the alert was issued supports his theory that the Bitcoin involved was not meant to be sold.
"This chart shows Gemini prices vs the average of Coinbase and Binance. When the warning was sent out to traders, Gemini price did not dip relative to others which is what dumping there would look like. In fact it rose indicating net purchasing on that exchange."
Woo adds that the transfer is unlikely to be an over-the-counter (OTC) transaction.
"If the order was filled via their OTC desk, then we would expect to see corresponding flows go out to buyers on other desks/exchanges, this was NOT reported. By the way, if this was an OTC transaction, it would be bullish due to $1 billion of price validation."