Exchanges migrate to Ethereum competitor looking for low rates
The decentralized exchange (DEX) SushiSwap and the yield optimization platform of Binance Smart Chain (BSC) Beefy.Finance are available at Avalanche. This is yet another "concurrent" protocol from Ethereum.
The low rates of the open source platform for decentralized financial applications (dApps) are the main attraction.
SushiSwap available at Avalanche
The announcement about the launch of SushiSwap in Avalanche was made by the platform on Monday (15).
According to the announcement, users can perform the same functions as they did on the Ethereum network. However, at Avalanche, fees are lower and transactions are finalized faster.
"Avalanche allows DeFi applications to scale and run on par with traditional financial applications. Unlike other blockchain platforms, there is no need to wait hours for your transaction to be settled. Avalanche transactions are confirmed almost instantly. Transaction fees are also only a fraction of the cost. "
As a result, traders and users will have better margins and more time focused on strategy, rather than execution.
As Avalanche pointed out, currently, the average fee on the Ethereum chain is costing around US $ 20. However, at Avalanche, the cost is approximately US $ 0.70.
On Twitter, Ava Labs CEO Emin Gün Sirer celebrated the arrival of SushiSwap:
"I am thrilled that SushiSwap is now at Avalanche. Sushiswap had a fantastic performance, having the highest liquidity in the market. With Avalanche's Sushiswap products and platform features, it will be a perfect match for users! "
Beefy.Finance at Avalanche
Also on Monday, Beefy.Finance also announced its integration into the Avalanche network:
We just keep building. Beefy Finance is now available on Avalanche. We are pleased to announce that you can now staking your Pangolin LPs (liquidity provider) at http://avax.beefy.finance!

PNG-AVAX LP – 249.26% APY

ETH-AVAX LP – 237.31% APY

USDT-AVAX LP – 238.68% APY. "
In addition to Avalanche, who listed Beefy.Finance (BIFI) was the cryptocurrency exchange Binance. BIFI is the platform's native governance token and is used to create proposals and votes, as well as to earn rewards on BIFI.
BIFI token explodes with ads
After the ads, the BIFI token has skyrocketed about 95% in the last 24 hours. Thus, the accumulated increase in the last seven days is already over 115%.
At the time of writing, BIFI is currently trading around $ 2,577. That is, more than R $ 14,370, when quoted in reais.
In addition, this morning, the token reached its historic price record of $ 4,116.95, according to CoinGecko.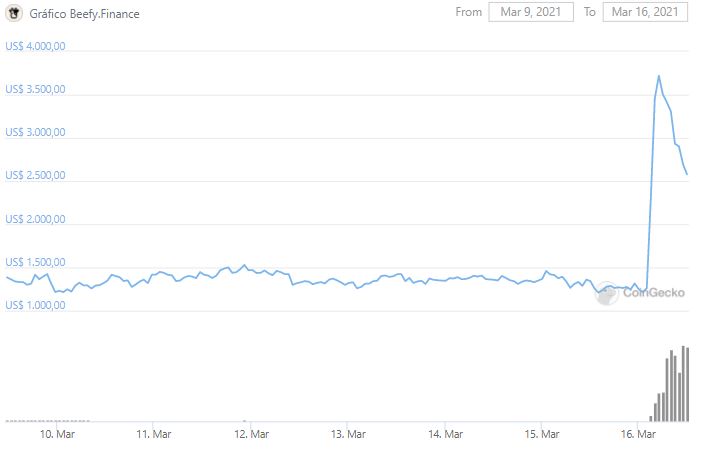 So far, Avalanche's AVAX token has not had its price significantly impacted by the ads. It is currently priced at $ 29.84 with a 1.6% rise in the past 24 hours.
Read also: Bitcoin is already worth more than Visa and Mastercard combined
Also read: Binance will give R $ 100 thousand in Chiliz token to Brazilians
Read also: NFT auctioned by Elon Musk surpasses the R $ 6.2 million mark