LINK Price Prediction: Chainlink on course to a 40% price rally
LINK price prediction shows a break out of a symmetrical triangle pattern, suggesting a 40 percent price surge.
At present, LINK attempts to make the $30 mark a primary support area.
Chainlink's SuperTrend indicator highlights the latest buy signal, validating the current bullish prospects.
Failure to hold above the $25 mark might trigger a bearish trend.
LINK managed to break out of a technical formation pattern during today's trading activities, initiating a bullish conversation among crypto enthusiasts.
LINK Price Prediction: General price overview
After hitting its most recent high of $37, LINK has been on a progressive price correction. Since hitting the $37 mark, Chainlink has recorded several higher lows and lower highs. According to careful analysis, a symmetrical triangular pattern forms whenever a trendline is drawn to connect these reaction points.
According to the trendline calculations, LINK is likely to experience a 40 percent price surge. This prediction is supported by calculating the space between the first shift high and low and adding the result to the surge point at $29.7. What we get from the calculation is a price that revolves at the $42.9 region.
LINK price movement in the past 24 hours
On Tuesday's trading, LINK's price appreciated by 11.5 percent in a single six-hour candlestick. The move not only surged through the upper trendline's technical formation but also initiated the SuperTrend technical indicator to flip to indicate a buy signal.
Therefore, the number 10 cryptocurrency appears drilled for a price surge that could drive the crypto coin to appreciate its market value by about 40 percent. According to LINK's 24-hour chart, the journey to realizing this milestone appears underway. If Chainlink manages to discover the 40 percent increment, it will record a new all-time high. Additionally, if LINK manages to close the day above the $31.1 mark, it will further validate the current bullish viewpoint and serve as an essential determinant to tomorrow's trading activities.
LINK 4-hour chart
According to LINK's 4-hour chart, the Oracle token shows signs of a bullish run, following the fruition of an ascending triangle pattern. The current ascending triangle pattern is a resuming pattern that promises to result in a definite price surge. These patterns imply a consolidation period that is specified by a low trading volume before a significant breakout. Usually, an ascending triangle is formed when the x-axis (relatively equal peaks) and the consecutive increasing lows meet with the chart's two trendlines. The absence of massive sell-offs by the whales has also assisted Chainlink in remaining bullish.
However, despite Chainlink sending bullish signals in the market, a sudden price dip that pushes LINK below the six-hour candlestick at the $25 region will cancel the crypto asset's optimistic viewpoint. If this happens, the likely event to be witnessed would be a pile-up of selling orders that would further drag Chainlink towards lower price levels of $20 and $21 regions.
Conclusion
The current absence of selling orders and Chainlink whales currently increasing their holdings position LINK on a bullish path in the long-term. Additionally, Chainlink's trade volume has also recorded a dip in the past two days by over 31 percent through the ongoing price correction. All these factors make Chainlink's latest price ideal for accumulation.
As the crypto coin is primed to hit the $30 mark, traders would like to take advantage of the current price. On the contrary, Chainlink is expected to face further correction pressure.
Disclaimer. The information provided is not trading advice. Cryptopolitan.com holds no liability for any investments made based on the information provided on this page. We strongly recommend independent research and/or consultation with a qualified professional before making any investment decisions.
Chainlink Whales Now Hold Almost 25% of Supply: Here's Why It Might Be Concerning
The number of Chainlink whales is on the rise in accordance with the price
Chainlink's 14% run on the market did not end with price action only. Following the price increase, the number of whale-tier wallets also increased and reached a four-year high, according to Santiment. While the supply is tied more to whale-tier addresses, in the correction period, retail traders and investors may face significant losses due to increased potential selling pressure.
Unpleasant correlation
According to the chart provided, we can clearly see a negative correlation between the increasing number of whales and the negative price action that took place from May to July and September.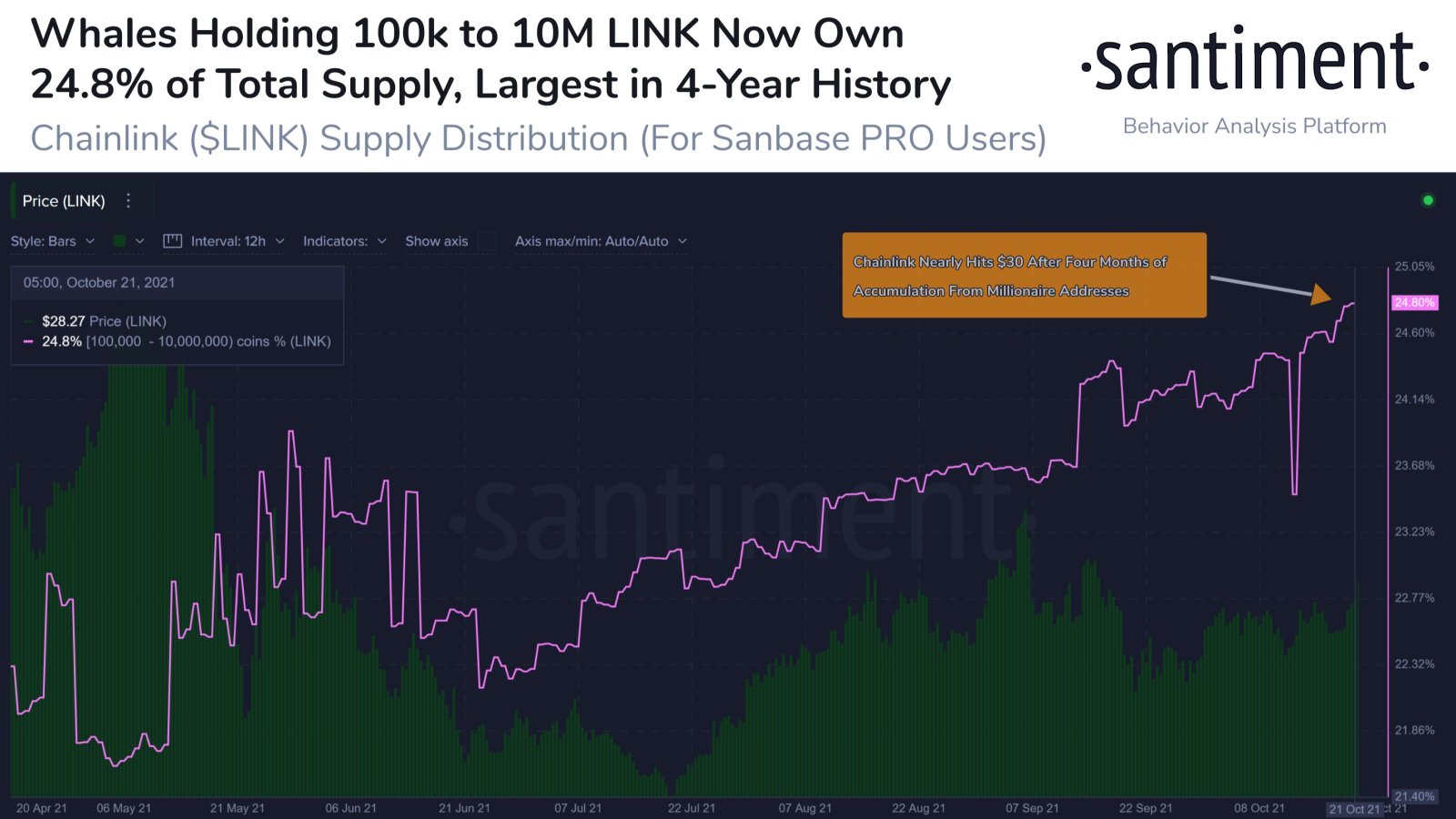 Previously, Chainlink's prices stayed at the $52 peak with whale-tier addresses staying at 23.9%. After the sell-off on the cryptocurrency market, LINK lost close to 70% of its value with whale-tier addresses dropping 8% of their total holdings.
Concerning history
With the progressive increase in the number of whales on the market, in periods of correction, the market faces increased selling pressure incoming from the aforementioned wallets. The same might be present on the market whenever a more significant correction hits the market.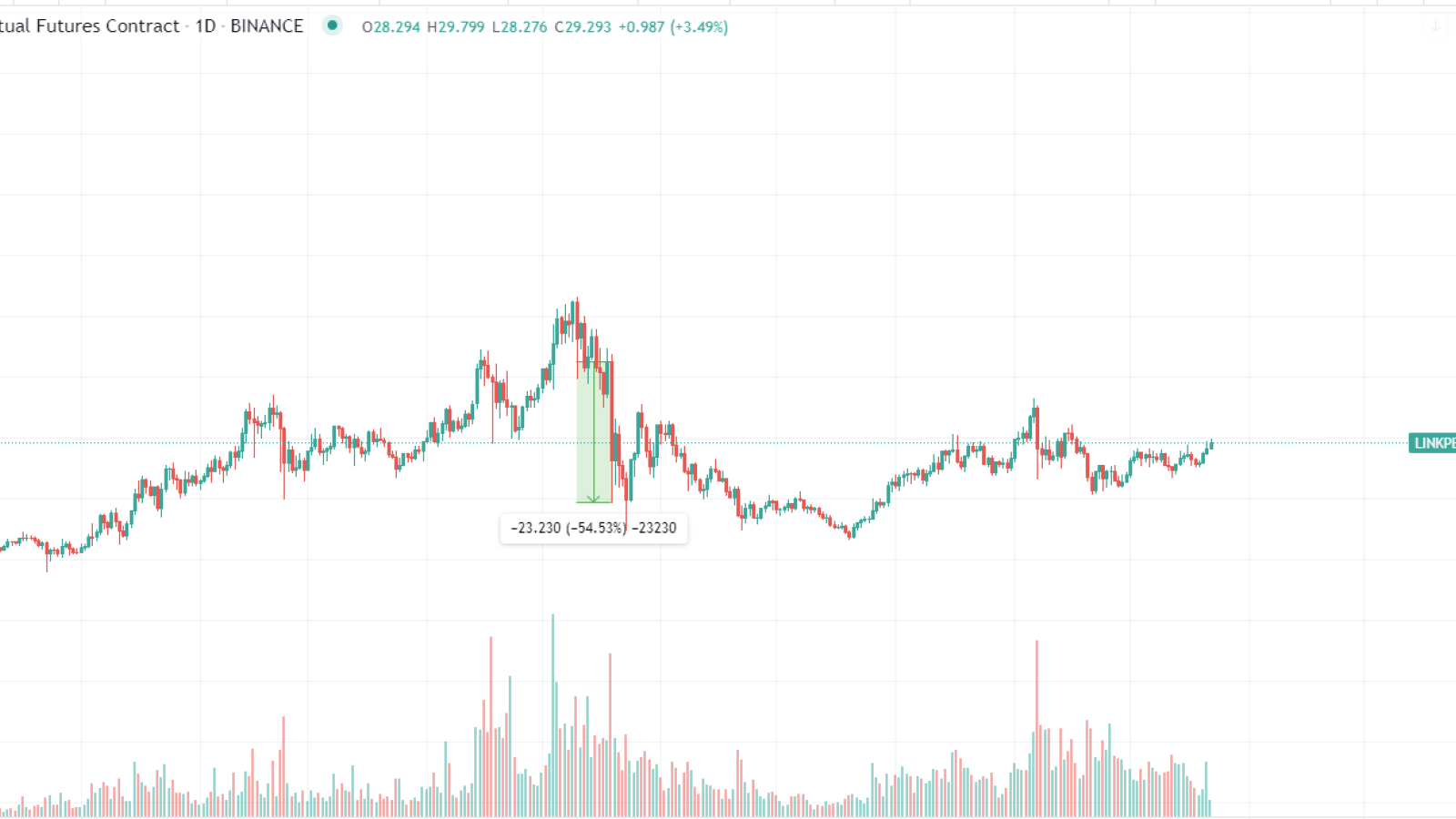 According to data from various exchanges, Chainlink is becoming a "victim" of large-volume sell-offs, which lead to a 50% correction inside of one daily candle. Such a trend in the number of whale-tier addresses may raise concerns among investors.
Associated Press (AP) Will Run a Chainlink Node To Guarantee The Reliabitliy Of Its Data
The Associated Press (AP) is running a Chainlink node, providing smart contract developers with on demand verifiable data from a reputable source.
The challenge of getting a reliable source of data has been a perennial problem in the journalism business. Ever since the first information broadcast media was born, the world has had to rely on the integrity of those who provide the data. But that could change now that Chainlink is harnessing the power of decentralization, and the Associated Press (AP), one of the world's largest news agencies, is beginning to move in that direction.
AP is running a Chainlink node and will begin uploading a significant set of data, leveraging Chainlink's technology to guarantee the reliability of its information.
Chainlink and AP News: A Partnership That Makes Sense
According to information shared by AP in a press release, the agency will share data related to U.S. race calls, economic facts, sports game outcomes, and business financials. The data will be cryptographically signed to verify its authenticity.
This is not the first time AP has used blockchain technology to ensure the integrity of its data with the world. Already last year, AP collaborated with Everipedia to upload the U.S. presidential election results on Ethereum's blockchain.
Also, AP issued an NFT in early 2021 and is doing multiple experiments on the application of decentralized technologies in the art scene.
Dwayne Desaulniers, AP director of blockchain and data licensing, said in the Press Release that the technology developed by Chainlink was ideal for AP's vision of broadcasting reliable data across the world.
"Chainlink technology is the ideal way to provide smart contract developers anywhere in the world with direct, on-demand access to AP's trusted economic, sports, and race call data. Working with Chainlink allows this information to be compatible with any blockchain. The open-source software is reliable, secure, and widely used across leading blockchain networks."
William Herkelrath, managing director at Chainlink Labs, also applauded the decision, saying it made sense for AP to launch a Chainlink oracle node, considering its level of influence and the amount of information it provides to the world constantly.
Why Does It Matter?
AP is a news agency that has been in continuous operation since 1846. It is a reliable source of information worldwide with prestige and reach comparable to other agencies of the likes of Reuters, BBC, or EFE.
Chainlink is a global provider of decentralized oracles. Chainlink's vision is to ensure that information circulating outside the blockchain can be transmitted on-chain via smart contracts, rewarding the veracity of the nodes and sources similar to how the Bitcoin network rewards good miners. Any information can circulate via Chainlink, from price feeds to the results of a soccer game.
My god how the years fly by, from 28 ecosystem participants to now over 870+ integrations (31x growth) with over 90% oracle market share 32 months later

The price of $LINK was $0.44, some perceptive is always good, much more room for growth from here https://t.co/kkGtadGbJ8

— ChainLinkGod.eth 2.0 (@ChainLinkGod) October 20, 2021
With AP running a Chainlink node, the information it uploads and digitally signs is verifiable by any other participant in the network and can be used to make decisions almost instantly. For example, a betting website could use AP data to guarantee the results of games on which its customers bet, or a political analyst could change election strategies depending on the results of a particular poll.
Chainlink [LINK] gets fresh boost from Associated Press; here's how
Chainlink announced the launch of a node on its network by Associated Press for delivering real-world data to smart contracts. The famous news outlet will provide high-quality economic data, sports outcomes, and business financials to blockchain projects that use Chainlink.
It's a very big announcement for Chainlink because of the importance of data that AP can provide to the customers and can be considered as one of the most crucial bridges between the two worlds.
Connecting the Worlds More
Accessing data from off-chain networks is always attractive. When blockchains can interact with other networks in the form of sending and receiving data and processing it, they can claim to provide real-world solutions.
This approach is among the top for connecting the traditional networks to the innovative world of smart contracts and blockchains. Chainlink is one of the best solutions for this connection with the largest decentralized network of oracles.
Many big blockchains in the industry use Chainlink for accessing off-chain data. It's the reason that a famous news outlet like Associated Press decided to work with this network for providing its data to blockchains.
According to the latest announcement, AP will make its datasets available to blockchains via Chainlin oracles. The datasets include economic, sports, and race calls. The data will be provided and sold to blockchains that need to interact and process for further use-cases.

The off-chain data can be used for various goals in blockchains. For example, smart contracts can be triggered when something happens in real-world data like election race calls.
Another example is when a trade is triggered on a smart contract when a business releases its quarterly report.
Chainlink execs believe that AP can help many blockchains by running a node and providing data. William Herkelrath, managing director at Chainlink Labs, said:
"AP has established itself as one of the most trusted independent news organizations in the world for real-time news in all formats. Given its large and continually growing repository of facts and data, combined with Chainlink's proven oracle infrastructure for providing reliable data feeds across leading blockchain networks, it makes sense for the AP to launch a Chainlink oracle node and support innovation within emerging smart contract industries."
The latest announcement from AP is a step they have started for some time. The famous news outlet is among the most active ones in embracing blockchain technology and moving toward its world.
Some of the previous works are collaborating with Everipedia to publish U.S. race calls on Ethereum and issuing the first media NFT in early 2021.