VeChain can take decarbonization to the next level, says Sunny Lu
VeChain and blockchain technology are the best tools to reduce carbon emissions with incentives, argues Sunny Lu.
DNV, BYD and VeChain are building a proof of concept to reward drivers for reducing carbon emissions.
---
VeChain CEO Sunny Lu spoke about China's decision to put decarbonization and neural carbon in its national plan for the next 5 years. In a thread via Twitter, Lu presented the approach that was taken in 2018 by his company and its partners to tackle this problem and the potential that exists for the blockchain industry in the sector. Lu said:
China just announced to put Decarbonization and Carbon Neural into the next 5 years national plan like what Blockchain was put in the same plan of last one. Everyone can see what Blockchain's position is today. Luckily, VeChain started this initiative since 2018 with BYD and DNV.
VeChain, DNV, and automotive industry giant BYD created a proof-of-concept based on blockchain technology called "carbon banking." Thereby, the partners set out to move an industry that was, according to Lu, "floating for many years" by leveraging the benefits of blockchain technology, Lu said:
I believe that Blockchain and VeChain can really change this sector and bring it to the next level which has been "floating" for many years. The key change will be to digitize an individual's effort to sustainability. And education is not enough for sure, but incentives will do.
A solution for carbon emission based on VeChain
Decarbonization and carbon neural are terms that refer to the total suppression of CO₂ pollution. The solution created by VeChain used the approach mentioned by Lu to reward a vehicle's operators for their "driving performance and carbon reduction," according to a VeChain Foundation post.
Lu argued that incentives are the key to get "everyone to take action." As early as 2018, VeChains' solution was "ready for mass production" with tools to reduce the global carbon footprint on a platform to manage, monitor, store, share and analyse data in a sustainable ecosystem. Lu explained:
VeChain is way ahead to be ready for this not only with the proper to tool to collect and digitize the actions but also reputable partners leading by DNV. Then let's do full speed.
In addition to the environmental benefits, VeChain's solution enables companies to reduce production costs, environmental policy premiums, and benefit from "value-added services". The impact can be positive in multiple sectors, including government, insurance, automotive, among others. VeChain's CEO concluded:
I believe this initiative could be one of the greatest export from China to the whole world by uniting everyone in the world to make the better future planet for our children before Elon Musk takes us to the Mars, lol.
VeChain recovery to $0.13 is crucial to reignite VET bull market
VeChain price continues to struggle post flash crash.
A broad shift into bear market territory is increasingly likely.
A small window of time exists for VeChain to deny bears control.
VeChain price has recovered roughly 40% of the losses it has had since the flash crash this past Saturday. A strong recovery looked very likely, but recent price action has shown there is a struggle to move higher and that bulls may be losing faith.
VeChain price must regain $0.13 to prevent further bearish bias
VeChain price has struggled since the sell-off on Saturday. Despite returning to $0.095 from a low of $0.07, bulls have displayed little pressure to sustain VeChain's current price range. The Tenkan-Sen at $0.098 is currently the primary near-term resistance. The Sunday, Monday, and current daily candlesticks have all been halted higher by the Tenkan-Sen.
The price level that bulls must return to and hold is the $0.13 value area. Doing so would position VeChain price above the Tenkan-Sen, Kijun-Sen, 2021 Volume Point Of Control and the 38.2% Fibonacci retracement. The only two resistance levels above VeChain are Senkou Span A and Senkou Span B.
Failure to move and hold above the Tenkan-Sen could trigger renewed selling pressure in the form of new short-sellers or buyers abandoning their positions for better opportunities. In that scenario, VeChain would likely fall to retest the 61.8% Fibonacci retracement at $0.082.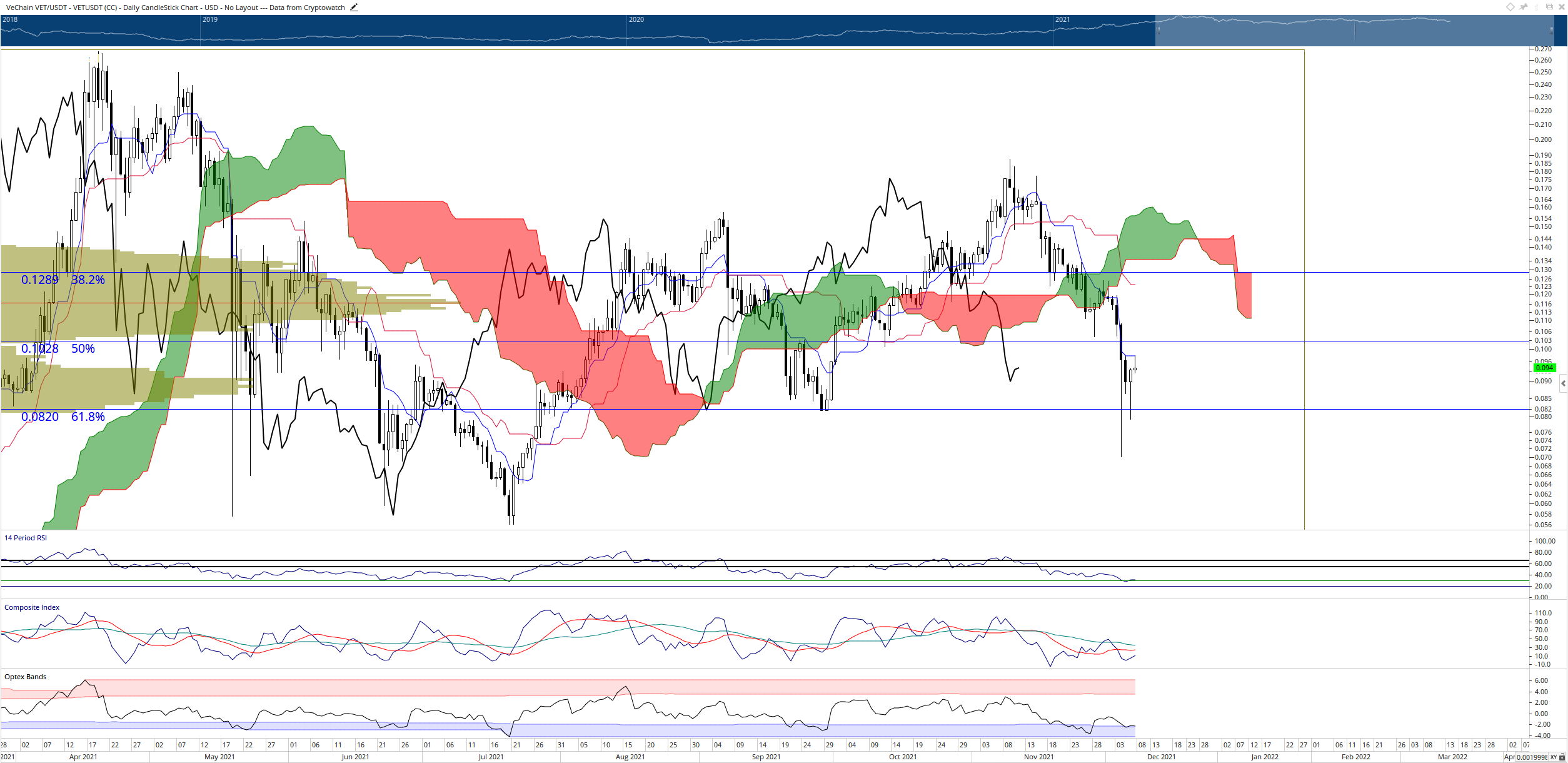 VET/USDT Daily Ichimoku Chart
However, the daily oscillators may prevent any near-term selling pressure. While the Relative Strength Index is in bear market conditions, it shows some signs of holding support at the first oversold level of 30. Additionally, regular bullish divergence is now present between the candlestick chart and the Composite Index. Finally, the Optex Bands remain in extreme oversold conditions are just now transitioning higher, giving VeChain price bulls some positive pressure.
Any close below $0.08 would likely trigger a flash crash to the $0.03 value area.
Crypto Analyst Michaël van de Poppe Details Path Ahead for Polygon, Harmony and VeChain
Cryptocurrency analyst and trader Michaël van de Poppe is looking at three altcoins and outlining the path forward after the recent market correction.
Starting with Polygon (MATIC), Van de Poppe tells his 150,000 YouTube subscribers that the Ethereum (ETH) scaling solution could potentially hit a new high of $2.70.
"…Overall we are making higher lows. So we are building up the pressure and we are building up towards a new breakout above this all-time high [$2.62].
Right now we are getting into the last resistance point through which if there is an area that you want to look at for potential entries, you're looking at this green zone here [around $1.80] in which we can be dipping all the way there and still be bullish before we're going to make a breakout…
…we can be starting to expect $2.70 if this green zone is going to hold."
Polygon is currently ranging between 0.00002170 BTC ($1.23) and 0.00003500 BTC ($1.98). According to the crypto analyst, Polygon could potentially break out of the range and "start accelerating upwards" and hit 0.00005200 BTC ($2.94).
Next up is the native token of blockchain platform Harmony (ONE). Van de Poppe says that potential short-term buying opportunities exist around the 0.00000417 BTC ($0.24) and 0.00000344 BTC ($0.19) support levels.
"This is an area [0.00000417 BTC] where I want to seek for potential long entries. If this one is lost, I'm seeking for a long entry in this region [0.00000344 BTC]."
The cryptocurrency trader says he is bearish on Harmony and would target profits of between 0.00000090 BTC ($0.005) to 0.00000500 BTC ($0.28).
"…definitely only looking for a bounce play to watch for 0.00000090 BTC to 0.00000500 BTC as most likely we're going to make a lower high and continue to trend downwards."
Van de Poppe says that Harmony's key support levels lie between $0.21 and $0.23. The cryptocurrency analyst warns that Harmony is trending downwards and could plunge to $0.17.
"I think the only crucial support you should be looking at is this entire green zone [between $0.21 and $0.23] which is the range low. So if we dip here, I think you still want to look for potential longs.
However, we've already got a lower high taking place here, so potentially the trend is downwards. And if the trend is downwards, I'm also going to look around the area of $0.17."
Next up is the utility token of the supply chain blockchain VeChain (VET). Van de Poppe says that a potential buying opportunity for VeChain exists at around the 0.00000210 BTC ($0.12) level if the altcoin prints a higher low on the charts. A higher low usually indicates an uptrend in technical analysis.
The crypto trader and analyst says VeChain is sitting at the $0.11 support level but will wait for Bitcoin's price action to determine the direction of altcoins.
"When it comes to VeChain against USDT we are also back into support at this stage but still we're looking for confirmation from Bitcoin.
If that one is going to confirm that the market is ready for continuation, that is the moment where altcoins are starting to fire off. And at this moment, I'm not convinced about Bitcoin yet."
Future Altcoin Leader VeChain (VET) Sees Bullish Signals
HODLers await a massive crypto market recovery.
FXStreet explains how VeChain (VET) is setting itself up to be an altcoin market leader.
VET price will see a trifecta of bullish breakouts.
Presently, the crypto market looks to be in turmoil. Like always, every market has its up and down days, and the greatest ups come soon after the most astounding downs. According to CoinGecko and CoinMarketCap, the market is struggling as of now.
However, many long-term holders, seasoned investors, and expert crypto analysts are still HODLing for their long-awaited crypto bulls. For instance, many expect the price of Bitcoin (BTC) to surpass $100,000 by Christmas time.
Similarly, many expect the price of altcoins to follow suit. For example, many expect the price of Ethereum (ETH) to surpass $10,000 soon. Likewise, here is FXStreet's prediction for the price of VeChain (VET) to skyrocket.
In detail, the article speaks of how VET price is developing a trifecta of bullish breakouts. In fact, it talks about certain conditions that point to a significant drive higher. Specifically, the article stresses how VeChain will eventually become a leader in the altcoin market.
Currently, the price of VET is set for a huge bear trap. This will soon yield a spike of over 80%. This means that the time for existing and future short-sells will be over. To emphasize, the article highlights three main reasons on how VET will achieve this breakthrough.
In particular, the article mentions how VeChain is in a unique position to make the best of three powerful bullish signals. This comes from its Point and Figure chart. Right now, all three signals are set to trigger upon VeChain hitting the entry of the hypothetical long setup.
These three signals begin with the entry at $0.128. This will trigger an ascending triple-top breakout, confirm a Bear Trap Point and Figure pattern, and finally break the dominant bear market angle which will convert VET into a bull market.
Indeed, it will be quite a spectacle to see how the price of VeChain will play out in the next couple of days. On the positive, the price could go over $0.21. In contrast, the downside risk could take the price down to $0.07.