Bitcoin and Crypto Markets Slide As US Dollar Value Climbs
Big cap cryptocurrencies like Bitcoin and Ethereum reported sizeable losses.
Ethereum liquidity and whale activity hit yearly lows.
An improving US dollar is helping the US economy but hindering Bitcoin's appeal.
Crypto saw a second day of losses after a weekend of almost breaking records. Global market cap is down 3.4%, according to Nomics, hovering around the $1.75 trillion mark.
The crypto mega caps were responsible for most of the losses. Bitcoin is down 4.5% at the time of writing, struggling to stay above $54,000.
Ethereum faired slightly worse, dropping more than 5%. This will probably have something to do with the amount of Eth being held on centralized exchanges reaching a 19-month low, according to analytics company Glassnode.
The amount of $ETH held on centralized exchanges has reached a 19-month low pic.twitter.com/A6daguJmGK

— Bloqport (@Bloqport) March 22, 2021
That's not all, the number of addresses holding more than 100+ coins is also at 19-month lows. There are also liquidity droughts on WBTC and DAI markets too, suggesting users are either preparing to buy the bottom of the dip, or sitting out this round of volatility with an eye on longer-term profits.
📉 #Ethereum $ETH Number of Addresses Holding 100+ Coins just reached a 19-month low of 45,518

Previous 19-month low of 45,546 was observed on 21 March 2021

View metric:https://t.co/FbjiMG3uFX pic.twitter.com/T8J8xlPX8o

— glassnode alerts (@glassnodealerts) March 23, 2021
But further down than the cap tables, Ripple, buoyed by calls for the project to be relisted, surged by more than 10% overnight. Uniswap too, is up 5% and Theta Token, Market Watch's star performer adds another 12% to its token price as it breaks into the top 10 cryptocurrencies for the first time. What's the reason for all this? It looks like the improving strength of the dollar has been having a negative impact on crypto. The accelerating US recovery is making the greenback a safe haven for investors, with USD making gains against GBP, the Euro, and the Japanese Yen. There's also a sudden influx of dollar buying after the Turkish lira dropped 15% yesterday.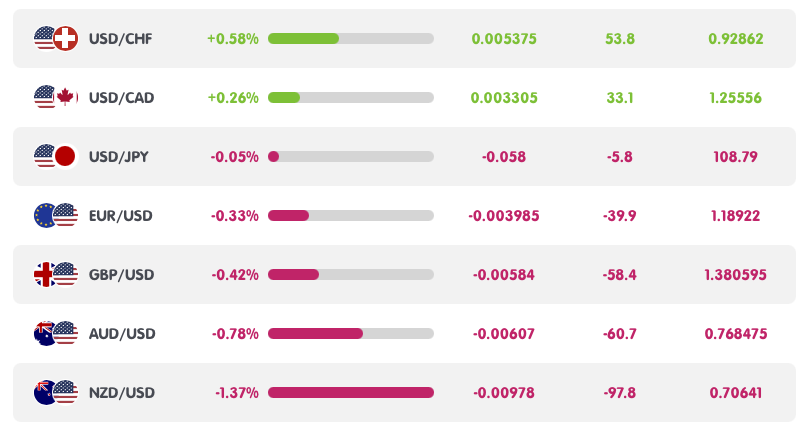 Historically, Bitcoin has advanced on the weakening dollar – as was the case last year. The trade spat between the EU, US and China also appears to be having an impact on investor sentiment.
This narrative is likely to create increasingly tough conditions for Bitcoin to thrive, as its status as an exotic growth asset is replaced by "only use if there's nothing else growing".
On Wall Street, the tech mega caps all saw strong gains thanks to a pullback in Treasury Yield growth rates. Apple was up 2.8%, Microsoft up 2.4%, and Tesla up 2.2%.
The toing and froing between growth and value stocks continued to turn yesterday. While tech stocks gained, airlines and travel companies, which had been gaining momentum in recent weeks on the assurance the world was getting back to normal, took a dive yesterday as COVID refuses to go away.
With Europe now facing up to yet another wave of COVID, the return to normality looks like it might be pushed back for another few months. Will this be good for crypto? That will depend if Bitcoin can continue to demonstrate its growth potential to investors with the stomach for crypto's rollercoaster-worthy price movements.
Bitcoin Will Significantly Underperform Altcoin Market As New Crypto Price Era Unfolds: Pantera Capital's Dan Morehead
The founder and chief executive officer of Pantera Capital says that investors can expect altcoins to outperform Bitcoin (BTC) in the long term.
In a recent edition of Pantera's Blockchain Letter, the head of the digital asset management firm outlines Dan Morehead's key quotes from the SALT 2021 conference in New York. During the conference, Morehead said that even though his company has greatly profited from BTC, he emphasized that most future crypto gains will come from altcoin investments.ADVERTISEMENT
"My perspective is: Bitcoin has been amazing – Pantera Bitcoin Fund is up 67,000% since inception. However, I think the majority of future gains will be from tokens outside of Bitcoin. I know that sounds heretical to some people here, but that's my professional opinion."
Morehead compares the rise of Bitcoin and its competitors to that of the tech industry boom during the late 1990s.
"It's like saying in 1998 that [the] majority of future tech gains would come from outside Microsoft.
At the time, Microsoft was worth $218 billion, Apple $3.5 billion, Amazon was $2.2 billion. Google and Facebook were zero – they didn't even exist. In the years since Microsoft did great – it went up 10x. However, 80% of the tech gains in these five stocks came from outside Microsoft.
That's the view I have here – I think BTC is going to go up a ton – like 10x. It's a great investment…[but] I think the broader portfolio is going to outperform."
At time of writing, BTC has a market cap of $1.156 trillion while all altcoins combined have a market cap of $1.327 trillion, according to CoinMarketCap.
s are now selling 'way more' US Dollars to buy Bitcoin
El Salvador's mainstream Bitcoin (BTC) adoption gains momentum during the ongoing bull run as citizens increasingly exchange their United States dollar savings for Bitcoin. 
President Nayib Bukele shared this new development on Twitter based on the data acquired from El Salvador's in-house wallet service, Chivo. President Bukele said:
"People are inserting way more USD (to buy #BTC) than what they are withdrawing from the Chivo ATMs."
He also urged media outlets to independently confirm the above information by visiting the ATMs. President Bukele further stated that Chivo has reported 24,076 remittance requests "adding up to $3,069,761.05 in one day."
2 new Chivo Facts:

1. People are inserting way more USD (to buy #BTC) than what they are withdrawing from the Chivo ATMs (any media outlet can independently confirm this by visiting the ATMs).

2. Today, we received 24,076 remittances, adding up to $3,069,761.05 (in one day).— Nayib Bukele 🇸🇻 (@nayibbukele) October 16, 2021
The increase in USD to Bitcoin conversions within the jurisdiction reflects a change in investor sentiment, which initially faced resistance during adoption from the general public. Moreover, the Salvadorean government offers various subsidies for using Bitcoin such as fuel subsidies and tax exemptions. 
El Salvador has installed over 200 ATMs after adopting Bitcoin as a legal tender, making it the third-largest network of crypto ATMs after the United States and Canada.
A Cointelegraph report shows that El Salvador exceeded United Kingdom's crypto ATM count after deploying 205 crypto ATMs, mainly to facilitate local Bitcoin transactions and Bitcoin to U.S. dollars conversions.
Recently, the Salvadorean government announced to build a $4 million veterinary hospital using the profits attained during the Bitcoin bull market. According to President Bukele, the veterinary hospital will host four operating rooms, four emergency clinics, 19 offices, and a rehabilitation area: "We decided to invest a part of that money in this: a veterinary hospital for our furry friends."
Why Bitcoin ETF Is Such A Big Deal and May Push Bitcoin Above $100k?

Amid a global regulatory crackdown on cryptocurrencies, the U.S. SEC's approval of a Bitcoin (BTC) Exchange-Traded Fund (ETF) has come as a pleasant surprise to the Bitcoin community. The most awaited ProShares Bitcoin Strategy ETF is reportedly launching as early as Monday, October 18. This ETF is going to be traded with a ticker symbol of BITO and will track Bitcoin futures.
Bitcoin rallies towards $100K
Instead of achieving regulatory green light, Bitcoin price crossed $62K this morning with a slight correction, BTC continued to stand strong at $61.5K, at the time of reporting. The market is raging with speculation of Bitcoin crossing $100K with this ETF. The timing could not have been better as the fourth quarter has commenced the holiday season bull run, with trader bonuses flooding in as cryptocurrencies take to an upward graph. Since the beginning of October, when the potential BTC ETF began gaining mass traction, the impact on Bitcoin prices also became evident.
According to a Bloomberg report, this Bitcoin ETF will further the institutional adoption of the decentralized sphere, specifically focused on Bitcoin. "An ETF should provide greater ease-of-use for retail investors looking to ride Bitcoin's often hair-raising ups and downs. Like securities tracking oil and gold, it will change hands on relatively familiar U.S. stock-market venues, rather than in cryptocurrency or futures exchanges whose workings are imposing to some users."
Regulatory approval can make or break a token
The frequently validated fact that regulatory approval radically helps the growth of cryptocurrencies, despite it being a decentralized and unregulated market, continues to gain credibility. XRP is one of the most prominent examples of how drowning in a regulatory puddle may keep certain tokens into a bear rut, while the rest of the industry leaps into the bullish phase. Due to the ongoing XRP lawsuit against Ripple, the XRP community continues to suffer as the fourth quarter has not helped XRP so far. The community blames the SEC for stretching the lawsuit intentionally so that XRP skips this bull run.