Cardano: Hoskinson lays out the roadmap for Basho and scaling
The fourth era of Cardano, Basho, will be all about scaling the network with the second layer solution "Hydra".
The second focus will be interoperability with other proof of work, proof of stake and permissioned ledger systems.
---
In an interview with Show Me The Crypto, Charles Hoskinson took a deep dive into Cardano, talking about its beginnings, the initial mistakes in development, how he assembled a team of leading cryptographers and developers, the Cardano community, Project Catalyst, and much more.
In the highly recommended interview, Hoskinson also took a look at the roadmap, charting a path for Cardano development after the implementation of the Alonzo hard fork, which will fully enable the Goguen era and with it smart contract functionality. With Goguen, Cardano will complete its third of five development cycles. This will be followed by Basho.
Basho will scale Cardano into the millions
This era is about scaling. It will be about "how do you go from thousands to tens of thousands to a hundred of thousands from millions to billions," as Hoskinson stated. The second layer scaling solution Hydra will play a central role in this. As the Cardano inventor pointed out, both Plasma and the Lightning Network are "good ideas."
However, they have the common problem that they were developed independently of the accounting model, smart contracts and the consensus algorithm. Hoskinson, at his company, IOG, has therefore put the researchers and developers of these key components to work on developing Hydra as well, which will enable them to "build something that is hand-and-glove and seamless, and it does all the things that it is supposed to do with Lightning and Plasma, but it actually works".
With the infrastructure of 2,000 deployment pools, that means 2,000 channels can run in parallel, with throughput increasing as decentralization grows, Hoskinson explained:
[…] and they are truly parallel and there's a way to shard and go on-chain and off-chain gracefully which means that you have unlimited throughput for micro payments for transactions and transaction batching and so forth. […]This month we spooled up the team for it and throughout the whole year we will be building a prototype and basically at some point, when we need it, we can bring it into the network and the stake pool operators run it, and as we get more decentralized, meaning more operators running the system, you get more channels which means that you get more throughput.
Beyond that, IOG is also looking at other solutions for the base layer. For example, IOG wrote a paper called "Parallel Chains and Ledger Redux," which is why "they know" how to do it.
[…] and eventually we're going to roll that out and release a protocol called Ouroboros Omega. But it's not necessary, the base layer has enough throughput. Even with crazy growth, we are good for this year and next year. And Hydra will get us where we need to go.
The second focus of Basho will be on interoperability, being able to integrate sidechains into the network. As Hoskinson said, it will be about being able to communicate with other proof of work systems and proof of stake systems and permissioned ledgers. A number of projects have already been initiated to do this, Hoskinson emphasized.
So we joined the Hyperledger Alliance and talked to those guys, and we have great ideas there. We joined the W3C and talked to those guys about Interledger, and we have great ideas there. We also created the first sidechains protocol for proof of work. Blockstream actually wrote it down, but they never actually did the hard math work. We did. We created something called the NiPoW, Non-Interactive Proof of Work […]
Basho will be followed by the Voltaire era, which Hoskinson described in the interview as the "most difficult part" of Cardano. It will be about establishing a governance system so that the network can support itself.
Cardano (ADA), XRP Price Could Retest These Levels Before Skyrocketing!
ADA might hit its resistance around $2.4 but could test its support levels before the uptrend.
The crypto space has been a rough sail for altcoins such as XRP and ADA. However, the coins have managed to withstand strong and gusty winds. Meanwhile, investors and traders are eagerly waiting for a pull-out from the blues.
XRP Price
XRP at press time is trading at $1.09, with negative gains for the last 24-hours at 1.1%. The market cap stands at $51,193,598,011. While the trading volume for the last 24-hours hovers around $3,742,571,734.
XRP has been moving along the descending triangle. A triple top formation is visible on the charts. The coin has attempted to break through each time and has failed to keep up the momentum.
The digital asset has been moving along a narrow range. If it breaks out the triangle, we can expect it to reach its resistance at $1.2. On the contrary, XRP would move across the narrow range. However, extreme sell-offs would result in XRP plummeting below $1.
Cardano (ADA)
Cardano, the top-tier altcoin at press time is trading at $2.16 with negative gains at 1.1% for the last 24-hours. While the market cap is at $69,172,092,701. The trading volume for round the clock floats around $1,749,372,395. ADA has not let its foot lose at its level of $2.0, despite the crash. However, massive sell-offs might result in ADA plunging to its strong support levels. Prior to rebounding to its resistance around $2.4
Collectively, XRP and ADA could propel towards their respective resistance levels in near future. And hopefully, bullish momentum could follow with the commencement of the alt season. Netizens are expecting a massive rally to follow, as it has been due for a brief period of time. 
Cardano Price Analysis: ADA bulls and bears remain within a tight spot at $2.15
Cardano price analysis is bullish today.
ADA/USD set a lower low overnight.
Cardano is likely to regain some of the loss today.
Cardano price analysis is now bullish, with a new lower low being established after a solid decline over the previous 24 hours. As a result, we expect ADA/USD to recover some of its loss later today as bears become weary.
 Cryptocurrency heat map. Source: Coin360
The overall market traded with mixed results over the last 24 hours. The market leaders, Bitcoin and Ethereum both traded in the red, with a loss of 2.88 and 2.99 percent, respectively. Meanwhile, Solana and VeChain (VET) dominate the market, with a gain of around 7.5 percent.
Cardano price movement in the last 24 hours: Cardano spikes below $2.15 previous low
During the last day, the ADA/USD pair fluctuated from a low of $2.13 to a high of $2.164, suggesting significant swings throughout that period. Volatility has increased by 27 percent, trading volume has increased by 27.43 percent and totaled $2.78 billion as of this writing, putting the coin in third place overall.
ADA/USD 4-hour chart: ADA set to reverse today?
On the daily chart, we can see Cardano's price drop beginning to reverse as bears run out of steam after a significant fall.
ADA/USD 4-hour chart. Source: TradingView
Cardano's price has remained stagnant for the previous several weeks. Cardano saw consolidation in a tighter range, with a lower peak at $2.30 near the start of October, after establishing a high low of $2.30 in early October.
The next higher high of $2.30 was followed by a lower low set during the subsequent retracement, which was below $2.15. As a result, the overall trend for ADA/USD is still unclear.
We may see Cardano's price recover some of its losses in the coming days. If a lower high is broken, we can anticipate bearish momentum to continue into next week.
Cardano Price Analysis: Conclusion
Today's Cardano price is in an upswing, according to most market forecasters. After a big drop, a new lower low was established today. Bearish momentum, on the other hand, has run its course, and we may expect a retracement in the next 24 hours.
Cardano price hangs back as ADA bulls gather strength for 23% upswing
Cardano price performance has been uneventful, as the token lagged behind while Bitcoin and Ethereum recorded new all-time highs.
ADA bulls appear to be struggling with the nearest obstacle at the 21 twelve-hour SMA.
Only a slice above $2.24 would put the 23% rally on the radar.
Cardano price continues to confuse forecasts ADA teeters between two clearly defined technical levels. Until the Ethereum-killer can overcome the two key areas of resistance, the token can expect a 23% climb toward $2.73.
Cardano bulls ready to tackle next obstacles
Cardano price presents a lack of clear directional bias as it continues to be sealed within a symmetrical triangle pattern on the 12-hour chart. Despite the recent uptick seen in the cryptocurrency market, witnessing Bitcoin and Ether reach new all-time highs, ADA lagged behind.
It appears that Cardano price is gearing up to tackle obstacles, despite the overwhelming strength of the resistances that are currently intimidating the bulls. The first hurdle for ADA is at the 21 twelve-hour Simple Moving Average (SMA) at $2.16. If the Ethereum-killer manages to slice above this level, the next headwind will emerge at the 23.6% Fibonacci retracement level, coinciding with the 50 twelve-hour SMA at $2.19.
According to the IntotheBlock's In/Out of Money Around Price (IOMAP), the aforementioned level of resistance would be a challenging level to crack for the bulls, given that it is the largest cluster recorded by the technical metric, as 226,650 addresses purchased 7.82 billion ADA at an average price of $2.19.

ADA IOMAP
If the buyers manage to slice above this stiff hurdle, would see Cardano price tag the upper boundary of the prevailing chart pattern at $2.24. Breaking above the topside trend line of the triangle would put the 23% climb on the radar for ADA, as the bulls attempt to reach for $2.73.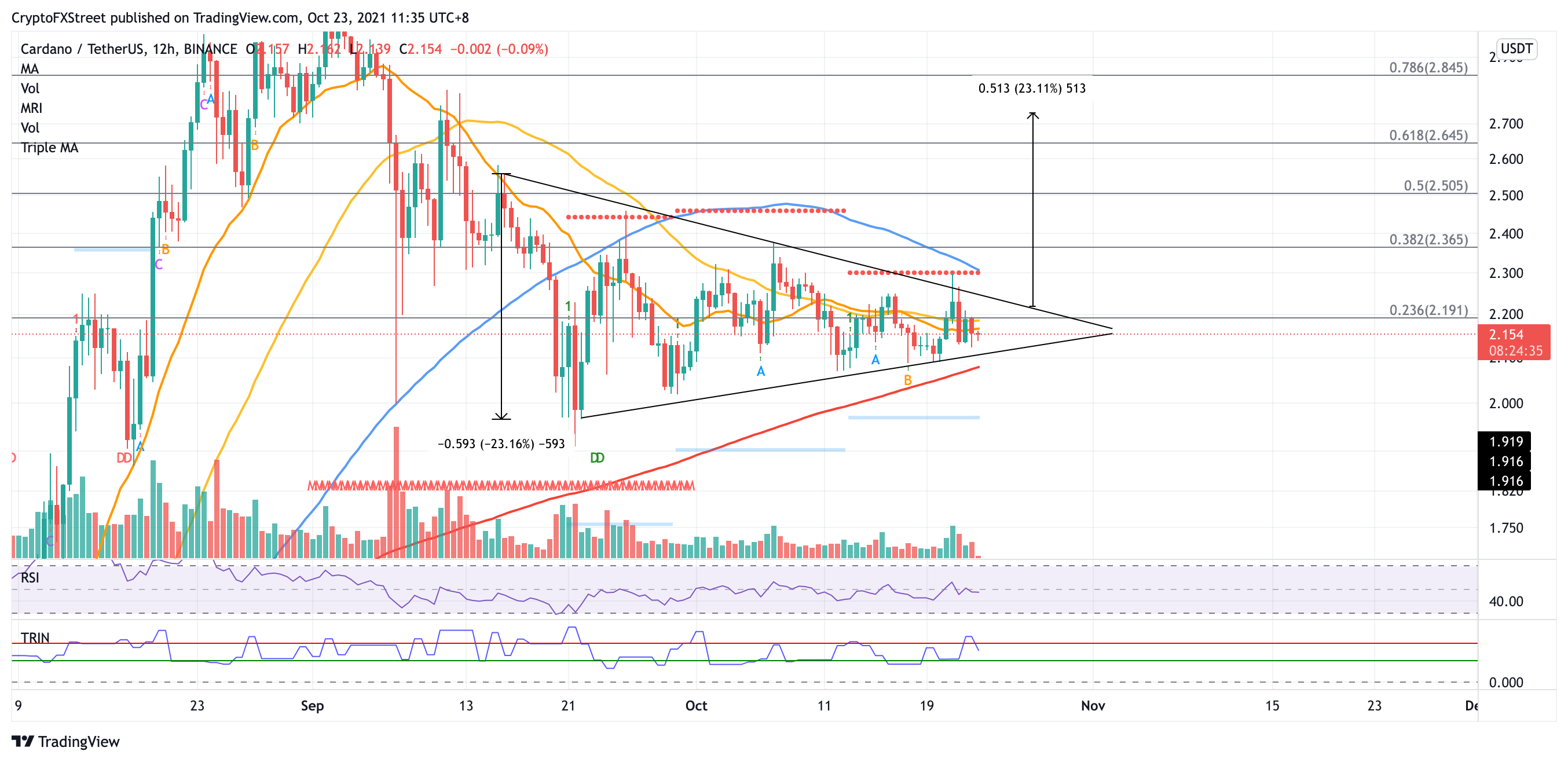 ADA/USDT 12-hour chart
The bulls' journey toward the optimistic target would still be tricky, as a resistance line given by the Momentum Reversal Indicator (MRI) has appeared at $2.30, which sits near the 100 twelve-hour SMA acting as a heavy headwind for Cardano price. ADA would also need to clear the $2.36, $2.50 and $2.64, corresponding to the 38.2%, 50% and 61.8% Fibonacci retracement levels, respectively, before reaching the projected target given by the chart pattern.
However, if a spike in sell orders occurs, Cardano price may fall toward the lower boundary of the symmetrical triangle at $2.10 to retest the trend line as support. If this level fails to hold, the bullish outlook may be ruined as ADA may drop toward the 200 twelve-hour SMA at $2.07 and at the same time put a bearish target of a 23% decline at $1.62 on the radar for the Ethereum-killer.