Cardano Price Prediction: ADA poised for 22% upswing despite bearish technical picture
Cardano has formed a falling wedge pattern on the 4-hour chart, hinting at a potential liftoff to $1.4.
The bullish outlook will gain credibility if the price settles above the 4-hour 200 SMA.
Consolidation is likely to delay the anticipated upswing based on the IOMAP model.
Cardano's downtrend seems to be coming to an end. Its retreat has been steady since the sellers' rejection at $1.48 (an all-time high). A double-top pattern is likely to have contributed to the incurred losses. Meanwhile, ADA is trading within the confines of a technical pattern, likely to result in a tremendous upswing.
Cardano grinds closer to a technical breakout
Cardano is exchanging hands at the apex of a falling wedge pattern. This pattern is bullish and is created following a significant move in price. Resistance such as the one at $1.48 stops the uptrend, leading to losses. It is worth noting that the losses incurred tend to find higher support and are then succeeded by a period of consolidation.
Once the price cracks the upper trend line resistance, a breakout occurs. An increase in volume adds credence to the bullish outlook. The liftoff has an exact target, measured from the highest to lowest points of the pattern, as illustrated on the chart below.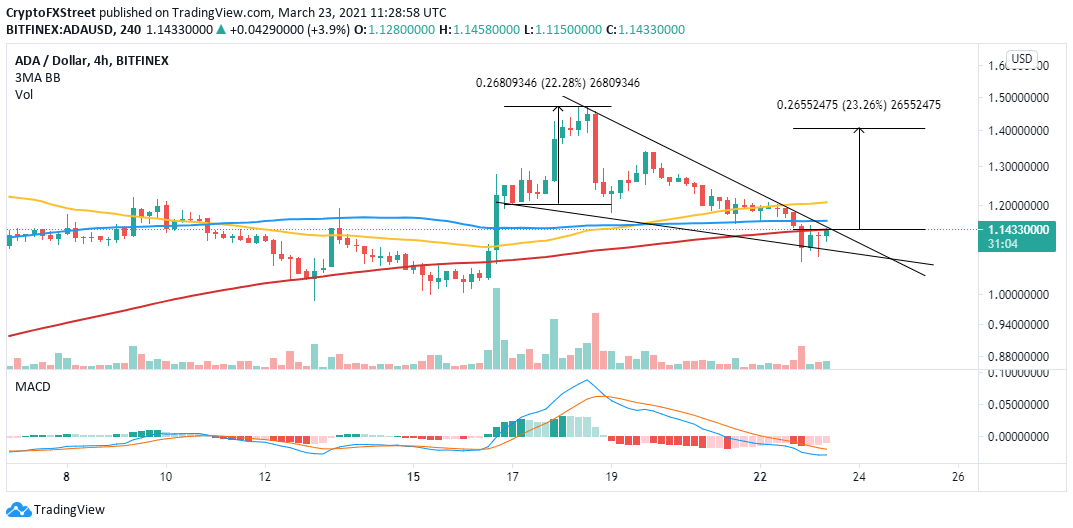 ADA/USD 4-hour chart
Cardano bulls have channeled their attention toward breaking the short-term hurdle at the 200 Simple Moving Average (SMA) on the 4-hour chart. This will add credence to the anticipated breakout from the wedge pattern. On the upside, the upswing eyes gain to $1.4, where it is likely to trigger massive buy orders, placing ADA on the remaining journey to new all-time highs.
Looking at the other side of the picture
The 4-hour Moving Average Convergence Divergence (MACD) indicator has a bearish impulse. The MACD line (blue) still holds under the signal line. Moreover, the indicator has dived into the negative region, implying that bears have more control over the price.
Simultaneously, the IOMAP by IntoTheBlock shows that ADA will probably stick to consolidation, thus delaying the expected liftoff. For instance, immense resistance is forecasted between $1.24 and $1.27. Here, nearly 91,000 addresses had previously purchased 2.15 billion ADA.

Cardano IOMAP chart
It is worth mentioning that the IOMAP model reveals Cardano is sitting on top of a robust support area, running from $1.1 to $1.14. Here, roughly 68,600 addresses had previously scooped up approximately 2.5 billion ADA. It is doubtful that the price will crack through this zone in the near-term, thus validating the sideways trading.
Analysts affirm Cardano will outperform Bitcoin and Ethereum given ADA's enhanced scalability
Binance coin replaced Cardano as the third-largest cryptocurrency.
Over 70% of ADA supply remains staked.
With institutional investment flows to Cardano, proponents expect ADA market capitalization to recover.
Cryptocurrency analysts expect Cardano to outperform Bitcoin and Ethereum based on ADA price trends.
Charles Hoskinson, Cardano founder, made an effort to dampen Cardano's negativity and uncertainty and the cryptocurrency ecosystem. Hoskinson broadcasted from South Africa and shared potential opportunities for the Cardano Foundation.
Analysts expect Cardano to outperform Bitcoin with updates in the ecosystem
In his recent broadcast from Africa, Charles Hoskinson shared how the rising uncertainty in cryptocurrencies puzzled him. Hoskinson believes that Cardano has met every single milestone on its roadmap.
The Cardano network has never suffered an outage, and the founder reassures users about ADA's current plans. Cardano is focused on enhancing scalability. 
Brief Update https://t.co/9Tw2zPtVxm— Charles Hoskinson (@IOHK_Charles) October 18, 2021
The Plutus Application Backend (PAB) launch is set to ensure scalability on the network. It is scheduled for later this month. Once Cardano improves scalability, more users are expected to join the network.
Cardano is working on another exciting development in the roadmap, layer-2 scaling solution Hydra. Alongside Plutus, Mamba Pool, Atala Prism and Mithral, Hydra's development is underway. 
Fourteen teams are working on different elements within the Cardano ecosystem. Hydra is expected to process transactions on the Cardano network in an efficient manner. Since most transactions will be processed off-chain, Hydra will use the Cardano blockchain to secure settlement.
The Hydra protocol is currently under extensive testing.
Despite the upcoming updates in the Cardano ecosystem, ADA's market capitalization dropped, and the altcoin no longer ranks among the top three cryptocurrencies. The percentage of ADA tokens staked remains stable above 70%; analysts are bullish on the altcoin as supply under circulation remains relatively low. 
There is a spike in institutional investment in ADA. Over $3 million capital flowed to ADA-based funds in the past week, according to a Coinshares report.
Austin Hilton, a cryptocurrency analyst and YouTuber, has set a $15 target for ADA price. Hilton states,
Cardano could hit $15 by the end of this bull run that we are all looking at. It's set to end in kind of February-March time frame.
FXStreet analysts have evaluated the ADA price trend and predicted that the altcoin's price is bound for profit-taking. Analysts set a target of $1.70 for the altcoin. 
Cardano's Project Catalyst Fund6 Concludes Voting Campaign
Cardano's largest community initiative is going to finish voting for its sixth iteration
Only a few hours remain for Cardano (ADA) enthusiasts to take part in the largest community vote, i.e., a referendum designed to indicate the winners of Project Catalyst.
711 applicants, $4 million in ADA at stake
According to the "last call" announcement by Input Output Hong Kong, the development studio behind Cardano (ADA), its Project Catalyst Fund6 is ready to enter a crucial stage.
#ProjectCatalyst Fund6 voting is open until October 21, make sure to place your vote before @ 11:00 UTC! 🗓️

In this round, 711 proposals made it to the ballot & looking to share funding of over $4M in $ADA! 🤩

See how you can contribute & vote👇 https://t.co/dvytdN9nD7— Input Output (@InputOutputHK) October 20, 2021
The voting campaign that allows ADA holders to choose the winners of Project Catalyst will be closed on Oct. 21, 2021, at 10:00 a.m. UTC.
IOHK representatives shared that 711 products submitted their proposals to Project Catalyst voting portal. As covered by U.Today previously, 267 projects took part in the previous iteration of Project Catalyst.
In Fund5, the net amount of rewards was set at $2,000,000 in ADA tokens.
Largest community-driven campaign in crypto
Project Catalyst is a unique multi-phase incubator for all early-stage products interested in building on Cardano's (ADA) smart contracts.
Launched stealthily in August 2020, it garnered excitement across Cardano-focused dApps developers. The winners of Project Catalyst receive financial, consulting and promotional support.
Project Catalyst Fund6 is a special one as it is the first campaign launched with smart contracts live in Cardano's (ADA) mainnet.
As such, the winners of this stage will be able to experiment with "real" Cardano smart contracts.
Charles Hoskinson and Cardano (ADA) In The Business of Protecting
The community keeps responding with a mix of optimism and toxicity to the recent Charles Hoskinson Update. However, it is very obvious that Charles is very clear about the destiny of the project. Negativity never burns Charles. He has already outgrown it.
Community response: I don't trust Charles or Cardano to deliver on quality. Guys cares more about academic prestige than actually delivering on the DeFi ecosystem or providing a functional network. All hype, which will forever be catching up to expectations.
So when your house is on fire, you'd rather have police officers show up to put out the flames. Got it. They're obviously in the business of protecting, but they don't quite have the right tools for the job. Building things right the first time takes time.
Building things right does take time. Building things for the right reasons is exactly why Buterin kicked Charles out of Ethereum's non-profit vision. You're right, but observe how Charles (the person) spends his money on vanity projects for Carnegie Mellon.
Who cares what Charles (the person) spends his money on? He is not Cardano, and Cardano is not him! WE are Cardano as a unity, and damn we're strong.
Charles, say something, let's pump, we're tired.
If you're looking for something to pump and dump there are thousands of erc20 tokens to do so with. Leave Cardano alone and let it organically grow. That way it's not all over the place because it's inflated due to hype. A good currency stays the same price.
ADA is dying for those who are impatient. Weak hands don't deserve to be in the Cardano Ecosystem. People are accumulating every day.
I own ADA and am a HODLER. But do you think that ADA's price suppression is due to your openness and transparency of Cardano? It might give the impression that your tipping your hand to the competitors instead of just promoting open source and decentralization of ADA?
Guys, if you don't like the ADA price ATM, you're free to sell and leave. Just know that you're going to regret it.
Charles your intentions may be great, but here's the thing – in the crypto world decades happen in weeks (and you know this), what you're trying to achieve is already in use by projects with much less market cap (FTM for ex), DOT's all set for auctions and when eth 2.0 is out.
Charles I would like to congratulate you on how far you have taken us, but I would like to point out that the Cardano tree project is dumping our ADA donations back into the market. It would be nice if our donations are burnt. as we never intend to sell.
News Source