Chainlink Team Has Dumped 34M+ LINK on Binance – Zeus Capital
Zeus Capital has continued to rattle the Chainlink project, constantly insinuating it is a scam
The latest accusation is that the Chainlink team has been dumping LINK on Binance since last summer
Zeus Capital highlights a Chainlink address holding 90k LINK and claims it once had 34.5 million tokens
According to Zeus, the address sold 1M LINK per month and soon graduated to 1.5M tokens per week
Zeus Capital is once again on the offensive against the Chainlink team.
In a recent Twitter thread, Zeus Capital claims that the team at Chainlink has sold over 34 million LINK tokens in the past few months through the Binance exchange.
Zeus Capital evidence is hinged on a Chainlink address that allegedly once held 34.5 million LINK as explained below.
Remember the 34,500,000 LINK 'dev' address @chainlink was consistently dumping on Binance? It's now depleted https://etherscan.io/address/0xf37c348b7d19b17b29cd5cfa64cfa48e2d6eb8db#tokentxns

As the crypto bull run accelerated so did @Smart_Contract's greed: a year ago, they were selling 1M LINK a month, now it's 1.5M a week.
Chainlink Team Has Pocketed $500M Since Last Summer – Zeus Capital
A quick glance at the address provided above reveals that it now holds roughly 90,421 LINK valued at $2.476 million. This fact was further reiterated by the team at Zeus who warned that the selling could continue since the project's founder still holds roughly 550 million.
The dump is far from over, though.

There are 550M $LINK on @SergeyNazarov's disposal and a brand new 'dev' address to draw from https://etherscan.io/address/0xe0362f7445e3203a496f6f8b3d51cbb413b69be2#tokentxns

What is Chainlink doing with that much money?
According to Zeus Capital, the team at Chainlink could have pocketed close to $500 million from the LINK sold since last summer. Such an amount is relatively high when compared to other regular companies as explained below.
Since last summer, SmartContract must've pocketed over $500M from the $LINK sold. To put it into perspective, Dun&Bradstreet, a big data enterprise employing more than 6,000 people, spent $1.1B during the same period. D&B has 137k institutional clients and ~16,000 data sources.
Here's What's Next for Chainlink, Curve, Skale, The Graph, THORchain and VeChain, According to Analyst Michaël van de Poppe
Crypto strategist and trader Michaël van de Poppe has high hopes for a handful of altcoins amid Bitcoin's (BTC) recent rally to new all-time highs.
In a new strategy session, the prominent trader begins by outlining his latest analysis on the native asset of the decentralized price feed service Chainlink (LINK).
"At this stage I think that Chainlink is still in the area of interest if you want to get a position on this one. I think that's completely fine, it's just ready for a breakout."
At time of writing, LINK is valued at $28.79, up 5% on the day but flat over the past week, according to CoinGecko.
Next on the trader's list is Curve DAO Token (CRV), the asset powering the automated market maker protocol of the same name.
He expects the coin to move sideways in the short-term before a fresh breakout begins.
"Curve has been seeing this beautiful retest here, a beautiful structure in which we are most likely going to see continuation towards resistance here, before we have some slight consolidative periods towards the area here and then we are going to break out at some stage later."
CRV is priced at $2.90 at time of writing, down slightly from its weekly high of $3.05.
Next, van de Poppe looks at the decentralized application (DApp) protocol Skale (SKL), which is designed to help developers bypass congestion on the Ethereum network.
He thinks SKL will begin to rise next month.
"We are most likely in November going to have this breakout towards… 1400 sats before we are going to have the new impulse, new probably final impulse wave, on Skale."
Right now SKL is going for $0.34, up 11% from its 7-day low but down 25% from the high of $0.42, according to CoinGecko.
Van de Poppe next analyzes the chart for decentralized blockchain indexer The Graph.
"This one is also on the list. [It] has been underperforming in the past months, and actually in 2021 has seen [only] one impulse wave. But if support sustains here… if it continues to make higher lows, then there is a most likely breakout going to take place."
Currently GRT is valued at $0.88, down 5% from its weekly high but up over 30% from its low of $0.70.
The crypto analyst says he's looking for the decentralized cross-chain liquidity protocol THORchain (RUNE) to post a higher low, which would suggest another move to the upside is in order.
"When I see this big bounce back up I'm assuming that we're going to grant ourselves some slight consolidation, grant ourselves a higher low, and then we start continuing."
RUNE is going for $8.71 at time of writing according to CoinGecko, which is just shy of its weekly high after a low of $7.25.
As for the supply chain platform VeChain (VET), van de Poppe says he's sticking to his prediction at the beginning of October and looking for the coin to fall to at least 0.00000149 BTC [0.094] before a sustainable uptrend can begin.
"Still waiting on VeChain (VET) to hit those levels."
Chainlink to present buy opportunity before LINK rises to $38
Chainlink price could create an extremely bullish entry opportunity.
An over 40% gain over the present value is likely.
Chainlink, like all cryptocurrencies, is at the mercy of Bitcoin's post ETF hype price action.
Chainlink price could create one of the most sought-after bullish entry setups in Point and Figure analysis: the Bullish Catapult. However, buyers must keep Chainlink above a certain price threshold, or the pattern will be invalidated.
Chainlink price targets an entry at $29.50 to begin launch towards $38
Chainlink price on the Point and Figure chart below displays clear examples of whipsawing price action and general indecision. First, a triple-top formed at $28.50, followed by a bullish entry alert at $29. However, sellers took control and created a new column of Os (the current O-column). At first glance, it looks like a continuation of indecision – but it is, in fact, a setup for the Bullish Catapult pattern.
A Bullish Catapult pattern forms off of a triple-top and then a following double-top pattern. The Bullish Catapult is so sought after because of the nature in which it traps short sellers. The theory is that the initial spike following the entry is generated mainly by a short squeeze and other trapped shorts. For Chainlink price, the entry is at $29.50. The vertical profit target method in Point and Figure analysis identifies $38 as the target following the breakout.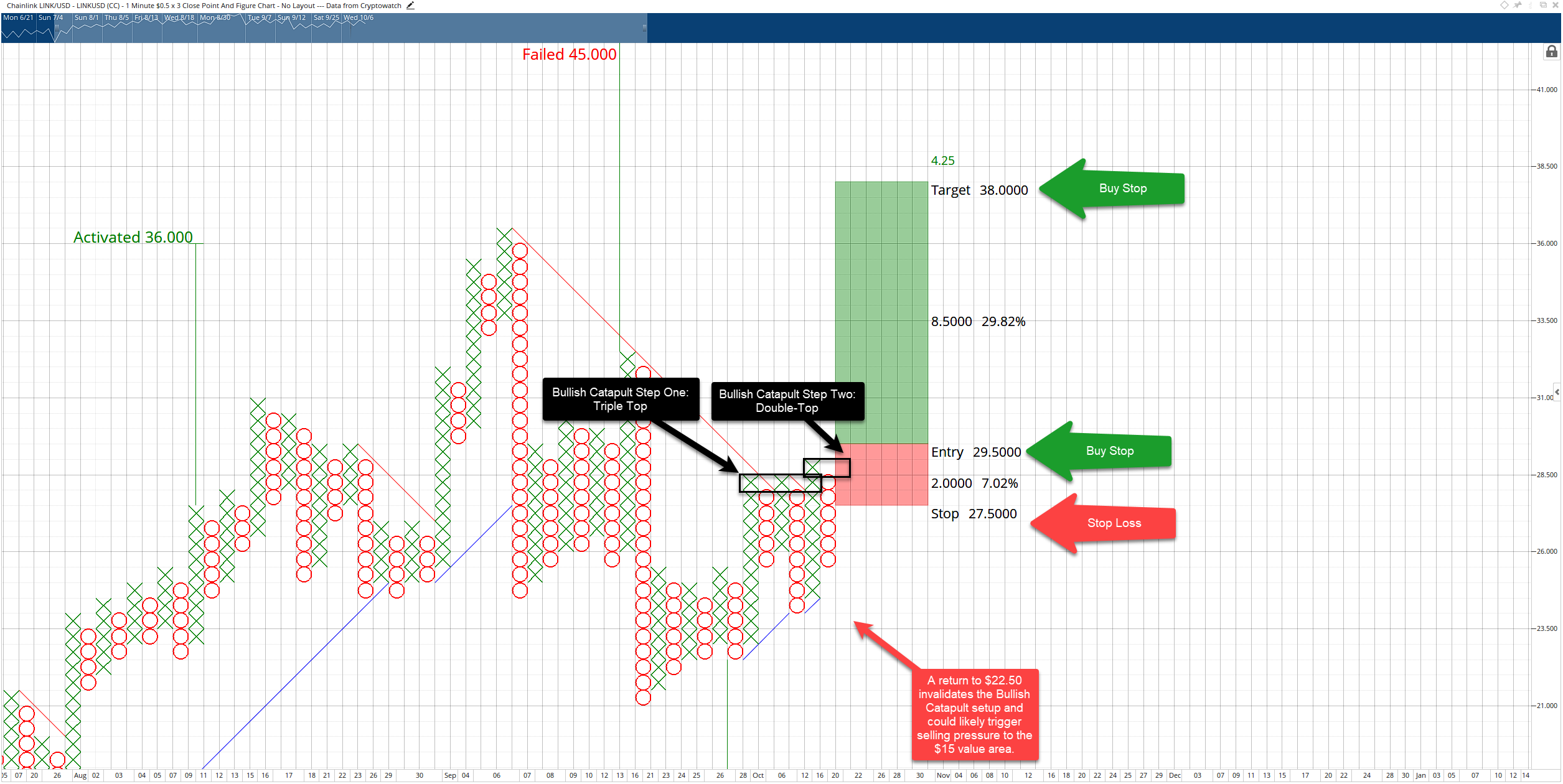 LINK/USD $0.50/3-box Reversal Point and Figure Chart
However, the bullish breakout is contingent on how Bitcoin will react to the first trading day of the futures ETF that launched on Tuesday. If buyers can sustain Bitcoin's price action, then Chainlink will have a high probability of hitting the $38 level. On the other hand, if sellers come in, then Chainlink is under threat of returning to the $15 value area.
If Chainlink price returns to $22.50 or lower, the Bullish Catapult setup is invalidated.
Whales Accumulate Huge Chunk of LINK! A Massive Chainlink Price Action Awaits!
Chainlink Whales Stock Up LINK Amid Strong Bullish Sentiments!
The ongoing quarter of 2021 is looking historically bullish for the entire crypto space. With a display of a significant number of green candles, the broader crypto market reclaimed the $2.5 trillion market cap. Meanwhile, Chainlink's recovery has been consistent over the last month, as whales have accumulated a huge chunk of LINK tokens. With groundbreaking collaborations, the altcoin is preparing for massive price action ahead!
Chainlink Whales Busy Accumulating!
According to the recent reports of Santiment, large wallet addresses with 1 million to 10 million have bought 167.7 million tokens worth $431 million. Hence, 25% of the total circulating supply is locked by whales now. Despite the LINK price being highly volatile over the last 4 months, whale traders have accumulated ATH of 16.8% of the total link supply during the recent price drop. Increasing scarcity in the asset will uplift the price momentum in the coming days.
🔗🐳 #Chainlink sits at a modest $25.70, but whale traders are staying busy & adding to their bags. Addresses with 1M to 10M $LINK now own 167.7M tokens worth $431M. In the last 4 months, through this volatility, these whales have added 15.2% more $LINK. https://t.co/MJcXwUTvz0 pic.twitter.com/N8xqjE240s— Santiment (@santimentfeed) October 19, 2021
On the other hand, the altcoin is working on more collaborations and upgrades to further boost the price action. In the past 24 hours, the platform has collaborated with three prestigious tech firms.
Chainlink partnered with POCOLAND to help traders to purchase characters, items, and types of equipment in its digital market space.
Dreams Quest announced its collaborations with multiple Chainlink services to integrate its dynamic NFT gaming experience. 
On the same day, Chainlink partnered with BaconDAO. This integration will facilitate a verifiably tamper-proof source of randomness on-chain. 
Chainlink Price Analysis:
The Chainlink price is trading at $25.90 with 0.96% gains in the last 24 hours. Observing the 4-hour chart, the altcoin formed an M-shaped pattern and is on the verge of breaking down. However, in September 2021, the altcoin twice formed a W pattern. But, the asset failed to breakout to the next level. Hence, as RSI and MACD factors are indicating bullish signals, the asset could consolidate for some time now before starting with an uptrend.
Collectively, with an increase in bullish sentiments, the price could surpass the crucial resistance above $33 to make its way for the new ATH. On the contrary, if the pattern continues the altcoin could settle at $21.24 levels.  Overall with a surge in whale accumulation and reduction in sell-off pressure the altcoin could boom to new milestones soon.