Nigerian Citizens Are Not Banned From Trading Bitcoin and Crypto, Says Central Bank
The Central Bank of Nigeria (CBN) has reportedly clarified that Nigerians can freely trade Bitcoin (BTC) and other cryptocurrencies.
According to a report by Nigerian news outlet Today.ng, the CBN says that a directive it released last month to financial institutions should not be interpreted as an outright ban on the use of crypto assets.
Representing CBN Governor Godwin Emefiele, Deputy Governor Adamu Lamtek highlights that only certain financial institutions are forbidden from using, holding, trading, or transacting in cryptocurrencies.
"The CBN did not place restrictions from use of cryptocurrencies and we are not discouraging people from trading in it. What we have just done was to prohibit transactions on cryptocurrencies in the banking sector."
The clarification comes after CBN's banking supervision department sent a directive telling financial institutions that "dealing in cryptocurrencies or facilitating payments for cryptocurrency exchanges is prohibited."
In an explanation that followed last month's reminder, the CBN outlined three reasons for its stance.
"First, in light of the fact that they are issued by unregulated and unlicensed entities, their use in Nigeria goes against the key mandates of the CBN, as enshrined in the CBN Act (2007), as the issuer of legal tender in Nigeria. In effect, the use of cryptocurrencies in Nigeria are a direct contravention of existing law.
Second, the very name and nature of 'cryptocurrencies' suggests that its patrons and users value anonymity, obscurity, and concealment… It is on the basis of this opacity that cryptocurrencies have become well-suited for conducting many illegal activities including money laundering, terrorism financing, purchase of small arms and light weapons, and tax evasion.
More also, repeated and recent evidence now suggests that some cryptocurrencies have become more widely used as speculative assets… Unfortunately, with a conglomeration of desperate, disparate, and unregulated actors comes unprecedented price volatility that have threatened many sophisticated financial systems."
Bitcoin Futures Heating Up, Why BTC Traders Should Expect Volatility
Bitcoin has been moving sideways during the day as it was rejected north of $63,000. As of press time, BTC's price trades at $62,698 with a 1% profit in the weekly chart.
However, Bitcoin could see some action in the short term. The benchmark crypto has been rallying on the back of an increase in institutional demand and the launch of the first BTC-linked ETFs in the U.S.
As a consequence, Bitcoin went from the lows at $40,000 to a new all-time high in less than a week. This caused a FOMO effect most notoriously visible in the derivatives sector.
As CryptoQuant showed, the amount of leverage positions in this sector has been on the rise since the end of September. Moving to a year high with BTC's price, the leverage ratio points to an excess which could be reflected on the price action.
The CEO of CryptoQuant Ki Young Ju believes this excess in leverage is caused by new players, as it is has happened historically when Bitcoin enters price discovery. Usually, the market reacts with a sudden move to the opposite direction of the majority of the overleverage position.
Whales and other major players try to shake out these new traders and take advantage of the liquidity in the market to make their own moves. In response to the possibility of the current high leverage in Bitcoin futures been driven by Chicago Mercantile Exchange (CME) futures Open Interest, Young Ju clarified:
This data doesn't take into account CME futures. I think CME users are new players joining this industry, which indicates the market is over-leveraged by *existing* investors who are using crypto exchanges. Folks who use CME might not have over-leveraged positions.
New BTC ETFs, Same Bitcoin Price Action
The recently launched Bitcoin ETF are backed by CME futures. Therefore, some expects believe the platform could gain more relevance in the future and have a bigger impact in BTC's price.
In case of volatility, Bitcoin could find critical support at $60,000, as $840 million in futures contracts were purchased when BTC's price was hitting this mark, Young Ju said.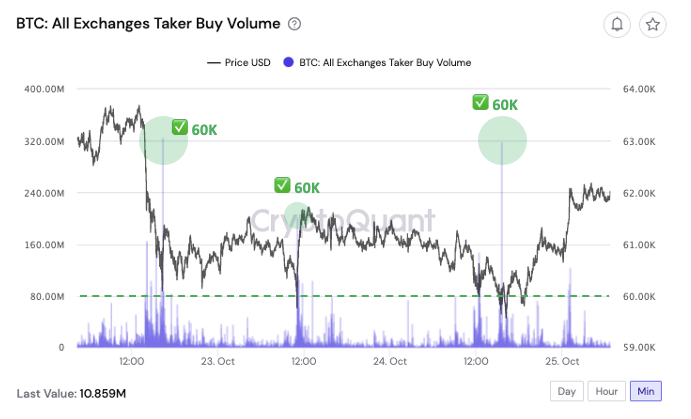 As noted by research firm Glassnode, the OI for the CME futures has increased by over 265% in just a month. This points towards a moment of euphoria which has favored the bears over the past months
However, the general sentiment around Bitcoin remains positive as Glassnode reported. This demonstrated by the amount of long-term investors that have stopped taking profits during BTC's most recent price rally.
Bitcoin Funding Rates Touch Same Level As Early September, More Correction To Come?
Data shows Bitcoin funding rates right now are at the same level as they were in early September. This means the coin may see another flush out similar to how it happened back then.
Bitcoin Funding Rates Float Around Similar Levels To Early September
As per this week's on-chain report from Glassnode, the BTC futures perpetual funding rate of all exchanges is currently at the level similar to what it was back in early September before the crash.
The "funding rates" is an indicator that shows the premium that traders have to pay each other while holding on to their positions in the perpetual swap futures markets.
When the metric has negative values, it means that short traders are paying longs, and that many traders are bearish on Bitcoin right now.
Opposite to that, positive funding rates imply that the overall market sentiment is leaning towards bullish and longs are currently paying shorts to keep their positions.
Now, here is a chart that highlights the trend in the value of the indicator over the last six months: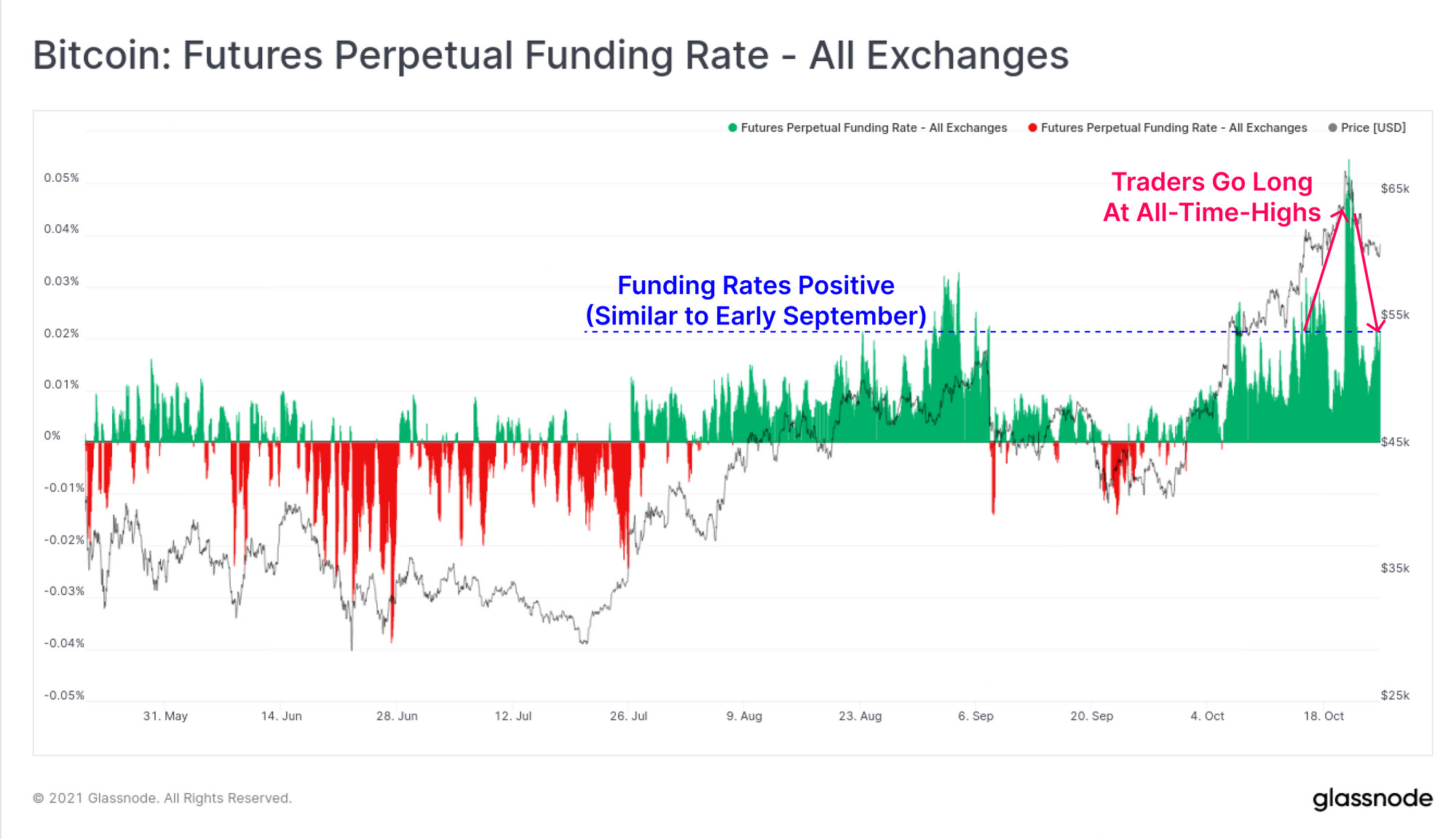 Looks like the metric is currently showing highly positive values | Source: Glassnode's The Week On-Chain, Week 43
As the above graph shows, when Bitcoin made its new all-time high (ATH) some days ago, the indicator reached positive local highs.
This means traders started opening many leveraged long positions so that they don't miss out on the wave of BTC making new ATHs.
However, the price had a correction, which has often been the case during periods of high leverage, and a lot of the excess leverage was flushed out.
Nonetheless, the funding rates are still at similarly high levels right now as in early September. What followed then was the El Salvador crash that took the rates to negative values.
It's possible another correction can take place now in order to flush out more of the currently high leverage in the market. Though it's not a certainty that it will be how it plays out.
BTC Price
At the time of writing, Bitcoin's price floats around $62.5k, down 0.4% in the last seven days. Over the past month, the crypto has gained 44% in value.
The below chart shows the trend in the price of the crypto over the last five days.
BTC's price seems to be recovering somewhat from the dip | Source: BTCUSD on TradingView
Over the last few days, Bitcoin has shown some effort to bounce back from the correction, but in the last couple of days, the crypto has only moved rather sideways. If the futures funding rates are anything to go by, the market may be heading towards another correction soon that will wipe out the excess leverage.
South Korean pension fund to invest in Bitcoin ETF: Report
South Korea's public pension fund, the Korean Teachers' Credit Union (KTCU), is reportedly looking to gain exposure to Bitcoin (BTC) via a crypto exchange-traded fund (ETF).
KTCU, one of the largest institutional investors in South Korea, is considering investing in a pure Bitcoin ETF or Bitcoin-linked ETFs in the first half of 2022, local news agency The Korea Economic Daily reported Monday.
According to the report, KTCU is considering investing in several Bitcoin ETF products, including those by South Korean asset management firm Mirae Asset Global Investments. The company launched two ETFs tracking the value of Bitcoin futures via its Canadian subsidiary, Horizons ETFs, in April 2021.
"As there are some well-made cryptocurrency-linked ETF products by asset managers such as Korea's Mirae Asset Global Investments, we plan to invest in the ETF products after consultation with domestic asset managers," an executive at KTCU reportedly said.
The official also mentioned potential investment in a Bitcoin ETF by Mirae Asset's subsidiary, Global X ETFs, which filed for a Bitcoin ETF with the United States Securities and Exchange Commission in July.
According to the report, KTCU is the second-largest institutional investor in South Korea, with $40.2 billion in assets under management. The pension fund has allocated 40% of its investments in alternative assets, 10% domestic and 9% international stocks. KTCU has yet to determine the size and other details of its potential Bitcoin ETF investment.
The news comes amid global pension funds getting increasingly interested in gaining exposure to cryptocurrencies like Bitcoin and major companies in the industry. Last week, the Houston Firefighters' Relief and Retirement Fund reportedly purchased $25 million in Bitcoin and Ether (ETH). Canada's Ontario Teachers' Pension Plan Board participated in a $420-million funding round for major crypto exchange FTX, the firm announced on Thursday.