Ethereum derivatives lean bullish even as ETH price sits at a key support
Ether (ETH) lost the $1,750 support on March 22, which marked a 7% loss and $230 million worth of futures contract liquidations. It has been holding near the strong support at $1,670, although investors are unwilling to open new long positions despite the price being 11% below the previous week's high.
Binance Chain recently surpassed Ethereum's transaction volume, and this startling growth in unique active wallets certainly played a part in tampering with investors' optimism. The nonfungible token (NFT) frenzy has been driving new projects away from the Ethereum network's high fees.
To further complicate things, multiple decentralized finance (DeFi) protocols are seeking interoperable alternatives, and PancakeSwap, Binance Smart Chain's leading application, was able to amass $4.46 billion in total value locked (TVL).
Meanwhile, Ethereum developers are trying to remedy the Berlin update situation, aiming to reduce transaction costs. The upgrade is expected to go live on April 14, but several industry leaders, including Enjin CEO Maxim Blagov, do not expect a significant impact on the cost per transaction.
Let's take a look at a few derivatives indicators to determine why investors' expectations for Ether have dampened lately.
The futures premium is still bullish
"Basis" is frequently referred to as the futures premium, and it measures the gap between longer-term futures contracts and the current spot market levels.
A 10% to 20% annualized premium (basis) is interpreted as neutral, known as "contango." This price difference reflects the arbitrage opportunity cost, usually stablecoin staking rates.
On the other hand, whenever this indicator fades or turns negative, it indicates that the market is quickly turning bearish.
The above chart shows that the indicator recently peaked at 32% on March 20, indicating extreme leverage being used by buyers. As Ether's price dropped, the futures basis reverted to a slightly bullish 23% level.
Considering the 10% price drop since the $1,850 peak on March 20, the futures premium remaining healthy is a bullish indicator.
The options skew has been neutral since Feb. 5
Although futures markets have been bullish over the past two weeks, options traders are uncomfortable offering downside protection. Call options allow the buyer to acquire Ether at a fixed price on contract expiry. On the other hand, put options provide insurance for buyers and protect against price drops.
Whenever market makers and professional traders are leaning bearish, they demand a higher premium on put (sell) options. This trend causes a positive 25% delta skew indicator.
A skew indicator between -10 and +10 is deemed neutral, which has been the case since Feb. 5. This is evidence of a balanced risk assessment from whales and market makers between downside and upside risk.
Thus, there is no evidence that options traders are bullish, in contrast with ETH futures markets.
This data is not worrisome, considering that Ether has gained 74% in 2021. After strong rallies, it is natural for traders to seek protection from eventual price adjustments.
The $1,670 support seems to be holding, but it would also not be surprising if Ether tested lower levels before rebounding to retake the critical $1,800 psychological barrier.
The views and opinions expressed here are solely those of the author and do not necessarily reflect the views of Cointelegraph. Every investment and trading move involves risk. You should conduct your own research when making a decision.
Ripple CEO reinstates SEC bias towards ETH, claiming XRP could've been No.2

It is not news that the ongoing XRP lawsuit has got the better of Ripple's XRP token. Ripple CEO, Brad Garlinghouse recently questioned the SEC's bias towards Ethereum, claiming that XRP would've been at the No. 2 position instead of ETH if it weren't for the commission's partial crackdown. Garlinghouse spoke at the DC Fintech Week virtual conference yesterday, arguing that the U.S. Securities and Exchange Commission alleged Ripple's XRP as unregistered security while granting Ethereum a regulatory free pass, which in turn helped ETH shoot through the roof.
"Within the last few years, XRP was the second most valuable digital asset. As it became clear the SEC had given a hall pass to ETH, ETH obviously has kind of exploded and that clarity has helped."
XRP secured the position of the second-largest crypto asset by market capitalization during the latter half of 2017. However, the token has dropped down to seventh place while Ethereum stands strong as No. 2. Furthermore, Garlinghouse claims that the SEC's exclusively aggressive anti-crypto stance to allegedly protect the consumers is in fact anti-investors. Referring to the XRP lawsuit, Ripple CEO emphasizes that "nearly 50,000 U.S. people who hold XRP who are trying to sue the SEC for 'protecting them'".
XRP Holders left with bearish and frozen funds
Earlier this week, Attorney Deaton Filed a Letter Motion on behalf of the XRP Holders (Movants) that contended SEC's extension request, with the main argument concerning the XRP holders' frozen funds because of the consistent postponement of the lawsuit's final verdict. During the ongoing bull run, XRP remains considerably bear because of the regulatory crackdown on Ripple. However, the court has overlooked the community's concern and granted the extension explaining that in lieu of pending motions, extra time will only facilitate both parties to complete pending fact discovery and thoroughly prepare for upcoming expert depositions.
"The lack of liquidity within the United States, coupled with the mass de-listings prevents XRP Holders from trading, selling, transferring, or converting their XRP. It is because of this de facto in place seizure of their property that XRP Holders took the extraordinary step to seek intervention as defendants… Any delay in the underlying action marks yet another day XRP Holders do not have access to their funds.", wrote Deaton.
Playboy Releases Ethereum-Based Rabbitars NFTs, Presale Begins in 2 Days
Playboy has created Ethereum-based Rabbitars NFTs as ERC-721 tokens. The project's website describes Playboy Rabbitars as a "lagomorphic-themed civilization of unique and non-fungible rabbits." There are 11,953 of them, inspired by Playboy iconography, heritage and lore.
The news was shared by Chinese crypto journalist and blogger Colin Wu. He posted a screenshot from the project's website, featuring some of the Playboy Rabbitars.
Playboy launched Rabbitars NFT, which will be officially sold in two days, with a Mint price of 0.1953 ETH. https://t.co/HzCIf6W9nT pic.twitter.com/FaQRskQEQZ— Wu Blockchain (@WuBlockchain) October 22, 2021
The sale will begin in two days at a mint price of 0.1953 ETH ($803). The website explains that in order to become an owner of such an NFT, a user needs to set up a Metamask wallet. However, NFTs will be available for sale both for fiat and crypto.
Those who want to pay in ETH need to load up their wallet at least two days before the sale starts. Presale for ETH will begin on Oct. 24. The public sale for U.S. dollars will start on Oct. 26, and the next day, users will be able to buy Rabbitars for ETH.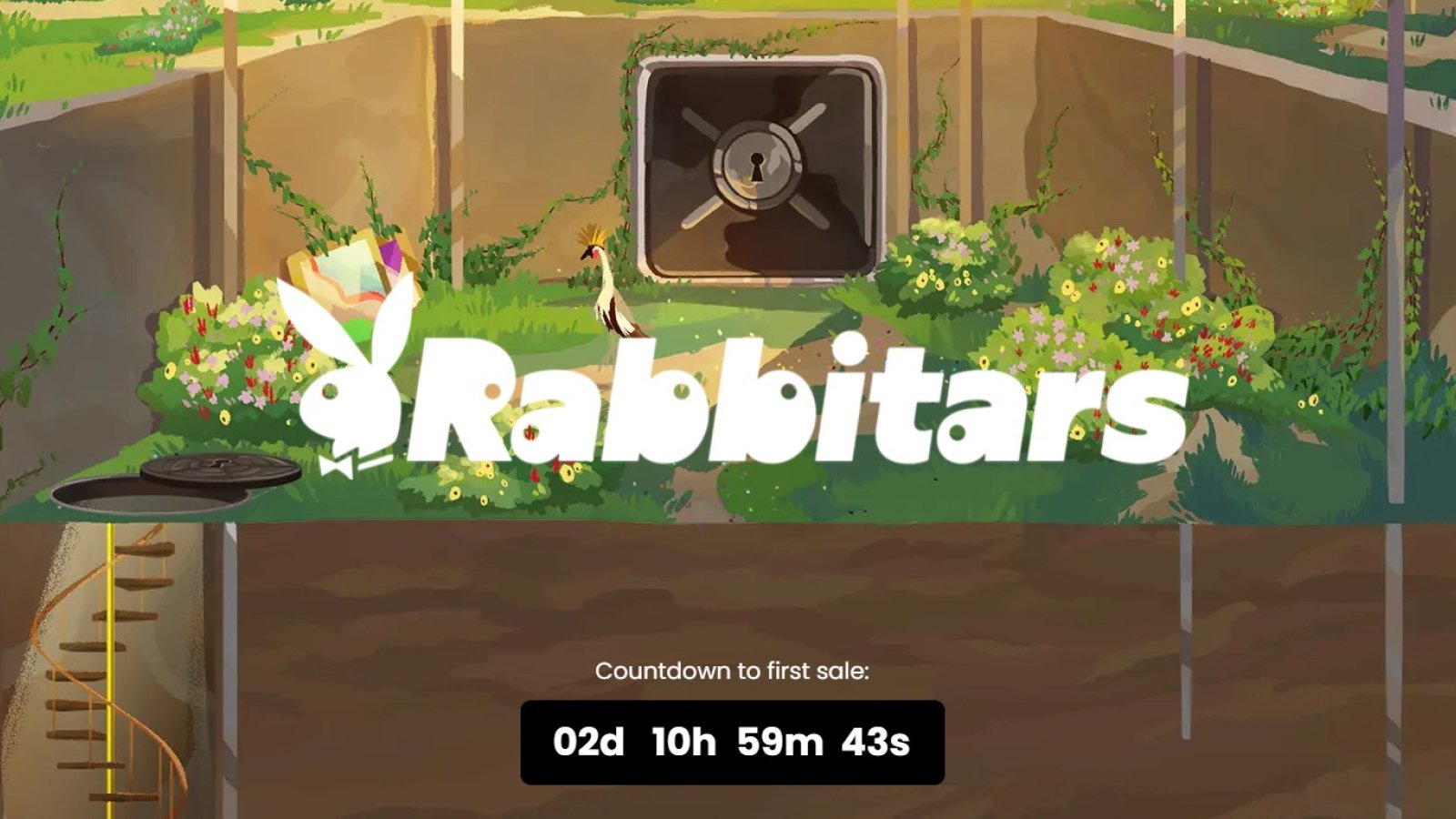 It is possible to order 1-2 NFTs during the presale. At a public sale, one user is allowed to buy up to ten Rabbitars.
Top 3 Price Prediction Bitcoin, Ethereum, XRP: Crypto bulls unfazed by flash crash
Bitcoin price action initially shakes off strong selling pressure, finds buyers at support, then resumes some selling pressure.
Ethereum price action mixed post-all-time high rejection.
XRP price awaits its own bullish breakout and an opportunity to outperform its peers.
Bitcoin price closed more than 5% lower on the Thursday session, but buyers have stepped in to hold the Tenkan-Sen as support. Ethereum price action shows that the recent rejection has caused some indecision. XRP price does not have far to move to initiate a massive bullish breakout.
Bitcoin price continues to find buyers at the Tenkan-Sen
Bitcoin price has shown resilience and conviction since creating new all-time highs. There were broad concerns that due to Ethereum's rejection of new all-time highs, Bitcoin might suffer a robust corrective move below the $60,000 value area. Although the Binance.US exchange did have an anomalous wick that saw Bitcoin return to the $8,000 level –that was the exception. If buyers can maintain the Tenkan-Sen as a primary support zone, then a move to test $70,000 is next.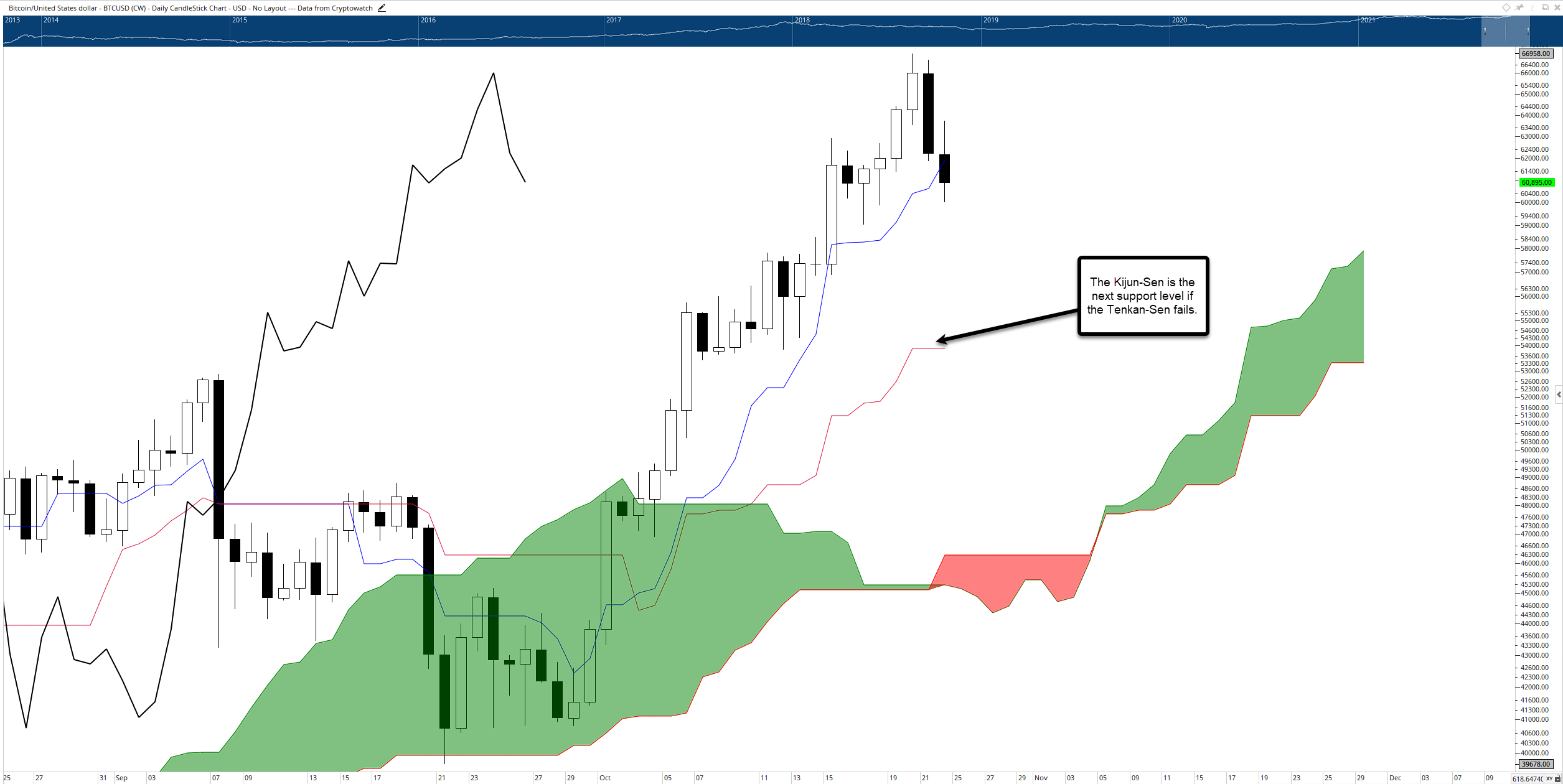 BTC/USD Daily Ichimoku Chart
Market participants should be wary of the weekend. Weekends are notorious for whipsaws in price action and major sell-offs, especially on Sunday. Watch for sustained breaks below the Tenkaan-Sen to test the Kijun-Sen near the $55,000 value area.
Ethereum price may trap short-sellers if bulls push higher
Ethereum price action was almost comical during the Thursday trade session, with sellers preventing Ethereum from making new all-time highs by just $2.70 (depending on the exchange data). Even though Ethereum closed 7% below the Thursday high and 2.5% below the open, buyers at first appeared undeterred. Some weakness and selling pressure have been observed during the New York lunch hour. Like Bitcoin, Ethereum has found buyers near the Tenkan-Sen. If bulls can hold the daily close above the Tenkan-Sen, another test of new all-time highs appears inevitable.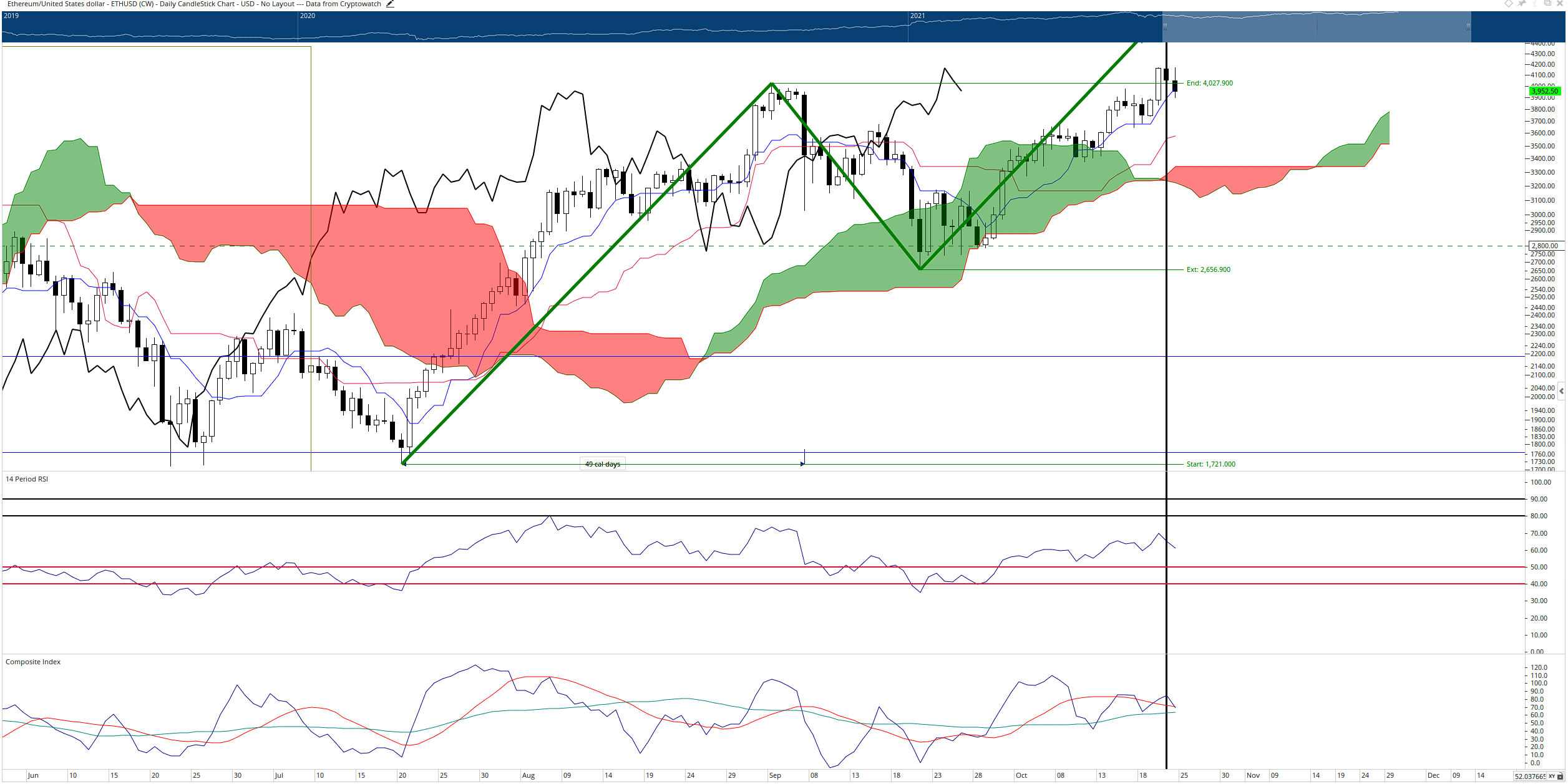 ETH/USD Daily Ichimoku Chart
However, watch for signs of selling pressure as the weekend approaches. The black vertical line represents where the nearest Kumo Twist (when Senkou Span A crosses above or below Senkou Span B) is located. Kumo Twists often mark turning points for markets that have been trending strongly at the time of the Twist. Thus, the upcoming weekend would be a perfect opportunity for short-sellers to push Ethereum price lower to test Kijun-Sen at $3,575 or Senkou Span B  at $3,350.
XRP price action frustrates bulls and bears
XRP price has spent the past two weeks trading in a very constricted trading range. The bodies of the daily candlesticks have been limited to $1.08 on the low side and $1.16 on the high side. From an Ichimoku perspective, XRP has fulfilled all conditions to confirm an Ideal Bullish Ichimoku Breakout – buy buyers need to step in and push Ripple higher. A close at or above $1.17 would likely be sufficient for XRP to begin a 50% upswing towards the $1.60 – $1.70 value area.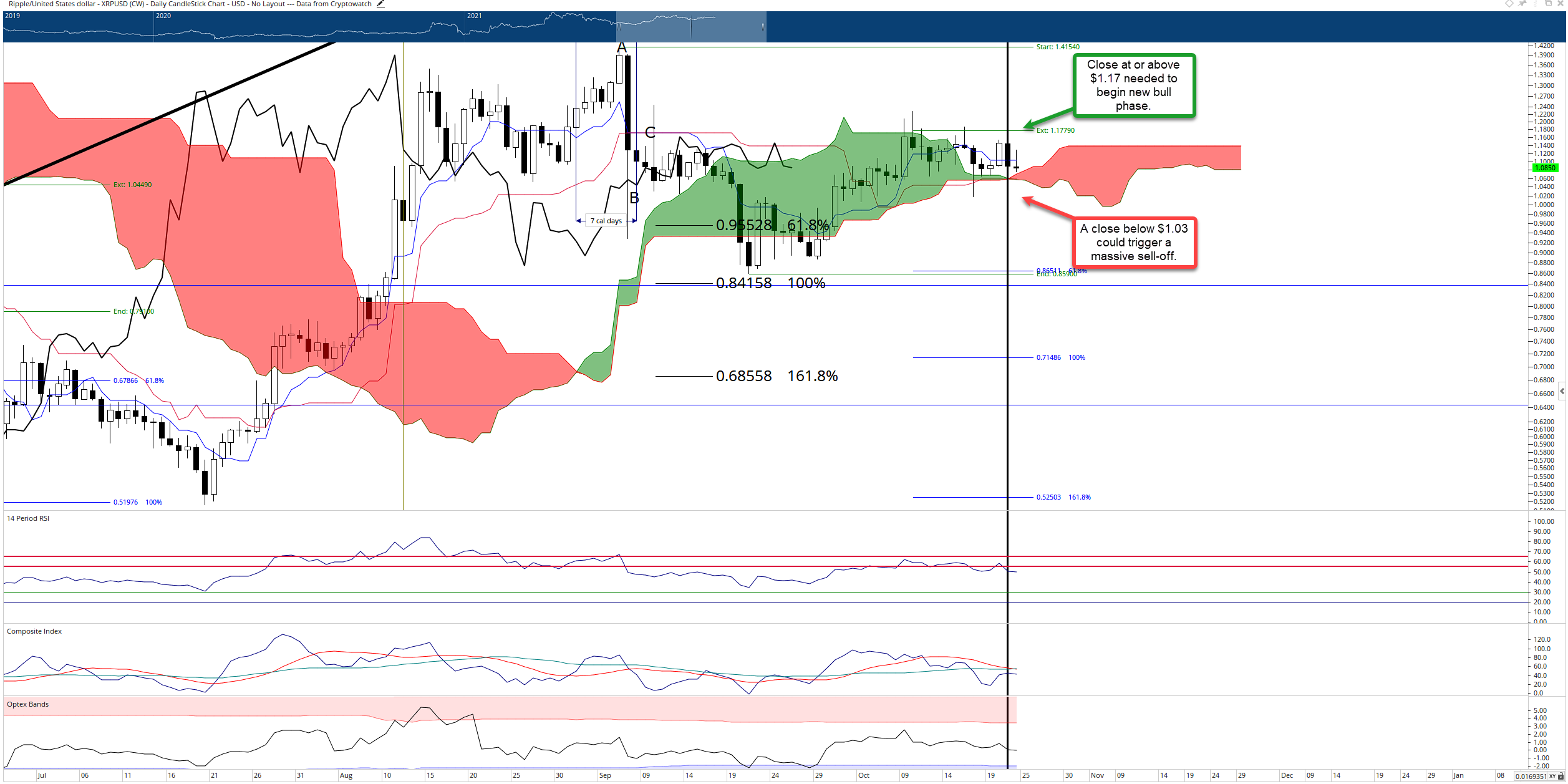 XRP/USD Daily Ichimoku Chart
As the weekend approaches, bulls will want to be cognizant of any strong push south which could cause a daily close below the Cloud. A close at or below $1.03 could be an early warning sign of some imminent selling pressure. If sellers were to push XRP price low enough to cause the Chikou Span to close below the candlesticks ($0.88), then a brand new bear market would likely begin for XRP.