Governance Token with 10 Revenue Streams is Live on Uniswap – Meet GNBU by Nimbus Nimbus Platform's GNBU Governance Token Listed on Uniswap
The GNBU governance token of the Nimbus ecosystem is now live on Uniswap—the world's largest decentralized exchange.
Listings at the Nimbus Internal Swap Machine and Uniswap
The GNBU listing on Uniswap on March 17 took place a week after the token began trading on the Nimbus Internal Swap Machine on Mar 10. Even there, with limited visibility, its price rose 2X in just two days.
From Nimbus' design, the DAO-led protocol gifts holders. As a result, traders and savvy investors are scrambling for the token, knowing what ownership means. Unlike other governance tokens, GBNU owners can not only trade it and vote but also receive revenue shares from the over 10 revenue-generating dApps and pools of the Nimbus platform. Those enable IPO participation, startup financing, peer-to-peer lending and borrowing, and so on.
Accordingly, GNBU holders can enjoy capital gains and satisfactorily diversify their portfolios by holding a single token: GNBU. If any one of the ten pools underperforms, there is the safety net of the other nine, balancing the system and ensuring consistent income streams.
An Opportunity for Arbitrageurs
Furthermore, arbitrageurs can earn extra income by exploiting price differentials between the Nimbus Internal Swap Machine and Uniswap.
Their participation also eliminates divergence, which can be an attack vector if complex products are built on the highly potent GNBU token.
Moreover, Uniswap is decentralized and open-source, relying on the Automated Market Makers (AMM) model. It means liquidity providers of the ETH/GNBU and NBU/GNBU pools are incentivized, providing users with yet another income stream.
Why GNBU Stands out as an Opportunity for DeFi investors
The odds of the GNBU token succeeding in the immediate to medium term remains high. Examples of other high potent governance tokens like COMP or YFI can be prime examples. These tokens have been some of the top gainers in the DeFi bull run of the last 15 months.
During this time, leading open-source DeFi protocols have not only garnered support from retailers, but governance token holders have relished from what would be perhaps a once-in-a-lifetime opportunity.
The good news is that there is another opportunity for Nimbus ecosystem fans to tap on the potential of the GNBU.
Aside from the over ten revenue streams, the Nimbus platform has more than 50,000 users. Their users expect the Nimbus Ecosystem to eventually evolve into a one-stop-shop for where the top traditional investment products shall become automated and available with crypto. The dApps for IPO participation, Peer-to-Peer Lending and Borrowing, Crowdfunding, and Crypto Arbitrage-Trading are just the starting point.
All these solutions work independently and harmoniously to benefit the token holders aiming to improve his/her bottom line in a risk-mitigated environment.
Additionally, as the Nimbus platform evolves, adding more functionalities for a close, beneficial ecosystem, token holders will be entitled to all those benefits too.
Decentralization, Transparency, and Possible Listing in a North American Stock Exchange
The Nimbus ecosystem is, as aforementioned, led by a DAO. Only a small percentage, 10 percent of all GNBU tokens in circulation, have been assigned to the Nimbus Organization.
Accordingly, with GNBU holders in control, they can propose and, if approved by other community members, directly contribute to propelling the platform forward.
Also, Nimbus plans to be listed in one of the leading stock exchanges in North America in the next few months.
A subsequent listing would mean providing a link between centralized, traditional finance with decentralized finance in a symbiotic relationship thrusting the sphere closer to mainstream adoption.
Uniswap Price Analysis: UNI consolidates above $25, slowly prepares to push higher?
Uniswap price analysis is bullish today.
UNI/USD continued to consolidate above $25.
Closest resistance at $27.
Uniswap price analysis is bullish today as a higher low has been established above $27 after a several-day consolidation. Therefore, we expect UNI/USD to move higher over the next 24 hours and likely test the $27 mark.
The overall market traded mostly with bullish momentum over the last 24 hours. The market leader, Bitcoin, gained 2.91 percent, while Ethereum gained 2.05 percent. Meanwhile, Terra (LUNA) is among the top performers, with a gain of 7.5 percent.
Uniswap price movement in the last 24 hours: Uniswap continues to consolidate above $25
UNI/USD traded in a range of $25.31 – $26.22, indicating mild volatility over the last 24 hours. Trading volume totals $236 million, while the total market cap trades around $15.8 billion, ranking the coin in 11th place overall.
UNI/USD 4-hour chart: Ready to test $27 next?
On the 4-hour chart, we can see bullish momentum slowly forming as Uniswap price targets the $27 mark next.
Uniswap price has struggled to reach further upside after a very strong advance at the end of September. During the first days of October, UNI/USD set another higher high at $27 after breaking the previous high at $26.
What followed was a several-day consolidation around the $25 mark. On the 11th of October, Uniswap finally broke lower, moving to the $22.5 mark. From there, a reversal was seen, pushing UNI/USD towards a new higher high at $28.
However, since then, a consolidation above $25 after a brief retracement has been seen. Overall, unless the Uniswap price action breaks below the $25 support, we expect further upside later this week.
Uniswap Price Analysis: Conclusion
Uniswap price analysis is bullish today as a higher low has been established around $25 after consolidation over the last 24 hours. Therefore, we expect UNI/USD to continue higher later today and test the $27 mark next.
While waiting for Fantom to move further, read our guides on LTC wallets, Gero wallets, and  DeFi wallets.
Uniswap Price Prediction: UNI bulls eye 40% upswing
Uniswap price broke out of a descending parallel channel on October 1 but lacks momentum.
A decisive close above $25.24 could signal the start of an uptrend.
UNI will face $29.43 before hitting the $33.34 resistance barrier.
Uniswap price broke out of its consolidation phase on October 1 but showed no signs of moving. A bounce that pushes it past the immediate resistance level could trigger the start of an uptrend.
Uniswap price prepares for volatile move
Uniswap price set up three lower lows and lower highs since August 18. Connecting these swing points using trend lines results in the formation of a descending parallel channel. While a move above the channel's upper barrier usually indicates a breakout and catalyzes a run-up, UNI seems to be facing a problem.
Since its breakout, Uniswap price has dropped 7%, slicing through the $25.24 support floor. Therefore, UNI needs to gather steam and produce a decisive close above this resistance level to signal the start of an uptrend.
Doing so will allow Uniswap price to embark on a 40% climb to $33.34. However, UNI will face stiff resistance around $29.43, which must be cleared for the bulls to reach their destination.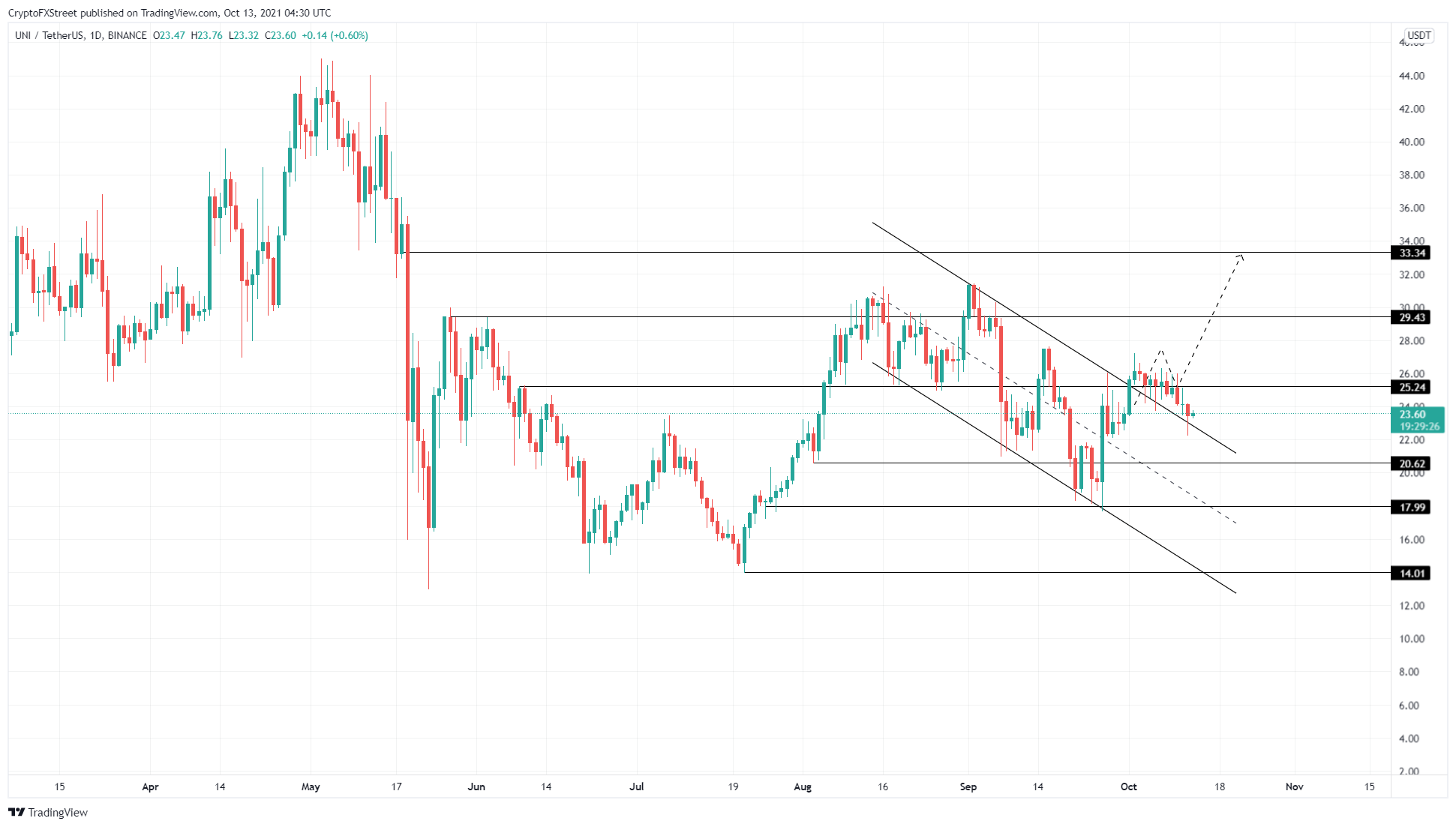 UNI/USDT 1-day chart
Firmly supporting the potential bullish outlook is Santiment's Market Value to Realized Value (MVRV) model. This on-chain metric is used to determine the average profit/loss of investors that purchased UNI over the past year.
Currently, the 365-day MVRV is hovering at -1.21%, suggesting that short-term investors have already sold their holdings and that a sell-off at this stage is unlikely. Moreover, the negative territory is where long-term holders accumulate. Therefore, a potential surge in buying pressure could kick-start a new uptrend.

UNI 365-day MVRV chart
IntoTheBlock's Global In/Out of the Money (GIOM) model supports the cautiously optimistic scenario. This model shows that roughly 31,700 addresses that previously purchased 244.64 million UNI at an average price of $27.29 are "Out of the Money" and are likely to sell if Uniswap price ever rises to this level.
Therefore, the buyers need to overcome this resistance level to have any chances of an upswing.

UNI GIOM chart
While things are not looking so good for Uniswap price, continuing this downswing could lead to a retest of the $20.62 support floor. A breakdown of this barrier will reveal a weakness among the buyers and knock UNI down to $18.
If the bulls fail to defend this level, it will invalidate the bullish thesis and likely knock UNI down to $14.01.
Uniswap price analysis: Price equalizes above $24 after minimal recovery
UNI price has been uplifted to $24.82.
Uniswap price analysis is indicating rise in price.
Support has been stable at $18.828.
The Uniswap price analysis suggests, the UNI/USD price has been unrestrained from the bearish pressure, as slight progress has been reported for today. The price is trying to resettle above $24 after following the downward movement for the past week. Right now, it is present at a $24.82 value as a slight bullish recovery has been detected in the last 24-hours. Although the bears tried to restrict the upward trend, the bulls are trying to proceed with their mission once again.
UNI/USD 1-day price chart: Bullish momentum stimulates as to retrieve price over $24
The one-day Uniswap price analysis is showing signs of bullish recovery as the green candlestick has returned to the price chart. The past few days have proved crucial for the cryptocurrency, as a downward trend has been following. There has been a recurring fall occurring in the coin value, but today its value has been restored to $24.82. The current value is quite close to the moving average (MA) value which is settled at $25.5.
The SMA 20 curve is traveling high again as the bulls are regaining their strength. The Bollinger bands Indicator in the 1-day price chart is pointing out the following values; the upper value at $27.91 while the lower one at $18.82. The Relative Strength Index (RSI) score has improved up to 51.54 as well because of the rise in price.
Uniswap price analysis: UNI faces rejection above $24 after recent drop-off
The price has been traveling low according to the four hours Uniswap price analysis. The recent downturn in price movement has resulted in its decline as it has been lowered to $24.82. Chances of recovery seem minimized as the bearish slide has been proceeding uninterruptedly. The price has gone below the moving average value as well which has been standing at $25.2 position.
As the volatility has slightly increased, the upper Bollinger band is now touching the $26.20 mark whereas the lower Bollinger band is on the $24.35 mark. The RSI curve has descended to the 45.30 mark, confirming the drop in price.
On the contrary, improvement in price has been observed if we overview the situation on a general basis. This is why the technical indicators chart is giving a bullish hint, with 12 indicators on the buying mark, nine indicators on the neutral mark, and five indicators on the selling mark.
The moving averages indicator is confirming the overall bullish lead as well by giving out a buying signal. We can see nine indicators standing on the buying position, with only five indicators on the selling position and one left on the neutral position. The Oscillators are giving a bullish signal as well, and there are eight oscillators on the neutral level, three oscillators on the buying level, and none on the selling level.
Uniswap price analysis conclusion
The bulls are trying to recover once again after a continuous drop in price occurred during the past few days. The UNI/USD price has rejoined the $24.82 level, thus confirming the rise in price. We can expect a downward price movement in the upcoming hours, as the four hours price analysis is dropping bearish hints.