Software Engineer Warns NFTs are Built on a "House of Cards"
Non-fungible tokens (NFTs) are digital assets that represent a range of unique real-world and intangible things. In recent times, digital NFT artwork has really taken off, thanks mostly to a string of high-profile sales.
The main selling point of NFTs is their scarcity. An implied benefit is that they will exist forever on the blockchain. However, research conducted by Jonty Wareing shows this may not be the case.
Wareing examined the blockchain data of two well-known NFTs and discovered they consist of either a URL address or IPFS hash. In other words, the existence of those NFTs depends on the marketplace seller staying in business.
"Short version: The NFT token you bought either points to a URL on the internet, or an IPFS hash. In most circumstances it references an IPFS gateway on the internet run by the startup you bought the NFT from. Oh, and that URL is not the media. That URL is a JSON metadata file."
NFTs Built on Shaky Foundations
In the first instance, Wareing referred to a piece called CROSSROAD by Beeple via the Nifty Gateway marketplace.
It was a first for Nifty in that the NFT would change depending on the outcome of the U.S. election. CROSSROADS sold for $6.6mn in February this year.
Source: niftygateway.com
Wareing noted that the NFT token for CROSSROADS is a JSON file hosted on Nifty Gateway servers. He stated that if Nifty Gateway stopped trading, CROSSROADS would also cease to exist. He concluded the piece would be worthless if that were to happen.
"THAT file refers to the actual media you just "bought". Which in this case is hosted via a @cloudinary CDN, served by Nifty's servers again. So if Nifty goes bust, your token is now worthless. It refers to nothing. This can't be changed."
Similarly, an examination of Beeple's THE FIRST 5000 DAYS refers to an IFPS hash. In turn, this refers to a JSON metadata file referencing an IFPS gateway from NFT marketplace Makersplace.
Wareing's View on NFTs
Both CROSSROADS and THE FIRST 5000 DAYS will exist as long as each marketplace seller stays in business. But there remains a nagging doubt that both Nifty Gateway and Makersplace will go out of business one day.
Wareing called this situation a "house of cards" and predicts every NFT sold will be "broken" within the next ten years. However, he stressed that this is not the case for every NFT in existence.
"In short: Right now NFT's are built on an absolute house of cards constructed by the people selling them. It is likely that _every_ NFT sold so far will be broken within a decade. Will that make them worthless? Hard to say."
Software Engineer at Consenys, Sam Walker, agreed with Wareing's assessment and thanked him for bringing the problem to light. Walker said he would use this information to improve tooling around IPFS and NFTs.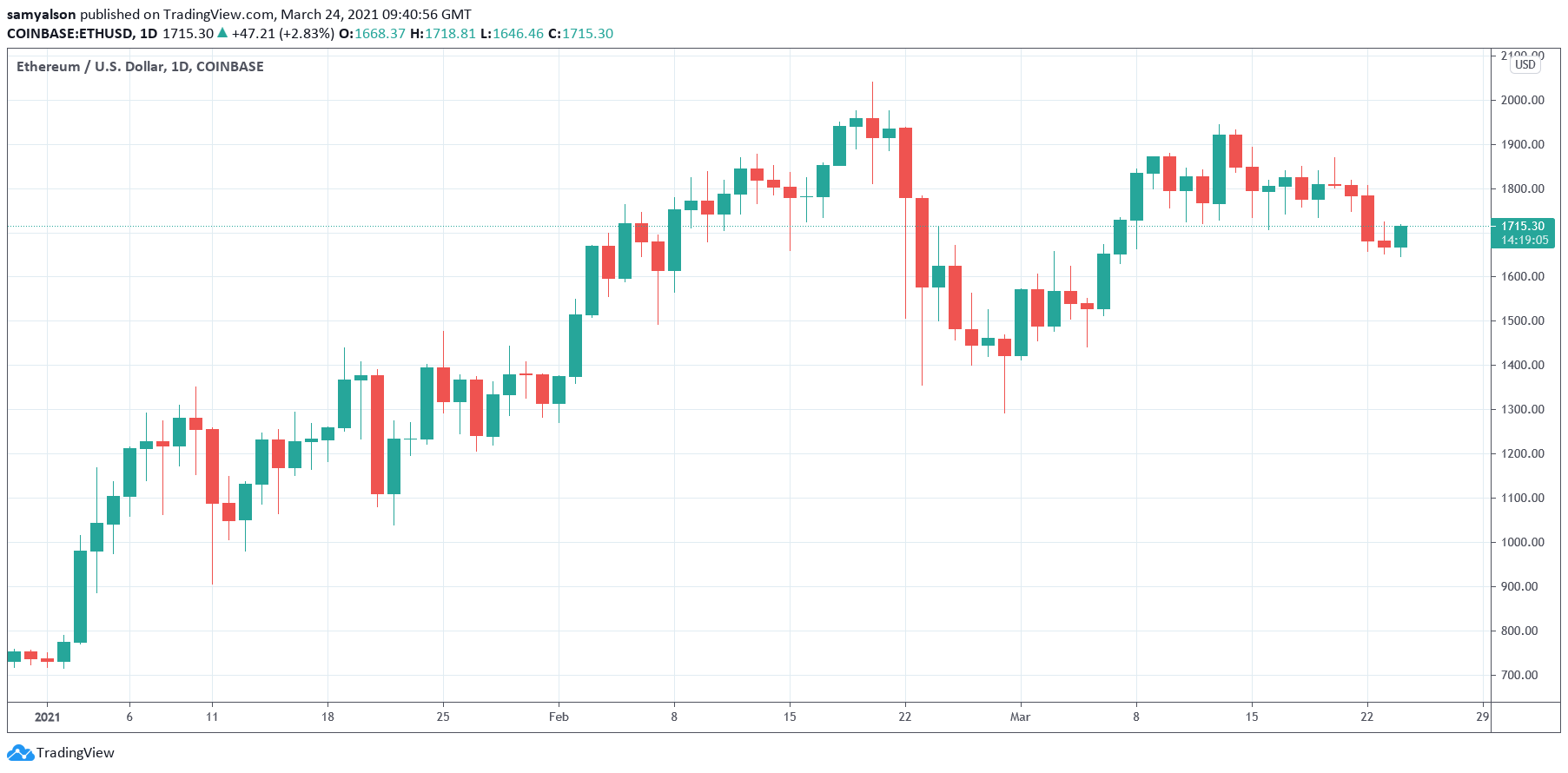 Source: ETHUSD on TradingView.com
News Source
Mars Land NFTs Released on Ethereum, MARS4 Tokens Listed on Bittrex, Sushiswap
Here's how land plot on Mars can be obtained in a new-gen manner through NFT marketplace
Shortly after the release of an eccentric NFT-focused metaverse, the Mars Land project sees its core native utility asset, MARS4, listed by Tier 1 centralized exchange Bittrex and leading DEX SushiSwap (SUSHI).
Here's how NFT instruments allow crypto enthusiasts to purchase land on Mars
The Mars4 team behind Mars Land, a novel digital collectibles project, has modeled a 3D map of Mars' terrain based on the latest NASA data. The total area of Mars' terrain is divided into 99,888 tokenized plots.
Mars4 will be live on @BittrexGlobal in 24 hours‼️🎉

You can already deposit MARS4 tokens HERE 👇https://t.co/MjfjL7pXRX https://t.co/L0j8xBB50P— MARS4_me (@mars4_me) October 20, 2021
Then, the NFTs associated with segments of Mars Land are available for sale as non-fungible tokens. Mars Land NFTs are minted on Ethereum (ETH) blockchain and can be utilized in various digital economic initiatives.
Namely, Mars NFTs can be locked for staking and utilized for liquidity mining; therefore, Mars Land NFTs evolved into a full-stack instrument of passive income for cryptocurrency enthusiasts with various levels of expertise.
Mars Land NFTs are released in batches; 10,000 tokens are listed per epoch. Starting from Epoch 1, 51% of the income generated is redistributed among current NFT holders. By mid-October, there are more than 50,000 NFTs in circulation.
MARS4 listed on CEXes and DEXes: Why is this crucial?
Mars Land adheres to a dual tokenomic design: its architecture includes NFTs and MARS4 dollars. In total, there are four billion MARS4 tokens in circulation.
MARS4 tokens are now available on Bittrex, a veteran centralized cryptocurrency trading ecosystem. Bittrex offers the widest range of assets amidst all CEXes working in the United States.
Also, MARS4 tokens can be purchased on leading Ethereum-based decentralized exchange, SushiSwap (SUSHI). On SushiSwap (SUSHI), MARS4 tokens can be staked as well.
NFT Craze Explodes: Visa Launches NFT Program
The NFT crazy continues, and the popularity that this section of the industry has seen is on the growth. The latest important player in the game who is making these moves is Visa.
Visa launches NFT support program
It's been just revealed that Visa is launching a NFT support program to help artists join the digital art space.
Accoridng to the latest reports, the financial services giant teams up with former Major League Baseball player turned NFT artist Micah Johnson.
The plan is to build a program that will support artists who want to use NFTs to sell their work, Visa said in a press release.
It's been also revealed that Visa will select a small group of creators via an app process and then help them learn about the crypto and blockchain industry.
"We believe that we are at the beginning of a digital renaissance in the world of art and content creation."
This is what Visa's Head of Crypto Cuy Sheffield wrote on Twitter as reported by Coindesk. Check out what they said next:
"New technologies emerging in the crypto ecosystem, like NFTs, have the potential to lower the barrier to entry for digital creators across the world to build their own small businesses."
This move made by Visa comes at a time when a large number of NFT marketplaces have launched in recent months.
Just in case you dod not know, this Tuesday, crypto exchange Coinbase became the latest organization to join the trend.
DappRadar recently noted that the NFT market passed $10 billion in sales volume in the third quarter.
Johnson joined the digital art space in 2020 and is the creator of Aku – this is an animated black astronaut character, and has become the first NFT to be optioned for a feature film.
"Working together [with Visa], we want to arm creators with the resources they need to stay at the forefront of this revolution," Johnson said in a statement.
Yup Raises $3.5 Million in Seed Funding to Empower Social Creators and Curators
Through the new funding, the platform said it will "develop a new web3-native social media experience, expand the Yup community, and empower curators across the web".
Yup, a social network for rewarding content curators has raised the sum of $3.5 million in seed funding which was led by Distributed Global, an early investor in crypto unicorns Dapper Labs, Audius, and Solana. The funding round was co-led by other key investors in the digital currency ecosystem ranging from  Dapper Labs to LD Capital, as well as angel investors including Danny Zuckerman (3box), Patrick Rivera (Mirror), Alex Gausman (NFTX), and Bill Block (Miramax) amongst others.
Yup approaches social network rewarding in a completely different way. While many related outfits are known to focus their reward system on content creators alone, Yup believes curators are part of an ecosystem that makes the entire social network rewarding. Through the platform, valuable opinions across the web are rewarded.
Users can rate anything, earn rewards for accuracy, and gain status in special topics of interest. Yup can be integrated with most social media platforms and helps in providing a basic universal influence metric. It does this by interacting with the Yup Protocol, which is a decentralized semi-autonomous social consensus protocol that determines the rewards and social value of all content based on users' interactions with it.
Through the new funding, the platform said it will "develop a new web3-native social media experience, expand the Yup community, and empower curators across the web." The funding will also be used to complement the platform's growth which has paid a total of $1.6 million in curator rewards. The startup also noted that it has inked a strategic relationship with the Non-Fungible Token (NFT) community, and has paid out a total of $300,000 to NFT curators, with some individuals earning thousands of dollars in YUP tokens.
Yup Seed Funding: Rebranding the Opportunities in Web3
The Yup seed funding stems from investors' recognition of the potential opportunities inherent in Web3 for both content creators and curators.
"Web3 offers an opportunity to curate with clear financial incentives and social status. Curation will go beyond blogs and newsletters, where you can tip creators, earn money via curation, and create massive economic graphs. For example, Yup is a curation protocol that provides an opportunity for users to curate and build their influence accordingly," said Kinjal, Blockchain Capital.
The broad backing for Yup was also dependent on the recognition of the platform's superior business models, which draws from data-driven open and composable social applications design.
"Traditional social networks thrive on privileged and minimally accessible user data silos. Their business models depend on them. Yup, as a fully open and composable Web3 social network has the opportunity to empower builders and visionaries of the next great social applications," says Alex Price, who pre-seeded Yup and is currently a Special Advisor at A16z Crypto. "I'm excited to see what kind of feeds, interfaces, and more are built on top of Yup's fully open social graph."
Yup is powered by the YUP tokens and the digital currency forms a central part of the platform's operations.