Tether's [USDT] Market Cap Sets New Record Of Over $40 Billion
After a steady rise, the total amount of the world's largest stablecoin Tether [USDT] in circulation has soared all the way to $40 billion. With this, the token climbed back to the fourth spot on the cryptocurrency leaderboard.
Exactly a year ago, Tether's dollar-linked stablecoin, USDT's market cap stood at around $4 billion. Since then, the stablecoin saw an astonishing growth of 900% in only one year.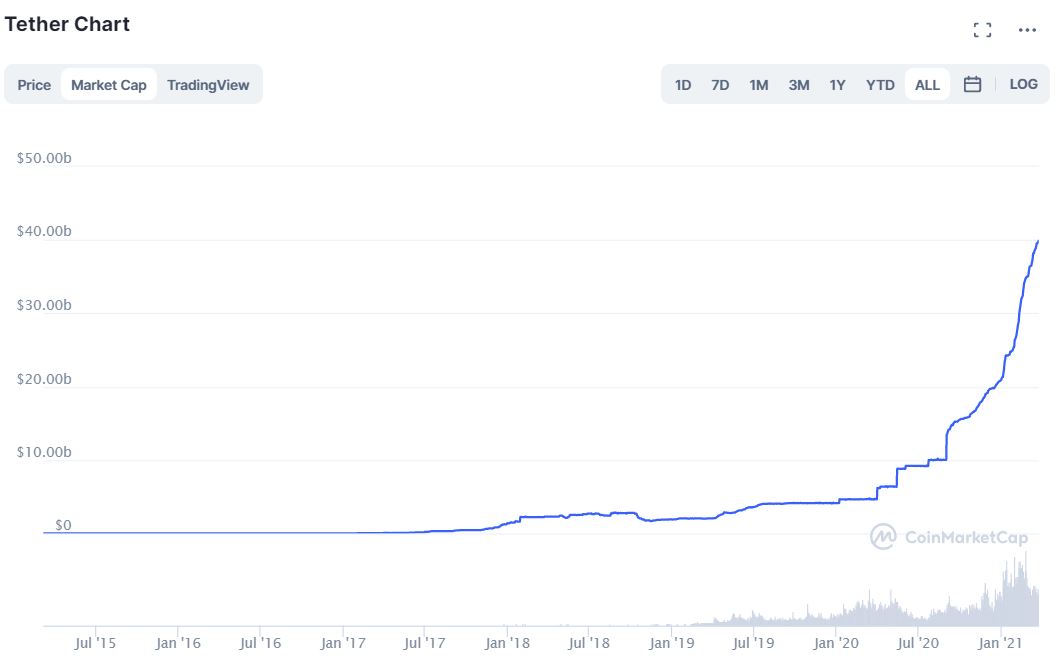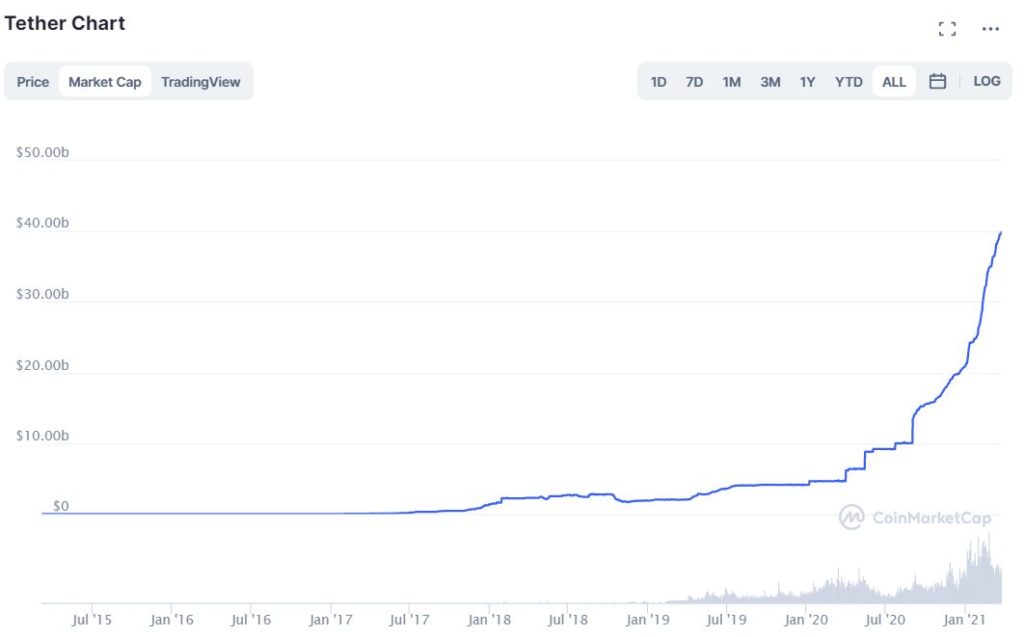 Historically, Tether has often inclined positively from US Dollars value. Hence, it is no surprise that the latest figures came right after the demand for cryptocurrency surged following hints of a long-anticipated recovery.
At the time of writing, Bitcoin has regained some of the lost momentum as it climbed to the $57,000 level on Wednesday. This came after the manufacturing giant, Tesla chief Elon Musk announced that people can now start purchasing the firm's electric vehicles using Bitcoin.
According to the exec, Tesla is using internal and open-source software and operates bitcoin nodes directly. He went on to add that Bitcoin paid to Tesla will be retained as Bitcoin and will not be converted to fiat currency.
Soon after this, the crypto-asset noted a minor uptick of 3% over the 24-hours.
40B $USDt https://t.co/7QGpyEer7c pic.twitter.com/KI3BApyDJY

— Paolo Ardoino (@paoloardoino) March 24, 2021
Growing Demand For Tether [USDT]
Over the years, USDT has become an important form of liquidity in the crypto industry that is transferred between different exchange platforms and wallet addresses to buy Bitcoin and other digital assets.
The demand for USDT in the e-commerce and payments realm cannot be ignored. This has been on the rise for quite some time now. The main factor that driven the demand was the fact that the token essentially enabled relevant users to fend off volatility.
In addition, online retailers and payment gateways have also leveraged not just efficiency related to time but also cost of transactions which have been way cheaper as opposed to credit cards and traditional payment mechanisms.
Yet another milestone that played a crucial role in bolstering its USDT's demand this bull season is the rising interest in decentralized finance [DeFi] as well as the over-trade counters [OTC] desks that leverage the token to process block trades.
In fact, the whole stablecoin market is seeing rapid surges in terms of valuation especially in tandem with Bitcoin's price action.
Other stablecoins have also noted a considerable increase in terms of market cap. Circle's USD Coin [USDC] is the second-largest stablecoin which recently surpassed $10 billion in valuation. It is now the 12th-largest crypto-asset by market cap behind DeFi token Chainlink and Litecoin.
US Regulator Orders Tether To Pay $41,000,000 in Fines – Here's Why
The Commodities Futures Trading Commission (CFTC) is ordering the entities behind the Tether stablecoin (USDT) to pay $41 million in fines.
According to a new press release, the CFTC charged Tether Holdings Limited, Tether Limited, Tether Operations Limited, and Tether International Limited for making "untrue or misleading statements and omissions of material" related to USDT.
USDT is pegged to the US dollar, and Tether claims it is completely backed by corresponding fiat assets, including the dollar and the euro.
According to the statement, the regulator examined 26 months between 2016 to 2018 and found that Tether only had sufficient reserves to fully back USDT on 27.6% of the examined days.
"In fact Tether reserves were not 'fully-backed' the majority of the time. The order further finds that Tether failed to disclose that it included unsecured receivables and non-fiat assets in its reserves, and that Tether falsely represented that it would undergo routine, professional audits to demonstrate that it maintained '100% reserves at all times' even though Tether reserves were not audited."
The CFTC also says Tether dipped its reserve funds into the operational and customer funds of crypto exchange Bitfinex.
"The order also finds that, instead of holding all USDT token reserves in U.S. dollars as represented, Tether relied upon unregulated entities and certain third-parties to hold funds comprising the reserves; comingled reserve funds with Bitfinex's operational and customer funds; and held reserves in non-fiat financial products. The order further finds that Tether and Bitfinex's combined assets included funds held by third-parties, including at least 29 arrangements that were not documented through any agreement or contract, and that Tether transferred Tether reserve funds to Bitfinex, including when Bitfinex needed help responding to a 'liquidity crisis.'"
Tether and Bitfinex Ordered to Pay $42.5 Million Fine by the CFTC
Tether and Bitfinex were ordered by the CFTC to pay fines worth a total of $42.5 million for various violations.
The United States Commodity and Futures Trading Commission (CFTC) has ordered Tether and Bitfinex to pay fines worth $42.5 million.
In a release from today, October 15th, Tether Holdings Limited, Tether Limited, Tether Operations Limited, and Tether International Limited – all companies associated with the issuer of the largest stablecoin USDT, Tether, were ordered to pay a fine worth $41 million.
This was issued by the CFTC on the grounds of "misleading statements and omissions of material fact in connection with the U.S. dollar token USDT."
Additionally, the companies have been ordered to cease and desist from any further violations of the CEA (Commodity Exchange Act).
Going forward, the Commission also issued a separate order against BFXNA Inc., iFinex Inc., and BFXWW Inc – companies associated with the popular cryptocurrency exchange Bitfinex.
They must pay $1.5 million in a civil monetary penalty for engaging in illegal, off-exchange retail commodity transactions with US citizens on the cryptocurrency exchange.
Commenting on the matter was Rostin Behnam, acting chair of the CFTC, who said:
The case highlights the expectation of honesty and transparency in the rapidly growing and developing digital assets marketplace. […] The CFTC will continue to take decisive action to bring to light untrue or misleading statements that impact CFTC jurisdictional markets."
Tether Users To Explore the Maldives With USDT on Travala.com
Travala announces Tether users can now book a trip with USDT.
The USDT token can be used on the Travala.com platform.
Travala's native token, AVA, records a 3.35% gain.
The world-leading blockchain-based travel booking platform — Travala continues to incorporate more travel utilities to its platform. Today, the Travala team announced to the Tether fans that they can now book a dream trip to the Maldives with USDT in a tweet.
Ok— Shanell Gibson (@Shanell13238822) October 10, 2021
Particularly, with Tether's USDT, travelers can book flights and over-the-water bungalows. Not to mention, enjoy activities such as snorkeling, boat excursions, tours, and a lot more on Travala.com.
What's more, Tether (USDT) is a stablecoin that aims to keep cryptocurrency valuations stable. The USDT tokens in circulation are proportional to U.S. dollars. Meanwhile, the native token of Travala is AVA. AVA is a BEP-2 token based on the Binance Chain.
Moreover, Travala allows travelers from all across the globe to book and explore several travel options. Travala accepts Credit Card, Debit Card, and cryptocurrency. Besides, AVA's current price is $3.1 with a market cap of $164,608,058.
To promote accessibility to anyone and everywhere, Travala aligns travel bookings with the ethos of decentralized technology. With AVA, tourists can easily get discounts, loyalty rewards, and other packages on the Travala.com ecosystem.
Ultimately, since its inception in 2017, Travala tasks itself as a firm that brings the travel industry transparent pricing and innovation. What's more, deliver enhanced security and effective stakeholder interaction.
On a final note, the AVA token saw a 3.35% increase in the last 24 hours. Travala's circulating supply is at 52,923,082 AVA and a Total supply of 61,383,832 AVA at press time.