U.S. feds bust Instagram star for promoting Bitcoin scams
New York cops bust one 'Jay Manzini' yesterday on charges of wire fraud related to Bitcoin. Here's why.
Federal prosecutors in Brooklyn bust one 'Jay Manzini' yesterday on charges of perpetuating a wire fraud using Bitcoin, city outlet Daily News said this morning.
Buying Bitcoin over Instagram
Identified as Jebara Igbara, the man hunted for potential victims on social app Instagram and marketed a fiat-to-BTC scheme to his millions of followers. Bitcoin, the world's largest cryptocurrency by market cap, has grown over tenfold in the past year, trading from under $5,000 in May to over $60,000 last month.
Prosecutors said that the man built credibility on Instagram via promoting business ventures and doling out large amounts of money to random people in New York.
The fraud was as follows: Igbara offered a higher-than-market rate to purchase Bitcoin and lure unsuspecting victims. In January earlier this year, when the asset traded at a $47,000 price level, Igbara offered over $52,000 per Bitcoin to his followers.
But that is where the deal went wrong. Igbara did take the Bitcoin but never sent the full payment. He faked wire transfers while pocketing the illicit-gained Bitcoin.
"Igbara's social media persona served as a backdrop for enticing victims to sell him their Bitcoin at attractive, but inflated, values. A behind-the-scenes look, however, revealed things aren't always as they seem," stated FBI Assistant Director William Sweeney.
He added:
"There was nothing philanthropic about the Bitcoin transactions Igbara engaged in with his victims. A quick search of the Interwebs today will reveal an entirely different image of this multimillion-dollar scammer."
Long gone
One such case in January saw Igbara promise to pay over $2.5 million for 50 BTC—a high premium above the market value of the stack at the time. However, he ended up paying only $500,000 to the seller.
As per a criminal complaint, Igbara claimed to have a net worth of over $33 million. But even with a supposed bank account that high, he ended up scamming at least three sellers in a similar way.
Igbara's social profiles seem to have been taken down at press time. Not that buying Bitcoin over Instagram is a good strategy anyway.
Bitcoin Scammers Trick 165,000 People Into Watching Fake Apple Event
More than 160,000 viewers mistakenly tuned into the wrong Apple event
Some scammers decided to cash in on the immense anticipation surrounding Apple's big day.

Prior to the company's much-awaited "California Streaming" event, fraudsters launched a fake YouTube stream that appeared at the very top of the search results (even above the official Apple channel).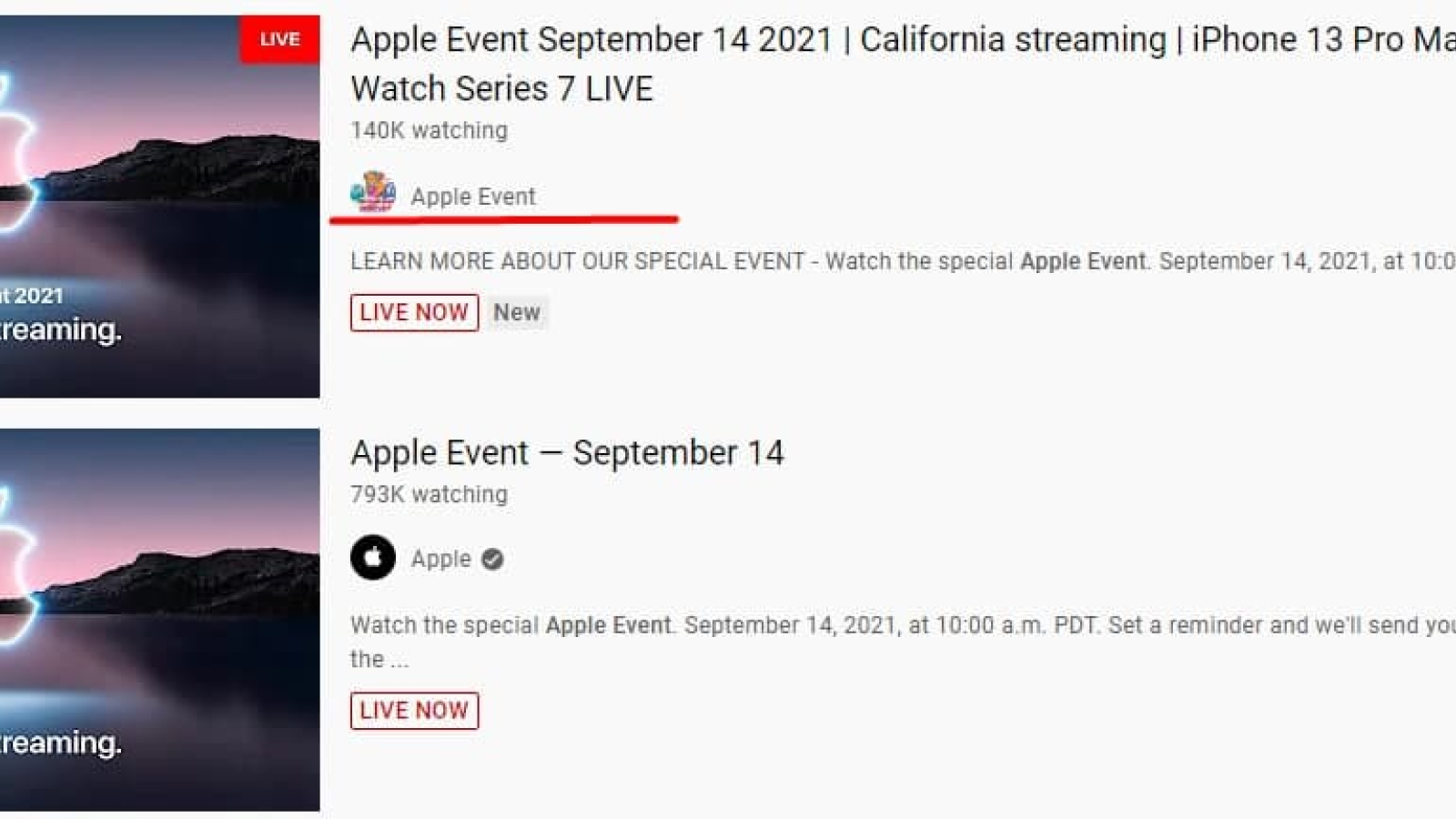 Roughly 165 000 users started watching an unrelated video featuring CEO Tim Cook next to a bogus announcement about Apple buying 100,000 BTC and organizing a giveaway for everyone who sends a certain amount of crypto to the scammers.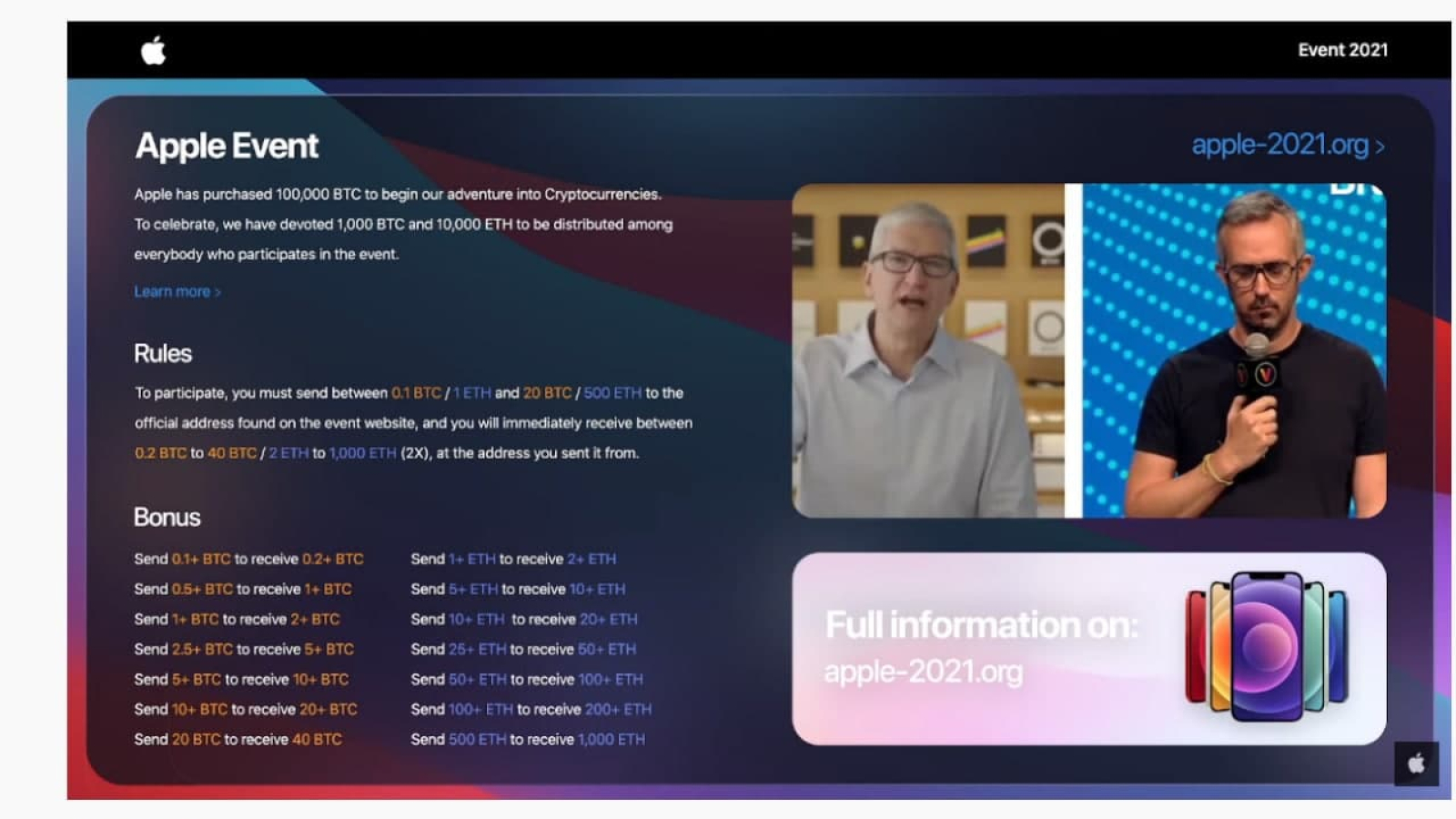 The channel that was broadcasting the fraudulent video has now been taken down.
YouTube often appears in hot water because of the proliferation of crypto frauds on the platform.

As reported by U.Today, the video hosting giant was sued by blockchain company Ripple for not doing enough to remove XRP scams last April. The lawsuit was then settled in March.
News Source
14 Arrested in Police Raid After $5,400,000 Crypto Investment Scam Targeted Retirees
Over a dozen people have been arrested in connection with a cryptocurrency scam that preyed upon wealthy senior citizens in Taiwan.
The Taipei Times reports that local Azure Crypto Co. allegedly ran an online investment scheme that defrauded over a hundred people out of $5.4 million.
Taiwan's Criminal Investigation Bureau (CIB) is charging the 14 suspects with fraud, money laundering, and organized crime violations in relation to the scheme, which was headed by a man named only as "Chen."
Lead investigator Kuo Yu-chih said that Chen and other suspects lured in mostly male victims – many of whom were well-off retirees – using photos of attractive females.
"Chen and his staff set up websites, and allegedly used photographs of pretty women to attract mainly male victims, many of whom were in retirement with substantial savings.
The victims were drawn [in] by the attractive images and persuaded to invest through interactions they believed to be with the women, while Chen and his staff presented themselves as financial advisers specializing in cryptomining."
Investigators got ahold of ledgers that showed the extent of the alleged fraud and the number of victims involved. One victim lost more than a million dollars over the course of two months.
Crypto-related scams have reportedly flourished with the rise in popularity of the digital asset markets. Last week, the U.S. Securities and Exchange Commission (SEC) issued an alert warning consumers about crypto scams, and offered advice on how to spot them.
Scam Alert: Fake FLR Tokens Offered by Stellar-Based Wallet
Another day, another scam campaign in crypto: avoid buying "FLR" tokens before Flare (FLR) mainnet launch
Flare Networks, the software team behind the development of Flare, a much-anticipated EVM-compatible blockchain, issues a warning about a new scam targeting its enhusiasts.
No legit FLR tokens so far
According to the official announcement by Flare's team shared on its main Twitter account, someone using a domain name impersonating Flare is offering Spark (FLR) tokens.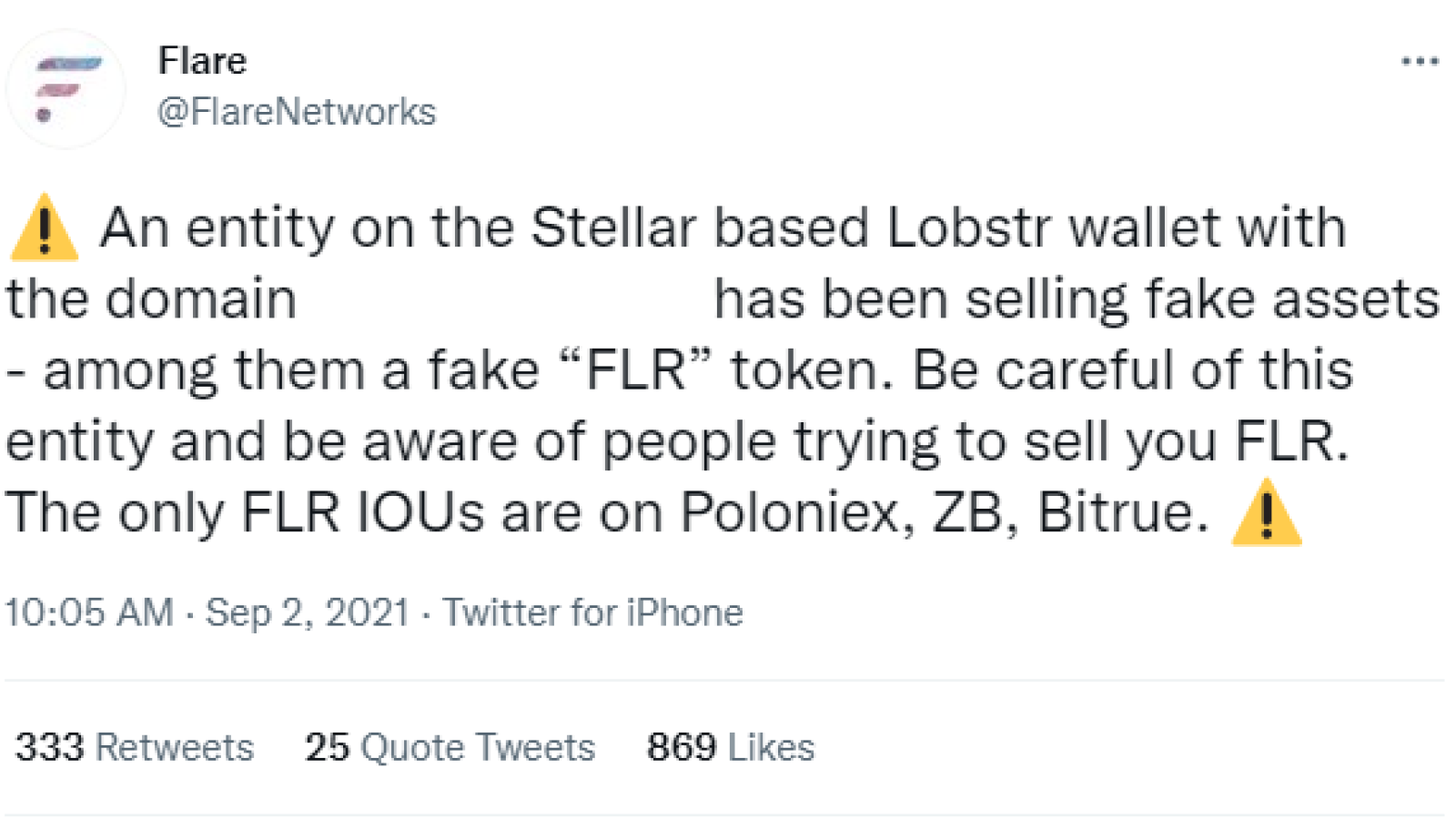 Fake Spark (FLR) are for sale in Lobstr, a centralized Stellar-based wallet. Moreover, FLR is not the only fake token offered by these scammers.
Flare Networks reiterates that, since Flare blockchain has not yet launched in mainnet, its core native asset FLR can be purchased in no way.
The only way to monetize interest in Flare's progress right now is by buying FLR IoUs. These assets are available on three major centralized exchanges: Bitrue, ZB.com and Poloniex.
Flare (FLR) infrastructure gains steam
Tim Rowley, a Flare enthusiast and owner of FTSO.AU, Flare's "oracle provider," stresses that the price of FLR-based IoUs has nothing to do with the price of the "real" FLR at launch.
As covered by U.Today previously, prior to the mainnet release of Flare (FLR), its "canary network" Songbird (SGB) will begin its operations.
Meanwhile, more and more services for FLR delegators are inviting clients. Yesterday, the Use Your Spark service announced support for price broadcasting for many trading pairs, including FLR and XRP tokens.