Elon Musk's Love Story with Dogecoin (DOGE) Explained by Anthony Pompliano
Legendary Bitcoin (BTC) proponent Anthony Pompliano of Morgan Creek Digital sat down with Lex Fridman, host of Lex Fridman podcast
In a recent episode of the Lex Fridman Podcast (episode #171), the host interviewed Anthony Pompliano, renowned investor and entrepreneur. The two discussed Bitcoin (BTC), NFTs, AI, VR and Dogecoins (DOGE) as well as philosophy, war and censorship.
Dogecoin (DOGE): Territory for trolling without punishment
Speaking about memetic culture and philosophy, Mr. Fridman asked his guest about Elon Musk and Dogecoin (DOGE). While it is obvious that Dogecoin (DOGE) is not a revolutionary technology or game-changing asset, there is so much hype about this coin from 2013.
Image via Twitter
Many times, it was ironically shilled even by Tesla founder and the Techno King, Elon Musk. While it is obvious that he understands the specific nature of Dogecoin (DOGE), it is interesting that he chose it for his Twitter performances.
Thus, he chose Dogecoin (DOGE) as his instrument to speak with "weird" people in their own exciting and strange language. "Weirdness" in this context is stressed by the specific concept of this token:
He is using Dogecoin (DOGE) as a way to say: I'm doing this because I can.
Euphoria that started as a meme
Mr. Pompliano added that it is impossible to do similar things with securities or other assets without the risk of being punished—even for Techno Kings.
As covered by U.Today previously, U.S. media outlets claim that Mr. Musk may be under U.S. SEC investigation for Dogecoin (DOGE) promotion. However, no charges have been made so far.
For the first time, Elon Musk tweeted about Dogecoin (DOGE) during its "TikTok pump" in August 2020. In early 2021, he started posting memetic pictures with this coin, causing unbelievable price spikes.
Dogecoin (DOGE) is a fork of Litecoin (LTC) developed by a team of volunteers. The token never had any intrinsic value: it is mined on Litecoin's rigs and, due to a low hashrate, is vulnerable to 51 percent attacks.
Dogecoin Holders Can Expect Huge Rewards! DOGE Price to Hit $0.34 with 37% Upswing
Bitcoin price broke the $62,500 and even spiked above $63,000. Most of the major altcoins are showing positive signs. Unfortunately, Dogecoin has been stuck in a trading range for months. The price is not making any new highs or lows, but it's staying afloat.
Dogecoin Price Breakout on Horizon
Currently, the price is recovering near $0.275. In the past 24 hours Trading volume surged more than 300%, indicating the overall trend to be bullish.
As per the 4hr time frame chart, the meme coin is forming an ascending pattern offering long opportunities for crypto traders. This pattern had its neckline at the $0.265 level, and the price has provided a decisive breakout from this resistance.
If the price rebounds off this support, and traders are buying on dips, this will likely lead to a break above $0.28. If that happens, the DOGE/USDT could climb to $0.32 and further hit $0.35.
On the other hand, if bears pull the price below the moving averages, the DOGE/USDT could drop at the $0.21 level and further drop to $0.19level in case of an extended bearish trend.
The DOGE price is higher than the crucial EMA's at 20, 50, 100, and 200 levels, which indicates a bullish trend. The RSI value is at 60, indicating a bullish sentiment regarding the DOGE coin price. 
DOGE Price to Hit $0.34 Level!
Popular Crypto analyst Justin Bennett says that Dogecoin (DOGE)is all set to rally for its next critical level which is nearly 37% above current prices. In his recent tweet, Bennett describes in a chart saying DOGE is attempting to break out of a long descending resistance line that it has been up against since May
"DOGE Looks Ready (As Long As $BTC Cooperates). Just Needs To Get Above 0.27 On A Daily Closing Basis To Open Up 0.34+."
He believes that DOGE Price needs to turn the $0.26 level into support and close above $0.27 before continuing higher to his initial target of $0.34. 
Dogecoin Looks Ready To Rip As Bitcoin Finds Critical Support, According to Crypto Analyst Justin Bennett
Crypto analyst Justin Bennett says that Dogecoin (DOGE) could be ready to make a run for its next critical level about 37% above current prices.
The popular analyst tells his 88,000 Twitter followers that DOGE is attempting to break out of a long descending resistance line that it has been up against since May.
"DOGE looks ready (as long as $BTC cooperates).
Just needs to get above 0.27 on a daily closing basis to open up 0.34+."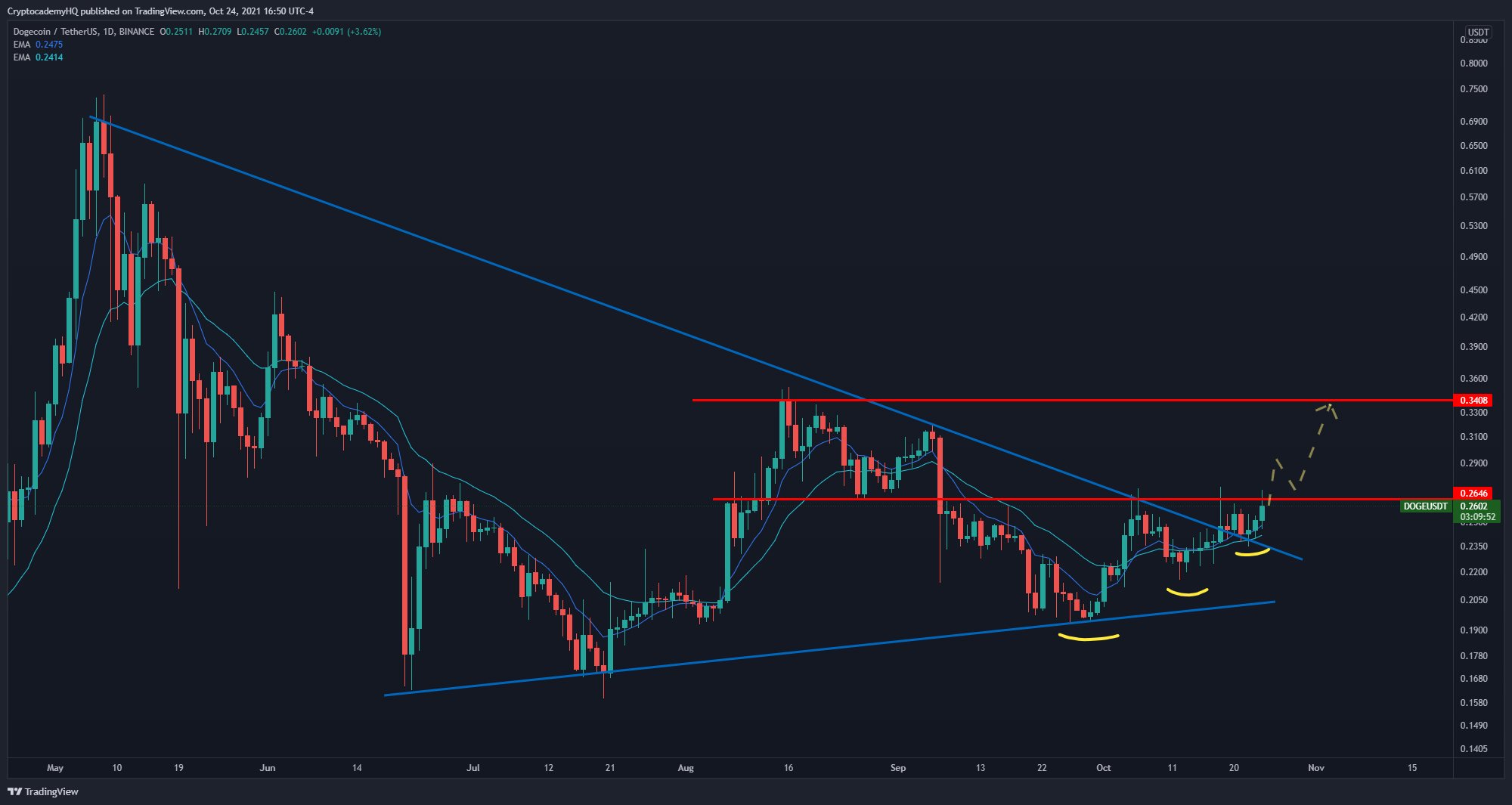 In the near term, Bennett says DOGE needs to turn the $0.26 level into support and close above $0.27 before continuing higher to his initial target of $0.34. At time of writing, Dogecoin is trading at $0.26 according to CoinGecko.
Looking at Bitcoin, the analyst says BTC's ability to maintain the $60,000 level is a major show of strength that could have big implications in the broader markets.
"Although the BTC weekly candle might not look great, it still held above $60k.
That's what I was looking for. Doesn't mean we can't see more pullback before further upside, but it does mean $60k is holding as support on a weekly closing basis.
That's huge."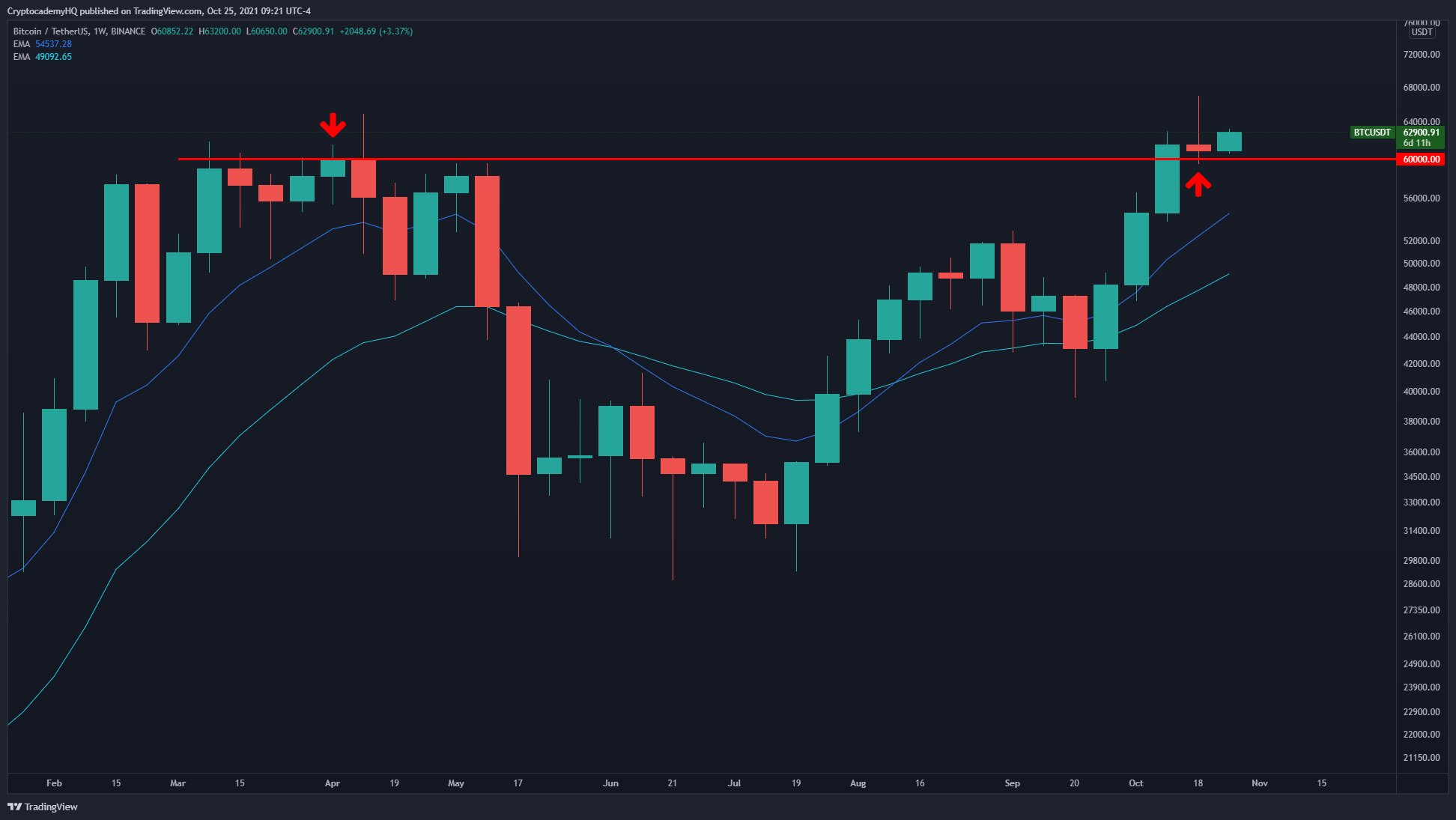 Bennett also has his eye on Bitcoin dominance, which compares BTC's market cap to the rest of the crypto markets. He says it's bounced off a support level and is currently on its way up.
"BTC.D is bouncing from 44.5% support.
Surprise, surprise."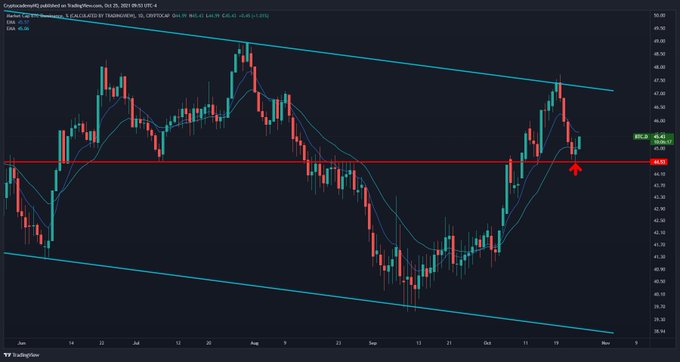 While surging Bitcoin dominance often suggests that altcoins will underperform, Bennett says this may only hold true in the short term. He says if the king crypto is looking healthy, then altcoins might take it as a signal to move up.
"This isn't necessarily a bad thing for altcoins.
Will they suffer if BTC.D heats up again?
In the short term and against BTC, yes.
But Bitcoin strength now is massively bullish for alts over the next few months.
Shiba Inu Speculators Could Learn This Lesson from Dogecoin
The popular meme coin shiba inu (SHIB) once again saw a massive pump over the weekend, rising by more than 50% on Saturday and Sunday before a correction reduced the gains as the new week started. And based on experience from other meme coins, even deeper corrections could arrive when the hype dies down.
Judging from data from some exchanges, including FTX and Poloniex, the weekend pump marked a new all-time high for the self-proclaimed dogecoin (DOGE) killer. However, on some other exchanges, including Binance, a higher peak was seen on the token's listing day on May 10 this year, although this may have been the result of thin order books on the first day of trading.
At the time of writing, (13:10 UTC), SHIB was down by 7% over the past 24 hours, trading at USD 0.00003865. However, the token still remained up by more than 40% for the past 7 days, well ahead of DOGE's 10% rise over the same period.
SHIB price chart:
Today's correction for SHIB came just as Tesla chief Elon Musk replied to a tweet from a Shiba Inu community member asking how many SHIB he holds. "None," Musk answered, without elaborating, to which the community member replied "U should consider buying some."
Further, while responding to another user in the same thread, Musk also warned "don't bet the farm on crypto," before adding:
"True value is building products & providing services to your fellow human beings, not money in any form," the Tesla founder and dogecoin proponent said.
The advice and blunt answer from Musk that he does not hold SHIB, which came just as the coin was correcting from its highs, begs the question of whether SHIB holders are simply betting that social buzz, and particularly mentions from well-known investors like Musk, will be what is needed to propel the price higher.
And while history has shown that amazing price pumps can occur from time to time for meme coins like DOGE and SHIBA, lessons from the DOGE mania in May this year remind that the subsequent corrections can be deep when rallies are purely driven by hype.
From its all-time high on May 8 of USD 0.74, DOGE corrected by as much as 78% within less than two months, to a low of USD 0.16 on June 22. (However, at the same time, the whole market was dropping.) In either case, the original dog-themed meme coin has since recouped some of its losses, but still remains down by around 65% from its peak, even as bitcoin (BTC) has reached new all-time highs.
The fall in prices for dogecoin can also be seen in Google search data, which is often used as a proxy to determine general interest in a subject.
Judging from Google Trends, worldwide Google searches for the term "dogecoin" peaked in mid-May, just as the coin reached its all-time high in the market. Since then, search interest has fallen significantly and is still nowhere near its highs.
The picture perhaps becomes even clearer when we add the term "shiba inu." The data then shows how interest in DOGE has recently been overtaken by a surge in search interest for shiba inu.
Despite the significant fall in both price and search interest, however, the dogecoin community is still alive and responding to tweets from the self-proclaimed "dogefather" Elon Musk. This was again illustrated just before the weekend, when the Twitter account UberFacts tweeted "Elon Musk is predicted to become the world's first trillionaire, thanks to SpaceX."
About two hours later, Musk replied "*In Dogecoin," which immediately led to a spike in the price of DOGE visible on the hourly chart.
*In Dogecoin— Elon Musk (@elonmusk) October 22, 2021
Meanwhile, SHIB has recently gotten some attention from a petition on Change.org that is asking the popular US-based stock and crypto broker Robinhood to list SHIB for trading on its platform. As of Monday, the petition had already received well over 300,000 signatures from users.
"Dogecoin has been a huge success for Robinhood, and its investors. We have all enjoyed the ride. Shiba Inu is a similar meme coin with genuine potential, up 2000% in the last weeks," the petition said.
So far, and despite some unverified rumors circulating online, no word has been heard from Robinhood that the trading app is even considering adding SHIB to its platform.
The SHIB token is now ranked 11th in terms of market capitalization, two spots below its fellow dog-themed meme coin DOGE. The ranking today means that the valuation difference between SHIB and the original DOGE has remained roughly similar since the two coins earlier this month stood head to head for meme coin dominance. 
And although the "dogecoin killer" is still valued lower than the original dog-themed meme coin, both meme coins, which are generally seen as having little to no real utility, have already surpassed major DeFi-related tokens such as the Avalanche blockchain's AVAX token and Uniswap's governance token UNI.
Commenting on the recent rally for SHIB over the weekend, Ben Caselin, Head of Research and Strategy at trading platform AAX, said "speculation is the primary driver" behind meme coin prices.
"During a bull market, when sentiment runs high, it doesn't take much for a memecoin to see a significant boost," Caselin said in an emailed comment, before warning that "there is no specific reason" for the huge inflow of capital into SHIB.
"Considering the history of crypto and how market dynamics have generally played out over the past decade, SHIB is likely to be challenged by other viral projects and is likely to shed much of its value when the top assets such as bitcoin and ethereum enter into the final stages of this cycle's bull run and the usual correction that follows as the assets secure their newly raised price floor," Caselin concluded.