Bitcoin Firms Team Up to Launch 'Clean Energy' Mining Venture
Two companies, DMG Blockchain Solutions and Argo Blockchain, today said they will launch a Bitcoin mining pool that uses green energy.
The pool will be powered by hydroelectric resources, according to the firms.
Two companies today announced a clean energy Bitcoin mining pool—which they claim will be a world first—as the debate on the crypto's carbon footprint heats up.
Blockchain solution company, DMG Blockchain Solutions, and Bitcoin mining firm, Argo Blockchain, said their project will produce clean Bitcoin using hydroelectric resources.
The plan, according to the two companies, is that the mining pool, named Terra Pool, "will work to better manage the impact of Bitcoin mining on the climate."
According to Dan Reitzik, CEO of DMG Blockchain, the joint mining pool venture is "the only bitcoin mining pool to mandate that miners are using Green/Clean energy sources." In an email statement to Decrypt, Reitzik added: "Miners use a variety of power sources globally from nuclear, to hydro, to coal, and many miners are already using renewable sources of energy. The major pools (primarily based in China) do not care what power sources the miners connecting to them are using. This is what makes Terra Pool different—we have a mandate and guiding principles."
NFT DROP | Coming in March EulerBeats Enigma LP
EulerBeats the #1 Art + music on-chain NFT will release Enigma LP this March. Original token owners get a royalty for every print sold. Each print will be issued on a bonding curve which feeds a reserve to provide instant liquidity for print holders.
Ad
Partner
Together with Decrypt
Right now, Bitcoin miners tend not to use renewable energy but some companies are pushing for a greener approach to producing the cryptocurrency.
Payments company Square, for example, launched a Bitcoin Clean Energy Investment Initiative in December—committing $10 million to support other companies that drive renewables within the Bitcoin ecosystem.
Founded in 2011, DMG is a public cryptocurrency firm listed on the Toronto Stock Exchange focused on "mining public blockchains and applying permissioned blockchain technology," according to the company's website.
While London-based Argo is the only mining company listed on the London Stock Exchange. The publicly traded company, founded in 2017, last month achieved record revenue growth.
It isn't clear from the statement when exactly Terra Pool will launch but the project comes at a time when Bitcoin is becoming increasingly criticized for its large carbon footprint.
Mining Bitcoin (using powerful computers to produce the digital asset) uses huge amounts of energy. So much, in fact, that the carbon footprint used to produce Bitcoin matches that of London's, according to Digiconomist.
Annually, miners consume an estimated 14.44 GW or 128.77 terawatt-hours, according to Cambridge University's Centre for Alternative Finance.
Mining #btc is already a sector leaning toward renewable. I'm happy that we're going to support further innovation within the space to push that even further. #terrapool

When's the rest of the economy going to be entirely renewable?

— David (@DavidDMGI) March 26, 2021
"Terra Pool will provide both a strong incentive and accessible platform for cryptocurrency miners to produce Bitcoin in a sustainable and climate-conscious way with the goal of significantly reducing greenhouse gas emissions over the next decade," the statement said.
"In the near-term, Terra Pool will work with like-minded Bitcoin miners to expedite the shift from conventional power to clean energy."
Even though Bitcoin uses up huge amounts of energy, traditional finance shouldn't be let off the hook: 60 of the world's biggest banks have given almost $4 trillion to fossil fuel companies since the Paris Agreement was signed in 2015.
Concern over "ethical" Bitcoin has been raised by high-profile figures, too.
Just this week, Shark Tank host and software entrepreneur Kevin O'Leary said that institutions do not want to own "China coin"—referring to Bitcoin mined in China—because of the country's human rights record.
Editor's note: This article was updated after publication to include comments from DMG Blockchain CEO Dan Reitzik.
Legendary Trader Peter Brandt Challenges Binance with Four Questions about 88% BTC Crash
Here's what is unclear for Mr. Brandt about mysterious Bitcoin (BTC) flash-crash of Oct. 21, 2021
Prominent trader and analyst Peter Brandt has taken to Twitter to ask his four questions in the context of the flagship crypto's 88% dropdown.
What do Binance and Binance.US have in common?
First of all, Mr. Brandt challenged the character of corporate relationships between Binance and Binance.US, its unit focused on American markets.
Questions remain:
1. What is exact corp. relationship @binance w/ @BinanceUS
2. Will firm release T&S with all trades/volume/price?
3. Did firm take opposite side of client fills
4. Will firm change low to reflect actual fills
cc: @GaryGensler @CFTC @SECGov @cz_binance @IBKR pic.twitter.com/huqzZbSGIt— Peter Brandt (@PeterLBrandt) October 24, 2021
Also, Mr. Brandt asks whether Binance is planning to release detailed documents to specify statistics for trades, their volume and prices during the flash-crash.
Then, the trading legend asked about the role of the platform in taking the opposite side of a client fills.
Besides the Binance CEO and co-founder Changpeng "CZ" Zhao, Mr. Brandt mentioned the Interactive Brokers platform, U.S. watchdogs CFTC and SEC and Gary Gensler, the SEC chairman.
Most expensive "trading algorithm bug" ever?
Also, Mr. Brandt attached a screenshot of a tweet by CZ when Binance's boss warned his audience about expected volatility spikes across cryptocurrency markets.
Finally, Mr. Brandt added that he never used Binance for trading.
As covered by U.Today previously, on Oct. 21, 2021, amidst a spending rally, the Bitcoin (BTC) price briefly tanked to the $8,000 level, losing more than 88% in no time.
A similar flash-crash was registered on 26 other low-liquidity exchanges. A Binance.US representative attributed this dramatic plunge to a critical bug in third-party mechanisms by one of the platform's sophisticated institutional clients.
Dogecoin Looks Ready To Rip As Bitcoin Finds Critical Support, According to Crypto Analyst Justin Bennett
Crypto analyst Justin Bennett says that Dogecoin (DOGE) could be ready to make a run for its next critical level about 37% above current prices.
The popular analyst tells his 88,000 Twitter followers that DOGE is attempting to break out of a long descending resistance line that it has been up against since May.
"DOGE looks ready (as long as $BTC cooperates).
Just needs to get above 0.27 on a daily closing basis to open up 0.34+."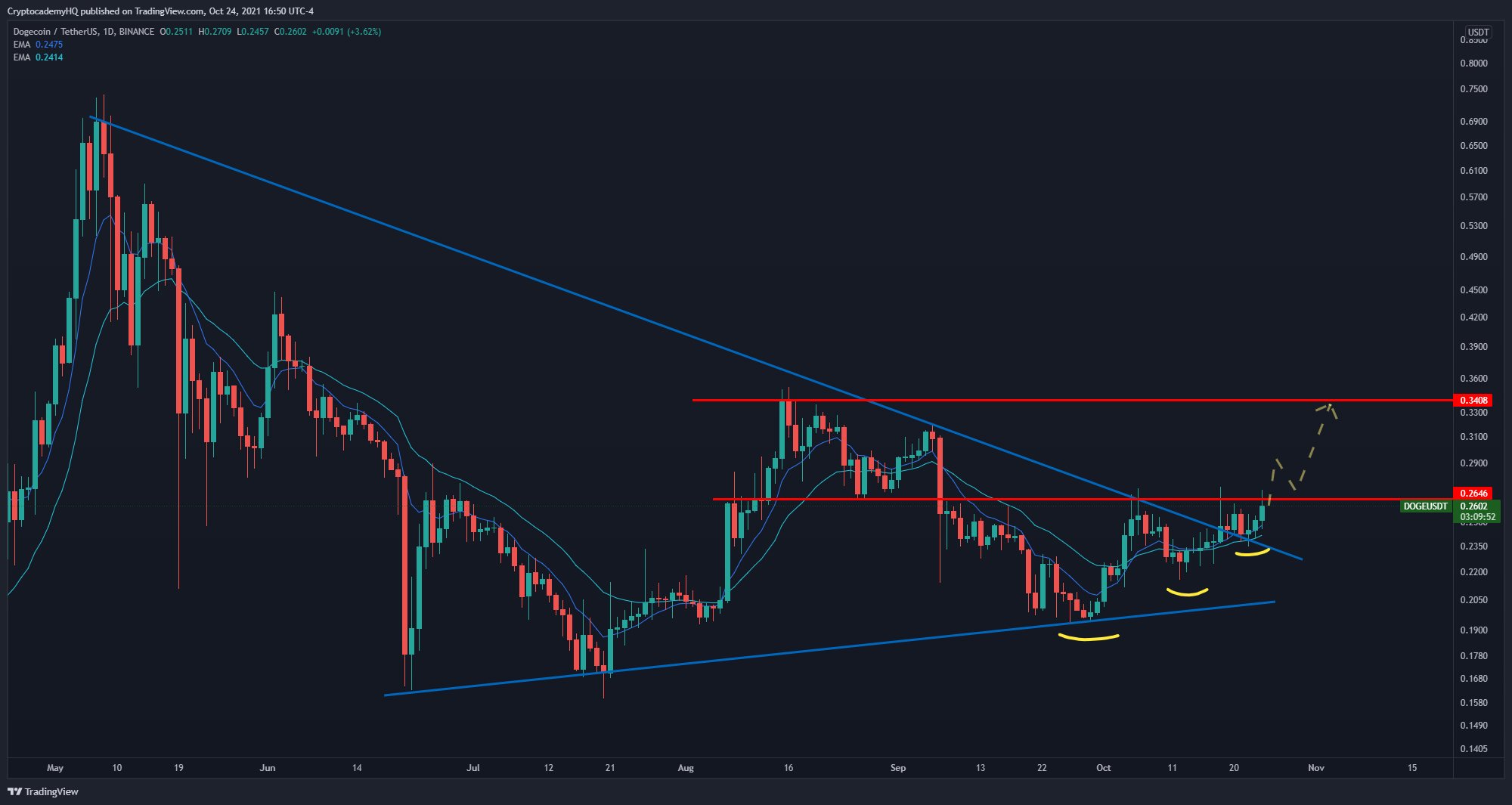 In the near term, Bennett says DOGE needs to turn the $0.26 level into support and close above $0.27 before continuing higher to his initial target of $0.34. At time of writing, Dogecoin is trading at $0.26 according to CoinGecko.
Looking at Bitcoin, the analyst says BTC's ability to maintain the $60,000 level is a major show of strength that could have big implications in the broader markets.
"Although the BTC weekly candle might not look great, it still held above $60k.
That's what I was looking for. Doesn't mean we can't see more pullback before further upside, but it does mean $60k is holding as support on a weekly closing basis.
That's huge."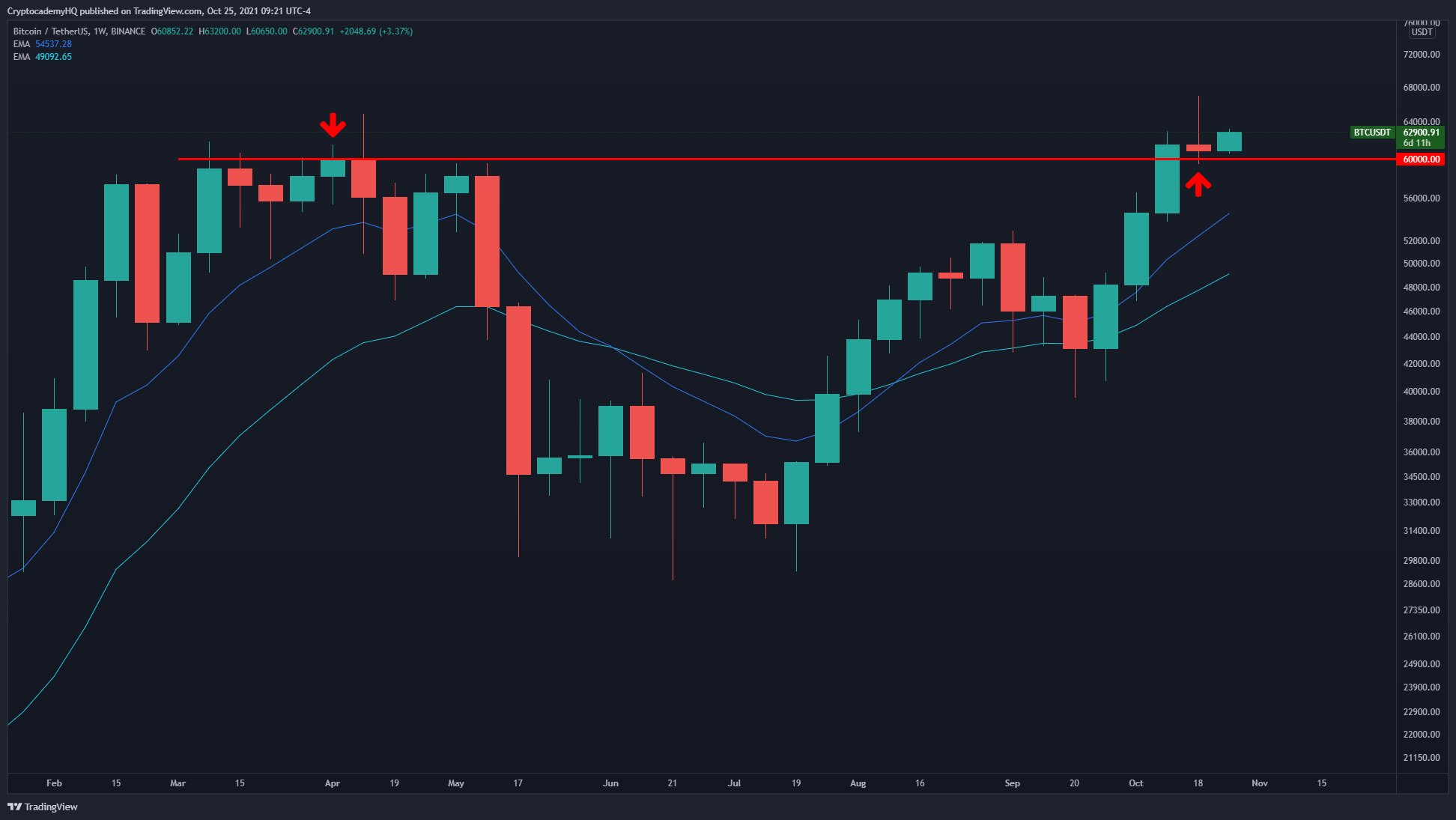 Bennett also has his eye on Bitcoin dominance, which compares BTC's market cap to the rest of the crypto markets. He says it's bounced off a support level and is currently on its way up.
"BTC.D is bouncing from 44.5% support.
Surprise, surprise."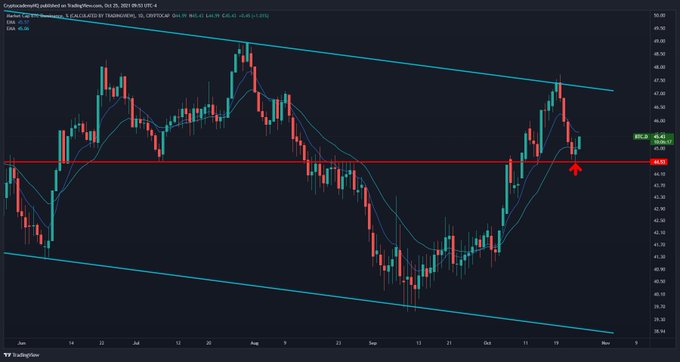 While surging Bitcoin dominance often suggests that altcoins will underperform, Bennett says this may only hold true in the short term. He says if the king crypto is looking healthy, then altcoins might take it as a signal to move up.
"This isn't necessarily a bad thing for altcoins.
Will they suffer if BTC.D heats up again?
In the short term and against BTC, yes.
But Bitcoin strength now is massively bullish for alts over the next few months.
Anybody That Does the Homework Eventually Invests in Bitcoin: SkyBridge Capital's Scaramucci
Founder of SkyBridge Capital believes that anyone who starts looking into Bitcoin seriously will end up buying
Antony Scaramucci, founder and CEO of SkyBridge Capital venture fund that has a branch investing in Bitcoin, has told CNBC that Bitcoin can eventually convert anyone who "does their homework" to invest in it.
He named several billionaires who used to be skeptical on BTC but have been into it since 2020.
Those who do their homework end up investing in bitcoin, Scaramucci says https://t.co/tDL2KPi8wJ— CNBC (@CNBC) October 25, 2021
Ray Dalio, Paul Tudor Jones, etc, have turned to Bitcoin
According to Scaramucci, Bitcoin has the power to attract even its opponents – if they begin to study BTC carefully and "do the homework" they get convinced of the great potential Bitcoin has.
He has referred to billionaire investors, such as Ray Dalio, Paul Tudor Jones and Stanley Druckenmiller – they used to be opposed to the flagship cryptocurrency and now are holding BTC in their portfolios.
Among these former Bitcoin skeptics are Shark Tank's co-hosts – Kevin O'Leary (widely known as Mr. Wonderful) and Mark Cuban, billionaire and owner of the Dallas Mavericks baseball team. He now considers Bitcoin a store of value and believes that Dogecoin is a perfect crypto for payments. The Mavericks online store accepts DOGE for tickets and merch, and, according to Cuban, people are spending thousands of USD in Dogecoin on every month. He also likes Ethereum because of smart contracts.
Here's how much Bitcoin Scaramucci holds
As part of studying BTC, Scaramucci recommended reading the BTC white paper written by Satoshi Nakamoto, the mysterious person or a team of them that created Bitcoin back in 2008-2009.
As for his own crypto holdings, Anthony Scaramucci holds over one billion USD worth of Bitcoin. He believes BTC to be digital analogue of gold.
He also believes that Ethereum and Cardano have a large potential and are going to keep rising in the future.