Following another dip to $54,000, bitcoin has bounced off and has added over $2,000 of value. Some altcoins have registered even more impressive gains in the past 24 hours, led by Binance Coin's 9% surge to $275.
BTC Retakes $56K
After the mid-week price slump when it dropped from over $57,000 to a three-week low of just above $50,000, bitcoin has been gradually increasing in value.
Even the fears that the record $6 billion worth of options contracts that expired on Friday would insert enhanced volatility that could plummet the price didn't shake the first-ever cryptocurrency.
Just the opposite, BTC continued on its way up, which led to overcoming $55,000 as reported yesterday. However, the bears were looming and put some pressure that resulted in dipping to $54,000 once more.
That was short-lived, though, as the primary cryptocurrency has bounced off since then. In the following hours, bitcoin jumped to an intraday high of $56,500. It has retraced with a few hundred dollars now but still stands above $56,000.
Interestingly, Santiment data shows that the general weighted social sentiment still indicates that bitcoin and ether are in bearish territory. However, the analytics company said that prices typically "move opposite to crowd expectations," which could imply upcoming price increases for the two largest digital assets.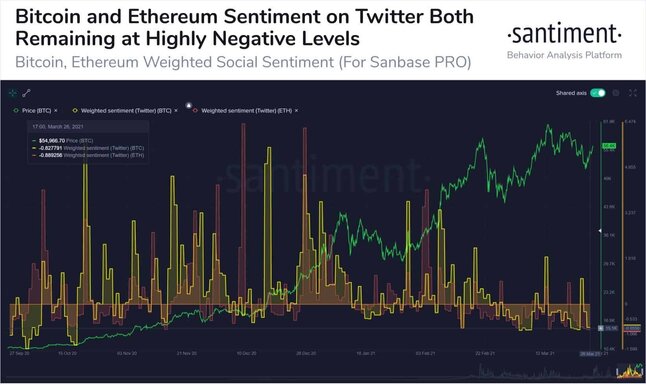 ETH Reclaims $1,700: BNB Spikes 9%
Although the community might be expecting some short-term price drops for Ethereum, as mentioned above, the cryptocurrency has actually increased slightly since yesterday. As a result, ETH has jumped back above $1,700. A few days ago, the asset dropped to roughly $1,550.
Litecoin (1%) and THETA (5%) are also up from the top ten to $185 and $13, respectively. Binance Coin is the most impressive performer from the larger-cap altcoins with a 9% surge. Consequently, BNB has increased to $275 after dropping to $225 on Thursday.
Cardano (ADA), Polkadot (DOT), Ripple (XRP), and Uniswap (UNI) have remained essentially stagnant on a 24-hour scale.
More fluctuations are evident from lower- and mid-cap altcoins, as expected. HedgeTrade has entered the top 100 coins by market cap after a 50% jump in a day to $2.1.
Storj follows with a 48% increase since yesterday and a whopping 270% surge in a week.
Ankr (39%), Helium (25%), PancakeSwap (22%), ICON (21%), Ontology (14%), Solana (12%), and Curve DAO Token (11%) are next.
Ultimately, the cumulative market capitalization of all cryptocurrency assets has added $60 billion in a day to $1.770 trillion. This also means that the metric is up by $170 billion in four days.