Crypto Art NFTs With 'Superpowers' Ether Cards Sell $9M in One Day
Ether Cards sold more than $9 million worth of crypto NFT collectibles in the first 24 hours of availability.
The cards have randomized, unique traits that make them distinct from each other, and can come with added perks and future benefits.
The latest non-fungible token (NFT) crypto collectibles success isn't tied to a sports league, celebrity, or athlete. It's an original project called Ether Cards that serves up digital art collectibles with a twist, including randomized "traits" and other potential benefits—and the unique hook seems to have driven demand.
According to the Ether Cards team, the project sold more than 5,000 ETH worth of Founder Series cards in the first 24 hours of sale, beginning March 18, or more than $9 million worth at the time of sale. Ether Cards had already pulled in more than $3.7 million worth of ETH during an earlier presale, and cards remain on sale as of this writing with a tiered price scale that gradually grows as more and more cards of each rarity type are sold.
The Ether Cards name has been in use since 2016, previously for various other initiatives, such as distributing physical cards with Ethereum wallet details and for ETH giveaways. As the NFT market heated up, however—including some $342 million in trading volume across the top three marketplaces in February alone—the creators saw an opportunity to innovate in the space.
An NFT can represent nearly any digital item—for example, a static image, animated gif, a tweet, or a video. For most NFTs, ownership of the verifiably scarce and blockchain-authenticated digital creation is pretty much the extent of the use case.
However, the Ether Cards platform has a built-in, smart contract-powered "traits" system that activates once the cards are minted, bestowing each one with unique differentiators and even special perks for buyers. The Ether Cards team refers to as "NFTs with superpowers."
These can include benefits for future use, including fee waivers and discount coupons for the Ether Cards platform, as well as free future crypto art NFT drops. That's an added bonus alongside the diverse array of collectible imagery provided by artists such as Anthony D'Onofrio, Dirty Robot, and Nusi Quero.
💎Buy from Sale and Hold for 30 days = Pristine Card Status💎

Each card with this 'pristine' status will receive a guaranteed extra Common traithttps://t.co/z3QgtYmYMe

— Ether Cards (@ether_cards) March 28, 2021
"[The] Founder Series is the culmination of years of work all coming together at the right time," Ether Cards Co-founder Benjamin Ong told Decrypt. "We felt that NFTs have so much more potential than simply changing hands on the secondary market. We wanted to add extra traits and features to allow creators to unlock significantly more value in their creations, as well as give them the ability to build a direct connection with their collectors."
The traits system is powered by Chainlink's Verifiable Randomness Function (VRF) technology, which has been used by blockchain-driven games for random number generation for gameplay elements and in-game item NFTs. According to the Ether Cards team, the cryptographically provable randomness element helps ensure that traits are fairly distributed, and it also helps avoid suspicion of potential manipulation techniques.
"As more and more people start ascribing value to NFTs, we anticipate that the origins of these assets will become more important than ever before. Ether Cards is ahead of the curve here, because they recognize that verifiable randomness is a key element in determining value for collectibles, both in the analog and digital worlds," Chainlink co-founder Sergey Nazarov told Decrypt. "By adopting Chainlink VRF, the Ether Cards team has been able to provide users with evidence that minting, distributions, and the unique characteristics of their NFTs are fairly generated and are thus genuinely rare."
Furthermore, Ether Cards' creators are giving away $5.9 million worth of Basic Attention Token (BAT) as a bonus to buyers, and offering a chance to win rare and potentially very valuable CryptoPunks NFTs. Ether Cards are billed as "membership cards" that bestow potential future benefits—some advertised, some to be detailed later—but come at significant cost.
The 90 "OG" level cards, which already sold out, went for between 30 and 55 ETH (about $50,900 to $93,000) apiece. The 900 "Alpha" cards are selling for between 5 and 25 ETH (about $8,500 to $42,400) apiece, and the 9,000 "Common" cards sell for between 0.3 ETH and 5 ETH (about $500 to $8,500), except for the final card that will sell for an as-yet-undisclosed price. All told, the sale could rack up tens of millions of dollars in ETH.
Already, Ether Cards has beaten the single-day drop records of NFT collectibles platforms such as NBA Top Shot, EulerBeats, and Hashmasks. However, there is a major price disparity between Ether Cards and NBA Top Shot's pack drops. After all, the most expensive Top Shot pack ever sold for $999, and common base packs sell for as little as $9 apiece. Ether Cards may not have hundreds of thousands of people piling in to try to purchase NFTs, as NBA Top Shot has encountered, but the buyers who do invest are largely big spenders.
The Ether Cards sale will continue into next week, unless the remaining stock sells out sooner. Already, the team is looking ahead to future moves, including opening up the platform to more creators and integrating its functionality into other NFT marketplaces. Ong said that they have also been testing layer-2 scaling solutions, including Polygon Network (ex-Matic), in response to a question about the growing concern over the environmental impact of Ethereum-based NFTs.
"We want @ether_cards to become a lego-like ecosystem that can be integrated with the #NFT space similar to other platforms in the DeFi space" – Andras Kristof, Ether Cards Founder

— Ether Cards (@ether_cards) March 24, 2021
Otherwise, Ong said the Ether Cards team is "turning into an idea factory" that aims to explore further experimental NFT concepts—and deliver on the promise that membership truly will bring benefits with these pricey tokenized cards. He teased partnerships with other platforms in the Ethereum space, as well as competitions and puzzles built around these NFTs.
"Imagine Ether Cards as very attractive access cards. While they are amazing artistic creations, that is not their principal function," said Ong. "They are keys to unlock a whole world of interaction with smart contracts all over the Ethereum blockchain."
Right now, there might be more questions than answers about the full extent of the eventual benefits available to cardholders, but there's little doubt that the FOMO fueling the NFT boom is also helping to drive Ether Cards' surging sales.
Reason Behind Ethereum (ETH) Price Surge to $12,000
Justin Bennett looks at a situation in which the price of ETH could hit $12,000.
Ethereum always follows the BTC price.
Bennett explained that a $200,000 price surge in BTC will put ETH at $12,000.
With Ethereum (ETH) breaking the $4,000 price this week, analyst Justin Bennett looks at a situation in which the price of ETH could hit $12,000. More so, the crypto has limited two-and-a-half months to travel this year. This indicates ETH has only limited time to reach the optimistic price targets.
According to CoinMarketCap, the ETH price is trading at $4,010.56 with a 24-hour trading volume of $18,093,022,938, at the time of writing.
Ethereum always follows the BTC price, however, analysts have not seen a deviation from this trend. Also, with the current market conditions, the analyst explained in his newsletter which indicators reveal that the price of the pioneer crypto will reach as high as $200K before the present cycle ends.
In case, ETH hits this price target, then ETH will surely rally over 300% in response to this. Aside from all this, Bennett explained that a $200,000 price surge in BTC will put ETH at $12,000 with the present ETHBTC levels. Added to this, the analyst views that the price of ETHBTC will surge before the end of the bull market.
According to Bennett, the price of ETHUSDT could be between $15,000 and $20,000. If the price of bitcoin breaks above $200,000 before the cycle ends, then the price of ETHUSDT will also rise.
Recent trends indicate that Ethereum may hit a new all-time high before the weekend closes, despite significant resistance toward breaking the previous all-time high. If that happens, then we will just have to wait and see what happens.
One Ethereum Competitor Is Showing Strength As Bitcoin Loses Ground, According to Crypto Trader Benjamin Cowen
Crypto analyst Benjamin Cowen says an Ethereum rival is showing strength as Bitcoin pulls back from its all-time high.
Cowen tells his 576,000 YouTube subscribers that AVAX, the native token for the smart contract platform Avalanche, is "weathering the storm relatively well."ADVERTISEMENT
The 12th-ranked asset by market cap is trading at $68.28 at time of writing, up over 5% in the past 24 hours and more than 20% in the past week, according to CoinGecko.
Cowen notes that AVAX is trading well above both its 20-week simple moving average (SMA) and 21-week exponential moving average (EMA). Taken together, the two metrics are what Cowen refers to as the "bull market support band."
"We also have some wiggle room in the sense that we are above the bull market support band of the AVAX/USD valuation. The 20-week SMA is at $35.85 and the 21-week EMA is at $43.47. What that tells you is that Avalanche has been performing pretty well for the last several weeks.
A lot of coins are right above their bull market support band, and they haven't been performing as well recently. A lot of these things can have some type of seasonality as the money ball just jumps around from project to project, and right now, clearly, AVAX is showing a decent amount of strength."
Cowen doesn't predict that AVAX will have a strong move against Bitcoin "in the next month or so," but he does say that Avalanche can increase in value in terms of its relationship to the US dollar in the short term.
Ethereum Price Forecast: ETH bulls set sights on new record high targeting $6,000
Ethereum price is gearing up for a new all-time high as two significant bullish chart patterns have transpired.
The governing technical patterns present optimistic targets at $6,015 and $6,365.
A daily close above $3,960 would add credence to the bulls' aspirations toward $6,000.
Ethereum price is hovering around a key support level which has previously acted as resistance for ETH, as the bulls catch their breath before the token resumes its rally. As long as the second-largest cryptocurrency by market capitalization holds above $3,960, a 60% surge is still on the radar.
Ethereum price eyes 60% ascent
Ethereum price has printed two major bullish technical patterns on the daily chart, an ascending parallel channel and a cup-and-handle pattern. The former chart pattern indicates that ETH has been consistently reaching higher highs and higher lows since mid-June, presenting an optimistic outlook for the token.
Based on the first prevailing chart pattern, ETH is likely to tag the upper boundary of the channel at $6,015, coinciding with the 161.8% Fibonacci extension level, representing a 48% climb.
The cup-and-handle chart pattern suggests that the projected target for Ethereum price is at $6,365, forecasting a 60% rally. While the two governing technical patterns establish an optimistic outlook for ETH, the token may be confronted by a headwind at its all-time high at $4,369, corresponding to the middle boundary of the parallel channel.
Additional hurdles may emerge at the 127.2% Fibonacci extension level at $5,092, then at the 161.8% Fibonacci extension level at $6,015.
Given the reinforcement of the two optimistic chart patterns presented on the ETH daily chart, retracements for Ethereum price may not be significant even if selling pressure arises.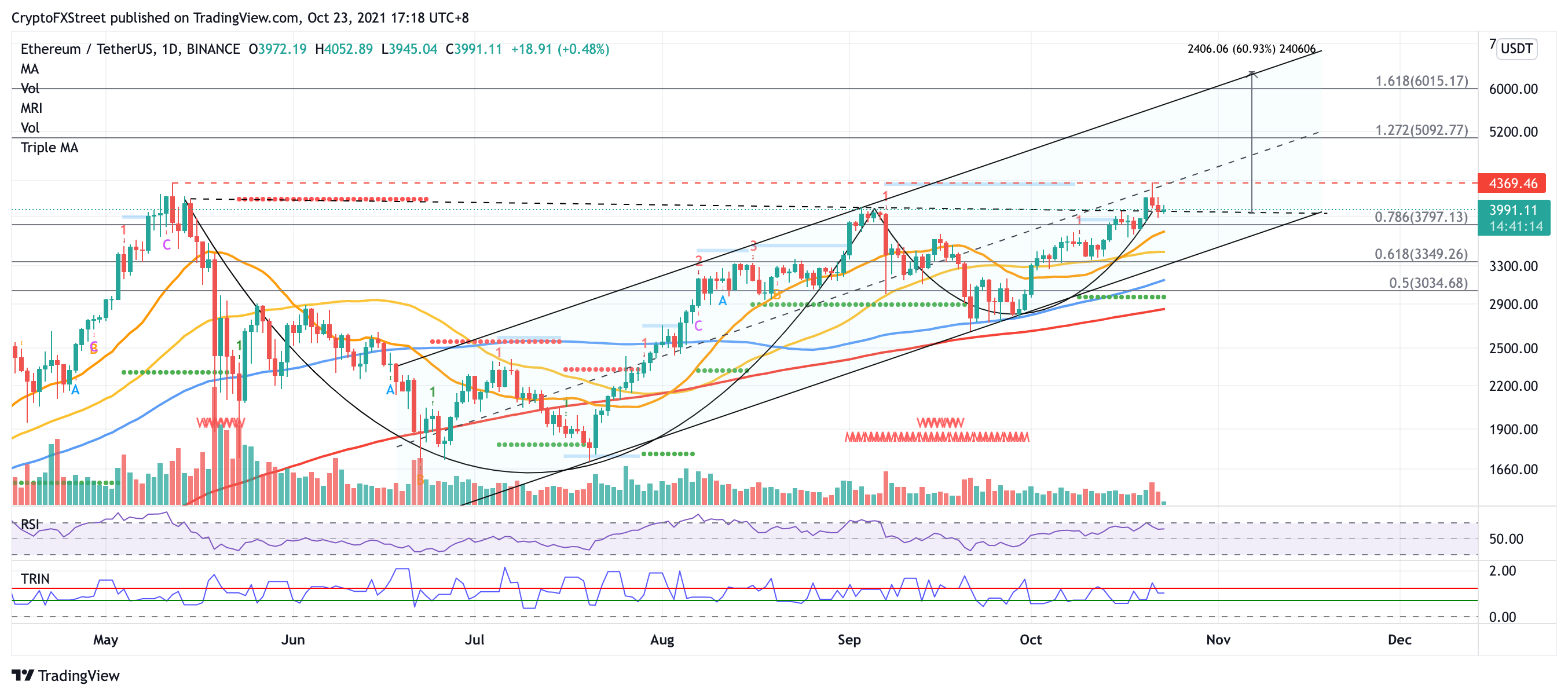 ETH/USDT daily chart
Ethereum price will discover immediate support at the support trend line at $3,960, then at the 78.6% Fibonacci retracement level at $3,797. The following line of defense will emerge at the 21-day Simple Moving Average (SMA) at $3,710, then at the 50-day SMA at $3,453 before eventually dropping toward the lower boundary of the ascending parallel channel at $3,349, which meets the 61.8% Fibonacci retracement level.
If Ethereum price fails to hold above the aforementioned levels of support, the bullish outlook may be voided, prompting ETH to plunge lower toward the 100-day SMA at $3,137.
ETH bulls should aim for a daily close above $3,960 to reinforce commitment for the bullish target to be on the horizon.