Ripple Cofounder Jed McCaleb Moves 127 Million XRP In Past 15 Days With 336 Million Remaining in His Wallet
Over the past two weeks, Jed McCaleb has withdrawn almost 127 million XRP tokens from his wallet to cash crypto out
As per data from XRPscan, in the past 15 days, Jed McCaleb, who cofounded Ripple Labs, has sent a whopping 127 million XRP to be sold.
In the meantime, 336 million XRP remain in his "tacostand" cryptocurrency wallet.
Image via XRPscan
$71 million in XRP shifted from "tacostand"
According to XRPscan transaction analytics website, since March 15, Jed McCaleb has made 15 XRP transactions (one transfer per day), moving a total of 126.6 million coins.
In fiat currency, that represents slightly under $71,000,000.
Jed McCaleb was the first chief technology officer of Ripple Labs (initially known as OpenCoin and then rebranded), who cofounded it back in 2012 along with Chris Larsen. However, next year, over discrepancies with the latter, McCaleb resigned and went off to create the rival Stellar with its XLM token.
He received a healthy compensation of nine billion XRP which he has been selling in small lumps since then. The settlement agreement he signed prohibits McCaleb from dumping all the XRP he owns on the market at once—to prevent this from driving the XRP exchange rate down to zero.
McCaleb sells 152 million XRP prior to that
Frequent sales McCaleb has been making are not impacting the price of the seventh-largest token, XRP.
On March 15, U.Today reported that the cofounder of the company had cashed out 152 million XRP tokens over the previous nine days. That's $65,183,376.
Ripple continues legal debates with the SEC
The legal case filed by the U.S. securities regulator against Ripple Labs and two of its highest-profile executives, Chris Larsen and Brad Garlinghouse, continues.
Recently, Ripple has filed a motion that the court compels the SEC to produce documents based on which the regulator has identified Bitcoin and Ethereum as non-securities.
The court has approved of this and announced the date that a telephone discovery conference will take place for both sides of the case: April 6.
Speaking of lawsuits, Jed McCaleb, despite being the other Ripple cofounder and despite regular XRP sales, has not been sued by the SEC.
XLM May Get in Trouble If XRP Deemed a Security: XRP Researcher
A researcher from the XRP community believes that XLM and Stellar may get in trouble should the SEC deem XRP a security
Researcher Leonidaz Hadjiloizou has posted a tweet, in which is asks the opinion of the XRP community about which side in the Ripple-SEC legal battle the company's co-founder and former CTO Jed McCaleb would take, if he were to do it.
According to Hadjiloizou, should the SEC win and XRP is deemed a security, then Jed and his company Stellar which he created as a rival to Ripple will be in for hard times. If the court rules that XRP is a security, then McCaleb broke the law by selling these potentially unregistered securities – 9 billion of them that he received from Ripple as compensation as part of the Settlement Agreement.
What is most likely? Jed testifies as an expert witness for Ripple or the SEC?

PS1:If he believed XRP is a security then he broke the law by selling unregistered securities after the lawsuit was filed.

PS2:XLM might get in trouble if XRP is deemed a security on a technical lvl.— Leonidas (@LeoHadjiloizou) October 16, 2021
Besides, Hadjiloizou says that if XRP is announced a security, then the native token of Jed's Stellar, XLM, may also get in trouble and, perhaps, face similar accusations.
So far, no legal action has been filed by the SEC against Jed McCaleb, even though he co-founded Ripple Labs together with Chris Larsen. The latter and the CEO Brad Garlinghouse, along with Ripple Labs, are the defendants in this legal case of the SEC against Ripple.
Jed has been selling his 9 billion XRP in parts, however, he has not sold any coins since September 1.
Ripple Shifts 33.8 Million to Huobi in Past 2 Weeks, After Allocating 100 Million XRP for It
Ripple fintech firm has sent almost 40 million XRP to Huobi since October began from the 100 million allocated for it in the first place
Data provided by the analytics platform Bithomp that works with XRP transactions, over the past eighteen days, Ripple distributed ledger tech provider has shifted 33,805,080 XRP to the major digital exchange Huobi.
One third of Ripple's 100 million XRP shifted to Huobi
This amount of crypto equals to $38,790,225. The size of weekly transactions has been changing since September 29, when Ripple allocated a whopping 100 million XRP lump to be sent to Huobi in regular transfers – it started as 1,542,780 XRP, continued as 2,309,580. So far, Ripple is moving 1,911,150 XRP lumps to Huobi.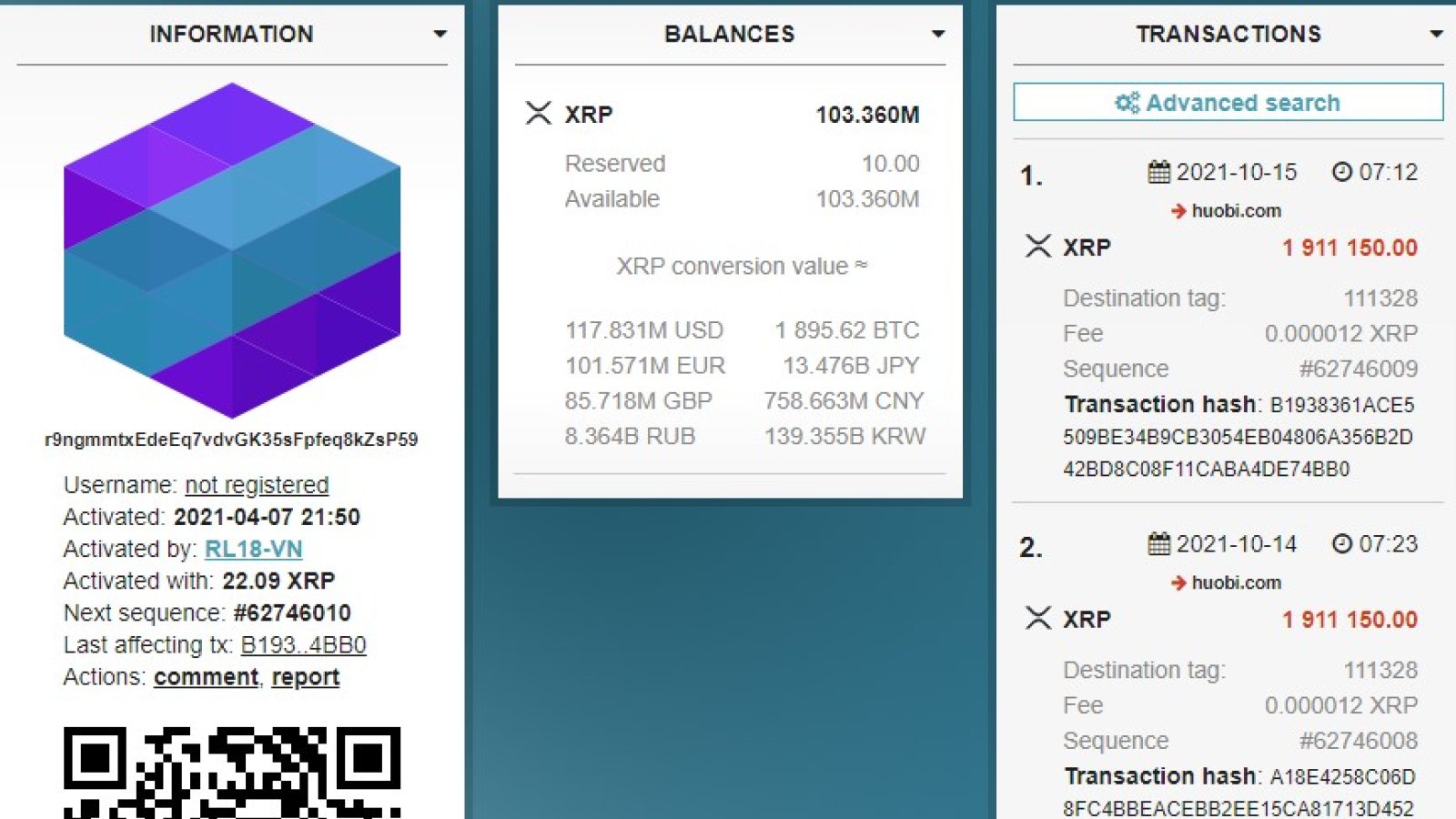 The exchange has recently announced its withdrawal from mainland China and by December 31 it plans to stop crypto trading against CNY.
XRP becomes number one choice for UK retail investors
At the time of writing, the sixth largest cryptocurrency, XRP, is changing hands at $1.15, showing a mild rise of 2.54 percent, as per the data provided by CoinMarketCap.
As reported by U.Today earlier, a recent report by a leading trading platform eToro stated that the majority of retail crypto investors in the UK now prefer XRP as their top asset. Cardano's ADA is the second favorite.
Ripple Labs has recently joined the Digital Pound Foundation to help UK authorities work the CBDC they are developing – digital pound sterling.
XRP is UK's most popular crypto as analyst expect massive gains
In a recent report by the eToro trading platform, XRP emerged as the most popular cryptocurrency in Q3 2021.
Ripple has partnered with Digital Pound Foundation to support the creation of the UK's central bank digital currency, the "Digital Pound Sterling."
Analysts are bullish on XRP price, predicting a big move in altcoin within the next two days.
In the third quarter of this year, XRP became the number one cryptocurrency in the UK, according to social trading platform eToro. XRP holders are bullish on the proceedings in the SEC v. Ripple case.
Analysts predict a big move in XRP, bullish on the new partnerships
eToro, the social trading platform, recently revealed that XRP is UK's most popular cryptocurrency, followed by Cardano (ADA). Crypto traders in the UK have put more funds in XRP than any other crypto in Q3 2021.
The year-on-year increase in XRP price is over 100%; despite higher gains in Bitcoin and Ethereum, traders held on to XRP for its volatility and risk-adjusted returns. 
Interestingly, XRP has witnessed a spike in retail and institutional adoption over the past few months. Ripple collaborated with the Digital Pound Foundation and prepared to work in line with the firm's objectives to work with global banks and resolve issues related to CBDC development.
XRP is engaging with centralized institutions for the development of CBDCs. After announcing its partnership with Bhutan's Monetary Authority, Ripple works with the UK's central bank for the "Digital Pound Sterling."
Ripple has positioned itself to be a bridge in CBDC development. Nearly 80% of central banks are currently exploring CBDC development, and the Ripple network's engagement with centralized institutions is expected to boost XRP's utility.
The world's sixth-largest cryptocurrency started at $0.22 in 2021 and hit a high of $1.9 in April before further correction.
Cryptocurrency analyst @Koolaid_crypto has predicted a big move in XRP price over the next two days. 
$XRPBTC showing a possible big move for $XRP in about 2 days time if this fractal holds up. #XRP #XRPcommunity #XRPusdt #XRP pic.twitter.com/ZRI7y2lt7s— Crypto Koolaid (@Koolaid_crypto) October 15, 2021
FXStreet analysts have evaluated the XRP price trend and predicted that the altcoin would skyrocket to $2 with a rise in trade volume.