Visa to settle fiat transactions with USDC on Ethereum
Visa has now become the first major payments network to settle its transactions in cryptocurrencies, allowing Crypto.com to make fiat payments in USDC.
The move is in line with the payments giant's plan to move into the CBDC arena as more central banks make moves in developing sovereign digital currencies.
---
One of the world's largest payments networks is now processing fiat transactions in cryptocurrencies. Visa announced today that it will allow one of its clients to make its payments in USD Coin (USDC), a stablecoin, while settling the transactions on the Ethereum network.
Visa, which is the world's second-largest card payment company after China's UnionPay partnered with Crypto.com on the initiative. The pilot project will see the cryptocurrency exchange and card issuer send USDC to Visa to settle a portion of its obligations for the Crypto.com Visa card program.
EXCLUSIVE-Visa moves to allow payment settlements using cryptocurrency – Reuters News$V

— *Walter Bloomberg (@DeItaone) March 29, 2021
In its current status, Visa's standard settlement process requires all its partners to settle in fiat currency, regardless of which sector the partners operate in. As the payments giant noted in its press release, this can be costly and unnecessarily complex for cryptocurrency companies.
Jack Forestell, Visa's executive VP commented, "Crypto-native fintechs want partners who understand their business and the complexities of digital currency form factors."
Visa also brought in Anchorage, the first federally chartered digital asset bank on the pilot, pledging to avail the service to more companies later this year.
The ability to settle in USDC can ultimately help Crypto.com and other crypto native companies evaluate fundamentally new business models without the need for traditional fiat in their treasury and settlement workflows, Visa noted.
"The announcement today marks a major milestone in our ability to address the needs of fintechs managing their business in a stablecoin or cryptocurrency," Forestell added.
Visa gets deeper into cryptocurrencies
Visa's supremacy in the card payments industry can't be overstated. While UnionPay leapfrogged it in transaction volume a few years back, the Chinese firm gets a majority of its business in its home country. Globally, Visa controls over 50% of the debit and credit card market.
With cryptocurrencies becoming ever so popular, Visa has sought to position itself strategically to ensure it doesn't lose its market share. The US company has continued to integrate digital assets into its system while partnering with dozens of cryptocurrency companies.
David Puth, the CEO of Centre, the consortium that oversees the issuance of the USDC stablecoin remarked on Visa's growing influence in the cryptocurrency industry, stating, "Visa is leading the market with its innovative approach to payments in many forms. We are very impressed with their efforts."
Crypto.com became the latest to join the Visa global network two weeks ago. Other members include Coinbase, BlockFi, Nexo and Binance.
As per local reports in South Korea, Visa is also trying to get into the cryptocurrency exchange sector. The company was reportedly one of the global firms that have been eyeing a stake in Bithumb, South Korea's second-largest exchange.
In the long run, Visa is seeking to get into the central bank digital currencies game. Cuy Sheffield, the head of cryptocurrencies at Visa stated recently, "As we engage with central banks across the world, we think it's really important for CBDCs to be integrated into the payments ecosystem."
Ethereum on the Brink of Catching Fire, According to Analyst Justin Bennett – Here's His Target and Timeline
Widely followed crypto analyst Justin Bennett thinks Ethereum (ETH) is gearing up for another major rally that could launch the crypto asset by nearly 400%.
In a series of tweets, Bennett explains how Ethereum could rally to $20,000 by January 2022 if Bitcoin (BTC) allows for the right market conditions.ADVERTISEMENT
"If $BTC breaks $65,000 without a significant pullback first, $ETH probably matches it with a close above the May trend line.
Would put ETH on track for $20,000 in January.
This is my trigger to ape in more than I already am."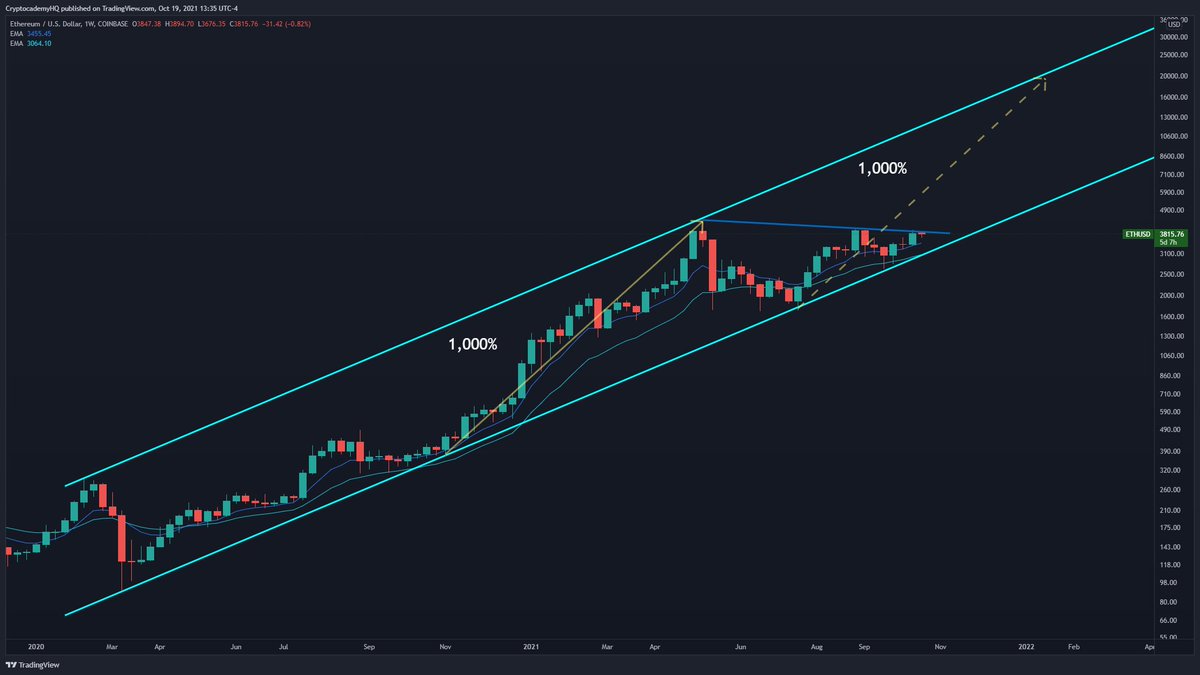 Bennett thinks that a $20,000 top for ETH is more likely given that too many traders are calling for a high of $10,000. He contends that most traders underestimate the rush of capital that can flow in during a parabolic run.
That's one reason I think $20k happens.

Every time I post this chart, I get multiple comments from people telling me ETH tops at $10k.

Parabolic moves tend to last longer and push prices higher than most expect.

Time will tell.— Justin Bennett (@JustinBennettFX) October 19, 2021
Despite his bullish thesis, Bennett warns traders about a potential dump in the short term that could wipe out overleveraged traders.
"Don't be surprised if we get a flush this week, potentially toward $53,000 BTC, then all-time highs.
Everyone, including me, is hyper bullish right now, and rightfully so. But that's when liquidations tend to occur.
Sunday's $58,900 low is the proverbial line in the sand."
In response to another crypto trader's bull run hypothesis, Bennett gives his outlook on the market cycle, expecting a peak Bitcoin price between $207,000 and $270,000 followed by an 80% correction.
Agree with all points except 1, 4, and 8.

1) $BTC ATH probably takes longer than most expect
4) Fibs point to $207k – $270k
8) $50k – $60k bear market low

On point 8, diminishing corrections for a maturing market. 94%, 87%, and 84% so far in order. Probably 80%ish next.— Justin Bennett (@JustinBennettFX) October 19, 2021
Ether tops $4.2k, eyes record high
The hit five-month highs of over $4,200 earlier today, extending Wednesday's 7.3% gain – the biggest since Oct. 1. The price chart shows the path of least resistance is to the higher side, and record highs could soon come into play.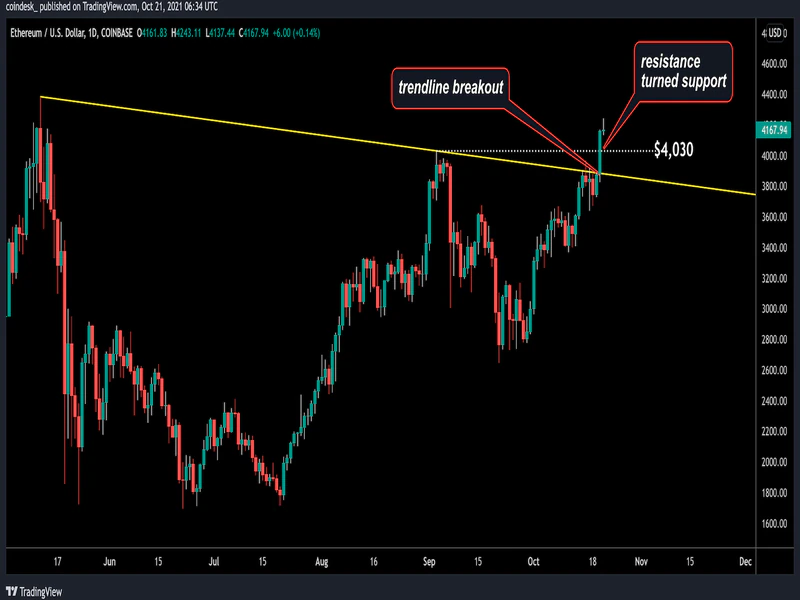 has convincingly breached the bearish trendline connecting May and September highs. Bitcoin topped similar resistance earlier this month and clocked new record highs of over $66,000 on Wednesday.
Ether has also flipped the September high of $4,030 into support.
There is little resistance overhead on the way to $4,379 – the record reached in May.
The relative strength index (RSI) on the 4-hour chart is signaling overbought conditions with an above-70 print. So, a pullback to former hurdle-turned-support at $4,030 may be seen before a continued rally to lifetime highs.
The options market is leaning bullish, with investors buying out-of-the-money or higher strike call options on expectations that U.S. regulators would soon approve an exchange-traded fund (ETF) tied to ether futures contracts.
Ethereum Price Enters & Exits Discovery Phase In Hurry!! Will Altseason Be Triggered!
The broader crypto space is fast approaching the $3 trillion mark with approximately 5% gains in 24 hours. Star cryptos of the space Bitcoin and Ethereum seems to be moving side by side with incredible gains from the start of the Q4. Especially, the most valued altcoin outperformed the flagship asset in terms of profits as well as liquidation. Here, we have brought enthralling analytics about the future of the coin!
Ethereum registers Stunning Onchain Activity!
Looking at the clear picture of the space, Ethereum registered fresh breakthroughs in 24 hours. A recent report from Santiment, a crypto metric platform, highlighted post the launch of the EIP-1559 London hard fork upgrade, the altcoin gained traction of a new user base. Approximately, addresses with 1M to 10M ETH purchased 13.9% of the total coins in circulation in the last 24 hours. The rising activity indicates the increasing interest in the asset.  
🐳 #Ethereum's top addresses have accumulated $ETH steadily since early August, and it's no surprise to see the #2 asset approaching an #AllTimeHigh of its own. In the past 10 weeks, addresses with 1M to 10M $ETH have accumulated 13.9% more to their bags. https://t.co/OUccwGBDKC pic.twitter.com/tJpZiN5B9Y— Santiment (@santimentfeed) October 21, 2021
Another exciting report coming out from Skew, a crypto analytics platform. Highlighted that the Open Interest (OI) of CME Ethereum futures surged beyond $1 billion on October 21st, 2021. As the altseason is on the horizon and the Ethereum merger is scheduled to launch in early 2022, traders seem to be showcasing massive confidence towards the asset. 
Meanwhile, ByBt, a crypto analytics platform reported that there were about $27.59 million ETH liquidations took place in 24 hours. Which is more than Bitcoin, where BTC liquidations were about $20.37 million. Despite huge selling pressure, the star altcoin outperformed the most dominant asset with 7.95% profits in 24 hours. Traders are now looking out for long liquidations as the long versus shorts ratio stands at 1.04. 
Ethereum Price Enters Discovery Phase:
Ethereum price has just hit a new ATH of $4,366 and is trading at a decisive phase. As the pattern of the altcoin is entering its crucial compression zone, the breakout could take its value to the moon. The star altcoin is expected to retest between $3600 to $3800 before it begins with another uptrend. If a significant number of buyers fails to uplift the price action from there, then the asset could settle down at support levels between $3,200 and $3400.
Collectively, Ethereum price is having immense profits and if its decisive phase ends up on a positive note. Then the star altcoin could trigger the biggest altseason of the decade. The current price action of the coin could slowly pave the way for major altcoins with a larger market cap. Then, traders may shift their attention to coins with stronger fundamentals. From there, meme coins and the rest of the coins could boom.