Why Coinbase Is Losing The Race To Become Top Dog
With a direct listing on the NASDAQ stock exchange coming very soon in April, Coinbase has a lot to do in order to make up ground on Binance, the number one centralised exchange on trading volume. A narrow choice of cryptocurrencies and a hostile US regulatory landscape are just two issues Coinbase will need to remedy if it wants to make up that ground.
In an article this morning by Seeking Alpha, the case was laid out for a "bumpy path" facing Coinbase. This is in contrast to high expectations of a huge valuation as Coinbase lists on the NASDAQ this coming month.
One of the main problems facing Coinbase is the far from friendly stance of the US regulatory authorities on what can be listed. This has led to Coinbase only managing to list a relatively small number of coins in comparison with its competitors. In fact, Coinbase with only 50 coin listings, is the second least in the top 10 ranking Cryptocurrency spot exchanges.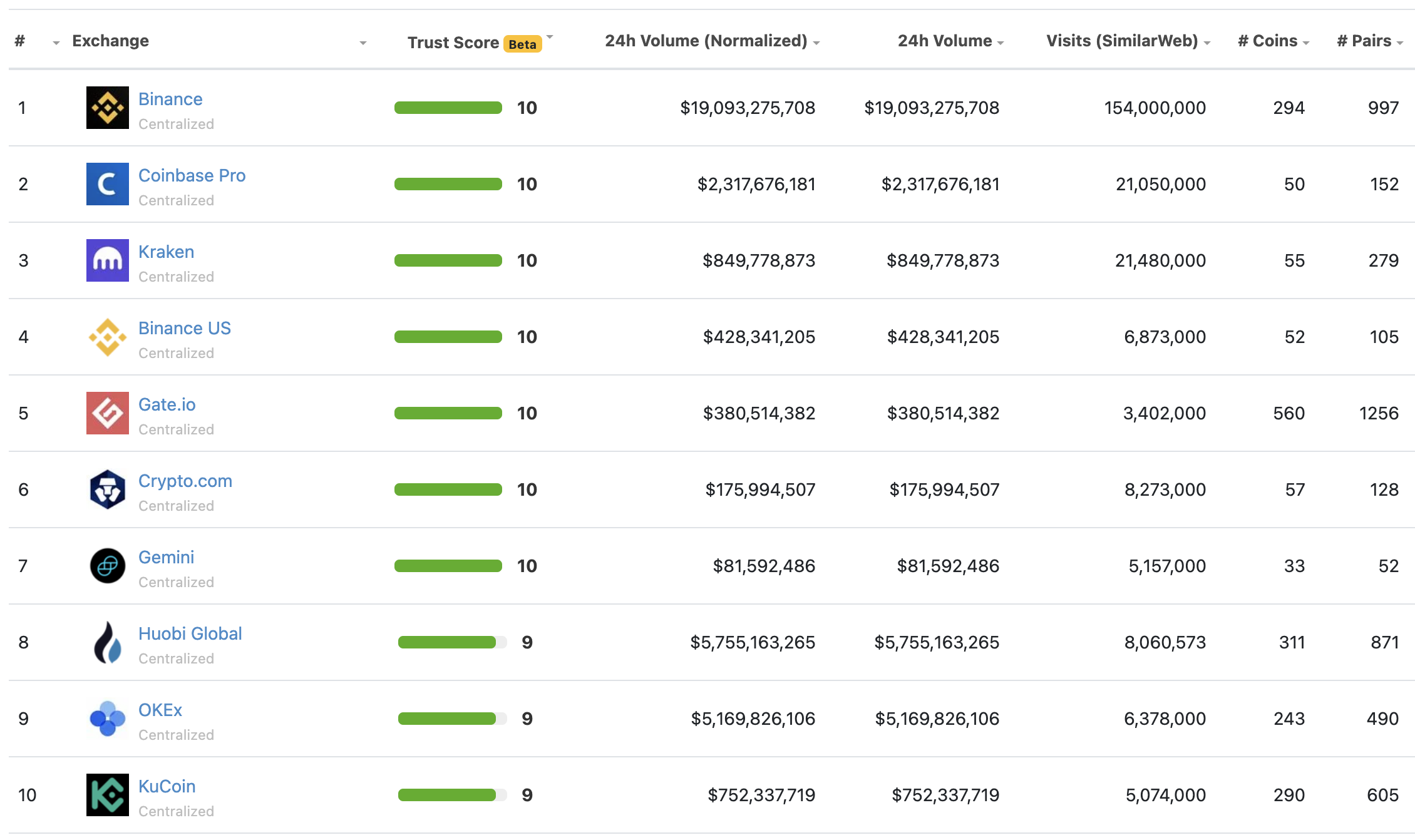 Source: Table taken from Coin Gecko
Traders like the opportunities that arise with new coin listings. With Binance providing almost 6 times as much variety, CZ's exchange is certainly winning one of the races there.
The regulations are even preventing listings of some of the large cap coins. These provide large volumes for exchanges and could be considered a must for attracting traders. DOT (Polkadot) is not supported and XRP (Ripple) is send and receive only.
On another very important front, Coinbase is a centralised exchange and therefore has to jump through so many more hoops than a decentralised exchange such as Uniswap. The leading decentralised exchange "recorded a volume of $58 billion last year, up 15,000% from 2019". Given that Uniswap only launched in late 2018, its trading volume has already surpassed Coinbase which launched in 2012.
Even the centralised exchange Binance is way ahead of Coinbase on most counts. If you add options, margin and other services to Binance's spot trading volume in 2020, you have the figure of $1.7 trillion, a 2800% increase from the previous year. The Coinbase figure for comparison in 2020 was $445 billion in trading volume, only a 39% increase on 2019.
For sure, Coinbase should have a successful listing on the NASDAQ and will receive a huge valuation. However, the market will see how its competitors are doing and their comparatively large edge. Unless Coinbase can innovate and start reducing the gap then perhaps the future might not seem so bright.
Disclaimer: This article is provided for informational purposes only. It is not offered or intended to be used as legal, tax, investment, financial, or other advice.
CFTC slaps Tether and Bitfinex with $42.5 million fine over misleading statements
Tether is hit with $41 million in fines to settle allegations of misleading statements.
Bitfinex was fined $1.5 million for facilitating retail transactions for American citizens.
Tether has been under the lens of financial regulators over claims of stablecoin reserves for years on end.
Financial regulators have investigated Tether and Bitfinex for criminal probe into bank fraud and misleading statements. Currently, over $62 million worth of Tether is in circulation, which is likely to impact the broad cryptocurrency market. 
Tether and Bitfinex hit by CFTC fines; there may be an impact on the crypto market
US regulators have accused Tether of making untrue or misleading statements. The Commodity Futures Trading Commission (CFTC) slapped a penalty of $41 million on Tether and $1.5 million on Bitfinex. 
Bitfinex was fined for allowing American citizens to transact on its exchange. The CFTC announced the penalties earlier today.
Tether has played a key role in the crypto ecosystem, and the US Justice department's focus is on the stablecoin's activity in nascent stages following its launch in 2014. Federal prosecutors investigated transactions that were linked to crypto, and banks were unaware of their nature.
Former probes remained confidential, according to sources close to the Department of Justice (DoJ). A criminal probe is one of the key developments in the crackdown on cryptocurrencies by regulators.
Over $62 billion worth of Tether tokens are in circulation; proponents believe it is too big to fail. In a statement, Tether stated:
Tether routinely has an open dialogue with law enforcement agencies, including the DOJ, as part of our commitment to cooperation and transparency.
In light of recent events, however, Tether is faced with a more significant challenge, safeguarding the interests of the crypto community by not failing. Traders across fiat-crypto exchanges and peer-to-peer platforms exchange their fiat for stablecoins to access the cryptocurrency ecosystem. 
If Tether fails, the inflow of stablecoins to exchanges could be impaired, triggering a drop in capital inflow to Bitcoin. 
In their concurring statements, CFTC was quoted:
The settlement with the Tether respondents finds that there were misrepresentations regarding the assets backing tether, specifically that the USDT tokens were backed 1-to-1 by US dollars. The evidence establishes that this assurance provided to tether customers was not 100% true, 100% of the time.
Tether officials are held accountable by the CFTC. Further, the CFTC has applied a commodities' definition to stablecoins. Regulators are concerned that enforcement actions may confuse their role in cryptocurrency and stablecoin regulation. 
The CFTC's statement reads:
In a recent speech, SEC Commissioner Hester Peirce asked an important question when it comes to the US regulators' review of stablecoins: Are we fighting for investors or are we fighting for jurisdiction? This question is front-and-center in my mind as I consider these settlements.
Tether believes that,
As Tether represented in the Order, it has always maintained adequate reserves and has never failed to satisfy a redemption request.
Tether has suggested that the CFTC's findings regarding Bitfinex are related to its activities before December 2018. The stablecoin issuer is focused on resolving the matter and moving forward.
The statement reads as follows:
We are grateful that the market has consistently demonstrated its trust and confidence in Tether. We will continue to earn that confidence and lead the industry in innovation and transparency.
Crypto Market Cap Gained $90B: Bitcoin Taps $60K, SOL up 8% (Market Watch)
After a six-month hiatus, bitcoin met the coveted $60,000 level before retracing by roughly $1,000. Ethereum went above $3,800 briefly.
Bitcoin skyrocketed by roughly $3,000 in hours following positive reports coming from the US and touched $60,000 for the first time since April. Some altcoins have also joined the ride, with ETH exceeding $3,800 and Solana spiking by more than 8%.
BTC and $60K Met Again
Just two days ago, bitcoin had retraced hard and was close to breaking below $54,000. This came after an unsuccessful attempt to overcome $58,000 for the first time in roughly five months.
However, the bulls hadn't given up yet and initiated another impressive leg up yesterday, as reported. This time, BTC reclaimed the aforementioned level and kept climbing upwards.
BTC went as high as $58,500 before another brief retracement drove it back below $57,000. At this time, though, reports emerged claiming that the US Securities and Exchange Commission could greenlight a Bitcoin Futures ETF as early as next week.
The implications of such a significant development in the US led to an immediate price surge. BTC added more than $3,000 of value and touched $60,000 for the first time since April this year.
As of now, bitcoin has lost around $1,000 of value, but its market cap is still above $1.1 trillion. The dominance over the altcoins has increased to just shy of $46%.
ETH Reached $3.8K: SOL Up by 8%
Ethereum struggled in the past few weeks as it was unable to break above $3,600 decisively. It even retraced by a few hundred dollars but went on the offensive yesterday and continued north today. As a result, the second-largest crypto broke above $3,800 for the first time in months but it was short-lived and is back below it now
Solana is another impressive performer on a 24-hour scale. SOL has surged by 8% in a day and trades well above $160. Uniswap's 4% increase has driven UNI to $26, but the rest of the larger-cap alts have stalled or retraced.
Binance Coin, Cardano, Ripple, Polkadot, Dogecoin, Terra, and Avalanche are all slightly in the red.
The top 100 largest coins have a new representative in the face of NuCypher. NU has exploded by more than 500% in a day and has neared $2, but many community members speculate on Twitter that it could be a pump and dump scheme.
Polygon has increased by 25% to $1.6. The total crypto market cap is above $2.4 trillion for the first time in months as well, after a $90 billion rise in a day.
Crypto Top Voice Mr. Whale Shares Top BTC Price Predictions in One Tweet
While the aggregated forecasts by crypto Mr. Whale spell a great hope for Bitcoin investors across the board, he himself is less optimistic, noting that the digital currency is closer to 0 than $100,000 earlier in the month.
The digital currency ecosystem has seen a lot of Bitcoin (BTC) price predictions from market experts including top financial institutions and analysts, and crypto top voice, Mr Whale has aggregated each of these forecasts in one tweet. Bitcoin has notably charted a very impressive growth course in the past 1 year, with an evidential 400% advancement in price.
Here are some of the #Bitcoin Price Predictions for THIS year:

Fidelity: $100,000
Bloomberg: $400,000
Forbes: $700,000
JP Morgan: $140,000
PlanB Model: $135,000
Nasdaq: $100,000
Max Keiser: $220,000
Pompliano: $100,000

Let's revisit this in 3 months.— Mr. Whale (@CryptoWhale) October 13, 2021
From the fourth quarter of 2020 to date, the Bitcoin ecosystem has witnessed the influx of institutional money, a trend that is contributing to the maturity of the industry. With more interest growing across the board, so is the regulatory terrain in major hotspots like China dragging the growth of the interest. While there seems to be a balance in the factors stirring growth, and those suppressing it, Mr. Whale's tweet ended with a call to revisit the predictions in three months' time.
BTC Price Predictions as Aggregated by the Self-Proclaimed Crypto Whale
With barely three months until the end of the year 2021, the forecast by Bloomberg comes off as one of the most ambitious for the digital currency. The financial media house said back in April that Bitcoin is on track to close the year at a $400,000 price valuation, citing the incremental growth the premier cryptocurrency printed in previous years as its yardstick.
"The technical outlook for Bitcoin in 2021 remains strongly upward if past patterns repeat. Common companions for strong annual rallies in the first-born crypto – low volatility and halvings – are aligned favorably. Our graphic depicts Bitcoin on similar ground as the roughly 55x gain in 2013 and 15x in 2017. To reach price extremes akin to those years in 2021, the crypto would approach $400,000, based on the regression since 2011 high. In September, 180-day volatility on the crypto about matched the all-time low from October 2015. From that month's average price, Bitcoin increased a little over 50x to the peak in 2017," the Bloomberg report highlighted.
Forbes Magazine's projection of $700,000 is even more aggressive, beating not just Bloomberg's call, but also of Max Keiser which is pegged at $220,000. Other top voices include Stock-to-Flow creator PlanB who forecasts a $135,000 worst-case scenario price for Bitcoin by year-end, adding that in the best-case scenario, the cryptocurrency could see a $450,000 price valuation this year.
Other key projections include the $100,000 projections from Fidelity Investments, Nasdaq, Anthony Pompliano, as well as the $140,000 predicted by JPMorgan Chase & Co (NYSE: JPM). Bitcoin is known to possess the right amount of volatility to hit some of these ambitious price tops, however, the journey to highs as much as Bloomberg's and Forbes is very steep and many factors will need to be aggregated to permit this.
#Bitcoin is closer to hitting $0, than it is to hitting $100,000.

The $100K+ targets that 95% of influencers are calling for this year (2021) isn't happening.

Greedy and euphoric retail are easier to manipulate (and dump on) —That's why they push these false fantasy narratives!— Mr. Whale (@CryptoWhale) October 2, 2021
While the aggregated forecasts by crypto Mr. Whale spell a great hope for Bitcoin investors across the board, he himself is less optimistic, noting that the digital currency is closer to 0 than $100,000 earlier in the month.