Ethereum Whale Just Moved $1.3 Billion in ETH to DeFi in a Single Transaction As Price Stays Above $2,100
According to Whale Alert, an Ethereum whale has moved a total of 629,000 ETH worth around $1.3 billion into the Compound contract in a single transaction.
This massive transaction was initiated at the time the price of Ethereum was on the spree of recording all-time highs. At the time of filing this report, ETH is trading at $2,115.12, with a relatively 5% price upsurge based on 24 hours estimation.
Ethereum Whale Moved $1.3 Billion in ETH in a Single Transaction
As reported by Whale Alert, the tracker of large transactions of cryptocurrencies from wallets to exchanges, the Ethereum whale initiated the transaction at 07:53 UTC from an unknown wallet.
Whale Alert tweeted, "629,000 ETH (1,321,384,522 USD) transferred from unknown wallet to unknown wallet."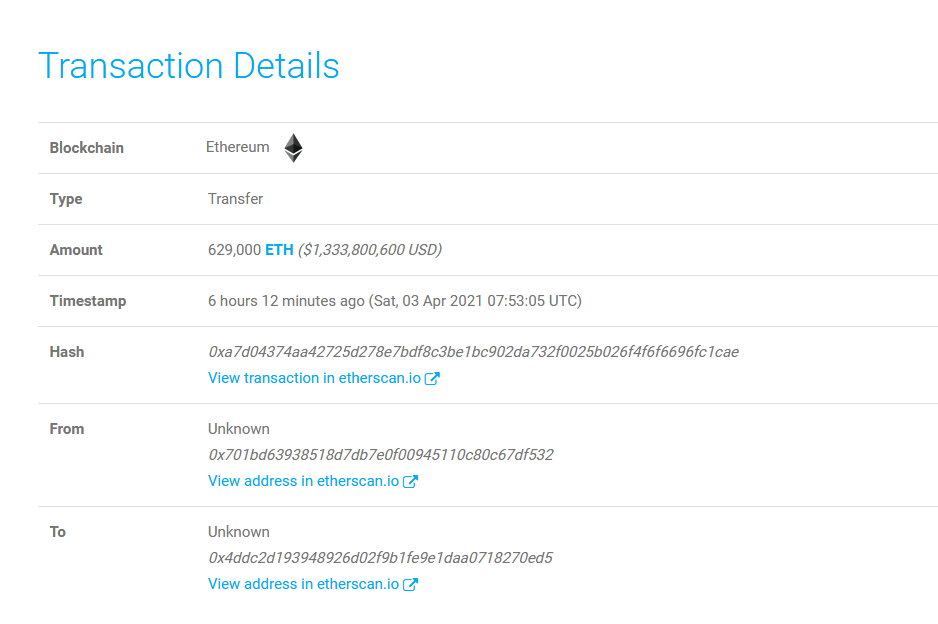 As a report has it, the recipient wallet is the smart contract for Compound, a decentralized finance (DeFi) protocol that allows traders to earn money on the cryptocurrency they save on the platform. It's more like keeping money into a bank account that generates interest.
However, the sender of the whooping sum of Ethereum (ETH) remains anonymous. The report also stated that the whale paid only 0.0205 ETH worth $43 to move the 629,000 ETH. And it's also significant that it required just a single transaction to move such a huge sum of money, which depicts the beauty of cryptocurrency.
It's also a coincidence that the transaction played out when the price of Ethereum (ETH) surged beyond $2,000. It's worth noting that the top digital currency recorded a new all-time high around $2,150 a few hours ago, when Bitcoin (BTC), the largest cryptocurrency by market capitalization, continues to reject $6,000 support.