Dogecoin price consolidation is bullish, projecting another rally high
Dogecoin price illustrating a pennant continuation pattern on 1-hour chart.
DOGE market capitalization now exceeds Bitcoin Cash, Cardano, and Polkadot.
Volume profile shows no one is running for the exits.
Dogecoin price is currently attempting to break out from a pennant pattern on the 1-hour chart, but volume is not complementing the attempt. A retest of the pennant's upper trendline at $0.327 may be coming.  However, two successful tests of the 38.2% Fibonacci retracement of the rally from the April 11 breakout to today's high points to speculators still looking to buy on weakness.
Dogecoin price explosion beyond a social media narrative
The number of new addresses created this week has now surpassed the January high, showing increasing interest in participating in the DOGE rally. Still, it also indicates that the bullish anthem might have traveled too far, too fast, creating bubble-like conditions.
It is not a sign of a top, but a warning to all speculators to be agile and disciplined with their entries and exits at this moment in the rally phase.

DOGE New Addresses via Intotheblock
A spike in volume accompanying a breakout is the ideal scenario in technical analysis; it shows commitment and emotion. The current breakout from a pennant pattern has yet to attract the commitment, but it is not a red flag and could signal that a more complex consolidation could unfold.
Key to the bullish narrative outlined here is if the 38.2% retracement level holds on an hourly closing basis. A close below will raise the probability that the rally high has been printed.
The first upside target is the all-time high at $0.453, followed closely by the psychologically important $0.500. Bigger rally aspirations should target the 161.8% extension of today's intra-day pullback at $0.551 and even the 261.8% extension at $0.709.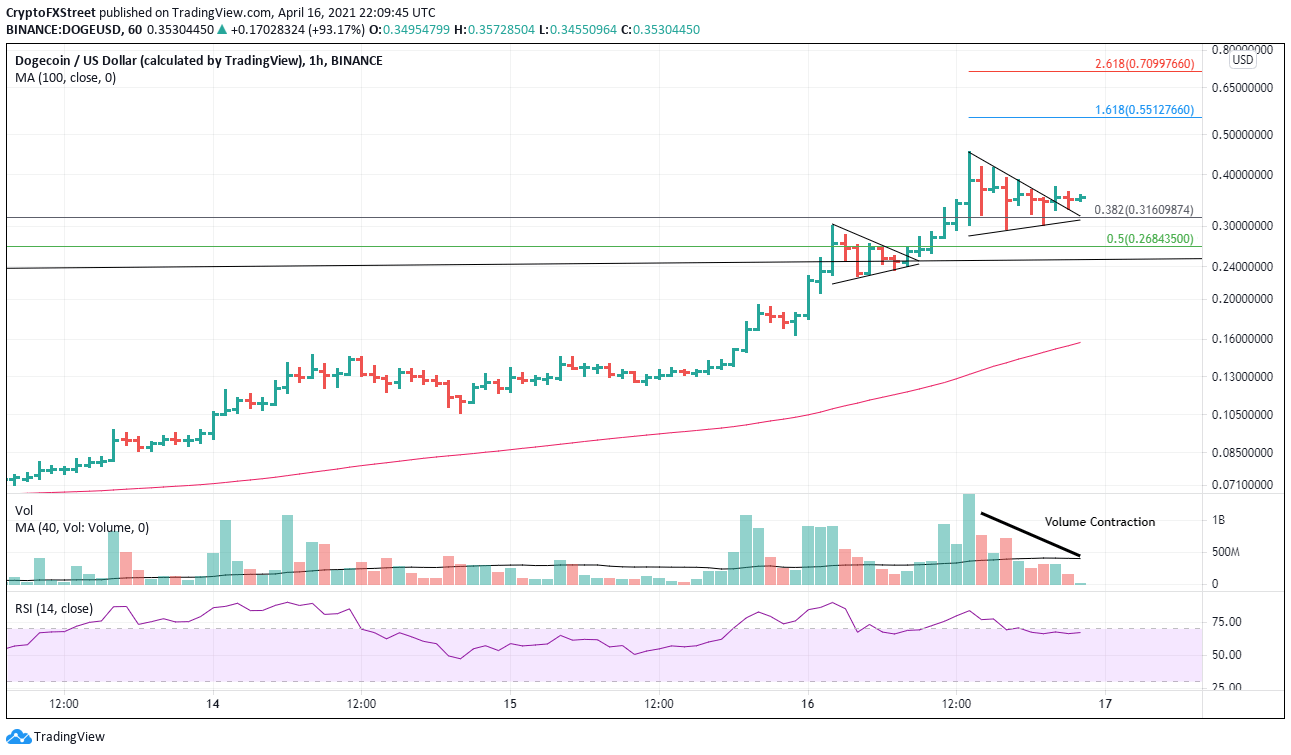 DOGE/USD 1-hour chart
An hourly close below the 38.2% retracement level mentioned above would signal an immediate test of the 50% retracement at $0.268 and confirm that the high has been printed for the explosive advance.
Can Dogecoin and Other Memecoins Remain Bullish in the Crypto Market?
Dogecoin and other Memecoins raise fear among investors.
Many question if they can stand the taste of time like BTC and ETH.
Shiba Inu, Dogecoin continues to soar.
Memecoins have come to become today's alternative cryptocurrencies. Their rising popularity indicates a shift from it being a joke to a more serious investment. Thanks to the wider acceptance of Dogecoin (DOGE), other memecoins sprung up and have climbed the crypto ladder to compete with mainstream cryptocurrencies.
As of today, the total market capitalization of Dogecoin is $7 billion. Dogecoin set the precedent for other 150 meme-themed cryptos such as Shiba Inu (SHIB), Kishu Inu, Doge Killer (LEASH), and others. Just in 2021, Dogecoin amassed over 6,000% rise in price despite some critics warning against investing in the coin.
Even more, the value of Doge is expected to rise as the Dogecoin Foundation recently added a new board of directors. The directors will at long last help run the Doge projects and push its market value above the present $40 billion market cap. This comes after the foundation was dissolved in 2014.
Factors That May Hinder the Success of Memecoins
Many crypto analysts have refused to be moved by the fame of some of these coins due to some flaws. Firstly, Some of them pointed out that most of the memecoins do not have a solid business plan. As such, it is tricky to know which of the memecoins will succeed and earn the longevity of Dogecoin.
Secondly, others asserted that memecoins do not have any core value. Therefore, it will be easy prey for crypto scammers. That means scammers can create new crypto, raise awareness for it, and then sell it for profit.
Thirdly, with the rising number of memecoins, it becomes hard for crypto exchanges to determine how many of the coins are scams. Thereupon, making many investors scared to invest.
Fourthly, another barrier is that most of the coins do not have a known leader. For instance, Shiba Inu, (SHIB)'s inventor is unknown which is rare for any crypto project, except the famous crypto —  Bitcoin.
Finally, unlike mainstream cryptos such as Ethereum (ETH) which put their energy in blockchain development, run DeFi smart contracts, and solve problems, memecoins have no practical use.
What is so alluring about memecoins?
Despite the above-mentioned issues with memecoins, few of the coins keep soaring and even rising in price. At the time of writing, Dogecoin (DOGE) trades at the price of $0.2384. Moreover, Shiba Inu (SHIB) trades at $0.00002559.
In summary, Dogecoin (DOGE) and a few other memecoins captured the hearts of many and may continue to do so. So, the world is watching to see the direction these coins are going. Especially Dogecoin whose team announced it is setting a new foundation. Maybe, the new directors will help set values, and engage the coin into more use cases for crypto development. Thus, other memecoins will follow suit. 
DOGE Price To Explode 1000x!! This Is When Dogecoin Price Will Hit $1!
The total market cap of the crypto space is anticipating a $3 trillion milestone.
Dogecoin price manifests to break a crucial resistance to reach a new milestone.
The global crypto space is currently experiencing a decent uptrend momentum which can soon rekindle an altseason. On 16th October 2021, the total market cap of the space broke at a crucial resistance of $2.401 trillion reaching $2.50 trillion at the press time. While the altseason is on the horizon, meme coin DOGE is awaiting for the crucial breakout to explode by 1000x.
Analyst Makes a Whooping Prediction for DOGE Price!
Popular crypto analyst Justin Bennett expressed that the meme coin has a proven record to explode massively after a breakout. Further, he stated, the DOGE price is on the verge of a breakout and could leg up by 500 to 1000x if it happens.
$DOGE just needs to take out that area above 0.24.

Do that, and a multi-month rally begins, IMO.

Probably 500 – 1,000% of upside if it confirms. #dogecoin pic.twitter.com/dWDFl1okcR— Justin Bennett (@JustinBennettFX) October 15, 2021
The chart shown by him indicates the formation of a Symmetrical triangle pattern. It seems to be retesting at an important resistance area of $0.25. The technical analyst went on to say that the coin has surged by 5 to 10X in its recent breakouts of a similar pattern. Hence, a similar trend may continue, and probably price could soar beyond 500x this time as the pattern is stronger than the previous, he added.
DOGE Price Forms a Symmetrical Triangle Pattern!
The Doge price is trading at $0.2383 with 2.50% gains in the last 24 hours. The asset seems to be awaiting a crucial breakout. The significance of the bullish bid has lifted the price from the $0.1857 support level. Since the start of Q4, clearing the price compression, the meme coin has formed a symmetrical triangle pattern. If altcoin continues the pattern, it could gain massive profits in the upcoming bull cycle.
The DOGE price has the next important resistance between $0.3 to $0.35, if it breaks above $0.4 crucial resistance then it is expected to hit new ATH. On the contrary, bearish clouds could pull back the price level to the major support of $0.1652.
However, Crypto maniac, the popular crypto analyst. He indicated via a chart that the meme coin could soon break out the harmonic pattern to reach new highs. Collectively, if the asset gets any supporting momentum for the price action, then it could soar beyond expectations.
Mark Cuban Defends Dogecoin Against Bitcoin Maximalists
Billionaire Mark Cuban says that he likes Dogecoin because it's a fun and cheap way of learning about crypto.
During a recent live audio conversation on Twitter Spaces, billionaire Mark Cuban said that he would continue talking about Dogecoin despite facing pushback from Bitcoin maximalists.  

Cuban says that Dogecoin is "a great introduction" to the cryptocurrency space.

The "Shark Tank" host also believes that the meme cryptocurrency is a cheap way of learning about crypto.    

Cuban explains that there is a low barrier to entry since one only has to open an account with Robinhood and buy $25 worth of DOGE.
    
Now that Robinhood is rolling out its own wallets, Cuban says that Dogecoiners will be also able to easily spend their favorite meme coin at merchants of the likes of AMC.    
Finally, Cuban has once again praised the Dogecoin community for its frivolousness:
I think it's a fun community to be part of.
Cuban's meager Dogecoin holdings
Despite being a strong Dogecoin advocate, Cuban himself owns only $1,500 in the meme coin.

After the billionaire had his commitment questioned by podcaster Preston Pysh, he urged the former to disclose his own position in Bitcoin to prove that he's not a poser.
in case you own less than I do in Doge and you are just a poser— Mark Cuban (@mcuban) October 16, 2021
Cuban himself described Bitcoin as the superior store of value, but he doesn't believe that it will succeed in the realm of payments (unlike Dogecoin).
"Vitalik will figure it out"
Speaking of Ethereum, Cuban says that he's not arguing that there is a risk linked to Ethereum's switch to proof-of-stake through the "difficulty bomb" mechanism.

However, he believes that co-founder Vitalik Buterin will be able to figure things out:  
I'm guessing that Vitalik will figure it out.
If Ethereum "screws the pooch," Cuban expects other chains to take its place.

As reported by U.Today, Buterin also joined the advisory board of the recently re-established Dogecoin Foundation.