Dogecoin Crashes Top 10 Once More
A strong Dogecoin performance this past week far surpassed any expectation of normality.
DOGE started 2021 priced at $0.005. Although it benefitted from the overspill of the r/wallstreetbets movement around late January, things died down as the movement fizzled out.
Months of sideways action was broken this week as DOGE pushed through $0.10 resistance to rally as high as $0.30 today. Based on the current price, YTD gains come in at a whopping +4,860%.
With that, Dogecoin barges back into the top ten coins, taking eighth place with a valuation of $32.4bn.
Mitsubishi Electric is one of the world's oldest and most well-known electrical manufacturers. It has a similar market cap to Dogecoin, at $32.6bn.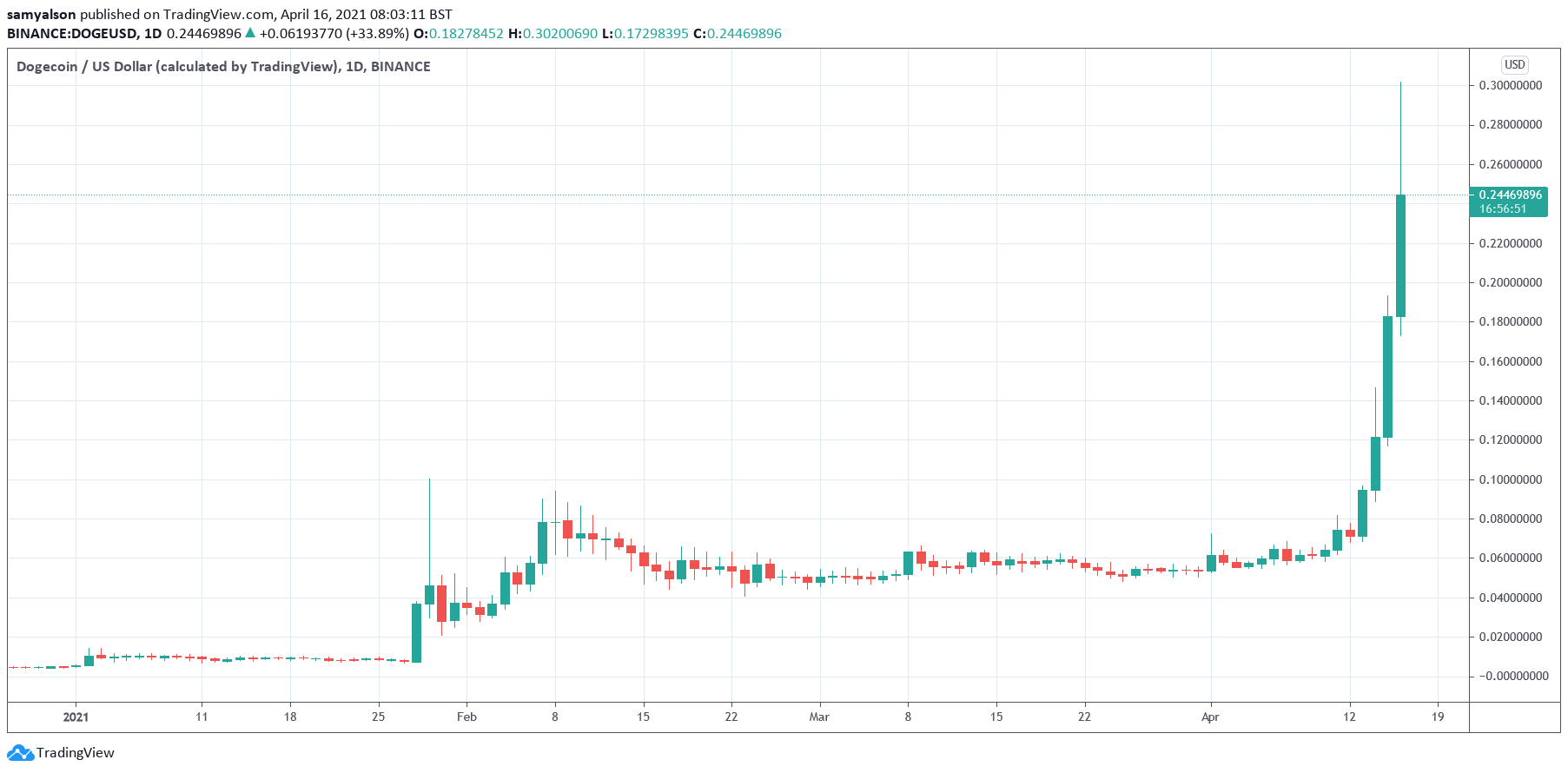 Source: DOGEUSD on TradingView.com
Fundamentally, Bitcoin is deemed valuable because of its limited supply of 21mn coins. Proponents use this scarcity argument to justify the expectation that Bitcoin will increase in value over time.
In the case of Dogecoin, circulating supply is currently just under 130bn tokens, and crucially there is no fixed supply. The current inflation rate is 5.3bn tokens a year. Taking this into account, is DOGE's price performance warranted?
At the time r/wallstreetbets was happening, Dogecoin co-creator Billy Markus commented on his project's rise to stardom, saying he can hardly believe it has taken off the way it has.
But when it comes to hitting $1, Markus said it's something he cannot comprehend, let alone answer. In turn, he asked a rhetorical question by saying, "does Dogecoin deserve that?"
More recently, it seems as though he's warmed to the possibility. He said crypto markets are trying to determine fair valuation, implying Dogecoin's ascent is simply a symptom of price discovery.
"I think the market has been trying to figure out what the intrinsic value of all cryptocurrency is over the last 12 years. It hasn't settled on one yet."
Cuban Backs DOGE
Mark Cuban, the billionaire owner of the Dallas Mavericks, shocked people earlier this month when he announced his team would accept Dogecoin in payment for tickets and merch. Fans responded by buying $122k worth of merch using Dogecoin.
FYI, the Mavs sales in @dogecoin have increased 550pct over the past month. We have now sold more than 122k Doge in merchandise ! 🚀🚀🚀 We will never sell 1 single Doge ever. So keep buying @dallasmavsshop https://t.co/li32cdtcED

— Mark Cuban (@mcuban) April 14, 2021