EIB To Register Bonds On Ethereum As ETH Hits New ATH + More News
Adoption news
The European Investment Bank plans to price EUR 100m (USD 121m) of two-year notes in an inaugural sale of so-called digital bonds that will be registered on the Ethereum (ETH) blockchain, Bloomberg Law reported, citing an undisclosed person familiar with the matter. The sale is managed by banking giants Goldman Sachs, Banco Santander, and Societe Generale. In the meantime, ETH hit its new all-time high today, reaching USD 2,664 (per Coingecko). At 16:09 UTC, ETH still trades at USD 2,664 and is up by 6.5% in a day and 23% in a week. The price is up by 55.5% in a month and 1,252% in a year.
The Central Bank of Iran (CBI) said that banks and licensed moneychangers can use cryptocurrency mined by authorized miners in Iran to pay for imports, according to the Financial Tribune. Lenders and moneychangers have reportedly been notified about the regulatory framework for crypto payment. No further details were announced. These mining operations are officially permitted by the Iranian state as an industrial activity and require operators to secure a license from the Ministry of Industry, Mine and Trade. The measure proposed by the CBI and the Ministry of Energy in October 2020 required licensed cryptominers to sell the coins they mine directly to the CBI.
NFTs news
Major crypto exchange Binance said it aims to launch its own non-fungible token (NFT) marketplace in June. The marketplace will debut with two main venues: a "Premium Event" category for the most sought-after collaborations, and a "Trading Market" that allows everyday users to create NFTs at minimal cost. Binance NFT will share the same account system as Binance.com, allowing users to access the marketplace alongside their other ecosystem offerings.
CBDCs news
Chinese e-commerce giant JD.com has paid some employees with the digital yuan as the country's central bank looks to expand the scope of its use, CNBC reported. The company has participated in the previous trials of the central bank digital currency (CBDC) conducted by the People's Bank of China (PBOC). JD.com said it used the digital yuan to pay salaries for some of its employees in January, as well as to make payments to other businesses.
Security news
Major crypto exchanges in South Korea have warned of a sharp rise in crypto-related fraud, with fraudsters posing as exchange officials in an attempt to dupe unsuspecting investors out of their fiat and crypto funds. Per KBS and YTN, Upbit has reported that its own fraud hotline and help center has intercepted 61 cases of fraud since December last year, with some 80% of cases involving bogus listing scams. Korbit also claimed that recent fraud cases involving criminals posing as members of its staff had robbed investors out of "thousands of dollars."
Microsoft Defender for Endpoint has expanded its use of Intel Threat Detection Technology beyond accelerated memory scanning capabilities to activate central processing unit (CPU)-based cryptomining machine learning (ML) detection, said the press release. By leveraging Intel Threat Detection Technology, Microsoft Defender for Endpoint gains full stack visibility to detect advanced threats, such as cryptojacking, and can remediate the attacks before the user's PC is affected, it added.
Investments news
Securrency, a blockchain-based compliance tools provider for banks and financial institutions, has raised USD 30m in a Series B funding round. The round was backed by asset manager WisdomTree Investments, State Street, U.S. Bank, and Abu Dhabi Catalyst Partners, a joint venture between Abu Dhabi state investor Mubadala Investment and Falcon Edge Capital, among other investors. Securrency said it will use the funds to launch new products, including "compliant decentralized finance (DeFi) and other powerful products" in the coming year. They will also expand internationally – Securrency said they've applied for licenses to establish the business in the Abu Dhabi Global Market (ADGM), an international financial center in the capital city of the UAE.
In addition to its strategic investment in Securrency, U.S. Bank, part of the seventh largest banking institution in America, U.S. Bancorp, said it will offer a new cryptocurrency custody product in partnership with an unnamed sub-custodian. The American Banker reported that the bank said it is responding to demand from institutional investors such as pension funds and insurance companies that see cryptocurrencies as an asset class in which they would like to be invested. Also, the U.S. Bank National Association has been selected as the custodian of cash and cash equivalents of NYDIG's bitcoin exchange-traded fund (ETF), should it be approved by the US Securities and Exchange Commission (SEC).
ZenGo, the crypto mobile wallet for retail investors, announced a USD 20m Series A round led by Insight Partners with participation from Distributed Global (in partnership with Temasek Holdings) and Austin Rief Ventures, as well as existing investors Benson Oak Ventures, Samsung Next, Elron, Collider Ventures, FJ Labs, and others. ZenGo plans to use the funds to expand its set of financial services, including a VISA payment card, and a bigger set of choices for on-ramp, off-ramp, trade and savings options, as well as to expand support for assets and chains.
Exchanges news
The chat app operator Line is set to rebrand its Japanese crypto exchange and wallet services, the firm's blockchain arm LVC announced. The exchange, formerly named Bitmax, will now be known as Line Bitmax, with the Bitmax Wallet renamed Line Bitmax Wallet, in an effort to create a clearer tie to the popular chat app brand. The wallet and exchange's official logos have also been changed. The firm said that it would "continue to provide various services using blockchain technology," and hinted that it would seek to further integrate its crypto business operations with its chat app and other Line-associated services.
Blockchain news
IBM Japan will start work on a blockchain-based recycling project with the domestic chemicals giant Mitsui Chemicals. IBM Japan announced that its cooperation with Mitsui, a Nikkei 225 firm that specializes in petrochemicals, basic chemical products and functional polymeric products, would involve creating a traceability system for plastic-based materials. Mitsui added that the new platform would "ensure traceability throughout the resource life cycle," encompassing "raw materials like monomers and polymers," as well as "the manufacturing, sales and use of products."
Bitcoin extends correction as Ethereum sees 'picture perfect' rejection at all-time highs
Bitcoin (BTC) stayed closer to $60,000 on Oct. 22 after the largest altcoin Ether (ETH) failed to cement new all-time highs.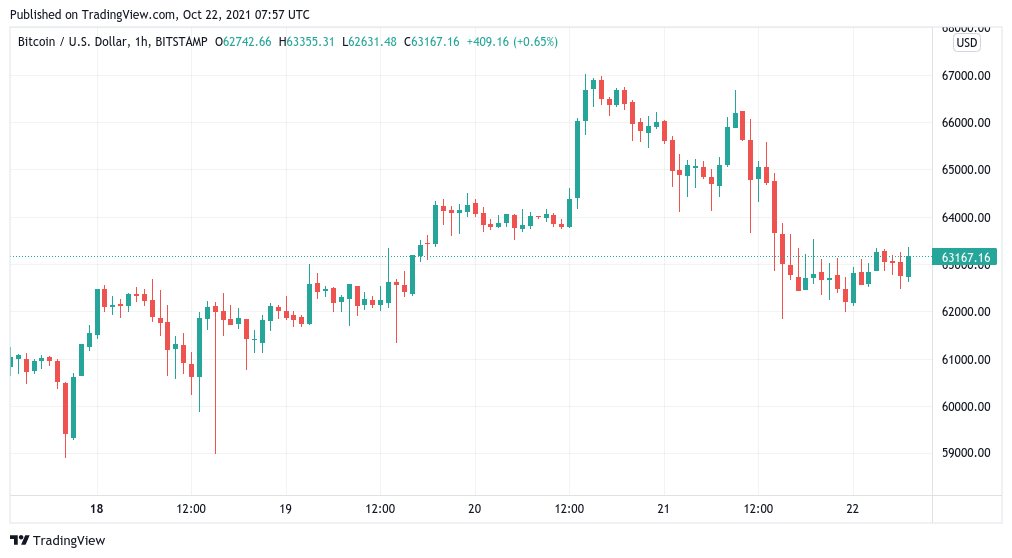 BTC/USD 1-hour candle chart (Bitstamp). Source: TradingView
ETH all-time high? Blink and you'll miss it
Data from Cointelegraph Markets Pro and TradingView ETH/USD just match its record $4,380 on Bitstamp before seeing a harsh rejection.
Traders watched in anticipation as Ethereum appeared to follow Bitcoin to historic new levels, only to face immediate resistance and fall sharply back into a lower range.
Trader and analyst Rekt Capital called the event a "picture perfect rejection."
At the time of writing, ETH/USD circled $4,150, preserving $4,000 as support with the exception of a flash dip which immediately followed the all-time high rematch.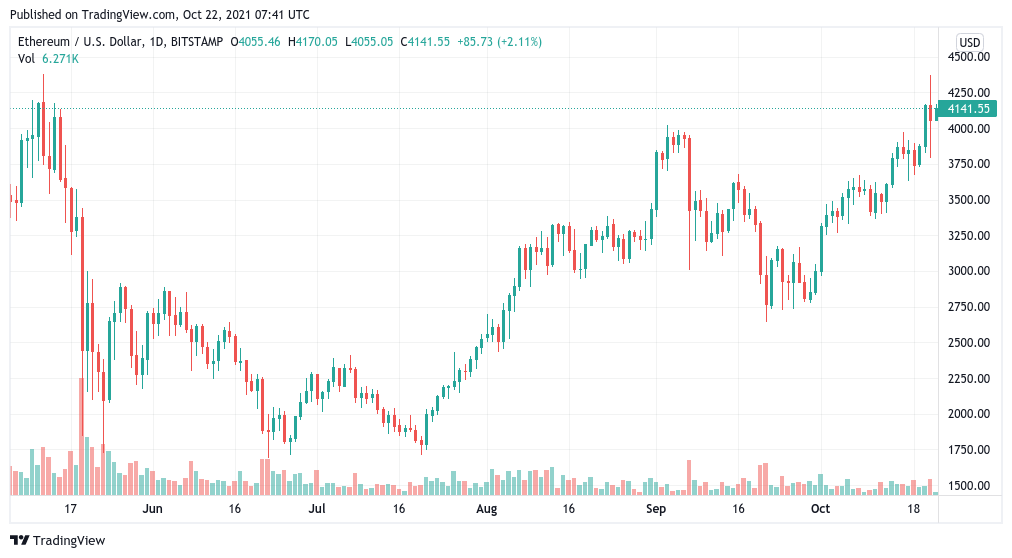 ETH/USD 1-day candle chart (Bitstamp). Source: TradingView
Against Bitcoin, Ethereum fared better, with the ETH/BTC pair having bounced near lows last seen in late July. 
Bitcoin could see "additional topside euphoria"
Having similarly failed to hold significantly higher levels, Bitcoin itself took an extended break as overheated markets cooled their excitement.
Funding rates were returning to normal on Friday, having reached a state reminiscient of the blow-off top from April.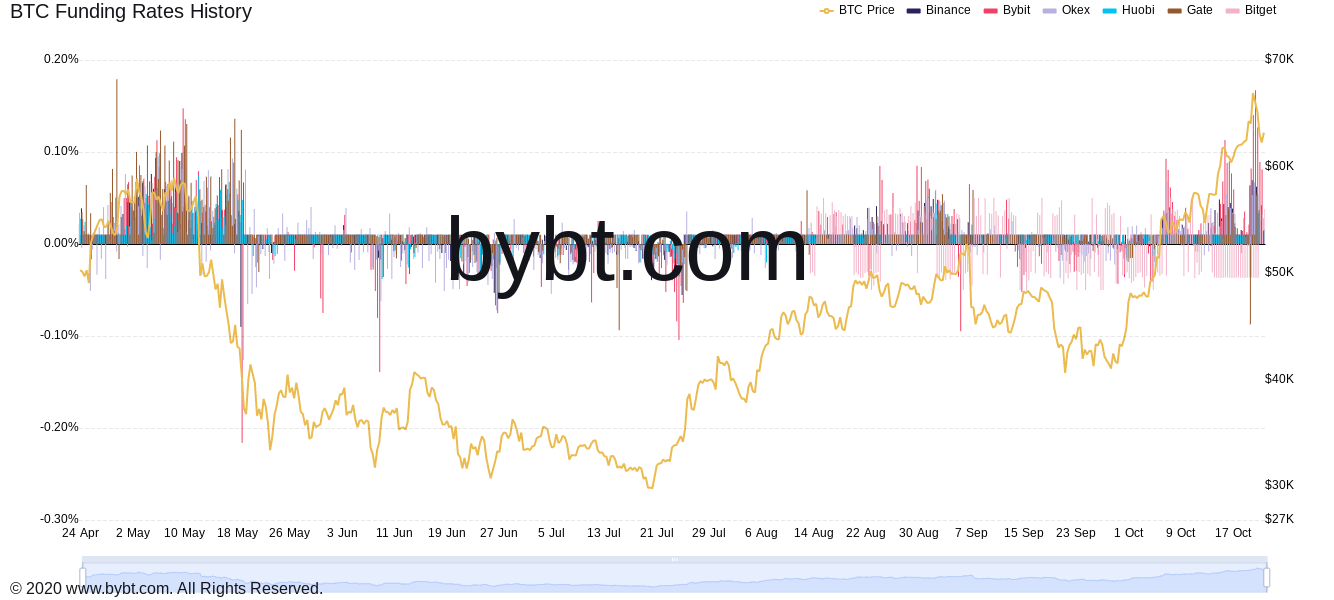 Bitcoin funding rates chart. Source: Bybt
As with open interest, however, these were not as frenzied as the Q2 rush, which produced the $64,900 all-time high in place until this week.
"This means there is possibly still room for additional topside euphoria but we are at levels that are starting to stretch the market," crypto trading firm QCP Capital commented in its latest market update.
Ethereum Forecast and ETH/USD Analysis October 22, 2021
Ethereum are trading at 4188 and continue to move within the framework of a strong rise and a bullish channel. The capitalization of the Ethereum cryptocurrency at the time of the publication of the forecast is $481,387,860,771. Moving averages indicate a short-term bullish trend for Ethereum. Prices went up from the area between the signal lines, which indicates pressure from buyers and a potential continuation of the rise in the asset value from the current levels. At the moment, we should expect an attempt to develop a correction in the value of the coin and a test of the resistance level near the 3345 area. Where again should we expect a rebound and a continuation of the rise in the Ethereum rate with a potential target above 4955.
Ethereum Forecast and ETH/USD Analysis October 22, 2021
An additional signal in favor of the growth of ETH/USD quotes will be a test of the support line on the relative strength index (RSI). The second signal will be a rebound from the lower border of the bullish channel. Cancellation of the option to raise the cryptocurrency will be a fall and a breakdown of the level of 3105. This will indicate a breakdown of the support area and a continued fall in ETH/USD quotes below the level of 2705. With the breakdown of the resistance area and closing of quotes above the level of 4505, we should expect confirmation of the development of a bullish movement in Ethereum.
Ethereum Forecast and ETH/USD Analysis October 22, 2021 suggests an attempt to correct and test the support area near the level of 3345. Where can we expect a rebound and the continuation of the rise of the ETH/USD cryptocurrency to the area above the level of 4955. An additional signal in favor of the rise of Ethereum will be a test of the line trend on the relative strength index (RSI). Cancellation of the growth option for the digital currency will be a breakdown of the 3105 area. This will indicate a continued fall in the digital currency with a potential target below the level of 2705.
Here's What Will Trigger the Next Big Ethereum Rally, According to Top Crypto Analyst
A popular crypto trader is predicting what needs to happen for Ethereum's (ETH) price to surge even further.
In the TechnicalRoundup newsletter, the pseudonymous analyst DonAlt says ETH is likely to underperform during a Bitcoin (BTC) breakout but will overperform later if the market rides "a multi-month uptrend."
"As Bitcoin gets sufficiently pumped (very technical term) risk trickles down to lower market cap assets, including Ethereum.
From a technical point of view, the market is in a range between support (low-mid $3000s) and resistance ($4000).
Given the relative strength of the market and the proximity to new all-time highs, a range breakout is more likely than a range breakdown.
Generally, triple tops aren't compelling resistance structures, especially those that form at prior all-time highs."
Ethereum is trading at $4,189 at time of writing, up more than 16% in the past week, according to CoinGecko. The second-biggest crypto asset by market cap hit its all-time high of $4,356 in mid-May.
DonAlt thinks Bitcoin currently offers traders more upside than downside.
"If you long Ethereum and you're right, you'll probably make less money than longing Bitcoin. If you long Ethereum and you're wrong, you'll probably lose more money than longing Bitcoin.
Our conviction on this isn't incredibly high, but the likelihood of a Bitcoin-dominant breakout is one worth considering.
In our view, the time to rotate into Ethereum will come once the breakout dust has settled. A large puke in Ethereum/Bitcoin would be a good time to start looking for punts.