Closely-Followed Trader Maps Out Mega Bullish Price Targets for Ethereum, Binance Coin, and One Overlooked Crypto Asse
Popular pseudonymous crypto trader known as The Crypto Dog is outlining bullish price targets for Ethereum (ETH), Binance Coin (BNB), and another under-the-radar altcoin that he says is primed for rallying.
In a new tweet, the trader tells his 409,700 followers that an ascending broadening wedge is forming on ETH with a potential to print gains of nearly 20% in the coming months, aligning with the release of a crucial update that seeks to overhaul the smart contract platform's fee structures.
"I wager this is bullish consolidation on ETH, with a $3,000+ target lined up for an EIP 1559 splash this summer."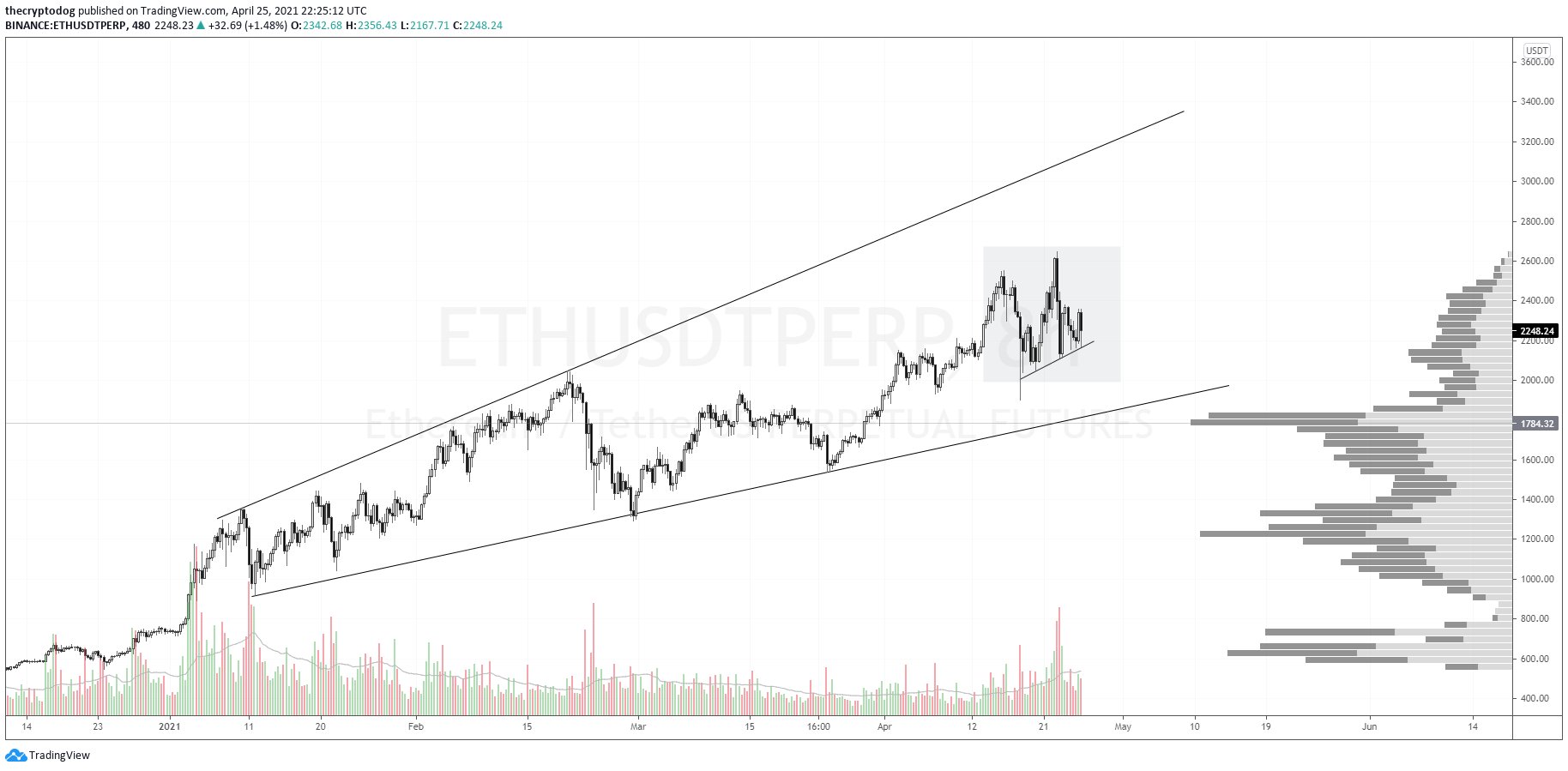 The analyst also sees BNB, the native token on crypto exchange Binance, hitting new highs in the coming weeks, targeting $800 as soon as mid-May.
"I think it's reasonable BNB revisits and surpasses all-time highs."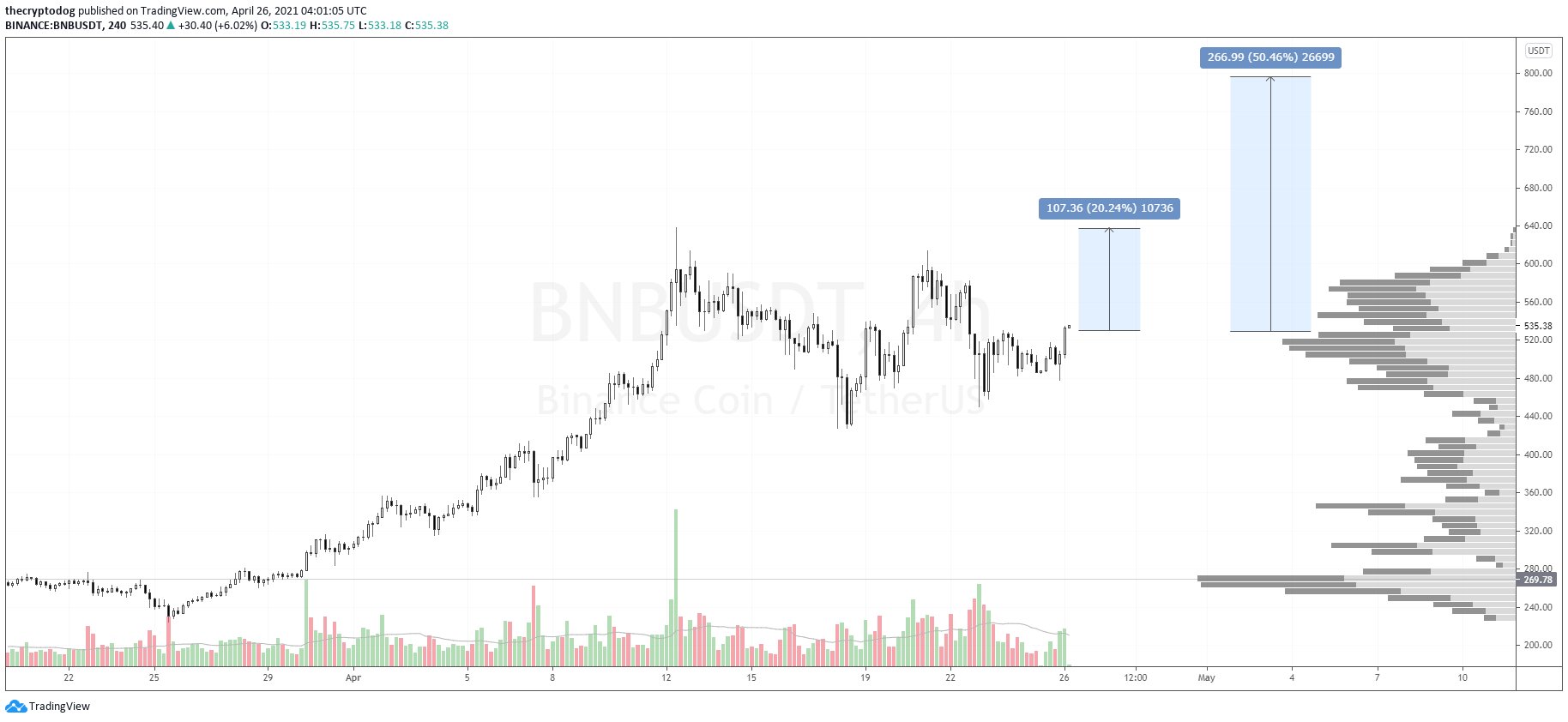 The Crypto Dog also takes note of Polygon (MATIC), saying that the ERC-20 token looks poised for a bullish breakout and a surge of over 75% from its current price of $0.57.
"MATIC is leading this ETH trend. Price will catch up to fundamentals (which have been mooning recently). $1+ is on the table once we clear this range."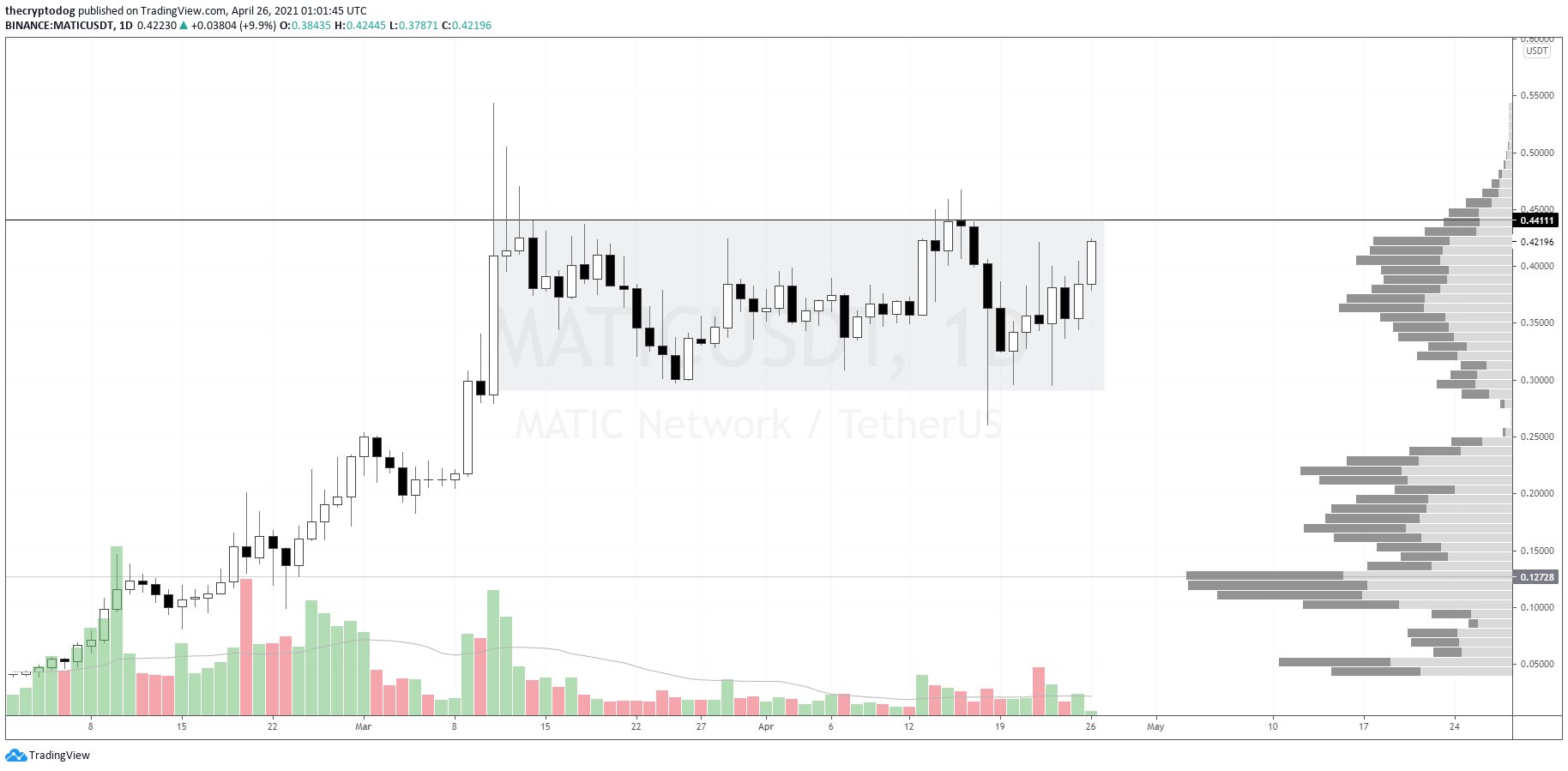 Another coin that the popular trader is keeping a close watch on is smart contract platform Solana (SOL). Although SOL has rocketed 7,105% over the last year, The Crypto Dog says the red-hot coin is still in its early innings.
"We're unironically still very early to SOL. How many of you have set up a Solana wallet yet? What projects have solidified themselves as household name brands yet? How many farms can you even ape into? It's all just getting started."
Binance Destroys $639 Million Worth of BNB
Binance's burning a record $639 million worth of BNB has failed to push the price significantly higher
Leading cryptocurrency exchange Binance has announced the completion of its 17th quarterly burn.

The company destroyed more than 1.3 million BNB tokens that were cumulatively worth roughly $639 million.

This marks Binance's biggest quarterly burn to date in dollar terms.
"Burning" is the process of shrinking the token's circulating supply. Binance is on track to destroy 50% of all BNB tokens every quarter.

The number of tokens that are destroyed each quarter is calculated based on the trading volume on Binance's crypto-to-crypto exchange.
As reported by U.Today, Binance burned $393 million worth of BNB in the second quarter and $595 million in the first quarter of 2021.
The BNB price added a meager 1.2% after the burn was announced before quickly trimming even such modest gains.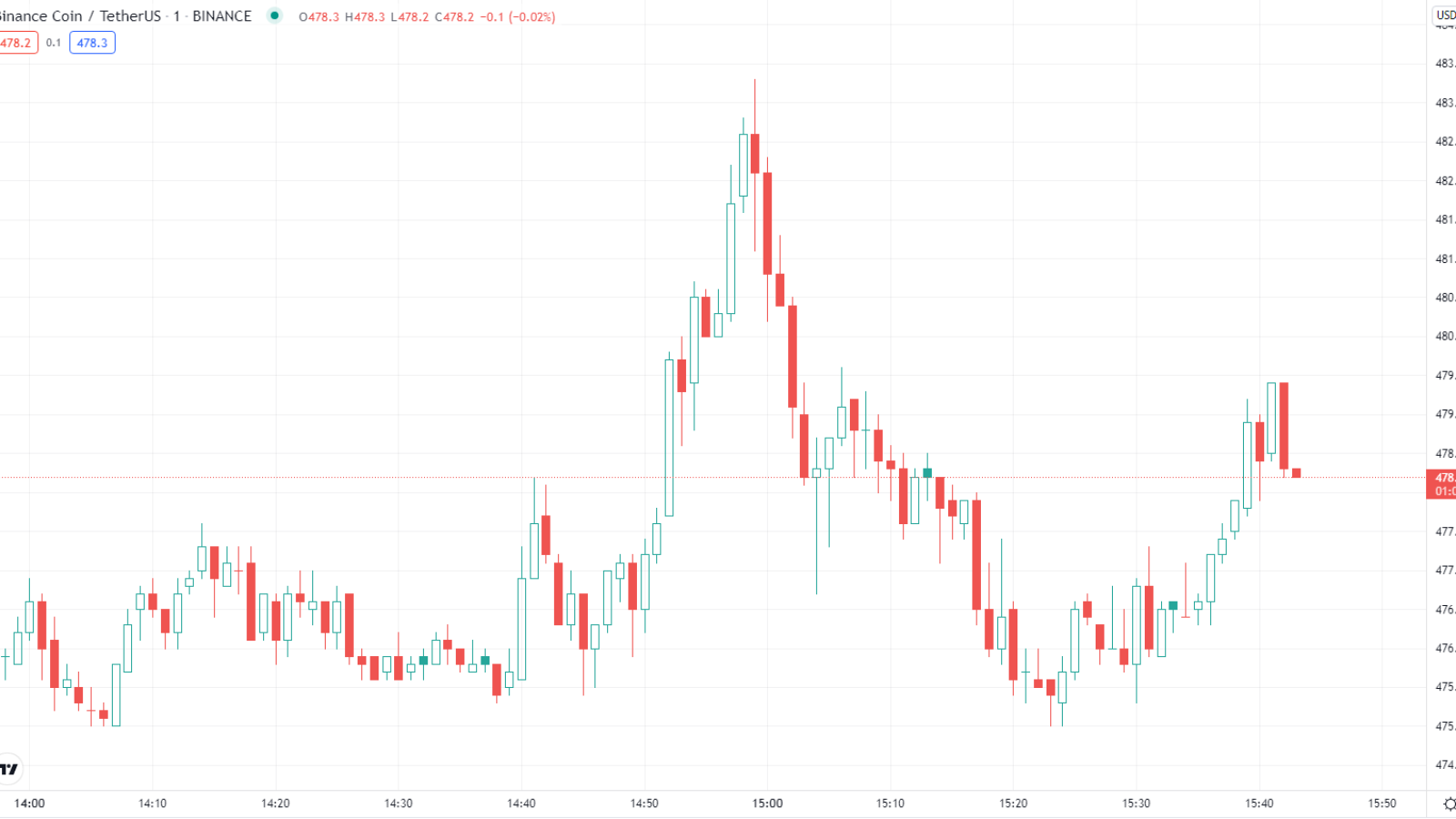 Last week, BNB recorded a double-digit price spike after announcing a $1 billion growth fund.
Binance (BNB) Price Analysis: On-chain Data Shows Rise In Demand for the BNB Coin, Will BNB Outperform BTC?

Why Is Binance Coin (BNB) Price Surging? Among many reasons recent 1 billion USD fund for project development of DApps on the Binance Smart Chain [BSC] is one major catalyst fueling the BNB price.
The crypto data tracking service, Santiment spotted an increase in demand for BNB on wallets with BNB whales acquiring roughly 412K BNB in recent weeks. The move shows that big money remains bullish on the BNB coin in the face of regulations.
The BNB burn protocol is another interesting bullish catalyst for the BNB token price as the bulls hold on to their positions in wait for this event.
A dive into the price chart should also give us further insights into significant patterns and technical drivers of the BNB price.
Binance (BNB) Weekly Chart Analysis
Both bearish and bullish divergence price vs. oscillator patterns keeps the BNB price hovering within the $680 resistance and $211.70 support.
The recent bear trap candlestick pattern on 20 September prepares a bullish tone for a price increase beyond the $509.90 resistance and heading to the $680.00 ATH.
The RSI [4] couldn't reach level-25, which therefore represents a bullish outlook for the BNB price.
A breakout above the $680 resistance could see the BNB price rising into four-figure price zones for the first time.
Binance (BNB) Daily Chart Analysis
Following a collapse of hidden bullish divergence trend lines on 07 September '21, the BNBUSDT price slumped by roughly 23%, then quickly reversed to the upside by an opposing regular bullish divergence on 28 September '21.
The bulls have re-established control as the RSI enters the overbought area for the second time at press time.
Meanwhile, an impending bearish divergence setup is projected around the $518.90 resistance. On the other hand, a surge in bullish momentum may see the RSI shooting beyond the 85-level, therefore, nullifying the anticipated reversal pattern.
Binance (BNB) 4HR Chart Analysis
The 4HR time frame follows a similar price dynamics as the daily time frame with an opposing regular bullish divergence on 12 October '21 at 08:00. This led to a parabolic upswing for the BNB price and soaring above the 07 October 12:00 resistance [$446.60].
Raging bulls could use the old $446.60 resistance as new support, which is a possible upward scenario for the BNB price. A prolonged correction phase could see the price dropping to the $424.00 support.
Binance (BNB) Intraday Levels
Spot rate: 468.4
Mid–Term Trend [H4]: Strong Bullish
Volatility: High
Support: $392.20, $424.0, and $446.60
Resistance: $473.0 and $518.90
Binance Coin (BNB) Spikes 10 Percent on Announcement of $1 Billion Growth Fund
Binance Coin is on a tear after Binance announced the launch of a massive $1 billion fund
The price of Binance Coin (BNB) has spiked nearly 10%, reaching an intraday high of $433.

This comes after Binance, the world's largest cryptocurrency exchange, announced the launch of a $1 billion fund in order to develop the Binance Smart Chain (BSC) ecosystem.

Fifty percent of the aforementioned sum is reserved for developing decentralized gaming computing and virtual reality.

A total of $300 million has been allocated to hackathons and sponsoring developers as part of its Most Valuable Builder (MVB) program.

The remaining part of the $1 billion will be used for talent development and the liquidity incentive program.
The end goal is to make BSC the "most inclusive" blockchain with real-life use cases:
This program will take us one leap closer to making BSC the most inclusive and used blockchain infrastructure in the world, creating the new Internet of Value for everyone.
BNB's price spike has also provided temporary relief for some of the top altcoins, pushing Bitcoin's dominance down.