Ripple CEO: "The U.S. is the only country in the world to have viewed XRP as a security"
The Ripple CEO blasted the SEC for its case against the company, claiming that it stands alone globally in its view of XRP as a security.
Garlinghouse further dismissed claims that Ripple was engaging in harassment, while also stating he has a "good feeling" about the case.
---
Ripple CEO Brad Garlinghouse has taken a fresh swipe at the U.S. Securities and Exchange Commission (SEC) over its controversial lawsuit that seeks to brand XRP as a security.
Speaking to Liz Clapman during an April 27 interview on Fox Business, Garlinghouse flayed the SEC for apparent double standards and lack of clarity. In his view, the SEC's position on XRP under the leadership of chair Jay Clayton has created regulatory contradictions and hurt the very consumers it purports to protect.
~10 yrs later, the US still lacks a clear regulatory framework for crypto. Assets like XRP are open-source + global by nature, & hundreds of projects are building w/ XRPL. Innovation can't be stopped, it may just thrive out of the US. Thanks @LizClaman for the chat! https://t.co/JsNhKsBVFK

— Brad Garlinghouse (@bgarlinghouse) April 28, 2021
"Only the SEC calls XRP a security"
Answering a question about his general impression of the SEC's legal case, Garlinghouse offered a withering assessment. According to him, after 9 years of active trading, with a total traded value exceeding $1 trillion, the SEC decision to classify XRP as a security and hold Ripple responsible is unjustifiable. Even worse he said, was the fact that the Department of Justice and the Treasury Department have both previously called XRP a currency.
Giving an update on the ongoing court process, Garlinghouse revealed that Ripple is seeking clarity regarding apparent regulatory double standards. In his words, Ripple wants to know how come the SEC classifies bitcoin and ether as currencies, but not XRP. He said:
We had sought discovery around why bitcoin and ether are not securities. [SEC Chair] Jay Clayton came out and said that bitcoin is not a security. Bill Hinman came out as Director of Corporate Finance at the SEC and said that ether is not a security.

We had sought this information even before the lawsuit – how were those determinations made? Given the similarities between XRP as an open-source, decentralised technology, how is it that one can be determined to not be a security and the other is a security?
He further accused the SEC of harming the investors it is supposed to protect by causing a market panic. According to him, over $15bn worth of investment left the XRP ecosystem on the day the SEC filed its lawsuit against Ripple.
"U.S. stands alone in its categorization of XRP"
Going further, Garlinghouse stated that the SEC is in fact the only regulator in the world that classifies XRP as a security. He listed Japan, the UK, Switzerland and Singapore as examples of major financial jurisdictions that view XRP as a currency.
Responding to accusations of "harassment" from the SEC, Garlinghouse slipped in a word of praise for SEC Commissioner and so-called "Crypto Mom" Hester Peirce for her stance on regulatory clarity. In his words:
It's hard for me to imagine a small company like Ripple against the United States Securities and Exchange Commission can be described as harassing. Jay Clayton…decided to bring this lawsuit and we are going to defend ourselves. We think it is so important as Commissioner Peirce said for the industry to have clarity.
XRP Lawsuit: SEC aims to make XRP skip the bull run with an Expert Discovery Extension Appeal

The latest update in the XRP lawsuit saw the SEC file a letter requesting the Court to extend the expert rebuttal report deadline to November 12, 2021, and the expert discovery deadline to January 14, 2022, from the former date of November 12, 2021. The plaintiff noted that the extension will allocate both parties sufficient time to prepare rebuttal reports and depose a minimum of 14 expert witnesses.
Ripple Opposes SEC extension appeal to save XRP from an isolated bear run
While consenting to the extension of the rebuttal report deadline until November 12, Ripple opposes the January 14 deposition deadline to avoid the case from stretching long enough for XRP to entirely miss the bull run. Furthermore, Ripple also intends to file an opposition to this letter motion on October 18, 2021.
The SEC offered a compromise to Ripple, preponing the expert discovery extension to December 22, but the defense has rejected that offer as well. Ripple argues that the extension would "would likely impact the briefing schedule for summary judgment motion[s].", as post-December 10, 2021, the Thanksgiving holidays will commence the holiday season.
SEC supports extension appeal with pending motions
The SEC objects that the case is even less ready for summary judgment motions as expert discovery has commenced with an incomplete factual record. The commission noted that on September 1, 2021, Magistrate Judge Netburn granted the SEC's motion to compel Ripple to produce certain instant messages among its employees, but Ripple has not completed its production of responsive documents and has not provided any timetable by which it will be complete. Along with the incomplete discovery of a granted motion, the plaintiff states that the parties have a total of four pending discovery motions before Magistrate Judge Netburn. The plaintiff claims that even if one motion is granted, the parties will require an additional extension to proceed with the discovery.
"If Magistrate Judge Netburn grants any of the pending motions to compel, at minimum, the parties would need additional time to review and produce the documents at issue…The SEC's proposed extension is fair and reasonable under the circumstances and should be granted for good cause.", stated the SEC.
XLM May Get in Trouble If XRP Deemed a Security: XRP Researcher
A researcher from the XRP community believes that XLM and Stellar may get in trouble should the SEC deem XRP a security
Researcher Leonidaz Hadjiloizou has posted a tweet, in which is asks the opinion of the XRP community about which side in the Ripple-SEC legal battle the company's co-founder and former CTO Jed McCaleb would take, if he were to do it.
According to Hadjiloizou, should the SEC win and XRP is deemed a security, then Jed and his company Stellar which he created as a rival to Ripple will be in for hard times. If the court rules that XRP is a security, then McCaleb broke the law by selling these potentially unregistered securities – 9 billion of them that he received from Ripple as compensation as part of the Settlement Agreement.
What is most likely? Jed testifies as an expert witness for Ripple or the SEC?

PS1:If he believed XRP is a security then he broke the law by selling unregistered securities after the lawsuit was filed.

PS2:XLM might get in trouble if XRP is deemed a security on a technical lvl.— Leonidas (@LeoHadjiloizou) October 16, 2021
Besides, Hadjiloizou says that if XRP is announced a security, then the native token of Jed's Stellar, XLM, may also get in trouble and, perhaps, face similar accusations.
So far, no legal action has been filed by the SEC against Jed McCaleb, even though he co-founded Ripple Labs together with Chris Larsen. The latter and the CEO Brad Garlinghouse, along with Ripple Labs, are the defendants in this legal case of the SEC against Ripple.
Jed has been selling his 9 billion XRP in parts, however, he has not sold any coins since September 1.
Ripple Shifts 33.8 Million to Huobi in Past 2 Weeks, After Allocating 100 Million XRP for It
Ripple fintech firm has sent almost 40 million XRP to Huobi since October began from the 100 million allocated for it in the first place
Data provided by the analytics platform Bithomp that works with XRP transactions, over the past eighteen days, Ripple distributed ledger tech provider has shifted 33,805,080 XRP to the major digital exchange Huobi.
One third of Ripple's 100 million XRP shifted to Huobi
This amount of crypto equals to $38,790,225. The size of weekly transactions has been changing since September 29, when Ripple allocated a whopping 100 million XRP lump to be sent to Huobi in regular transfers – it started as 1,542,780 XRP, continued as 2,309,580. So far, Ripple is moving 1,911,150 XRP lumps to Huobi.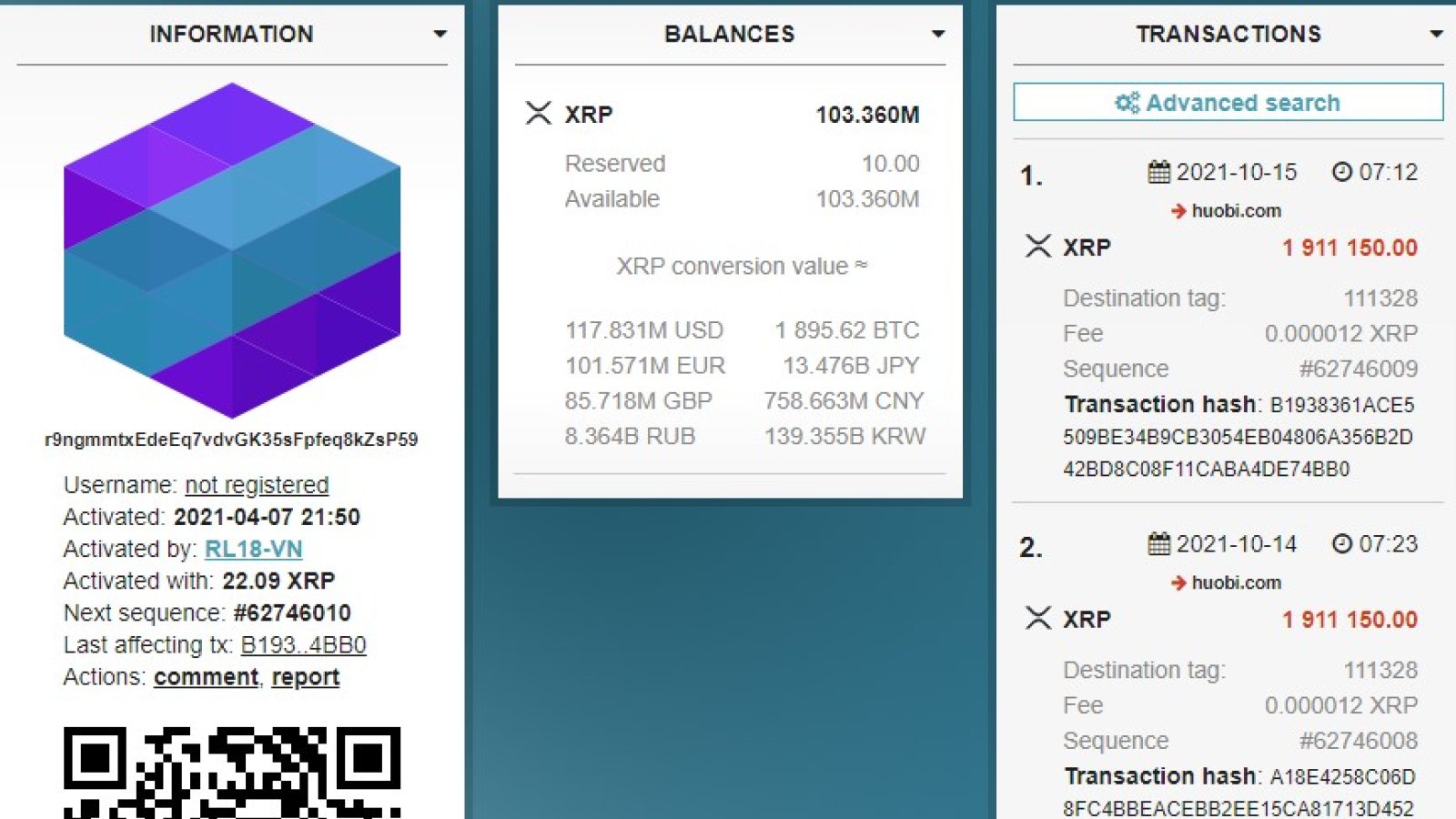 The exchange has recently announced its withdrawal from mainland China and by December 31 it plans to stop crypto trading against CNY.
XRP becomes number one choice for UK retail investors
At the time of writing, the sixth largest cryptocurrency, XRP, is changing hands at $1.15, showing a mild rise of 2.54 percent, as per the data provided by CoinMarketCap.
As reported by U.Today earlier, a recent report by a leading trading platform eToro stated that the majority of retail crypto investors in the UK now prefer XRP as their top asset. Cardano's ADA is the second favorite.
Ripple Labs has recently joined the Digital Pound Foundation to help UK authorities work the CBDC they are developing – digital pound sterling.