'Wolf of Wall Street' Jordan Belford is urging people to pump his Twitter followers and Dogecoin
Jordan Belford, the infamous penny stock guru, is urging his 422,000 Twitter followers to pump his Twitter followers, and presumably the prices of Dogecoin and a few other altcoins, a recent tweet showed.
"If you want Pump, 5 DAYS. Get me to 500K follows by 5/1," he tweeted, adding the tickers of meme currencies Dogecoin (DOGE) and Safemoon (SAFE) and US stocks GameStop (GME) and AMC Entertainment (AMC).

https://twitter.com/wolfofwallst/status/1386884618914205700?ref_src=twsrc%5Etfw%7Ctwcamp%5Etweetembed%7Ctwterm%5E1386884618914205700%7Ctwgr%5E%7Ctwcon%5Es1_&ref_url=https%3A%2F%2Fcryptoslate.com%2Fwolf-of-wall-street-jordan-belford-is-urging-followers-to-pump-dogecoin%2F

Belford also mentioned Safemoon, an altcoin with a circulating supply of 642 trillion and a diluted market cap of $3.5 billion. The coin was heavily shilled on video streaming app TikTok in the past few months, with the low price of $0.00000585 playing its part.
Dogecoin's neverending fans
DOGE has gained a lot of press (for both good and bad reasons) in the past few months. The approachable use of a meme, the unit biases (you can buy several thousand DOGE with $100 compared to a small fraction of Bitcoin or Ethereum), and endorsements from the likes of Tesla CEO Elon Musk and adult star Mia Khalifa have led to the currency pumping thousands of percent since 2020.
The currency itself isn't actively managed nor developed and it doesn't have a clear-cut use case either. That, however, hasn't stopped it from reaching a $35 billion market cap and becoming the seventh-largest cryptocurrency.
Meanwhile, replies to Belford's tweets were mixed, with some pointing out the possible illegal behavior and others cheering him on.
Don't stop him I want a second part of the film.

— pandaflieszeppelin ⭕️ (@pandaflieszepp1) April 27, 2021
Belford did, however, call himself "not a financial advisor" and tagged the US Securities and Exchange Commission (SEC) a few days ago to try and evade any potential legal actions in the future. But if only legalities worked that way.
DOGE Price To Explode 1000x!! This Is When Dogecoin Price Will Hit $1!
The total market cap of the crypto space is anticipating a $3 trillion milestone.
Dogecoin price manifests to break a crucial resistance to reach a new milestone.
The global crypto space is currently experiencing a decent uptrend momentum which can soon rekindle an altseason. On 16th October 2021, the total market cap of the space broke at a crucial resistance of $2.401 trillion reaching $2.50 trillion at the press time. While the altseason is on the horizon, meme coin DOGE is awaiting for the crucial breakout to explode by 1000x.
Analyst Makes a Whooping Prediction for DOGE Price!
Popular crypto analyst Justin Bennett expressed that the meme coin has a proven record to explode massively after a breakout. Further, he stated, the DOGE price is on the verge of a breakout and could leg up by 500 to 1000x if it happens.
$DOGE just needs to take out that area above 0.24.

Do that, and a multi-month rally begins, IMO.

Probably 500 – 1,000% of upside if it confirms. #dogecoin pic.twitter.com/dWDFl1okcR— Justin Bennett (@JustinBennettFX) October 15, 2021
The chart shown by him indicates the formation of a Symmetrical triangle pattern. It seems to be retesting at an important resistance area of $0.25. The technical analyst went on to say that the coin has surged by 5 to 10X in its recent breakouts of a similar pattern. Hence, a similar trend may continue, and probably price could soar beyond 500x this time as the pattern is stronger than the previous, he added.
DOGE Price Forms a Symmetrical Triangle Pattern!
The Doge price is trading at $0.2383 with 2.50% gains in the last 24 hours. The asset seems to be awaiting a crucial breakout. The significance of the bullish bid has lifted the price from the $0.1857 support level. Since the start of Q4, clearing the price compression, the meme coin has formed a symmetrical triangle pattern. If altcoin continues the pattern, it could gain massive profits in the upcoming bull cycle.
The DOGE price has the next important resistance between $0.3 to $0.35, if it breaks above $0.4 crucial resistance then it is expected to hit new ATH. On the contrary, bearish clouds could pull back the price level to the major support of $0.1652.
However, Crypto maniac, the popular crypto analyst. He indicated via a chart that the meme coin could soon break out the harmonic pattern to reach new highs. Collectively, if the asset gets any supporting momentum for the price action, then it could soar beyond expectations.
Mark Cuban Defends Dogecoin Against Bitcoin Maximalists
Billionaire Mark Cuban says that he likes Dogecoin because it's a fun and cheap way of learning about crypto.
During a recent live audio conversation on Twitter Spaces, billionaire Mark Cuban said that he would continue talking about Dogecoin despite facing pushback from Bitcoin maximalists.  

Cuban says that Dogecoin is "a great introduction" to the cryptocurrency space.

The "Shark Tank" host also believes that the meme cryptocurrency is a cheap way of learning about crypto.    

Cuban explains that there is a low barrier to entry since one only has to open an account with Robinhood and buy $25 worth of DOGE.
    
Now that Robinhood is rolling out its own wallets, Cuban says that Dogecoiners will be also able to easily spend their favorite meme coin at merchants of the likes of AMC.    
Finally, Cuban has once again praised the Dogecoin community for its frivolousness:
I think it's a fun community to be part of.
Cuban's meager Dogecoin holdings
Despite being a strong Dogecoin advocate, Cuban himself owns only $1,500 in the meme coin.

After the billionaire had his commitment questioned by podcaster Preston Pysh, he urged the former to disclose his own position in Bitcoin to prove that he's not a poser.
in case you own less than I do in Doge and you are just a poser— Mark Cuban (@mcuban) October 16, 2021
Cuban himself described Bitcoin as the superior store of value, but he doesn't believe that it will succeed in the realm of payments (unlike Dogecoin).
"Vitalik will figure it out"
Speaking of Ethereum, Cuban says that he's not arguing that there is a risk linked to Ethereum's switch to proof-of-stake through the "difficulty bomb" mechanism.

However, he believes that co-founder Vitalik Buterin will be able to figure things out:  
I'm guessing that Vitalik will figure it out.
If Ethereum "screws the pooch," Cuban expects other chains to take its place.

As reported by U.Today, Buterin also joined the advisory board of the recently re-established Dogecoin Foundation.
Dogecoin Primed for a 500–1,000% Multi-Month Rally if It Hits This Level, Says Crypto Analyst Justin Bennett
Crypto market analyst Justin Bennett thinks Dogecoin (DOGE) is primed for a massive rally if it successfully recovers a key level and retests it as support.
The analyst tells his 78,000 Twitter followers that he thinks meme crypto asset Dogecoin could begin a 500-1000% multi-month surge if it can reclaim the $0.24 level.
"DOGE just needs to take out that area above $0.24.
Do that, and a multi-month rally begins, IMO (in my opinion).
Probably 500 – 1,000% of upside if it confirms."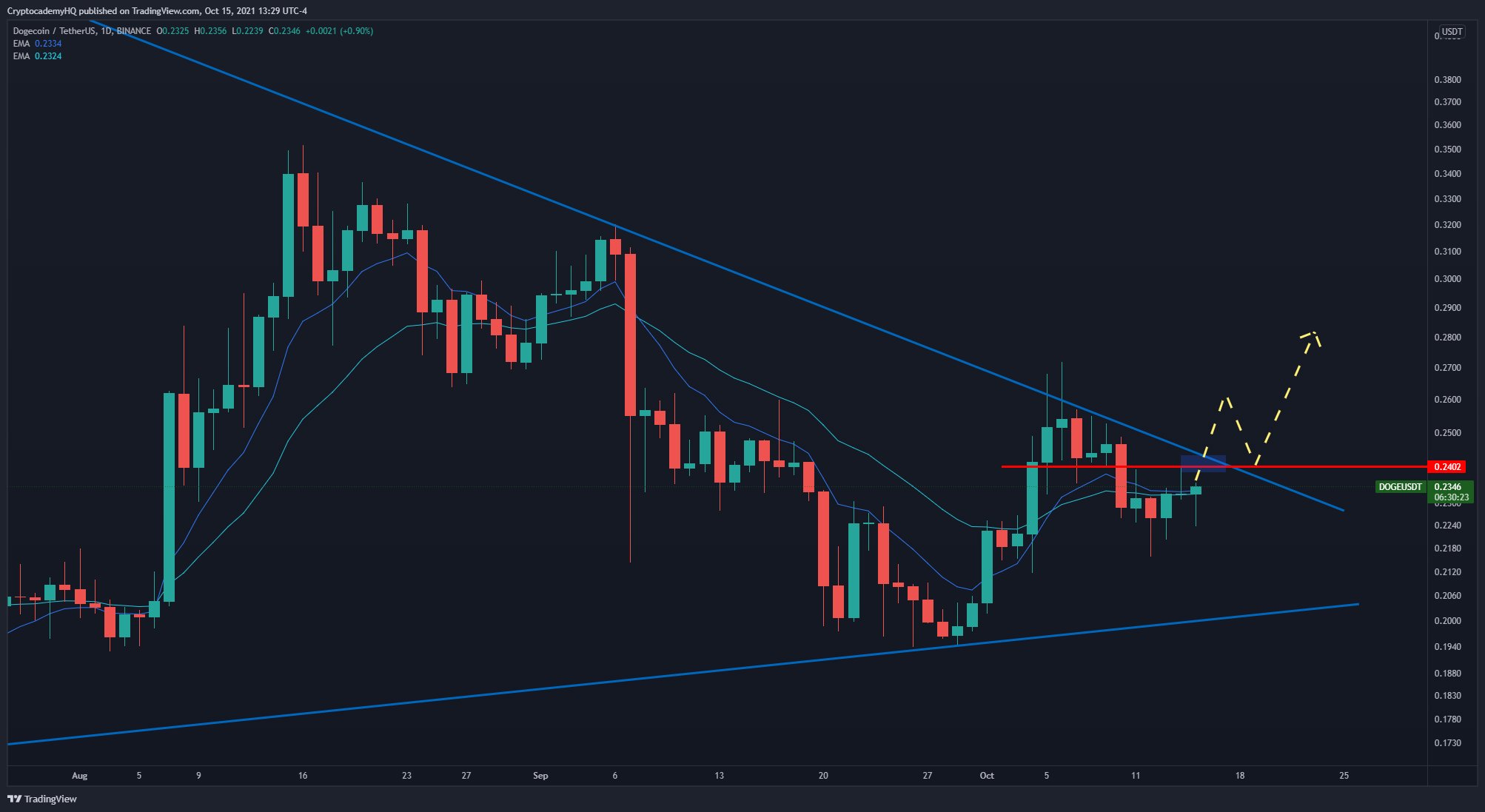 According to Bennett's analysis, if DOGE can break $0.24, he expects a short-lived pump to a previous high at $0.26 before retesting $0.24 and moving higher. At the time of writing, Dogecoin is trading at $0.236, according to CoinGecko.
The crypto market strategist is also looking at Dogecoin's daily chart, where the meme crypto asset is coiling and forming a large triangle pattern. The formation of a triangle in an uptrend suggests the bullish continuation of an asset once it takes out its diagonal resistance. According to Bennett's chart, DOGE has printed the same pattern twice this year. In both instances, massive run-ups followed the breakout.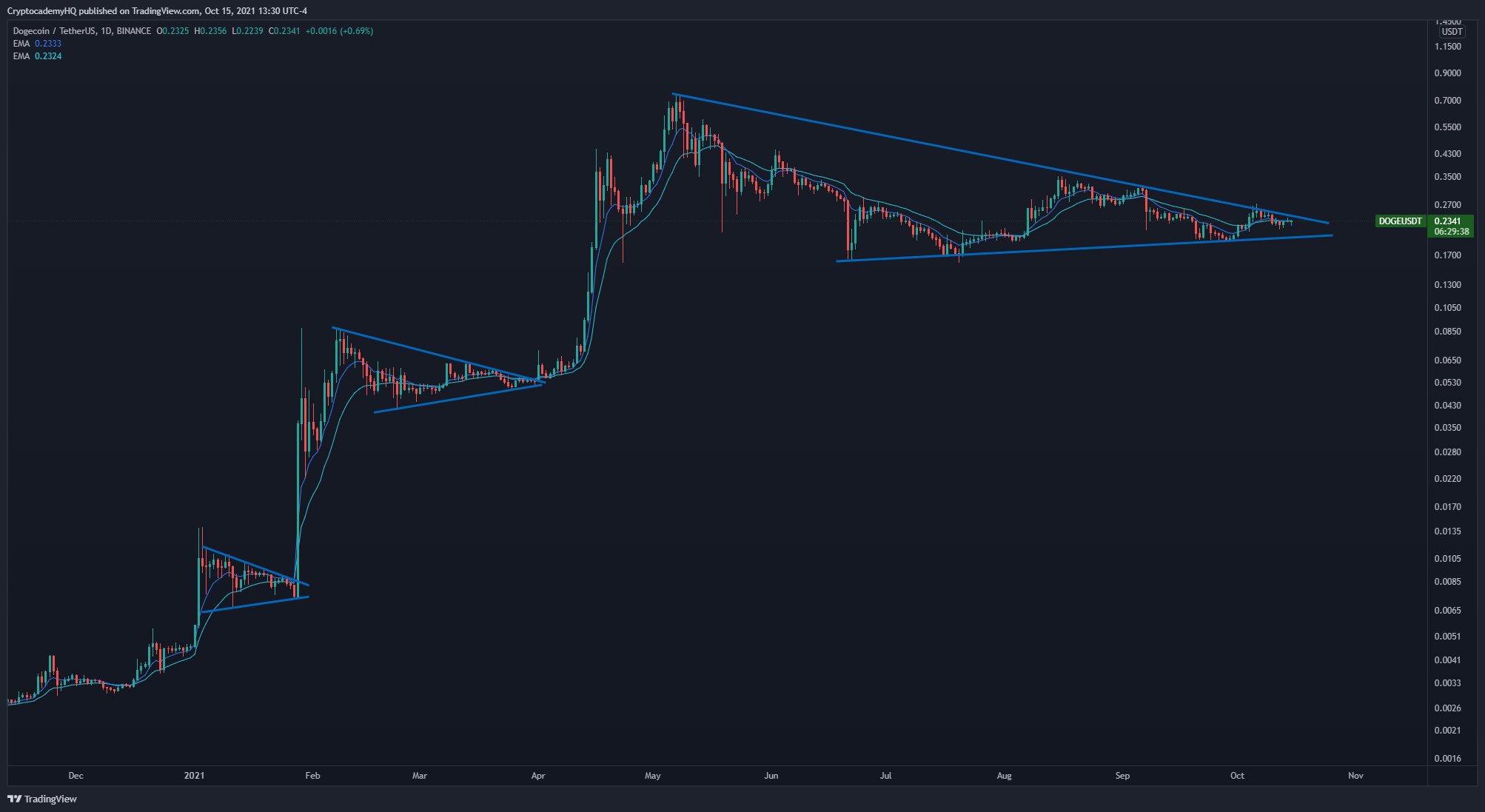 In a recent issue of his market analysis on the Cryptocademy newsletter, Bennett highlights three key price targets for DOGE to hit, assuming it can confirm a break above $0.245.
"If this breaks higher, targets like $0.32, $0.42, and $0.57 are well within reach.
However, keep in mind that a daily close above the upper trend line near $0.245 is required to confirm the breakout."
Looking at DOGE against BTC (DOGE/BTC), Bennett predicts the pair will break out of a massive falling wedge formation that's been developing since June.
"It isn't just DOGE against the USD, either.
This falling wedge on DOGEBTC is ridiculous.
Only a matter of time before it rockets higher, IMO."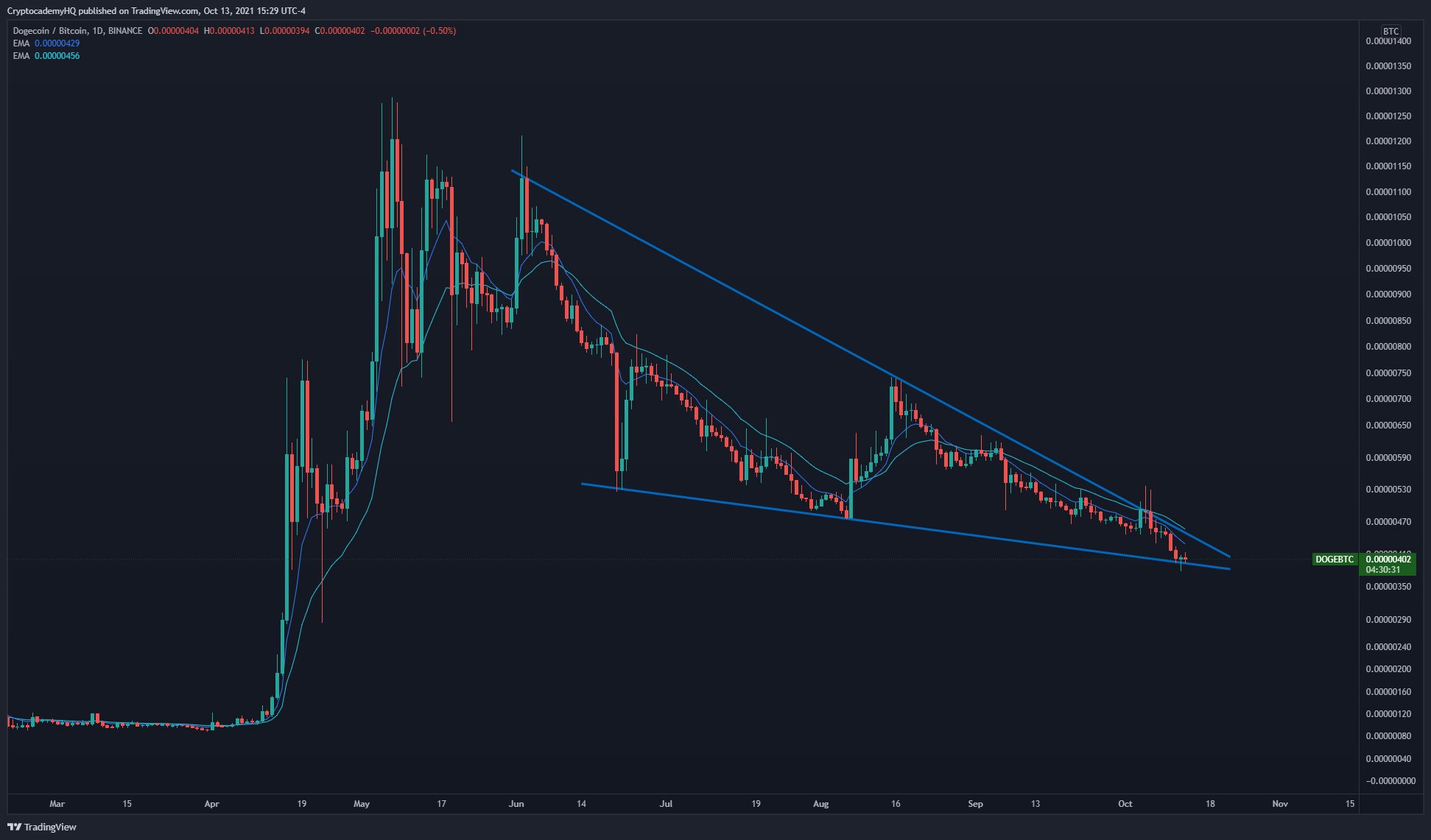 The falling wedge formation is a technical analysis pattern that also suggests a move to the upside once the breakout is confirmed.