XRP and 5 Untapped Altcoins Gearing Up for Massive Bull Rallies, Says High-Profile Trader
A prominent crypto strategist who continues to amass a large following with his savvy altcoin calls says XRP and five untapped altcoins are primed to erupt.
In a new tweet, the pseudonymous trader known as Kaleo tells his 235,800 followers that he's buying XRP after the fourth-largest crypto asset broke out from its downtrend in the lower timeframe.
"I also went ahead and grabbed a bag of XRP on the breakout. When XRP makes this type of a move it doesn't typically slow down until it makes a higher high. I don't want to watch from the sidelines."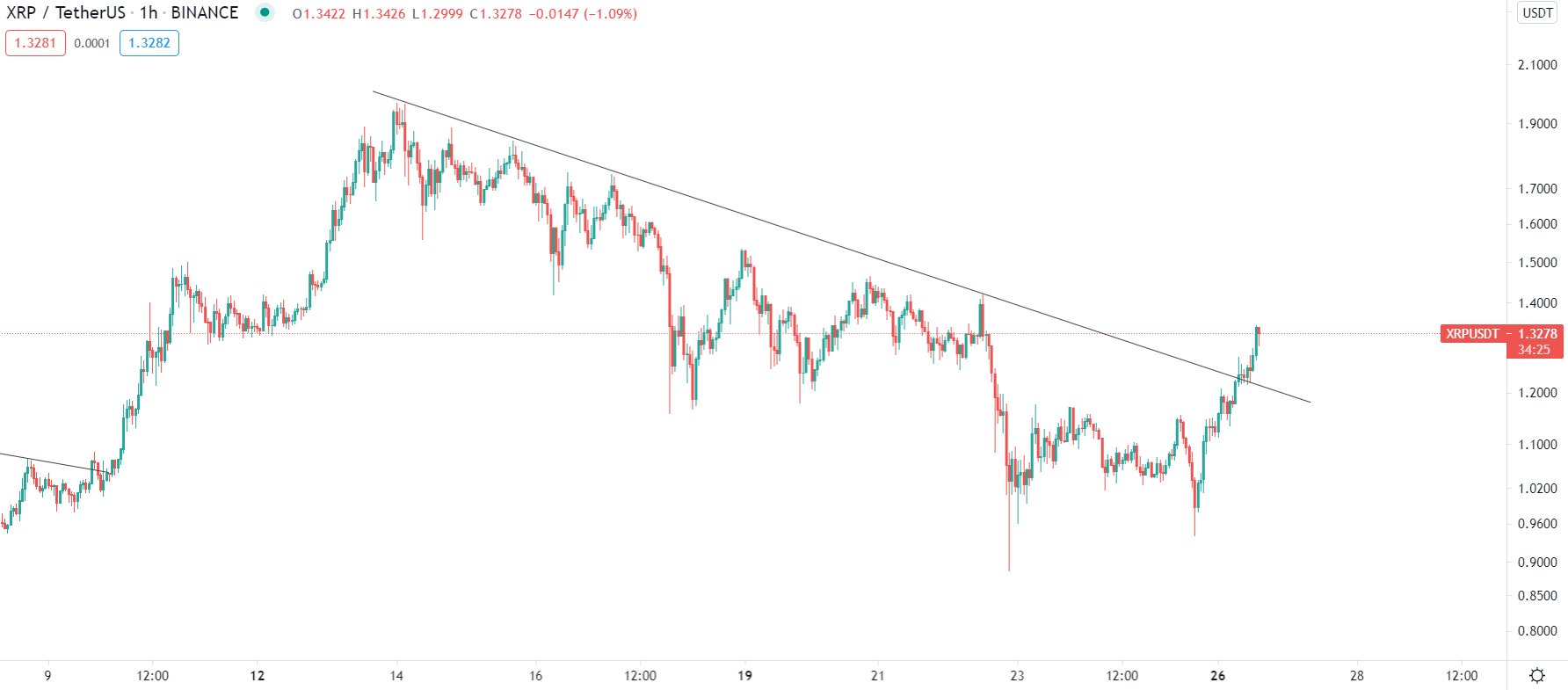 A new higher high for XRP suggests a move above its 52-week high of 1.96, representing potential gains of at least 40% from its current value of $1.40.
Another coin on Kaleo's list is blockchain gaming platform Enjin Coin (ENJ). According to the trader, ENJ has breached its diagonal resistance which sets the token for a surge of at least 15% from its price of $2.60.
"ENJ Similar outlook on the USD chart. Looking for a move back to $3+."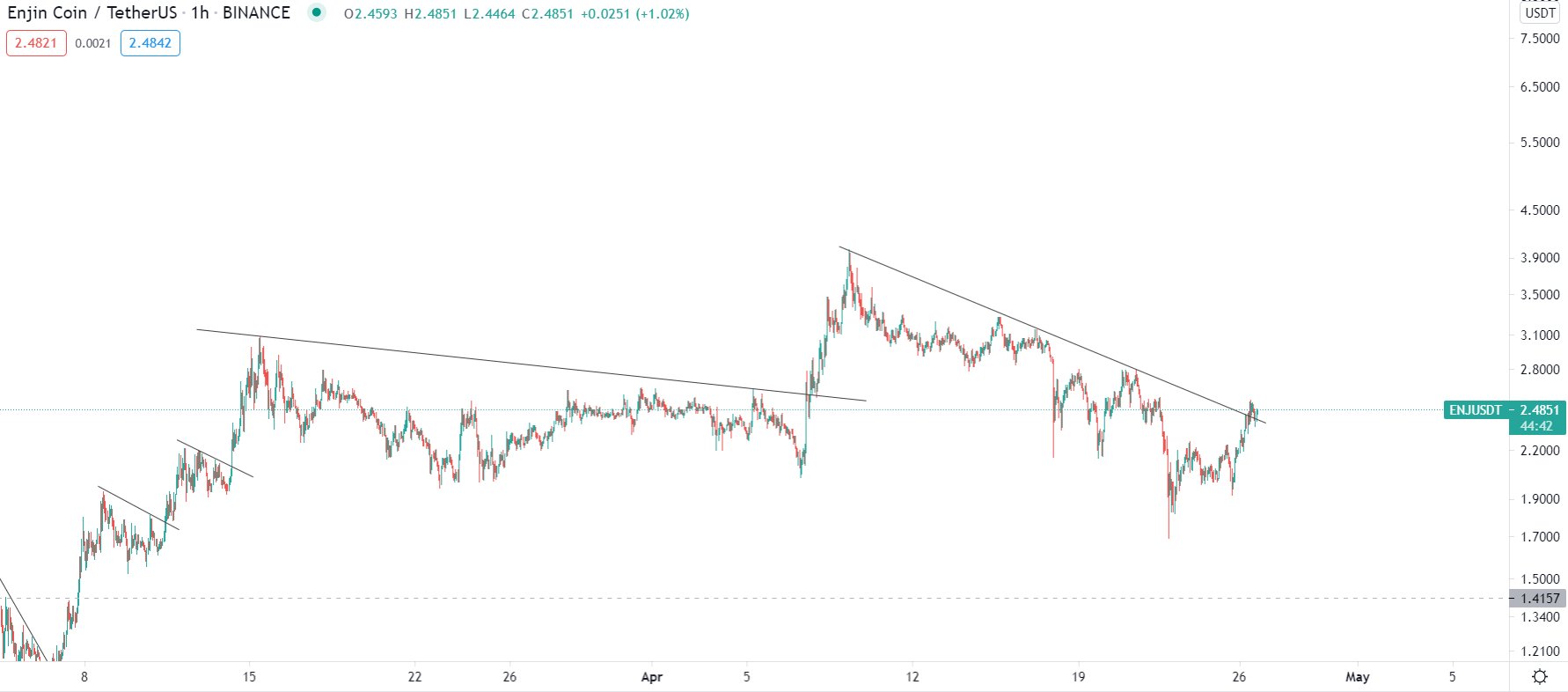 Next up is decentralized hosting platform Holo (HOT), which the trader says is looking to resume its uptrend after a multi-week correction.
"Wanted exposure to a low sat alt in case we see something like we saw last month, so I grabbed a bag of HOT here. My guess is we see a breakout/retest, followed by several days of upward chop before it really starts to move."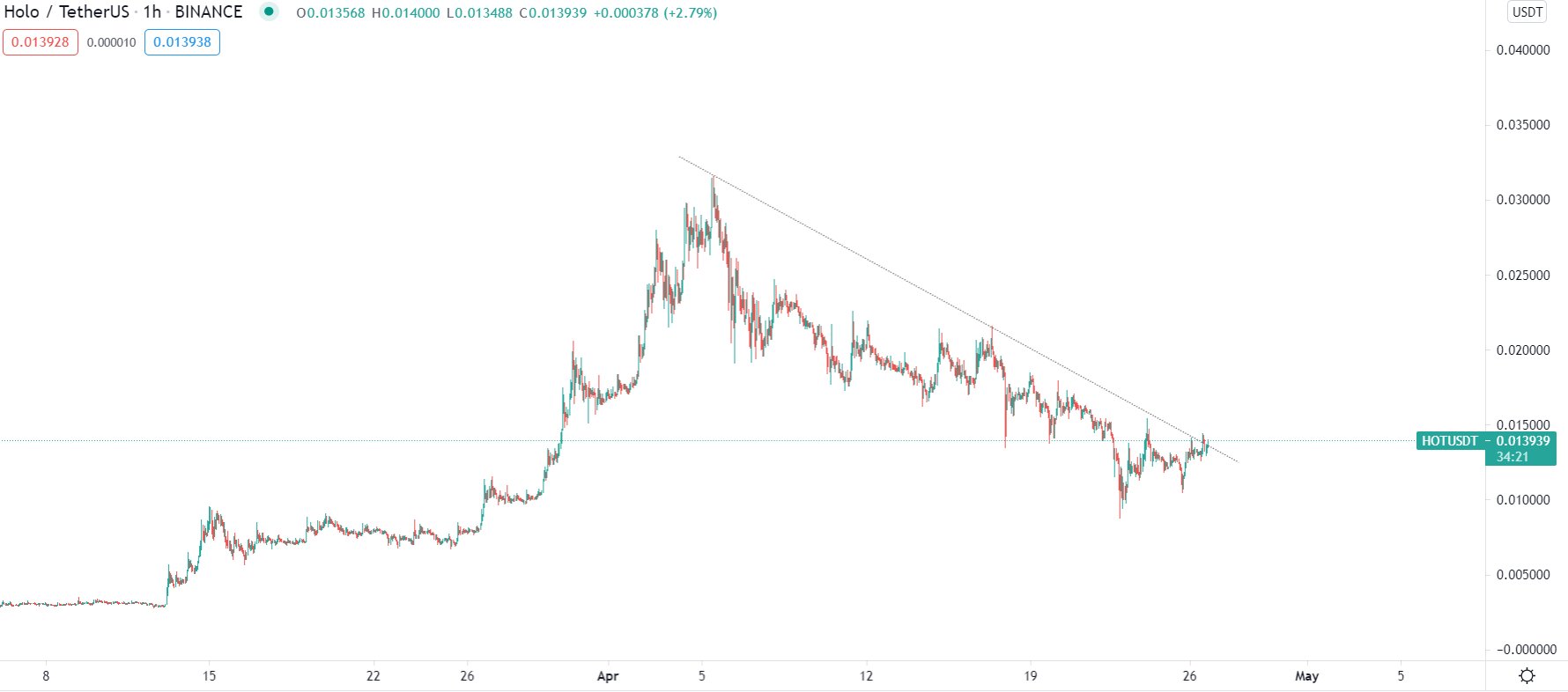 The trader is also looking at OXY, the utility token of Solana-based prime brokerage protocol Oxygen. According to Kaleo, OXY is poised to surpass its all-time high of $4.16.
"Still a huge fan of OXY here. Clean double bottom, testing range highs. Break above the green rectangle and it should be clear skies to $4.50+."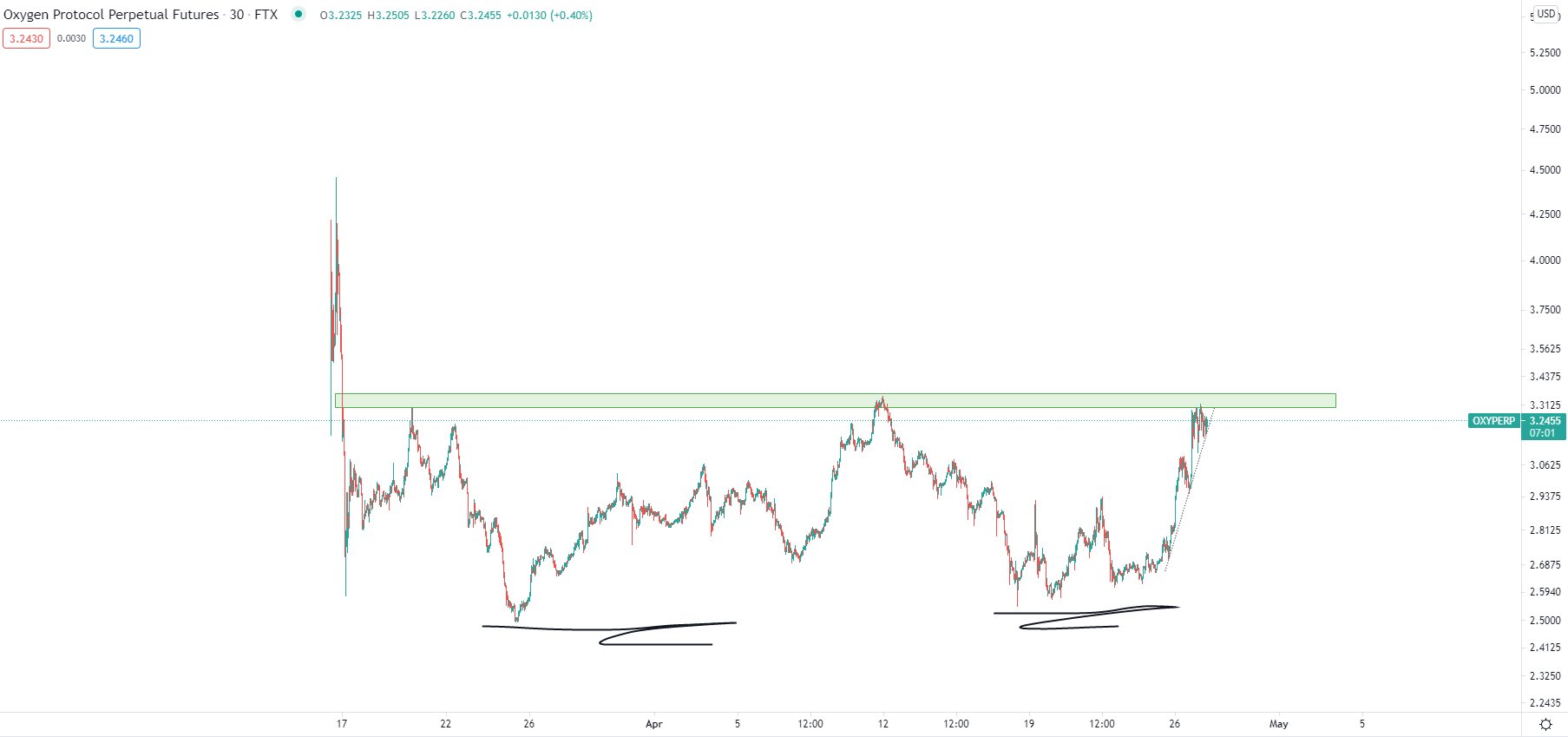 MAPS is also on Kaleo's list. According to the crypto analyst, the Solana-based travel and navigation platform offers a lot of upside potential from its current price of $1.83.
"MAPS feels like the forgotten about Sam coin. Another member of the Solana ecosystem that's been solid, but still really hasn't done too much. It broke out of a long-term range recently to new highs, retested the breakout, and looks ready for continuation higher. I am long."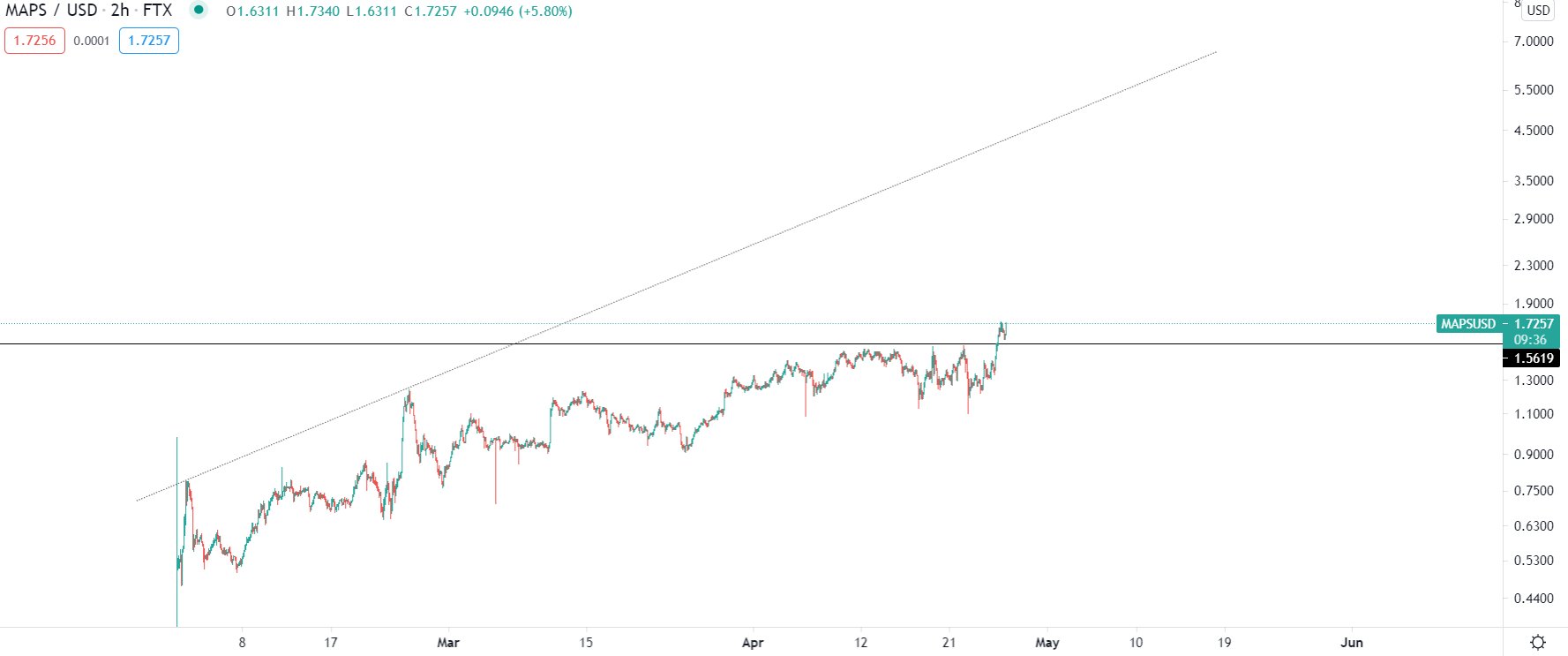 The last coin on Kaleo's radar is Solana-based automated market maker Raydium (RAY), which the trader expects to explode now that it has shattered its resistance of $13.00. According to the trader, RAY can print gains of over 100%.
"The way the rest of the Solana ecosystem is sending, it's only a matter of time before RAY explodes out of this accumulation range it's been stuck into… First 15, then $30 swiftly."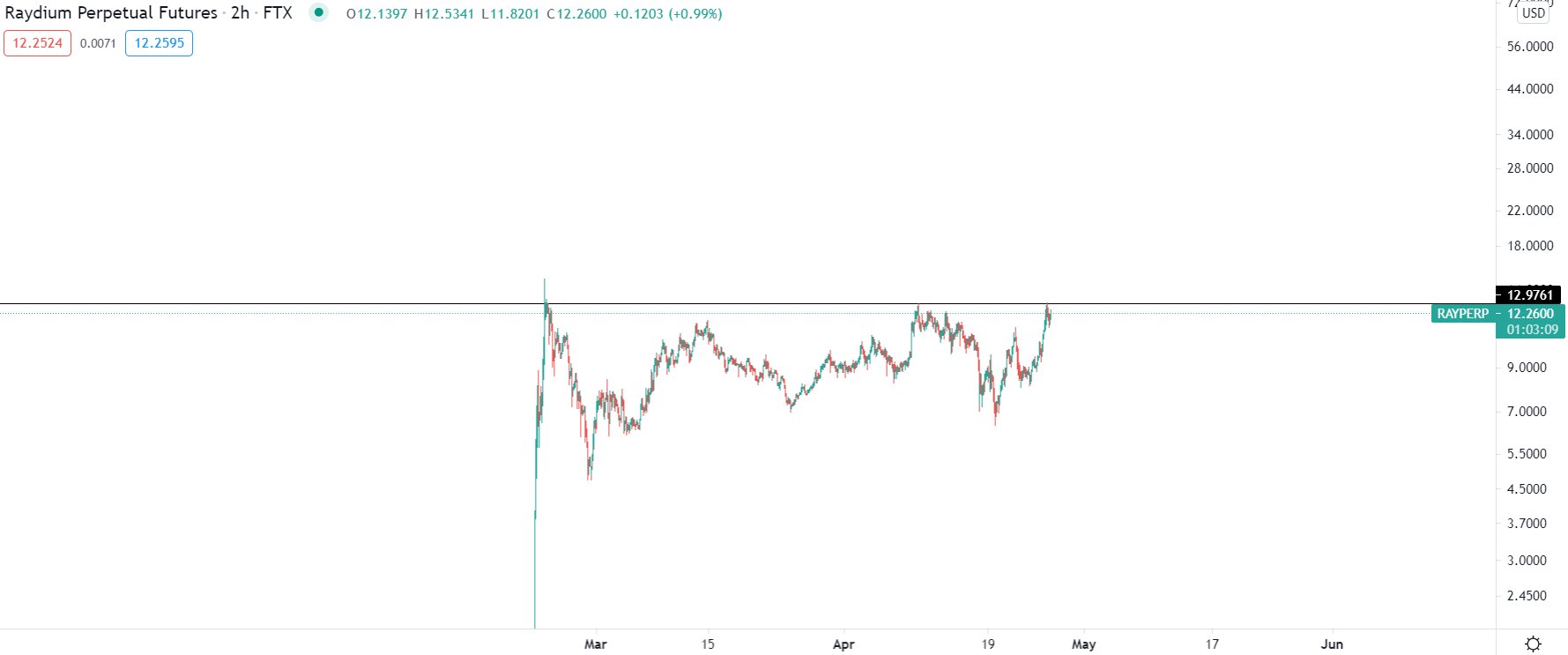 XRP Lawsuit: Ripple appeals the Court to Disclose SEC's in-camera review documents
The latest update in the XRP lawsuit saw Ripple respond to SEC's letter with the explanation for its privilege assertions along with a redacted version of the three additional documents requested by the defendants for in-camera review. Ripple has requested the court to disclose these documents to the defense and has further continued to argue against the plaintiff's repetitive "privileged" stance.
Ripple objects to SEC's entitlement to keeping secrets under DPP
Ripple has contended SEC's "pre-decisional" or "deliberative" argument for the three additional documents, noting that the commission has failed yet again to identify any specific policy process related to these or other documents, as it is required to when seeking protection under DPP. Ripple argued that the SEC claims against disclosure of discussions are weak and do not stand any legal relevance.
SEC asserts that "how to structure a forum the SEC intends to use to communicate with industry participants" is deliberative or would reveal its "mode of formulating or exercising policy-implicating judgment,". However, the defense objects to the plaintiff's assertions' insufficiency to invoke DPP and states that if this argument is considered valid in the court, then that would extend the invalid privilege to virtually every document or communication in a federal agency.
"The fundamental problem with the SEC's approach is that the agency apparently believes that it is entitled to operate in secret, and to withhold from actual litigants, whose reputations and livelihoods are at stake due to its own affirmative litigation choices (as opposed to the general public pursuant to FOIA), any internal documents that relate to its mission, broadly defined. This approach finds no basis in law because it turns on its head Congress' lawfully enacted presumption of openness in government documents, subject to circumscribed, narrow exceptions."
While the Court granted Ripple's September 24 appeal, seeking the addition of three documents by the SEC for in-camera review, it still has not permitted disclosure of mentioned data to the defendants. These documents include the two documents related to the SEC's meetings with law firms, along the email trail concerning discussions with a third party who received guidance from the SEC to analyze its digital asset under the framework set forth in Hinman's June 14, 2018, speech.
Ripple (XRP) Committed to the Crypto Climate Accord (CCA) To Provide for Sustainability
With cryptocurrency becoming mainstream, to provide for a long-term future together sustainability practices are very important. Major Fintech companies like PayPal, Visa, Tesla, and several others leverage this technology. This in turn has led to increased energy consumption to already unsustainable levels. To break even, the industry has a choice to make. Either continue down the unsustainable path to be doomed or work together and reduce the collective environmental impact.
Decarbonizing public blockchains is about bringing down the carbon footprint. In2020, Ripple partnered with Energy Web (EW) and the Rocky Mountain Institute (RMI) in their efforts to decarbonize public blockchains beginning with the XRP ledger. Further, Ripple has pledged to achieve carbon net-zero by 2030 or sooner.
Ripple is committed to the Crypto Climate Accord (CCA), which is a new initiative organized by EW, RMI, and the Alliance for Innovation Regulation (AIR) to ensure that the cryptocurrency industry is 100% renewable.
Ripple will also be joining more than 20 supporters from different industries and blockchains, which consists of the United Nations, CoinShares, Compass Mining, the XRP Ledger Foundation, and ConsenSys to provide for sustainability and scalability, thus creating value for all.
The cryptocurrency market cap is at $2 trillion, which is twice the previous all-time high that was reached about three months ago, thus underscoring how quickly this industry is growing.
The growth of the cryptocurrency industry comes at a cost. The damages caused by climate change cover for nearly 3% of GDP by 2060. The challenge to sustain global financial prosperity without compromising on the environment is a thing to be considered.
Emissions reduction and renewable energy use are steps to ensure progress in the right direction.
The Paris Climate Accord, fintech, and crypto industry leaders have partnered to set the objectives to ensure sustainability.
Key objectives include: "Enable all of the world's blockchains to be powered by 100% renewables by the 2025 UNFCCC COP Conference; Develop an open-source accounting standard for measuring emissions from the cryptocurrency industry; Achieve net-zero emissions for the entire crypto industry, including all business operations beyond blockchain and retroactive emissions by 2040."
Ripple's journey in ensuring sustainability consists of recognition of financial technologies like blockchain and cryptocurrency to position financial empowerment without compromising on the sustainable future. Thus, providing for the critical years of commitment in the process of cryptocurrency adoption. Reverse engineering the characteristic of the technology after progress has been achieved can be tricking and sustainability will, in turn, have to wait longer. Therefore, Ripple is leading the effort and they feel it is time to solve the problem now.
Ripple is committed to progressing this effort by a strategic partnership with organizations like Rocky Mountain Institute, Energy Web, and AIR, eventually contributing to policy ideas and financing for innovations to help achieve the long-term objectives of Accord.
The attempt is expected to save the global economy an estimated $26 trillion by 2030, contributing to a robust and sustainable global financial system leading to a sustainable world.
SEC v. Ripple – Court orders plaintiff to 'answer Ripple's interrogatories'
Within 24 hours of the court approving the Securities and Exchange Commission's request to postpone the discovery deadline to January 2022, Judge Sarah Netburn has responded to two pending motions in the SEC v. Ripple Labs lawsuit.
One of the motions was from defendants Ripple Labs and Chris Larsen to compel the SEC to supplement its responses to eleven of its interrogatories and two of Larsen's. Meanwhile, the other motion from the SEC sought a protective order to relieve it of the obligation to respond to 29,947 separate requests for admission, as per the filing.
Judge Netburn has now granted and denied both motions in part.
The judge ordered the SEC to answer Ripple's interrogatories and identify the specific terms of the "investment contract" from XRP sales. The order added,
"Ripple's interrogatory is relevant (and precise) and will clarify whether the SEC contends that the terms of any contract identified in response to Ripple's Interrogatory No. 1 created an expectation of profits by the purchaser of XRP."
"Accordingly, Defendants' motion regarding Ripple Interrogatory No. 2 is GRANTED, and the SEC must supplement its response to Interrogatory No. 2 to identify any specific contractual terms and not just implicit and explicit promises as previously identified."
The SEC must also respond to whether it contends that "efforts by Ripple were necessary to effect any increase in the price of XRP." The court granted most of the defendants' motions to compel answers on interrogatories, except one.
This was the motion from Chris Larsen on when XRPL is fully functional. Judge Netburn denied it without prejudice for being "too vague," with the parties ordered to confer clarity terms.
Meanwhile, the SEC's motion for protective orders was also partially granted and denied. The judge granted protection on Defendants' 28,849 RFAs, noting that "it is hard to view this stunt as anything more than theater." The order added,
"The motion for a protective order is GRANTED on burden grounds. Having granted the motion to compel a response to Ripple's Interrogatory No. 2, the protective order is also GRANTED as cumulative and duplicative of another form of admissible evidence."
As the SEC and Ripple filed their responses, the timeline for the case may extend due to the postponement of the discovery deadline. This deadline was pushed so that the parties could complete the expert depositions and beef up their preparations.